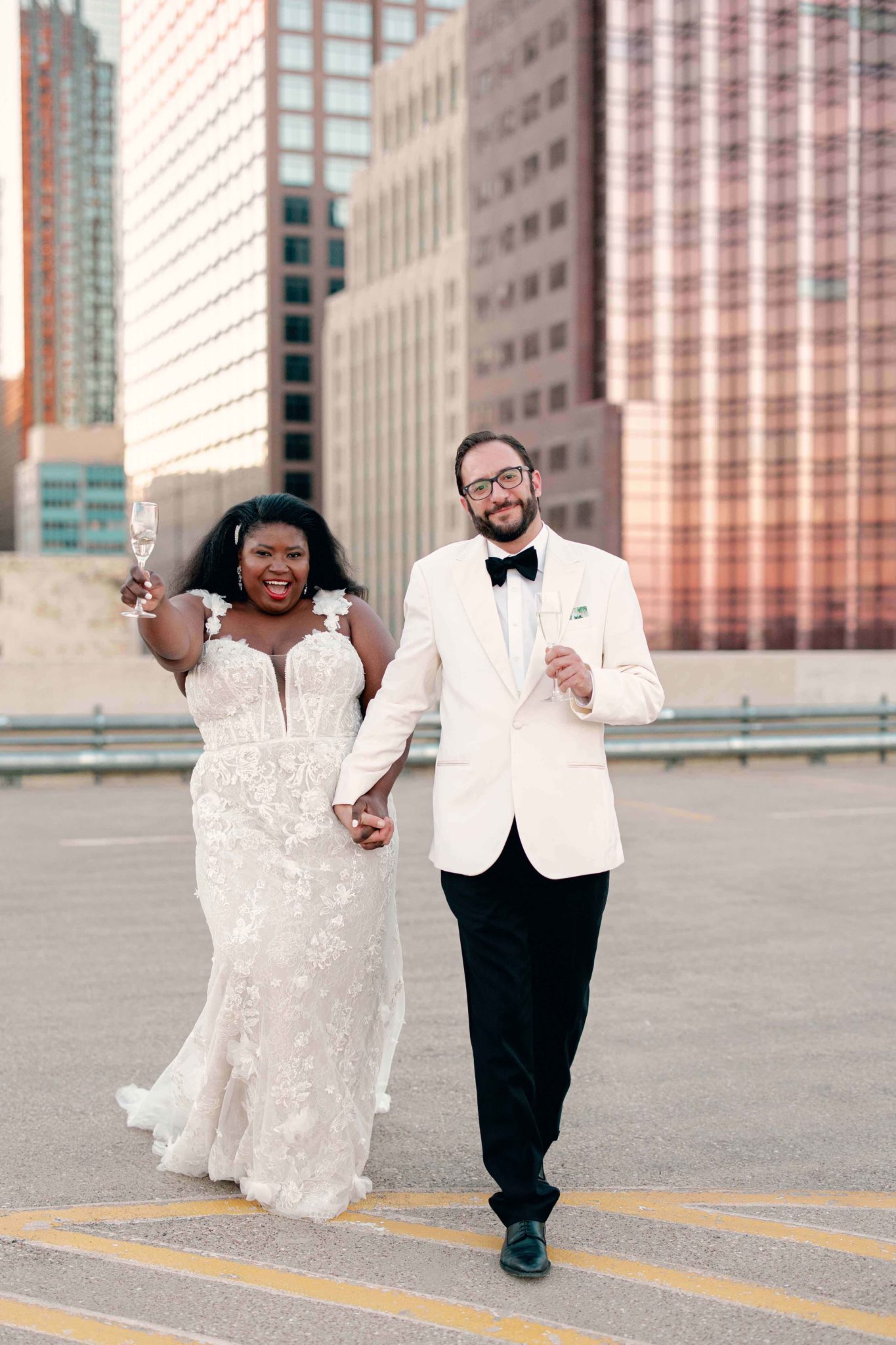 17 Feb

On Location: Texas Wedding Inspiration
Dreamy Gowns + Stunning Backdrops + Real Couple = Ultimate Wedding Inspiration
Today, we're in Fort Worth, Texas with the oh-so-stylish Makeda of @glamazondiaries and soon-to-be husband for a closer look at a few more new Spring 21 styles! Four dreamy new styles and four inspiring backdrops make for the ultimate wedding inspo!
Charla Storey, named one of the best photographers in America by BRIDES, brought the romance and charm of these gowns, city, and couple to life! So, keep reading for chic & modern Texas wedding inspiration and a closer look at more of our new Spring 21 wedding dresses.
Where it all started…
It was love at first sip! Makeda and Thomas met during happy hour in Manhattan while bonding over a gin martini! Though their meet-cute happened in NYC, the two have plans to tie the know soon in Thomas' hometown in France. Talk about romantic! The wedding will be rooted in rich tradition and an opportunity for family on both sides to meet!
Behind the Scenes
Named one of the best photographers in America by BRIDES, Charla Storey was the perfect person to capture this romantic couple's shoot! Together, they visited the most picturesque spots around Fort Worth to show off these new gowns! Charla's favorite part about capturing a wedding is documenting how people celebrate love in so many different ways, different traditions, and cultures – this shoot did just that!
Weddings are full of so much life. It's what life is all about wrap up in one beautiful and emotional day!
The Final Looks
Sweet & Sexy
Style MBMS251246 available to order in sizes 0-30, suiting from The Black Tux
Sweet Southern charm meets modern makeover in downtown Fort Worth, making it the perfect backdrop for this new style. A classic bridal silhouette is refreshed with trending details and highly coveted designs for the ultimate modern fairytale look. The best part? Get two looks in one with adjustable long tulle straps at the bodice that can be tied off-the-shoulder or into a halter. Complete with sparkling lace appliques, the floating tulle-and-lace skirt reveals a power mesh bodysuit beneath, for that super sexy bridal style.
Elegant Beaded Beauty
Style CWG890 available to order in sizes 0-30, suiting from The Black Tux
For a city so rich in history, it only makes sense to show off a gown just as rich in details and glamour. More than 20,000 beads cover the sheer, off-the-shoulder bodice of this oh-so-opulent wedding dress. To top it off, a full satin ball gown skirt adds even more luster to your walk down the aisle. While this dress makes a statement all on its own, some brides are never one to shy away from an ultra-glam look! Sparkling hair accessories, shoes, and jewelry can take this look to the next level!
Dazzling Details
Style SWG841 available to order in sizes 0-30, suiting from The Black Tux
The lush backdrop of this Southern city made for the perfect spot to show off this floral-inspired gown. Plus, there's no shortage of details here! For the bride looking to dazzle, this dress is topped with a halter neckline, crystal-encrusted corset bodice, and open back. Sheer floral lace appliques cascade down the pocketed A-line skirt, while dramatic glitter shines from beneath to catch the light!
Romantic Versatility
Style MBSWG885 available to order in sizes 0-30, suiting from The Black Tux
Raise a glass to this jaw-dropping gown…and view! Glamorous, romantic, and so figure-flattering, this dress is a showstopper for any bride-to-be! Whether it's worn with just one shoulder, both straps, or strapless, this sequin-strewn sheath wedding dress offers complete versatility. Over 4,000 beads and six different shapes of floral appliques cover the dress. Also, a powermesh bodysuit sits beneath the semi-sheer lace layers for a sexy look that provides ultimate comfort and shape.
From Los Angeles to Atlanta, to Fort Worth, thanks for coming along as a few of our favorite fashionistas styled and shared the newest gowns from our Spring 21 collection? Found your fave?! Shop these styles and more new arrivals on davidsbridal.com. Or make an appointment at your nearest David's Bridal!
Related Posts: