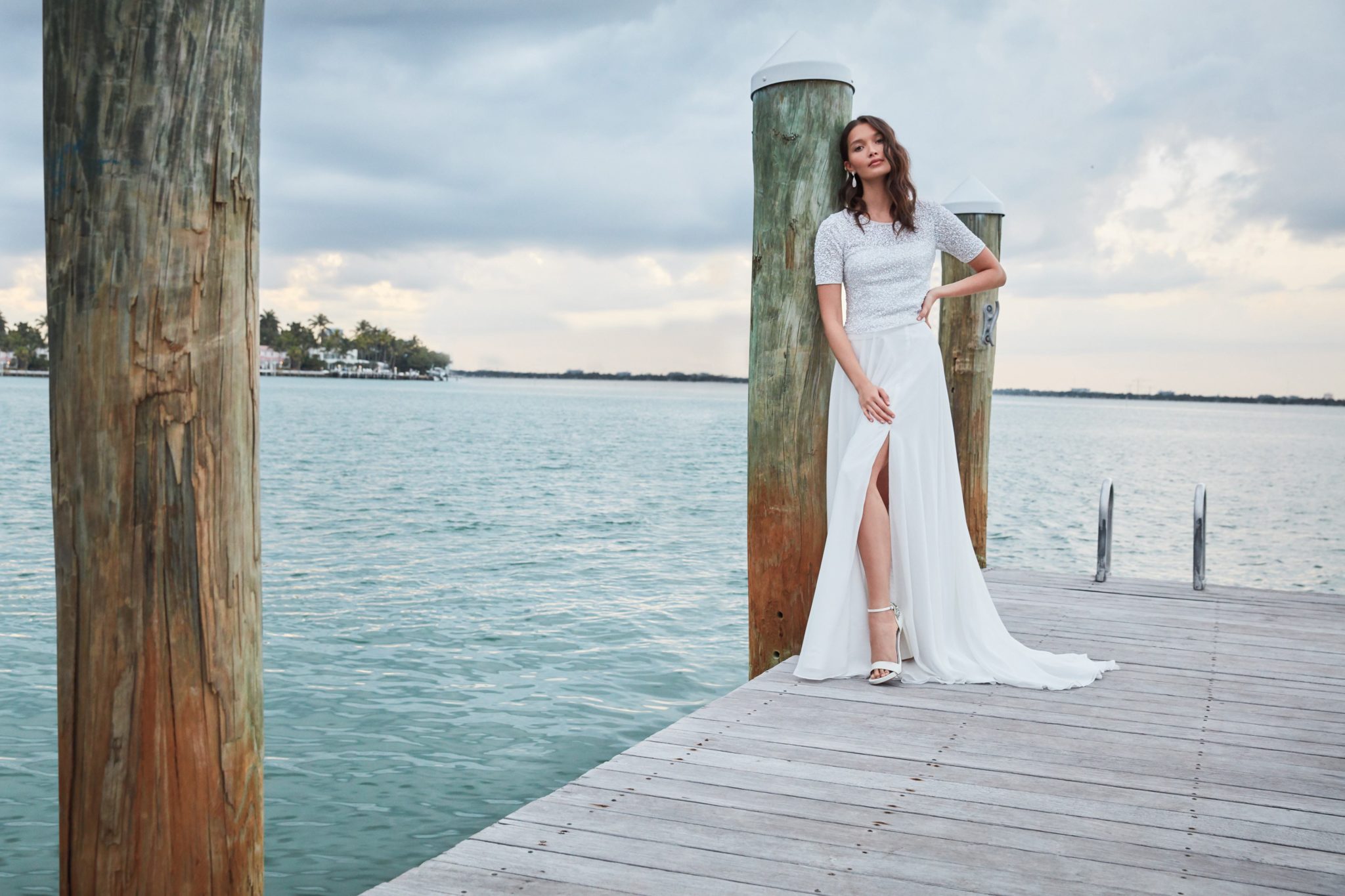 09 Jul

Trend Alert: Mix and Match Bridal Separates
Have twice as much fun in mix-and-match bridal separates
Separates are making a statement in the bridal world, and we're totally here for it! Multiple looks on your wedding day? The opportunity to mix and match pieces for your personal ultimate bridal look? What's not to love?! So, for the bride that's looking for a little versatility in their wedding day look, these bridal separates can be mixed and matched to fit their unique aesthetic. From sequined tops to lacey details and silky skirts to lace Read on for ways to have twice as much fun with these mix-and-match bridal separates!
How to Mix and Match
Mixing and matching bridal separates to create a unique bridal look is as easy as 1, 2, 3! So whether it's for your rehearsal dinner, ceremony, reception, or any event during your wedding season, all you have to do is 1) choose a top that embraces your bridal aesthetic 2) pair it back to a skirt that will help to bring that style to life and 3) accessorize! Let's take a look at the styles!
Step 1: Choose your Top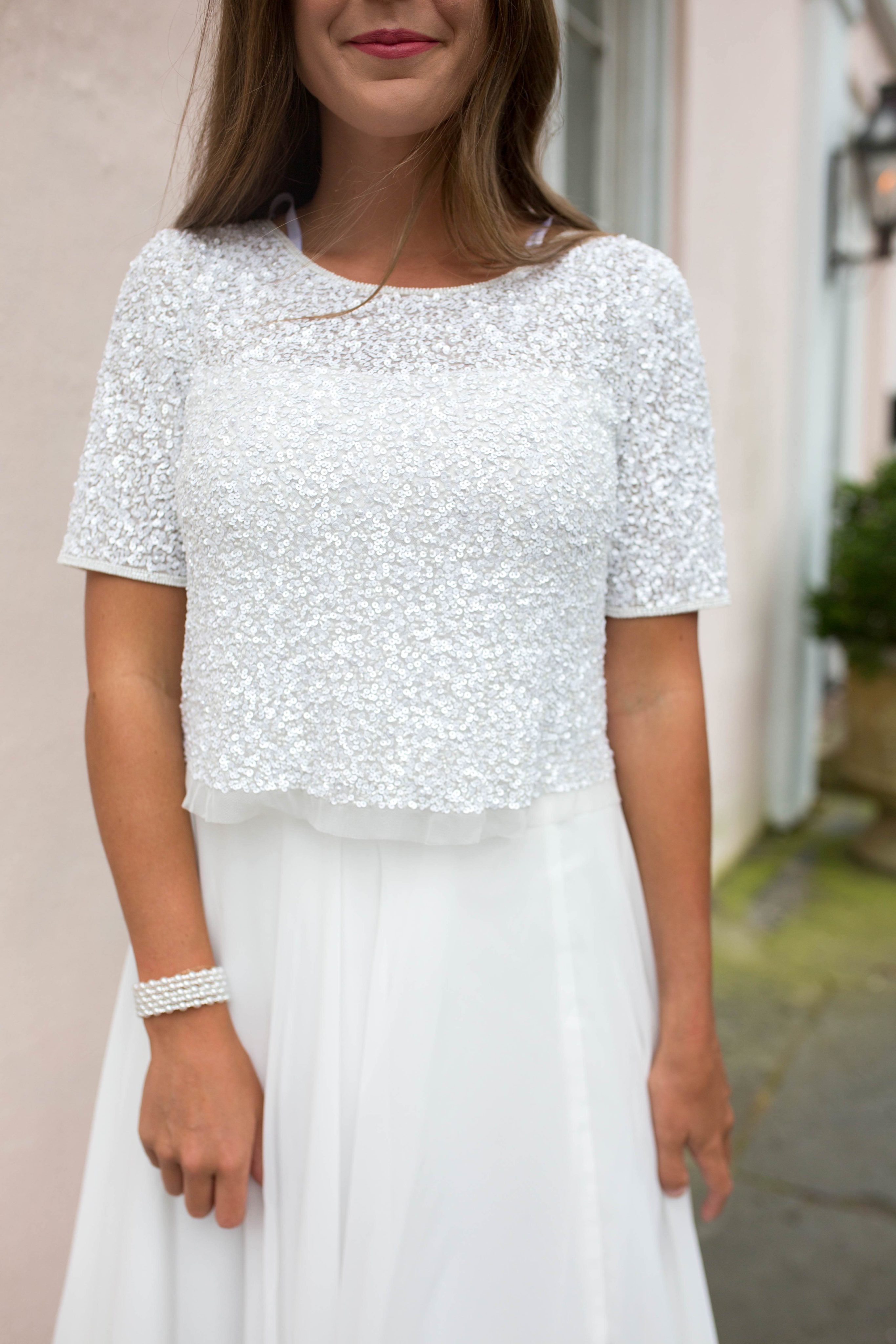 Exquisitely detailed and so very fun, these bridal tops can capture exactly what your bridal style says about you! Play it cool-girl chic with a cropped sequin top or bring out your inner bohemian side with intricate lace. It's truly up to you! When you've narrowed down the aesthetic you want to embrace on your wedding day, completing the look is easy!
WGIN0856 (coming soon): This sparkly top is covered entirely in sequins to create a look that won't ever dull your shine! Slightly cropped, this short-sleeved top features illusion details around the neckline and trim for a look
DS150848 (coming soon): Add a bit of texture and bohemian flair to your wedding day look with this cap-sleeve top. Delicate lace creates illusion panels along the neckline and back and covered buttons trail down the entire back for an added touch of detail.
DS150791: What's not to love about this beaded beauty? Pearls and crystals line this v-neck spaghetti strap tank in a delicate scalloped pattern to create a look worth celebrating. A low back
DS150847: The beauty is in the details of this sweet style! If you're looking to add a little bit of coverage on your wedding day, this lace three-quarter sleeve top is the perfect mix of charming and sophisticated. You will love with the scalloped detailing along the sleeves and boat neckline and be delighted with its low back and slightly cropped hem!
Step 2: Pick Your Skirt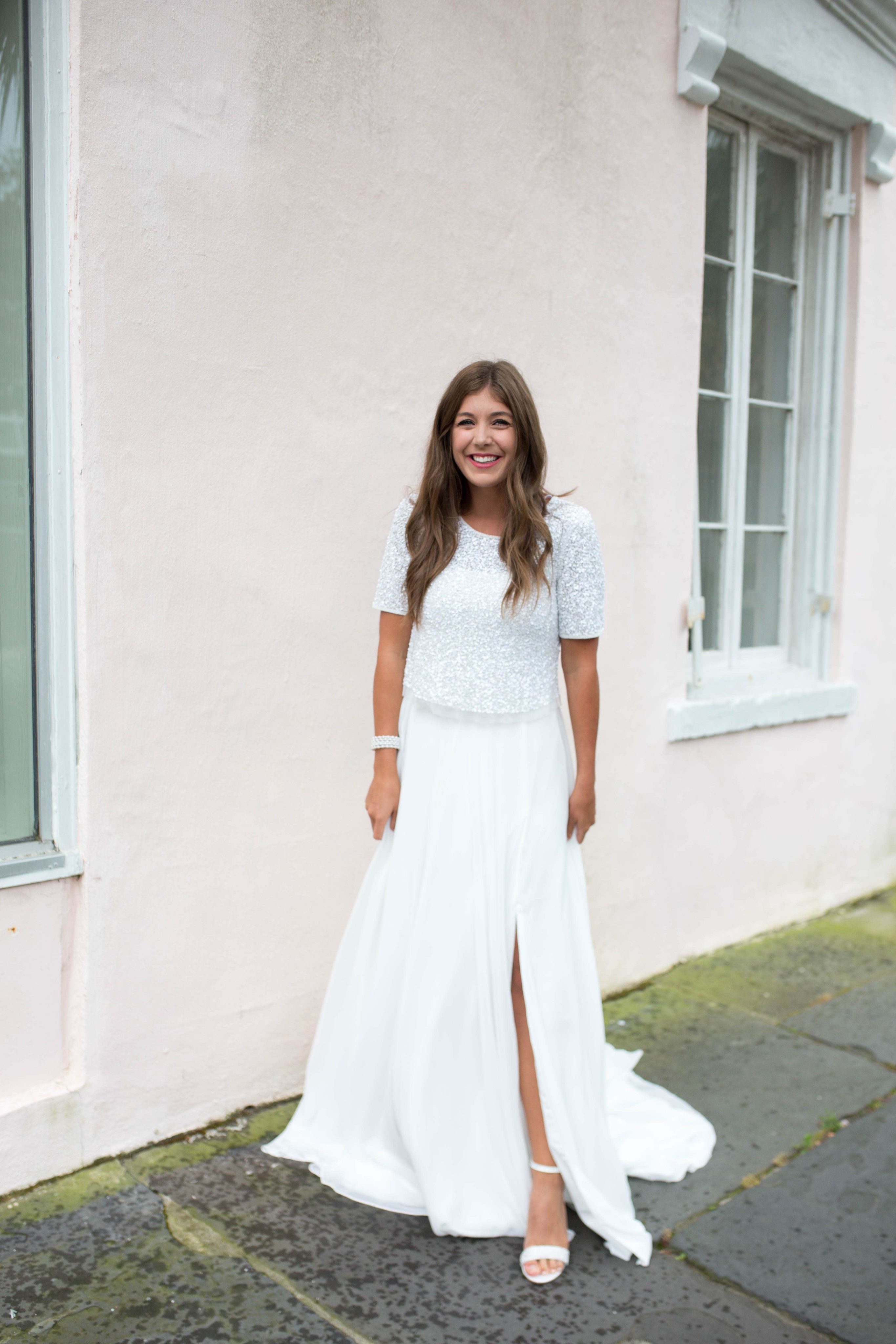 Choosing the right skirt will be key to bringing your bridal style to life. Do you want a breeze style to float down the aisle? Or maybe a sleek and simple design that screams sophistication. These skirts pair perfectly back to any of the separates tops to help you create a bridal look that's perfectly you! Have fun mixing and matching tops and bottoms until you find a pairing that captures your wedding vision!
DS150827: Add a little romance to whichever top you choose! Floaty chiffon will create a breezy movement while a thigh-high slit adds an elegant edge. This skirt is a blank canvas that could pair back to any separates top to create a captivating down the aisle look.
DS150828 (coming soon): Calling all lace lovers! Covered in delicate lace for an ultra-feminine look, this floor-length lace skirt features a thigh-high slit to create a mix of sweet and sultry. Complete a head to toe lace look with a coordinating top. Or, create your unique look by adding mixing fabrics and textures.
DS150829: Create an ultra-feminine silhouette with this crepe sheath skirt! With a curve-hugging fit and a flare right below the hips, this skirt creates a figure-flattering silhouette that pairs seamlessly with any top.
DS150831: Have a little fun with this flirty and full midi-length skirt! Layers of tulle create this twirl-worthy look that's just waiting to have its moment! For the bride that wants to rock multiple looks on their big day, just add a little shine up top for a reception-ready outfit!
Step 3: Accessorize
Finally, a little bit of bling, the perfect pair of pumps, and personalized accessories perfectly complete your bridal look!
Two-piece wedding looks give brides the versatility to customize their unique bridal look (or looks) from head to toe! And, it really is as easy as 1, 2, 3! In the end, the results will be a totally unique bridal look you can rock on your big day and beyond!
Head to davidsbridal.com to shop bridal separates to create your own personal look. Book your appointment to mix and match these pieces in person! Also, find even more wedding style inspiration on our Instagram and Pinterest.
Related Posts: