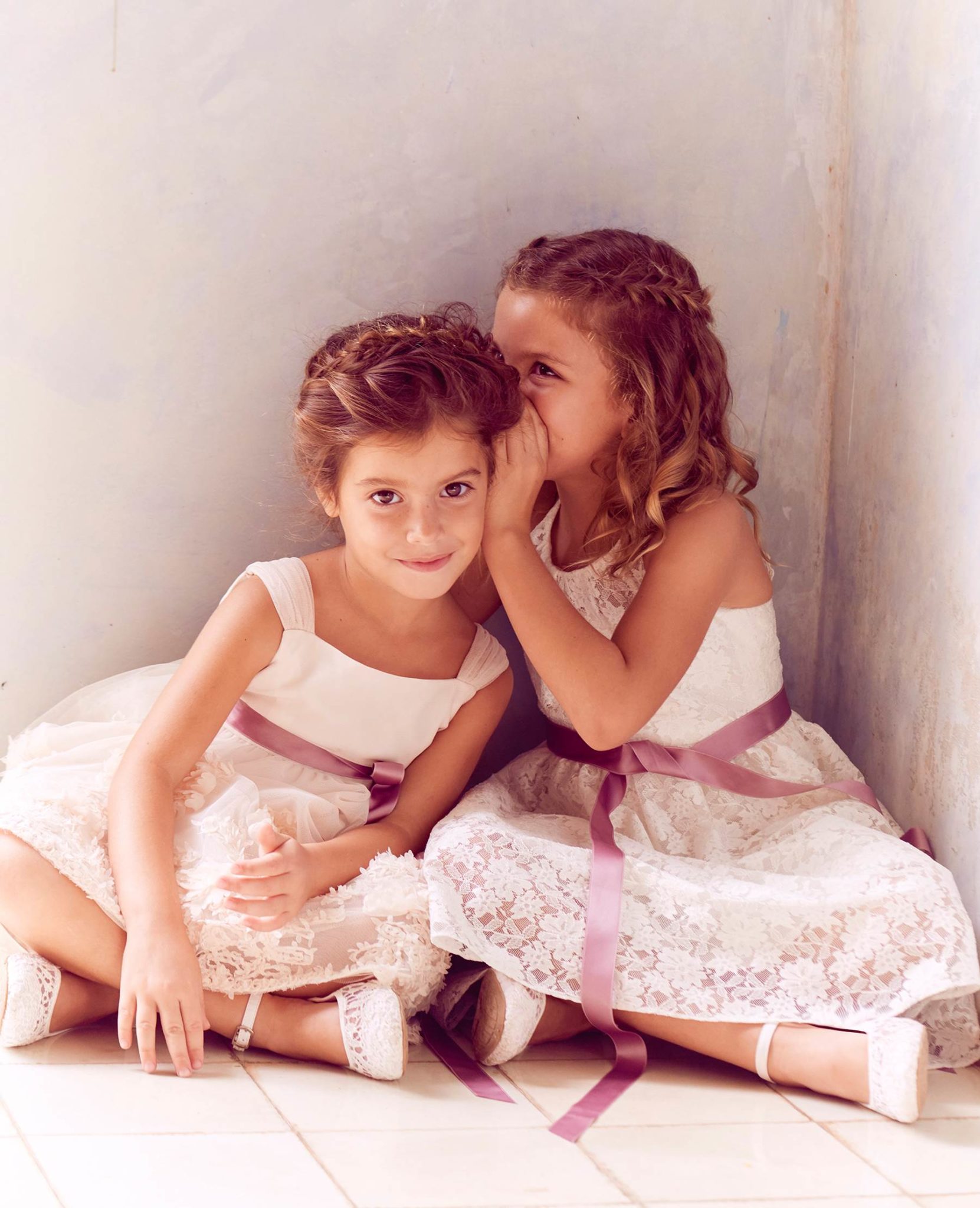 21 Mar

All About Flower Girls
Everything you need to know about the littlest members of your party.
Considering adding a flower girl or two to your wedding party? Here, we answer the most common questions we're asked about the cutest wedding attendants.
How old are flower girls?
Typically flower girls are between 2 and 8 years old—though some brides ask their grandmothers! If your flower girl is on the younger side, you may want to pair them with a bridesmaid for the walk down the aisle so they stay on-course. For tweens, consider making them junior bridesmaids, with dresses that coordinate with what your bridesmaids are wearing.
How many flower girls can I have?
As many as you'd like! Lately, we've been seeing some bridal parties comprised entirely of cute kids, like at Pippa Middleton's wedding. In fact, in Great Britain it's a royal wedding tradition to have children as attendants, rather than adult friends. We'll see if Meghan Markle keeps this custom alive, with Princess Charlotte and other sweet little flower girls and pageboys in her wedding.
What should flower girls wear?
Little white dresses are the traditional choice, and there are even "mini me" styles that play off the designs of our wedding dresses (think bohemian lace vs. classic tulle). You can also match your flower girl to your bridal party with dresses in the same color palette.
When do flower girls walk down the aisle?
The custom is for flower girls to go after the last bridesmaid, right before the bride. But it's your wedding, so decide what works for you!
Where does the flower girl stand during the ceremony?
That all depends on how old your flower girls are and what they're comfortable with. After they've done their aisle-walking duties, flower girls can take a seat (maybe with their parents), or they can stand alongside your bridesmaids during the nuptials.
Do flower girls have to throw petals?
Not necessarily—and some venues don't allow them to throw petals since certain types of blooms can leave marks on the floor. Other good options: a sign that says "Here comes the bride," a ribbon wand, or a basket filled with flowers.
When should I order my flower girl dresses?
Since little kids grow so fast, it's a good idea to purchase flower girl dresses closer to the wedding date than the rest of your party's attire. We typically recommend shopping about three months before the celebration. (And you may want to size up if they're adding inches by the minute!)
For more about flower girl attire, check out our flower girl guide.
Related Posts: