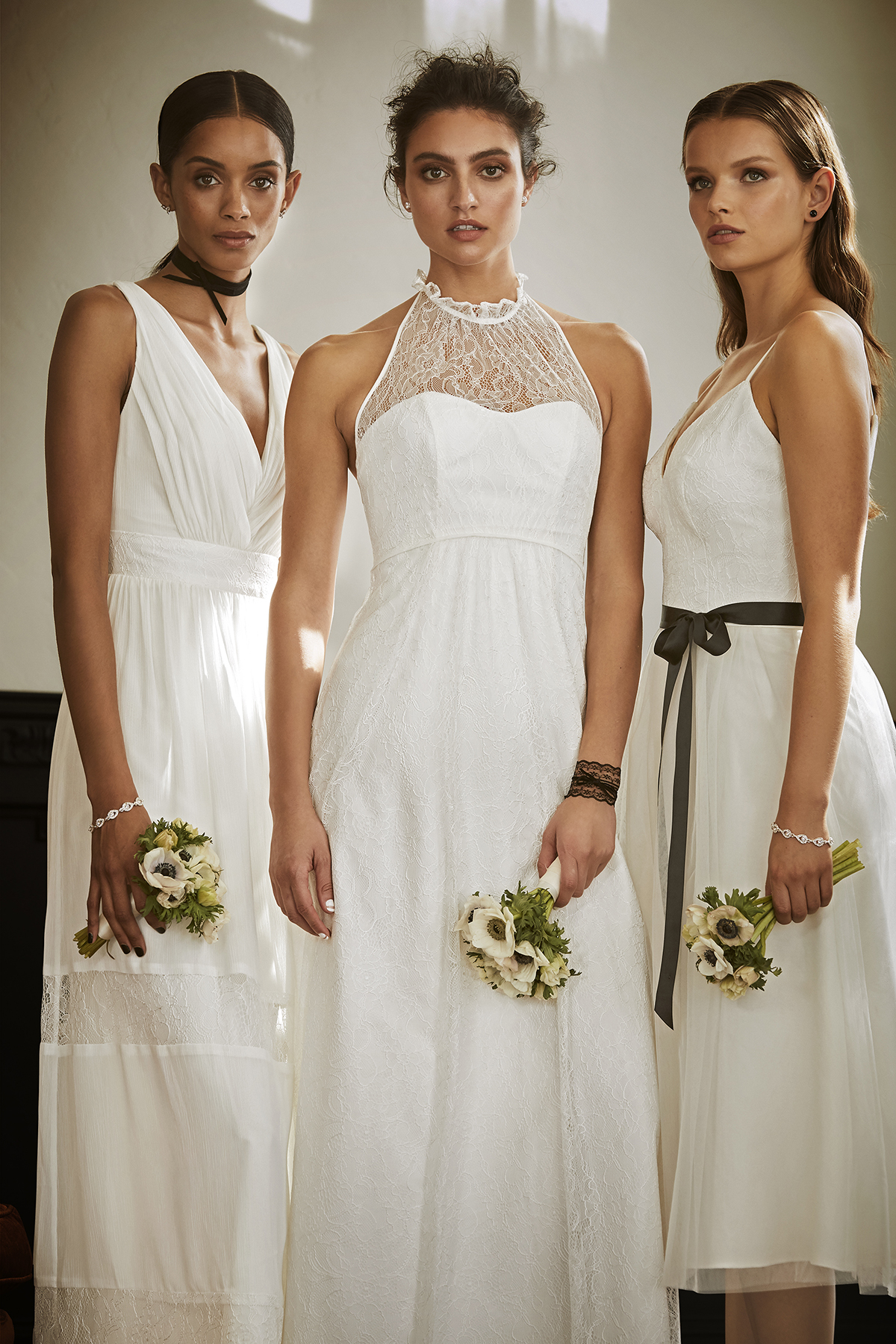 02 May

The All-White Bridal Party
Tips for choosing white bridesmaid dresses.
There's been so much buzz about Meghan Markle's wedding dress but there's also a ton of speculation about who her bridesmaids will be. It's a UK tradition to have a chief bridesmaid and several flower girls, but will Meghan bring the U.S. custom of having more than one bridesmaid to her royal ceremony? And if so, what will they wear? For Kate and William's wedding, Pippa Middleton and flower girls all wore white dresses; will Meghan choose white bridesmaid dresses, too?
Some may argue that white bridesmaid dresses could upstage the bride, but we can't help but acknowledge that this trend is both chic and timeless. Here are 3 things to consider if you love the look of an all-white bridal party:
The shade of white.
Pure white, with it's cool undertones, can be tricky for some ladies too pull off. We recommend choosing ivory or off-white instead as it's more flattering on a variety of skin tones. Or, let your bridesmaids choose the shade of white they prefer for a more eclectic all-white bridal party.
Fabric and Silhouette.
When choosing white wedding dresses, the little details make a big impact. Ivory bridesmaids dresses with lace details have a vintage vibe, while flowy white bridesmaid dresses are effortless for an outdoor or beach wedding, and a sleeker silhouette in the same hue looks modern, especially when paired with metallic accessories. Choose the fabrics and silhouettes that best support your wedding theme.
Your Wedding Flowers.
Another reason to love white bridesmaid dresses? They offer a "blank canvas" for your wedding flowers. Colorful blooms pop against a creamy background, deep colored flowers offer dramatic contrast, and all-white bouquets support a monochromatic wedding color palette.
Whether she chooses white bridesmaid dresses or another color for her attendants (perhaps green?), you can bet Meghan's bridal party will be stylish either way.
Would you consider white bridesmaid dresses? See more wedding color and bridal party ideas here and shop bridesmaid dresses here! 
Related Posts: