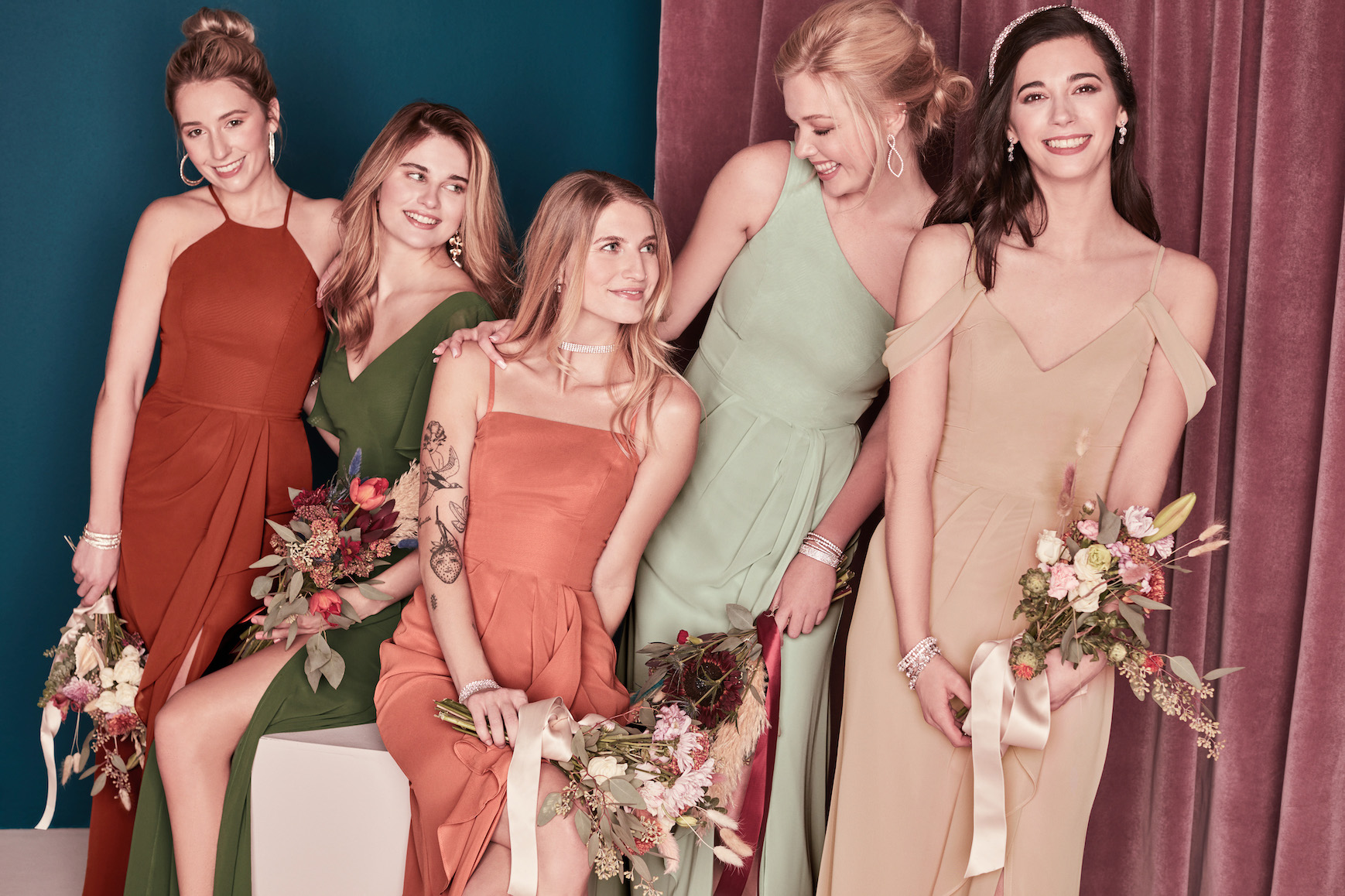 25 Mar

Trend Alert: Earthy Bridesmaid Dresses
Nature-inspired hues for DB Maids
So much inspiration can be drawn from the world around us, especially color. From sunsets to beaches to forests, stunning scenery and lush landscapes are a source of Pin-worthy wedding color palettes. Enter: earthy bridesmaid dresses. Including shades of green, oranges, blue, and beige these terrain-inspired hues are a nature-loving bride's dream. Keep scrolling for a closer look at our most earthy wedding colors to consider for your big day.
Shades of Green and Blue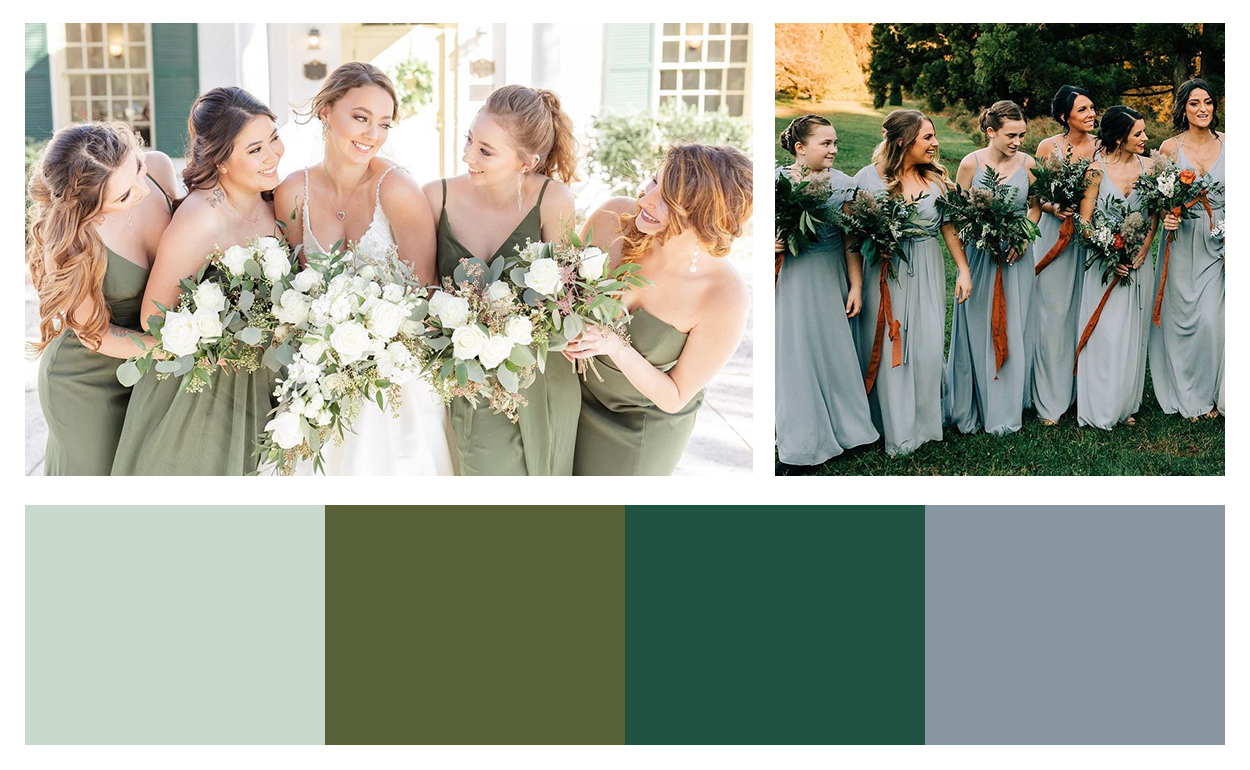 From trees to the sea, shades of green and blue are quintessentially earthy. Beautiful as a mix and match palette or on their own, dusty to deep green or blue hues are lovely options for the outside-inspired bride.
Try these David's Bridal colors:
Dusty Sage is relaxing in nature and akin to the color of eucalyptus. It is a muted green-gray color a spring or summer bride will simply adore.
Martini Olive is a true, medium toned green with a dusty undertone that will suit any boho bride's taste.
Juniper, a rich, deep green reminiscent of the leaves on an evergreen tree, is a colorful breath of fresh air.
Dusty Blue, a soft and subdued take on a summer mid-afternoon sky, offers an airy feel to a bridal party look.
Warm Oranges & Sunny Yellow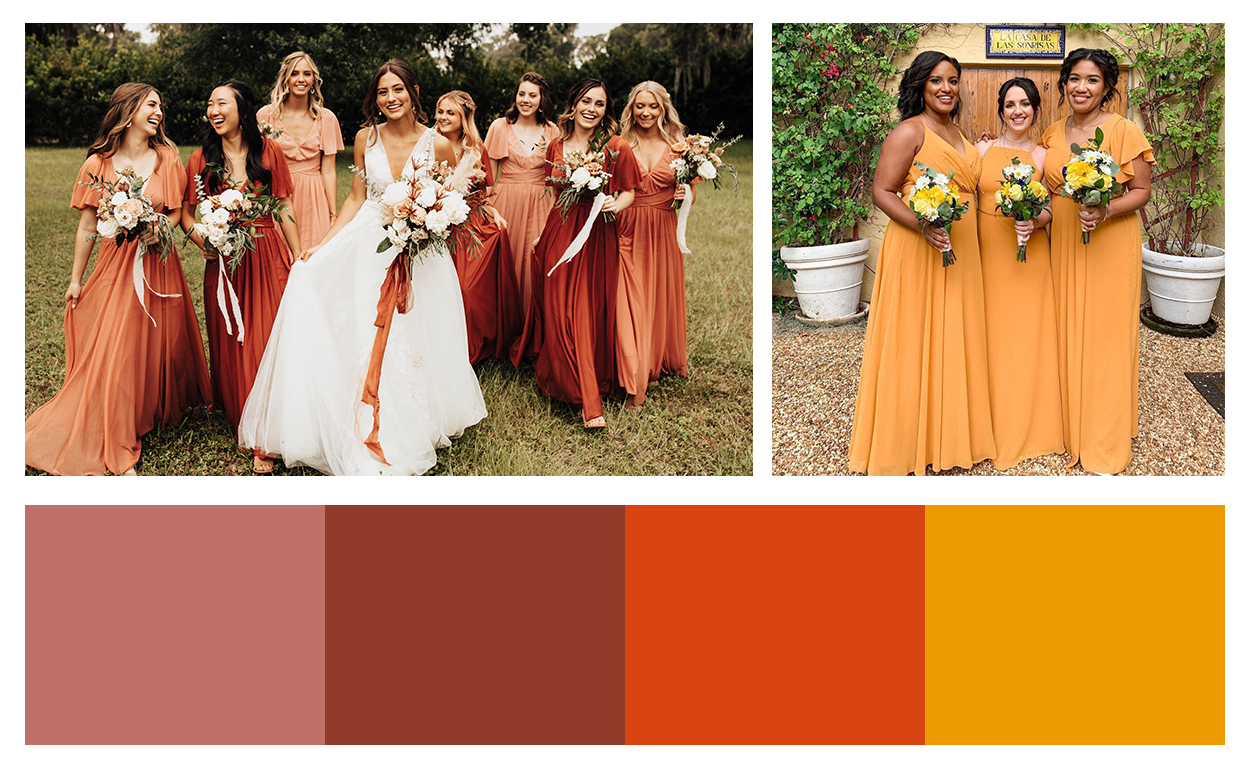 The setting desert sun is the vision behind these earthy bridesmaid dresses and colors. Think picturesque shades like muted coral, deep terracotta, vivid orange, and radiant yellow.
Try these David's Bridal orange bridesmaid dress colors:
Sedona is a toned-down coral inspired by its namesake desert and Red Rock scenery. The dusty nature of this color makes it a beautiful choice any time of year.
Cinnamon is a spicy, rust orange color with notes of brown and red, similar to natural clay. This color is warm and flattering, and especially lovely for a rustic wedding.
Sienna, a bright yet burnt orange, reminiscent of a setting sun as it reaches the horizon or of crisp fall leaves. What's not to love?!
Marigold, a mustard yellow hue inspired by its namesake flower, is a bold yet approachable earth tone. This sunny shade standouts in the summer.
Effortless Neutrals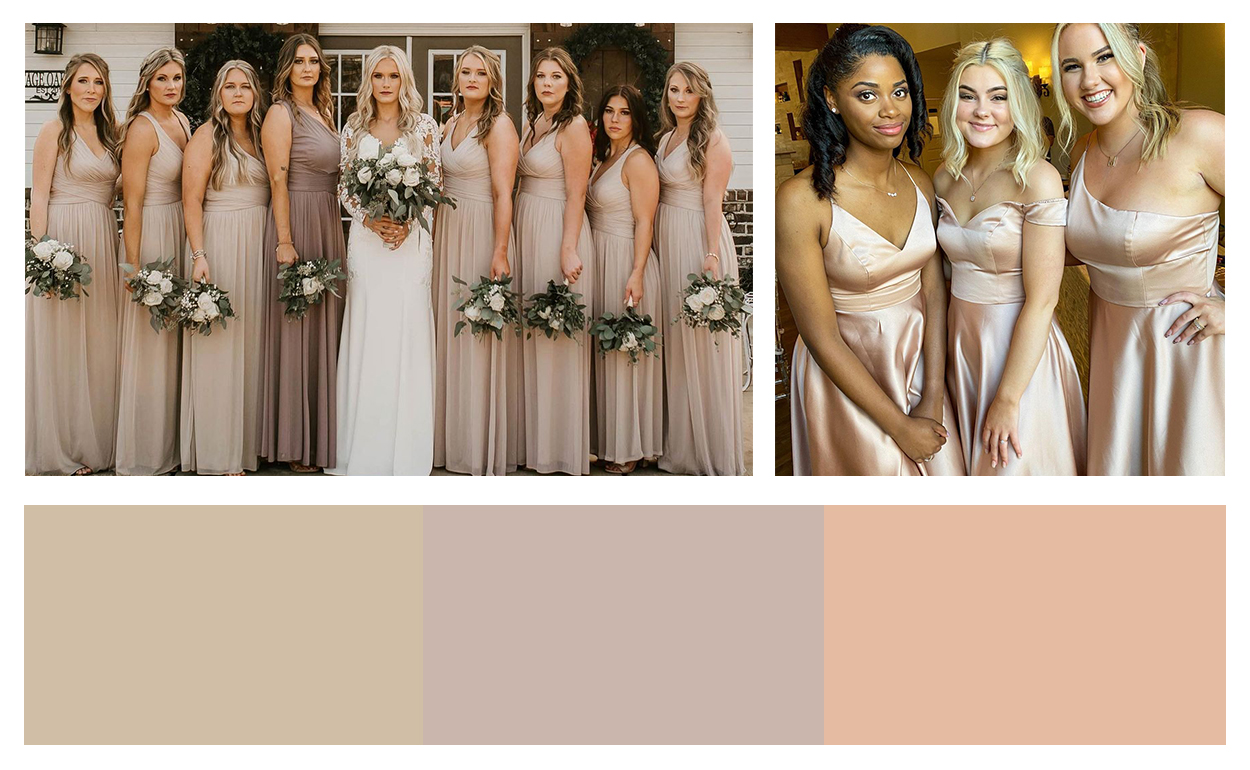 A fresh approach to brown bridesmaid dresses, beige hues are blank canvas with the ultimate effortless earthy vibe. When it comes to these barely-there colors, you will want to understand and choose by undertones – neutral, cool, or warm.
Try these David's Bridal neutral bridesmaid dress colors:
Champagne is a neutral beige. Not quite cool and not quite warm, this true beige hue pairs with any colors in a mix and match palette or looks classic on its own.
Biscotti is a cool-toned beige, with slight hints of blue and grey. Match with other cool toned colors (like the greens and blue above) for a color-theory approved palette.
Sand is a warm beige thanks to its peach undertones. Because of this, this color coordinates and complements pink and orange palettes perfectly.
Color is such an important part of any wedding day, so if you're a boho, rustic, or nature-loving bride-to-be, these earthy bridesmaid dresses and colors are for you! Explore more colors from our palette of 50+ exclusive shades and start shopping. Want to shop in-store? Book an appointment at your local David's Bridal.
Related Posts: