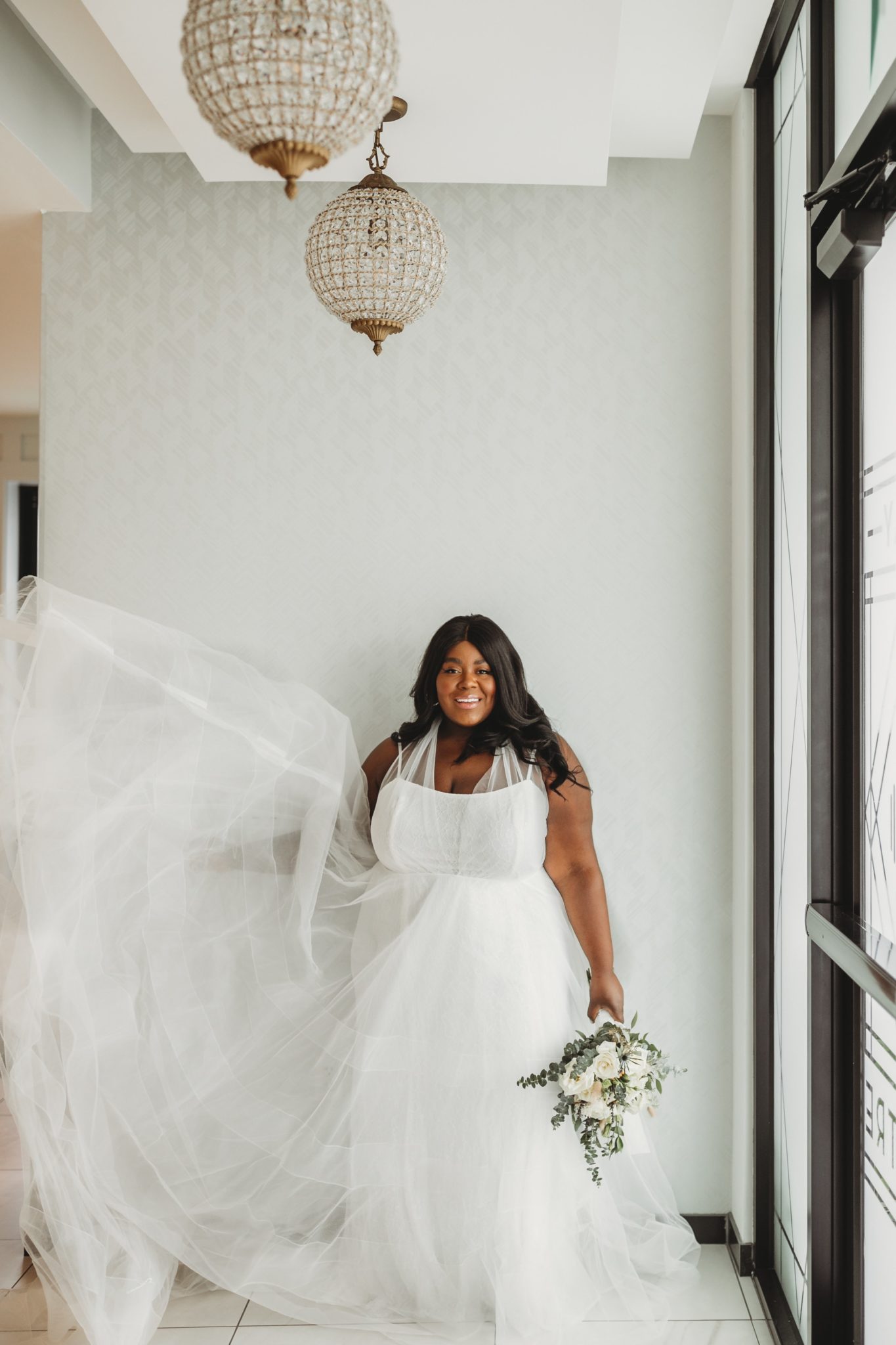 27 Jul

Customizable WHITE x Vera Wang Bridal Gowns
Slip dresses and sheer overlays designed to mix and match
Meet our newest collection! Customizable WHITE x Vera Wang Bridal gowns created with the modern bride-to-be in mind and available exclusively at David's Bridal. This collection includes 4 slip dresses and 4 sheer over-dresses designed to layer together for up to 16 unique combinations. Simultaneously classic and creative, you'll find combinations that satisfy every bridal look that you've ever dreamed of. Take a look at the collection of slip dresses and sheer overlays designed to mix and match. And, get inspired to customize your bridal look with styling ideas from a few of our favorite creators.
Step 1: Start with a Slip
The base of your look begins with one of four unique slip dresses! Crafted in gorgeous crepe, allover sequins, Ivory/Nude lace, and sequined lace fabric, you'll find the perfect one to fit your style. Available in sizes 0-30W, you'll find simple spaghetti straps and both v-neck and scoop necklines on these slips. And the best part is that these slips can be worn on their own for an easy reception look!
Step 2: Layer an Overdress
Now, the fun begins! Layering one of these sheer overdresses gives your slip dress a completely different look. The entire combination no matter how you mix and match will be under $900, but the new look will be priceless! Find the combination that suits your bridal vision but mixing and matching slips and overdresses until you find the perfect combo!
VW351562: Adorned with subtle sparkle, this tulle wedding overdress immediately adds whimsical flair to your look. The artfully placed sea rose appliques trail into gauzy, sweeping skirt godets, adding bohemian romance to whichever slip you choose.
VW351565: Calling all brides looking for a little drama! Lightweight but full of volume, this sheer overdress features horsehair-trimmed tiers for a modern twist that lends sophistication to any slip dress beneath. A halter neckline and ballgown silhouette give you a whole new look when layered over any slip style.
VW351563: This style takes inspiration from classic and modern dance, for an airy and elegant result. The sultry plunge neckline juxtaposes gauzy, sweeping skirt godets for a completely ethereal vibe.
VW351609: Crafted with floral Chantilly lace, this overdress features long sleeves and a high neckline that add beautiful-yet-modern coverage to any slip dress beneath. The gorgeous open back detail will be a surprising delight!
Step 3: Complete the Look
Finally, pull your bridal aesthetic together with some sparkling accessories! Besides, there's no better day to style yourself to the nines than on your wedding day! These dresses were intentionally made with the idea of amping up the look with accessories and an overdress in mind! Shop our collection of shoes and accessories from WHITE x Vera Wang for a coordinated look.
Featuring Styles VW445, VW670001, VW95826
Styling Inspiration
Take note from a few of our stylish influencer friends for inspiration on ways to wear the new WHITE x Vera Wang collection.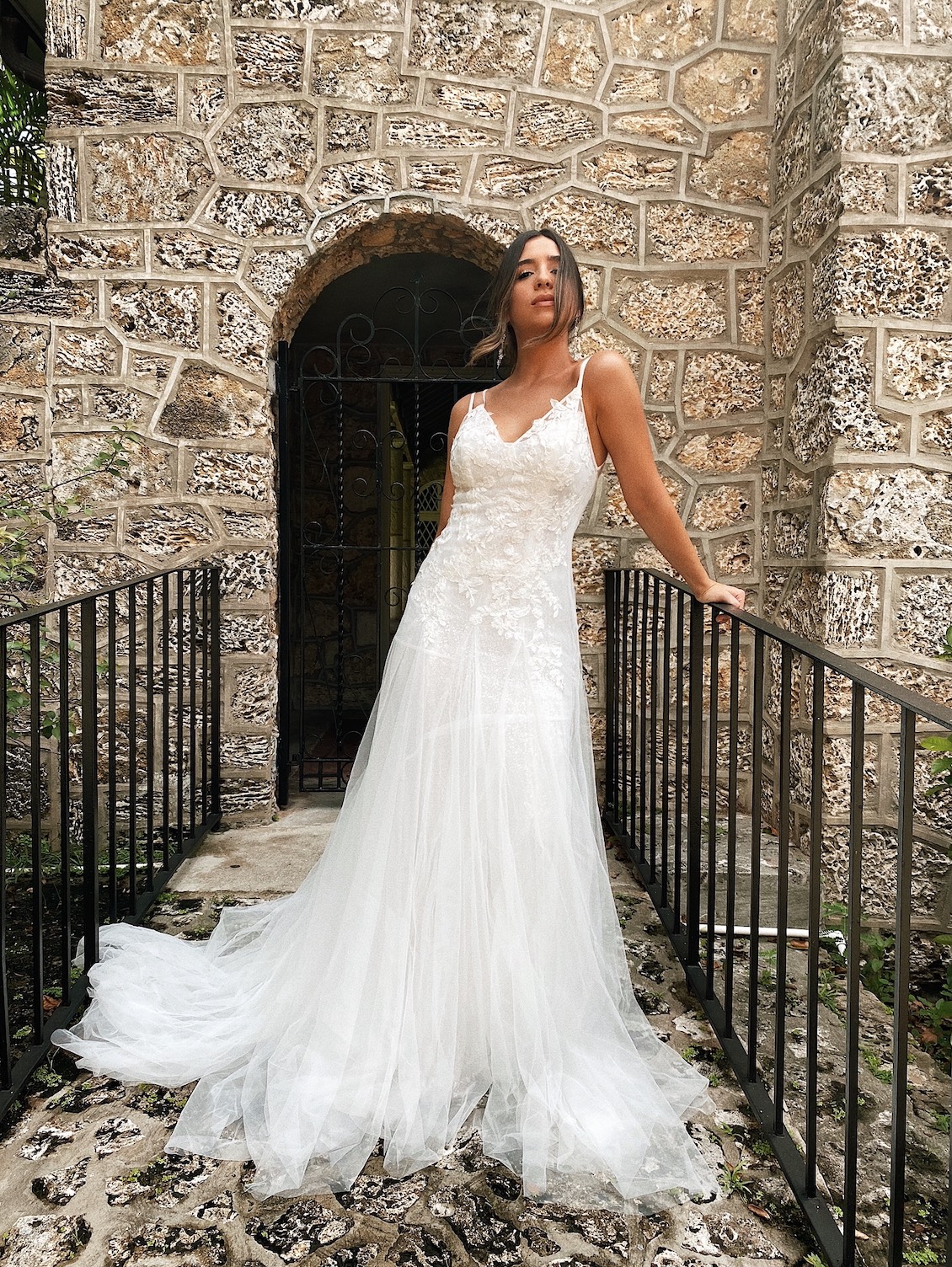 Styled by @lauramvila, @musingsofacurvylady, @jules.jacobson, @jlbabe
To the bride seeking a one-of-a-kind wedding dress, look no further! Totally customizable to satisfy a handful of bridal aesthetics, our newest customizable WHITE x Vera Wang Bridal gowns are designed to do just that! One look for the ceremony, one look for the reception, and another for the afterparty…the opportunities are endless! Layering each of these gowns gives a different look, all at under $900.
These styles have arrived online and in select stores soon! Book your appointment to find the one for your most magical day, plus sign up here to be the first to hear about sales and new arrivals.
Related Posts: