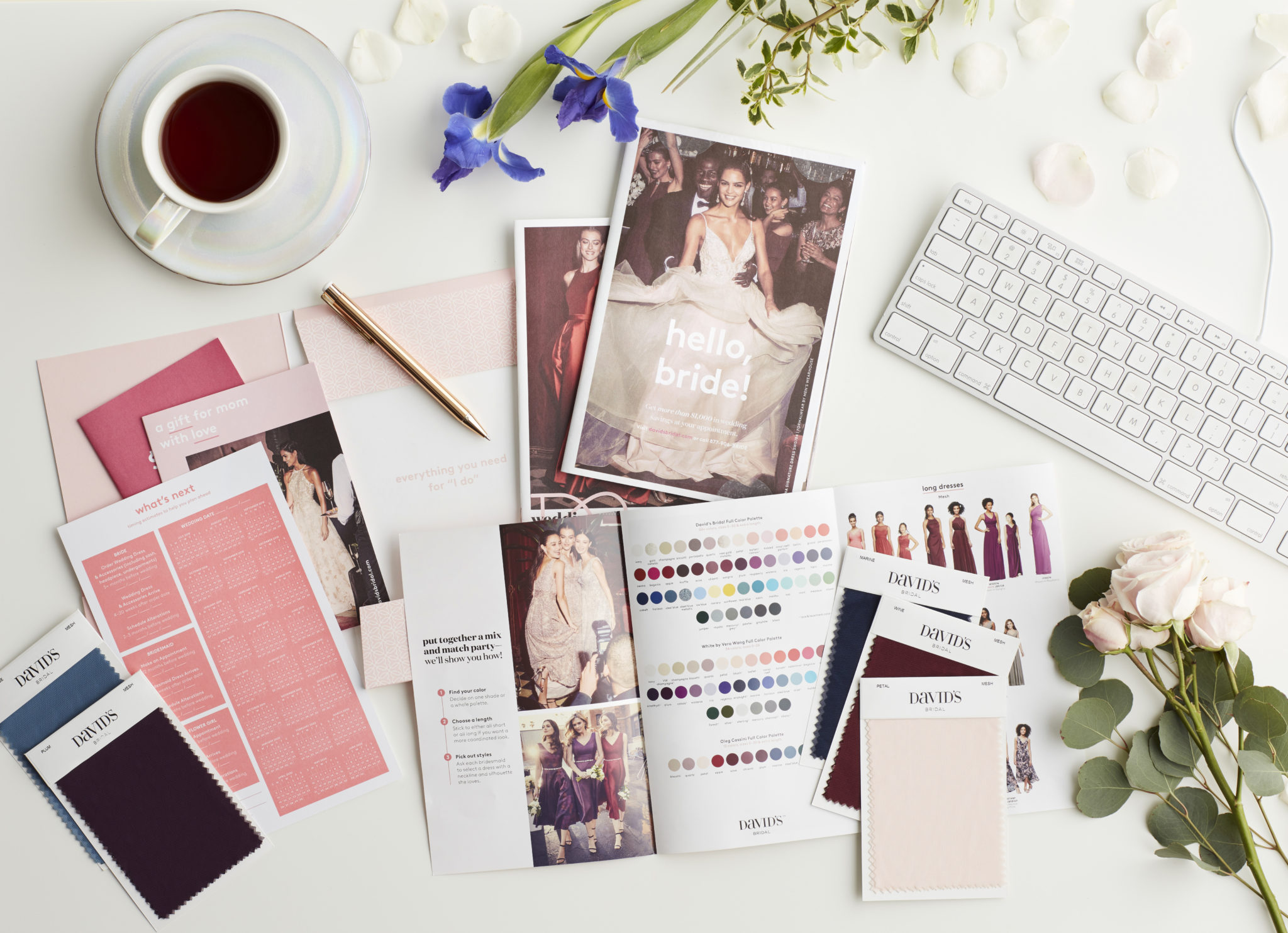 02 Nov

Color Theory: Colored Wedding Dress and Bridesmaid Pairings
A guide to nailing a colorful and cohesive day
A wedding day full of color is a yes in our book. From the flowers to invitations to decor, the color(s) you choose will make its way throughout every part of your day. And a trend we are loving is the bride in a non-white wedding dress, from pink to blue to black! While we've shared our guide to colored wedding dresses and how to complete your colorful head-to-toe look, you should carefully consider the colors your bridesmaids wear, too! Keep reading for expert tips on colored wedding dress and bridesmaid pairings!
A Touch of Blush
A pink wedding gown is inherently romantic, perfect for your wedding day! Other shades of pink, red or pastels fit appropriately next to it (like Wine, Chianti, or Iris), but also consider bridesmaid dresses with some shine. Metallic fabrics (like rose gold or gold) or shimmering sequins (from silver to rose) will complement a blush wedding dress gorgeously.
Daring in Black
Play with saturation when wearing a black wedding gown. Bridesmaids in a shade of grey— think Mystic, Mercury, Pewter, and Graphite— would pair beautifully with a bold, black gown. Alternatively, flip the switch and have the maids wear white for a modern look!
Something Blue
With over ten shades of blue in our bridesmaid dress collection, go for an ombré effect starting with the bride. For every 'maid, have her wear a deeper blue hue! Want to mix and match to perfection? Neutrals, grays, or purples that have a blue undertone offer a new color into your day while still matching back to your colored wedding dress.
As a bride who loves color, the options are endless when coordinating your colored wedding dress and bridesmaid pairings (rainbow parties are fun and quirky, too!)! Make an appointment to find your gown and the bridal party colors that complement it at your local David's Bridal.
Related Posts: