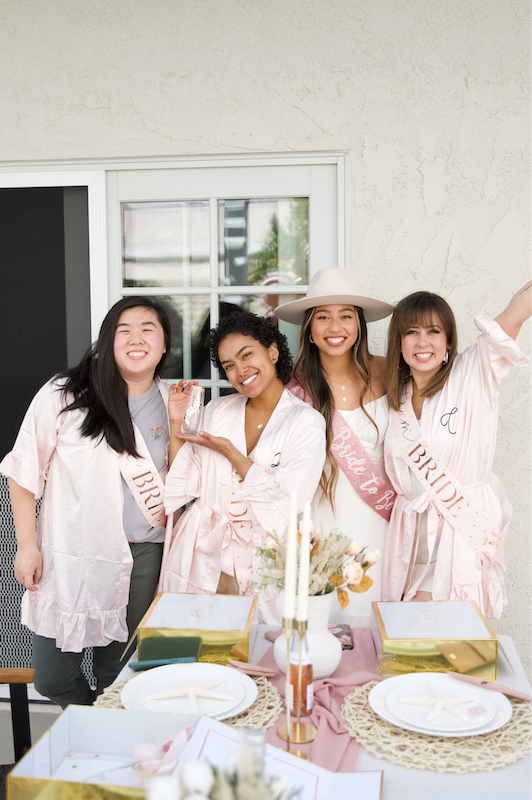 15 Oct

Bridesmaid Gift Ideas Your BFFs Will Love
Bridal party gifts so cute, you'll want them for yourself!
We previously shared how to propose to your bridesmaids, and today we're sharing even more gifts for bridesmaids! Whether you're asking your best girls to be a part of your day or thanking them for standing by your side, these bridesmaid gift ideas take the cake!
Getting Ready Robes & PJs
A satin robe or sleep set will be loved both now and later for every glam getting-ready moment. Your girls can slip into these after the bachelorette night out or before putting on their dresses. Available in a rainbow of shades, choose the color that matches your day for an effortlessly cohesive feel from start to finish.
Style WPD29379, FBSATROBE, WPD29378 & WPD29437RW
Personalized Robes
Add a custom touch to your robes with (free!) personalization. Add your besties' initials on the front or write out their full name on the back for an insta-worthy photo moment.
Bachelorette Party Essentials
Gifts to help get the party started! Surprise your gal pals with bachelorette party essentials like coordinating swimsuits or trendy heart-shaped sunglasses. No matter where or what theme your last hurrah is, finding the perfect gifts for your besties makes things 10x times as fun.
Style DRBWG45001, DRRSG99901, 687051948705, EB3342WDDB2, 94110044
Now & Later
The perfect gift is one you can use now & later. Your bridesmaids will love using these gifts before, during, and after the wedding. A sparkle encrusted water bottle and classic denim jacket for wedding planning or running errands? Yes, please! A satin pillowcase and shimmering champagne tumblr for a bachelorette party or girls night in? Sign us up!
Style RWB500, VG2112713, J05 & K2583DVB
Bridesmaid Box
Just said yes? Now it's your turn to pop the question in style. Propose to your gals with a thoughtful box of goodies! 'Will you be my bridesmaid?' is made easy with this pre-made box that takes the guesswork out of DIY-ing a gift of your own. For an extra special touch, add your own personalized note inside for each of your soon-to-be bridesmaids.
Style 00121NA
DIY Bridesmaid Box
Want a custom feel to your proposal or thank you boxes? Pick your favorite style of box and then perfectly curate your bridesmaid boxes with luxe products and personalized goodies at your local store or online. From beauty must-haves to a comfy robe to get ready in, we love the idea of surprising your girls with boxes that fit each of their personalities.
Style 28439WH, EB3193SCP & 28439PK
Planning a wedding? Sign up for our Diamond Loyalty program—it's free! Follow us on Instagram, Pinterest, and Facebook for more bridesmaid gift ideas, or click here to book an appointment.
Featured image: @justrachelnaomi
Related Posts: