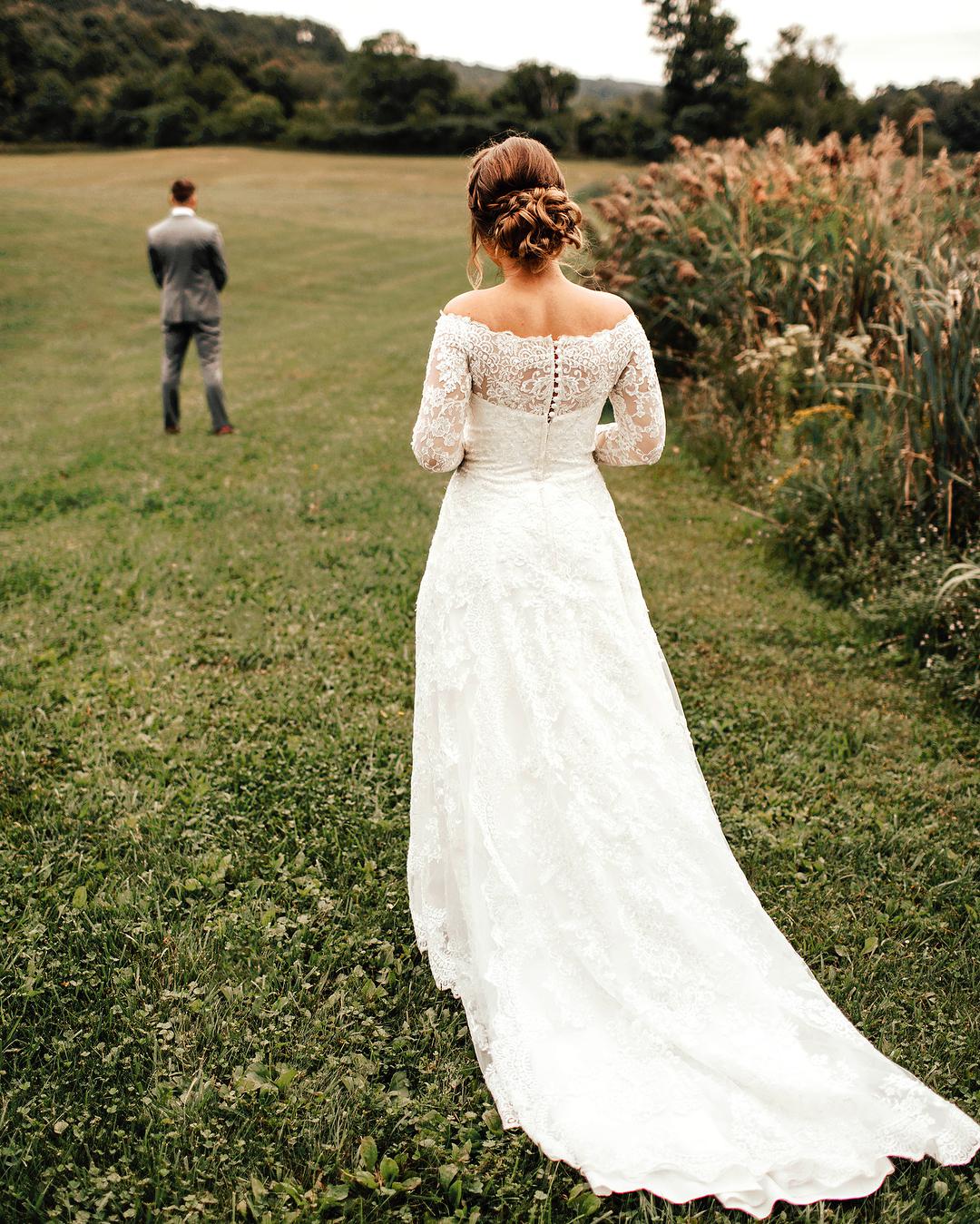 28 Sep

Should You Have a First Look Before the Wedding?
The Pros and Cons of having a First Look.
"Are you having a First Look before the wedding?" is a question bound to come up during your wedding planning.  If you're not familiar with the term, a First Look is a planned moment between the bride and her partner, usually staged by the wedding photographer, before the wedding ceremony. It's the first time the couple is seeing each other in their wedding day attire and usually a very intimate and emotional moment. A First Look before the wedding isn't a new trend but we were curious why brides choose to (or not to) have one. Naturally, we took to an Instagram stories poll to find out and were amazed to receive responses from over 300 brides – past and present! In the end, the feedback was slit, so we decided to pull together the pros and cons of having a First Look before the wedding to help guide your personal decisions on the matter.
Pros
The photos. It's no doubt the photos are beautiful. Since it is just the two of you, your photographer can capture so much raw emotion. If you're planning to have a First Look, be sure to add to your wedding photo checklist.
One-on-one time. Let's face it, the ceremony can bring on some nervous jitters! Who better to help calm them than your other half? You can also use this time to share personal vows with one another. Your wedding day is a whirlwind so it's a good idea to carve out time for just the two of you, and what better time than before the celebration begins?
Practical reasons. Between fading light post-daylight savings weddings and a day-of schedule to keep to, portraits and group photos before the wedding allow for more time to party later.
Cons
Tradition. With so many parts of the wedding adhering to tradition, why do away with another tried and true practice?
Superstitions. Don't want to risk having bad juju on your wedding day? Some believe a look at the bride before the aisle invites bad luck into your marriage.
Excluding loved ones. Weddings are a time to celebrate with friends and family. That first look of the bride walking down the aisle and her partners face seeing upon her for the first time is among wedding guests' favorite moments, too. It's not surprising many brides want their family and friends to experience your First Looks with you.
Love the idea (and photo opps) a First Look before the wedding offers? Consider capturing first looks with your bridesmaids, a parent, or another special person in your life (aside from your partner.) Other photographers have gotten creative about capturing the couple in an emotional pre-ceremony photo, for instance having them hold hands with a door or wall separating them but allowing them to hold hands or feel each other's presence without spoiling the big reveal.
Will you be having a First Look before the wedding? Tell us why or why not below!
Photo: Shannon Lee Miller
Related Posts: