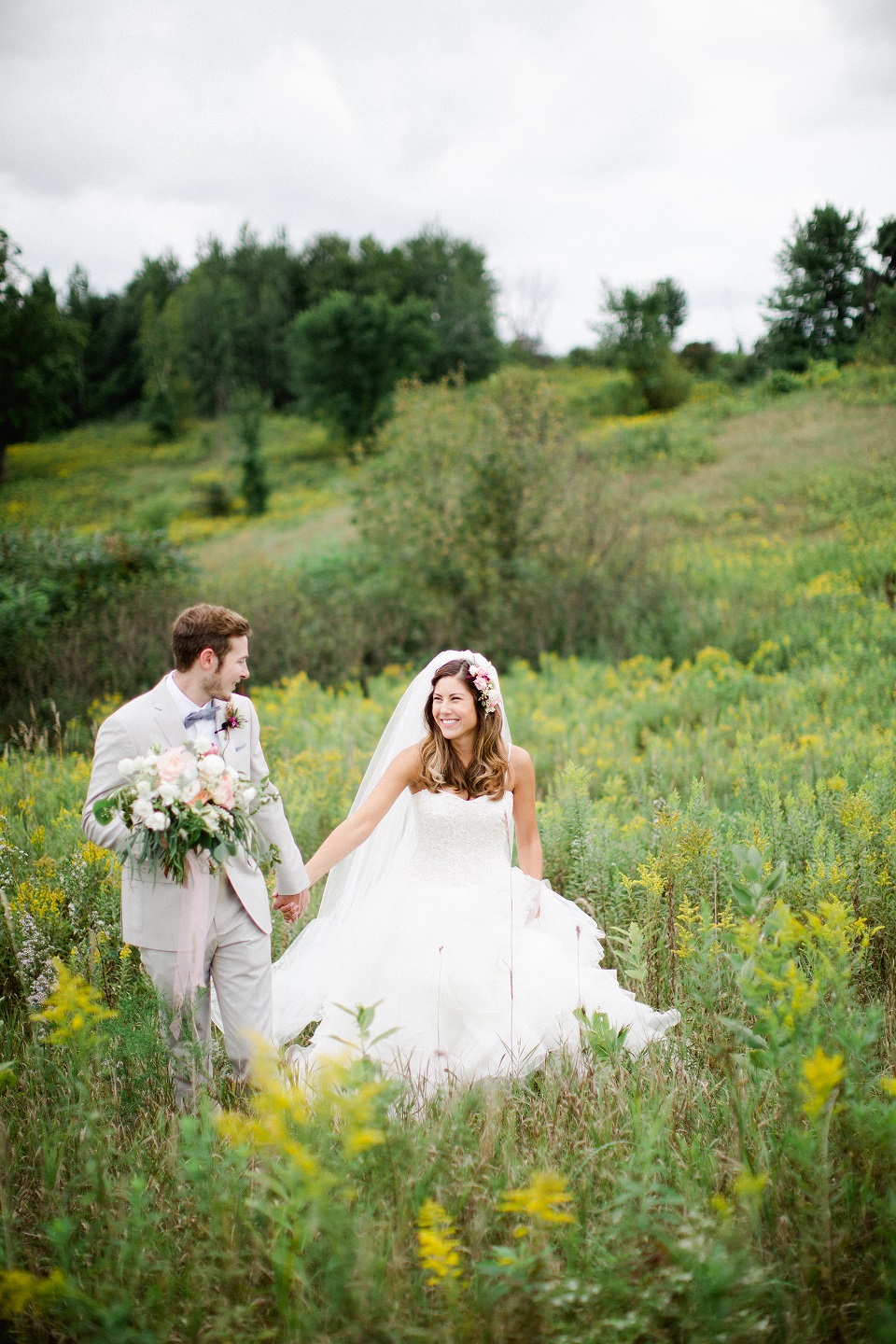 20 Jun

Real Wedding: Meghan & Alex
A rustic summer wedding in Wisconsin
Real weddings are so inspiring! To get you in the mood to plan—and party!—we asked real brides to spill the details on everything from getting engaged to finding their wedding dresses to the special touches and surprising moments that made their celebrations completely one-of-a-kind. Read on for Meghan and Alex's rustic summer wedding in Hillsdale, Wisconsin.
The more the merrier:
We had quite a large bridal party: Seven bridesmaids, seven groomsmen, three flower girls, and two ushers.
Tell us your love story!
We grew up in the same town and even attended the same high school but our paths never crossed there. I went to college miles away and returned the next summer. At the end of the summer, when my friend told me there was a single guy she wanted me to meet, I thought, "Sure, why not?" When I met Alex I was instantly drawn to him. He was charismatic, smart, calm, a gentleman, and super-handsome. We instantly connected over music, as we both loved the old rock and roll, blues, and folk classics. I had to return to school that fall, but the distance only lasted one year before I transferred to be closer to him and home. The rest is history!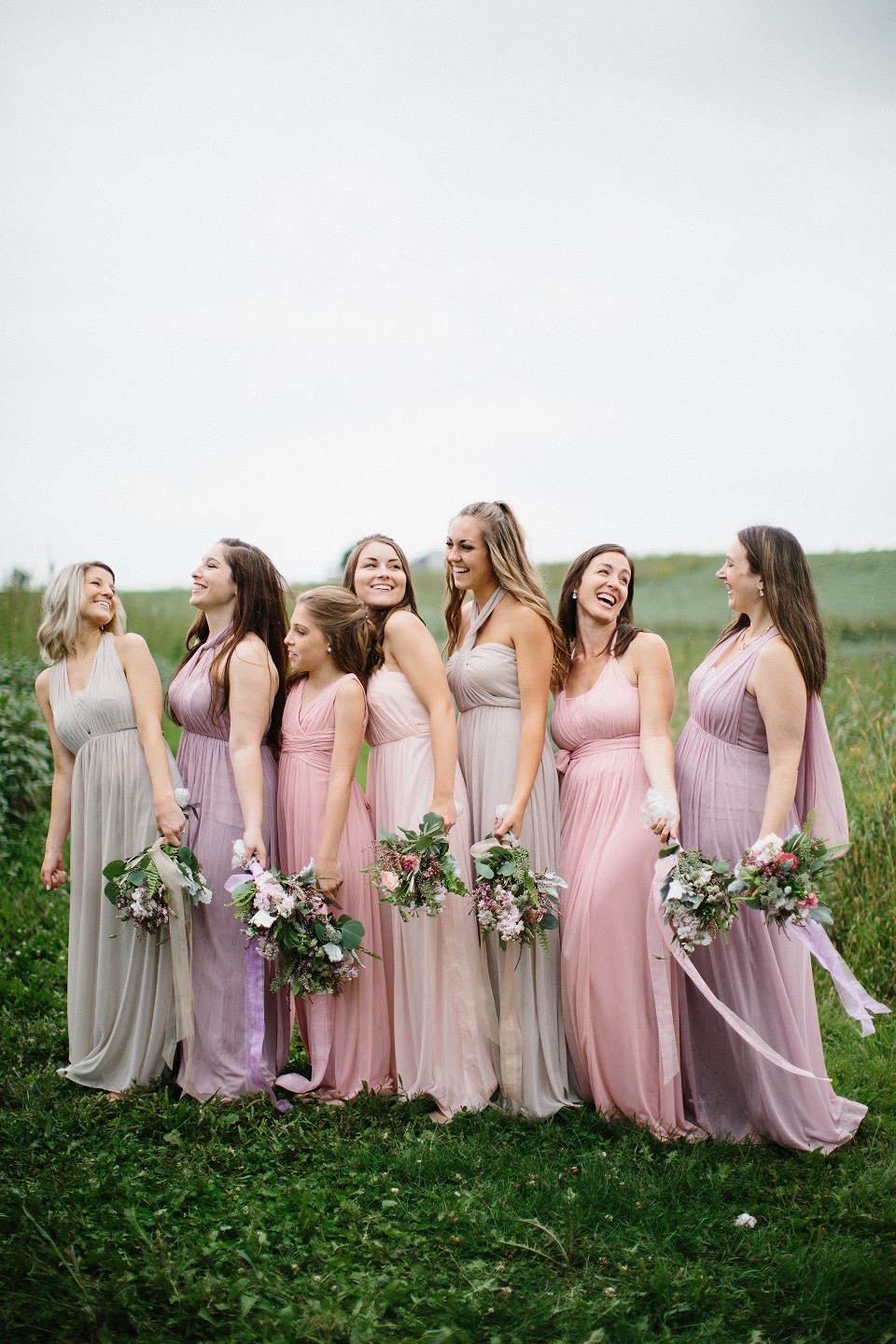 Hold the cake:
Rather than a cake cutting, we had a build-your-own donut bar. Guests could choose whichever flavor frosting and toppings they liked!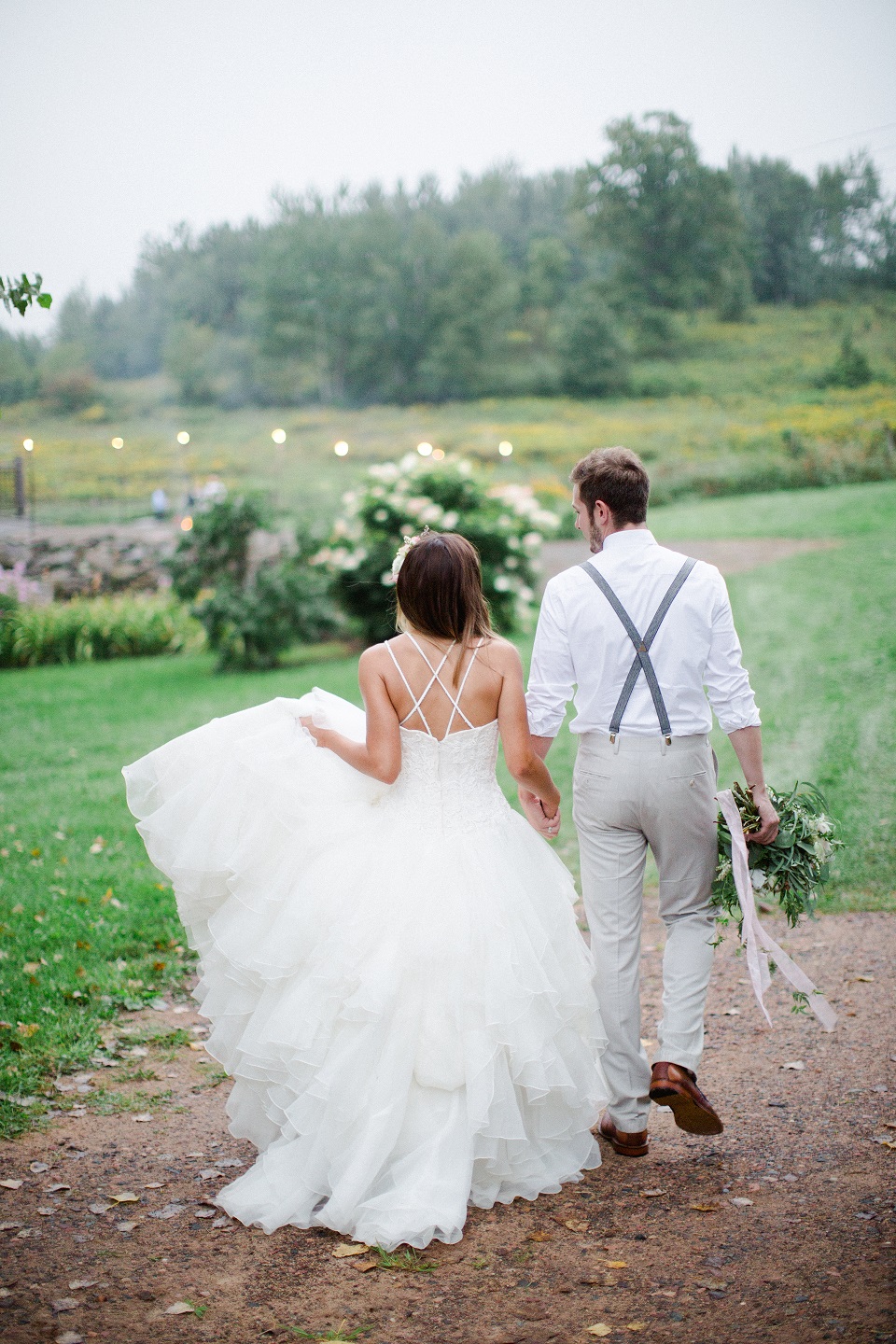 Describe how you felt when you found "The Dress."
When my mom and sisters pointed out this ball gown, with the ruffle skirt, the champagne bodice, and beautiful lace appliqués, it made my heart beat. After my stylist helped me try it on, and I saw the look on her face, I knew it was the one before I even saw it for myself. Her eyes lit up, and as I walked out of the dressing room, so did my entourage. They were speechless. I turned and looked in the mirror and for the first time, I saw myself as a bride. Despite being a tomboy growing up and never expecting to one day fall in love with a princess ball gown, this dress was representative of the happily ever after I had always hoped for. I knew it was my dress, and I loudly rang the bell!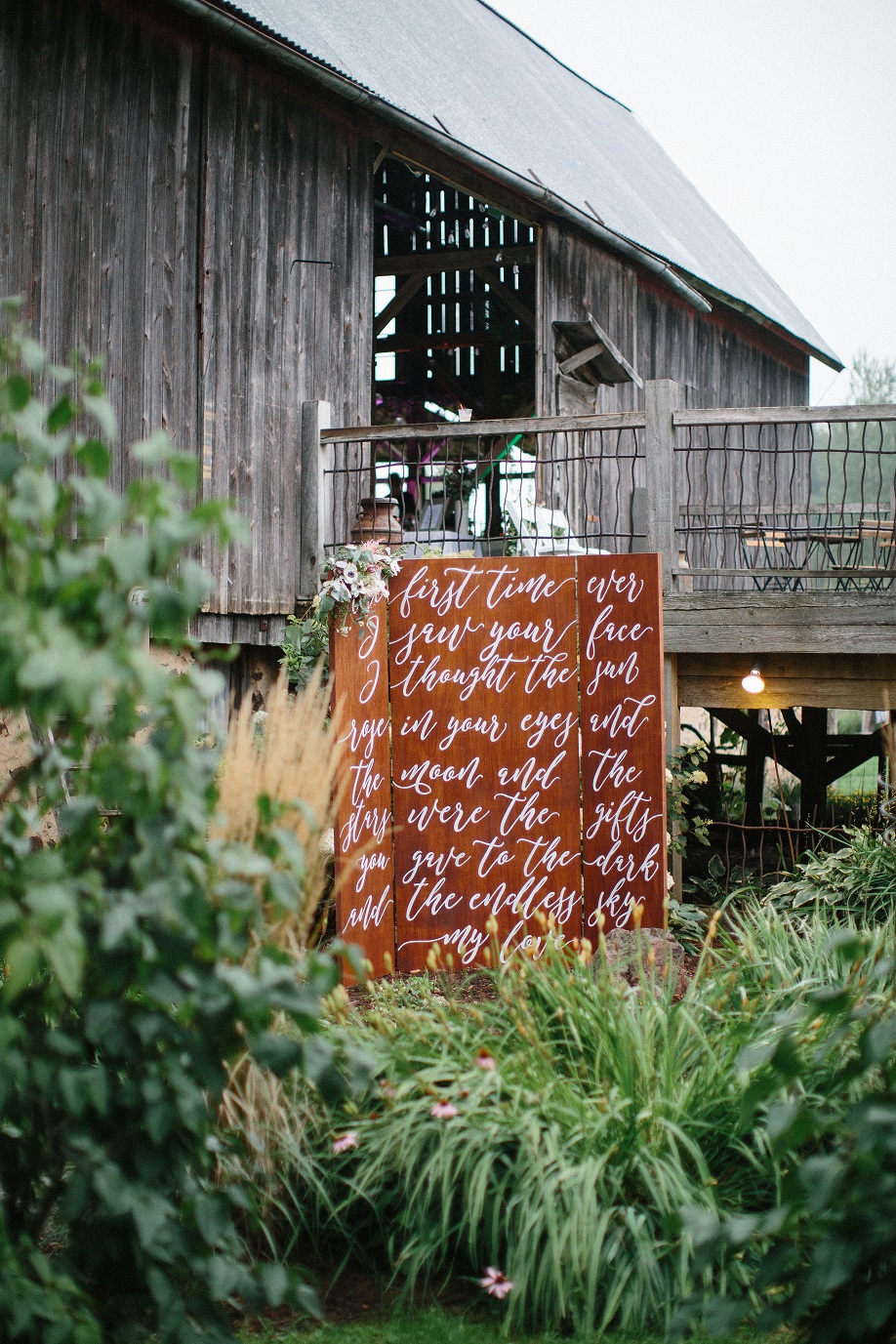 What was your favorite personalized wedding project?
All of our decor was DIY, but my favorite and the most meaningful piece would definitely be the wooden calligraphy backdrop Alex and I made with the lyrics to our first dance song, "The First Time Ever I Saw Your Face" by Johnny Cash. We connected through music, so it was only fitting that we find a way to incorporate it into our wedding.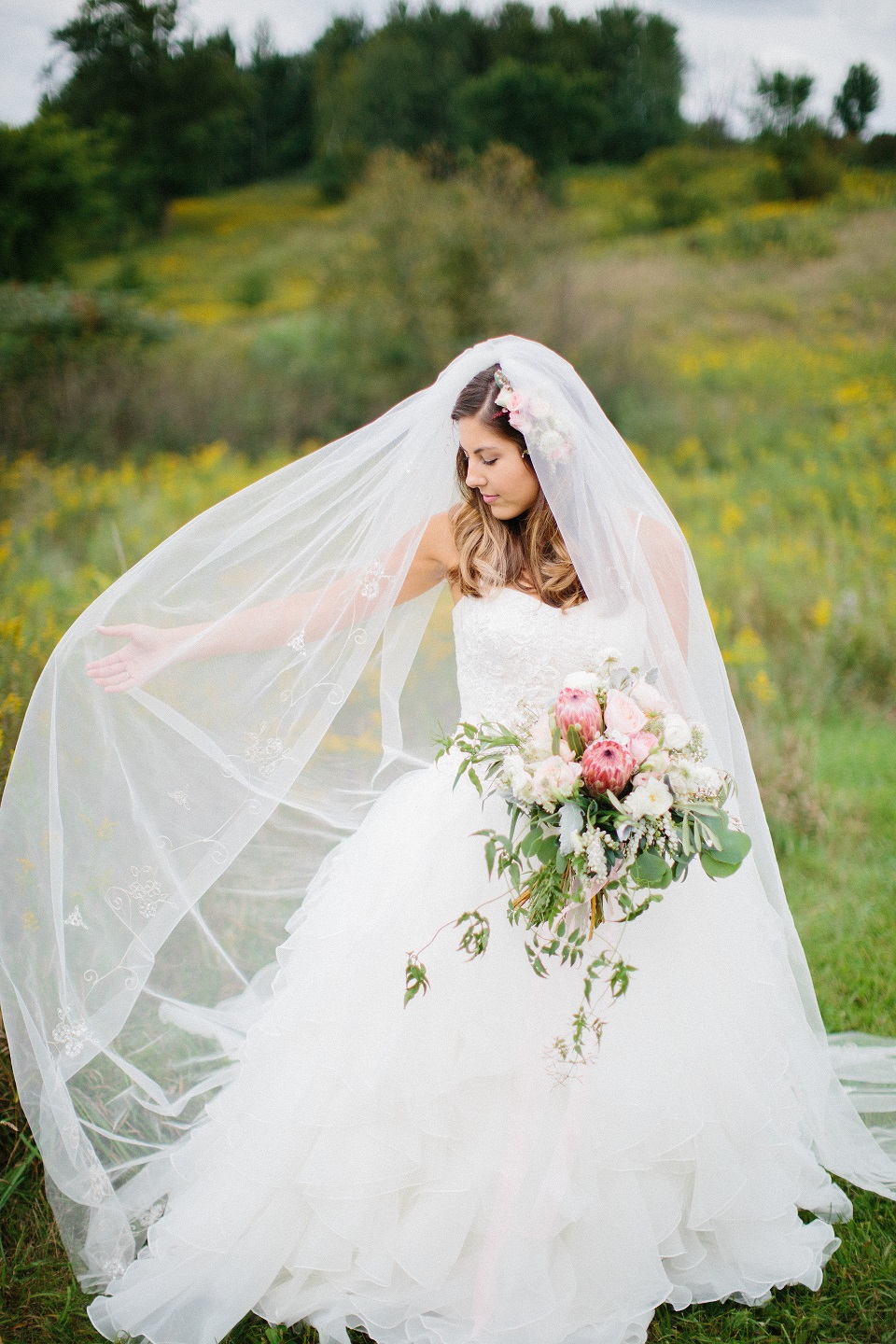 What was the most memorable part of your wedding day?
The first look with Alex. All the commotion and worries disappeared when I saw him standing down the path, waiting for me, and smiling. It was a moment out of the day for just the two of us. I also will never forget the feeling of walking down the aisle, all our loved ones standing for us, smiling from ear to ear, and genuinely so happy. I didn't expect that moment to be as impactful as it was.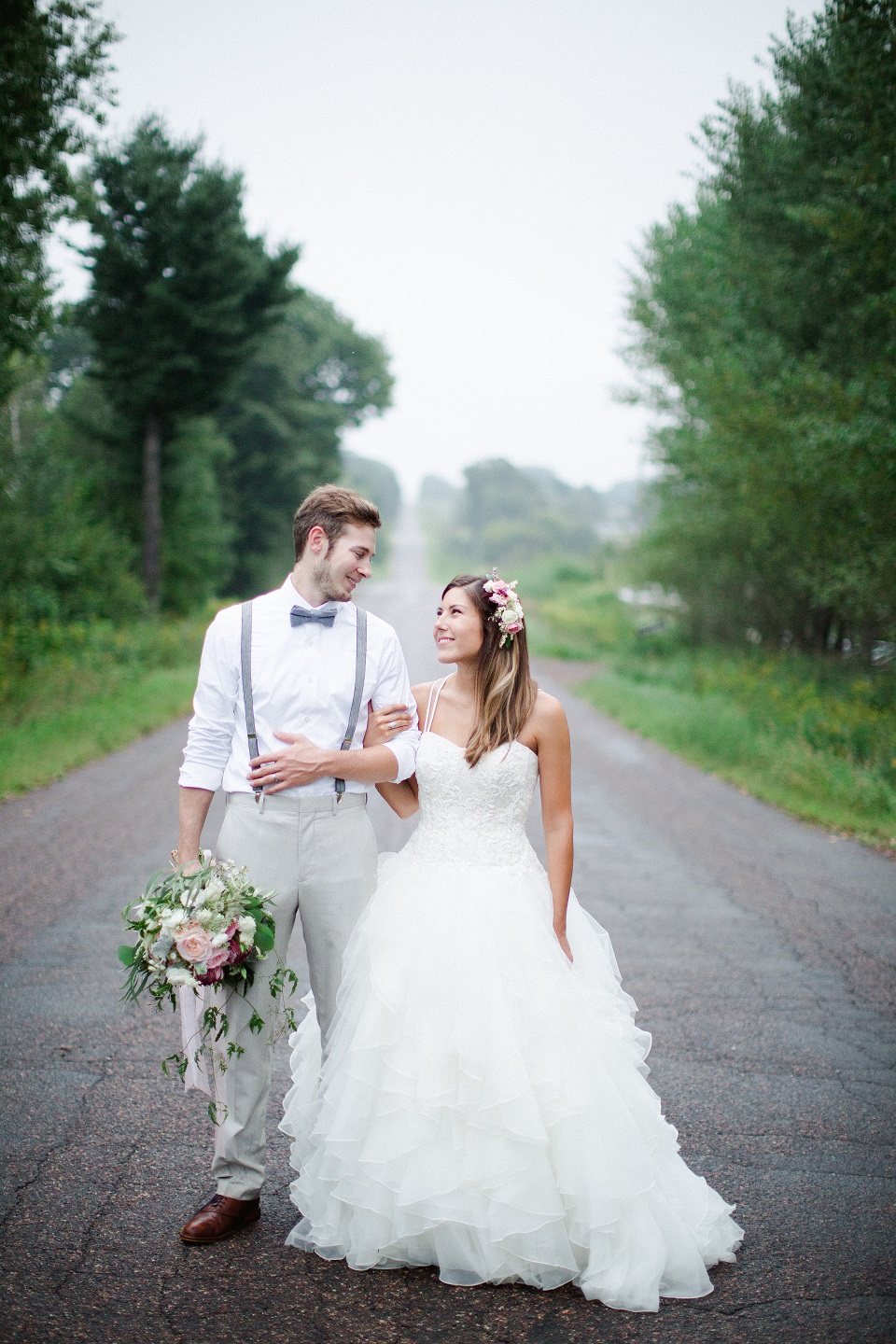 More Details:
Location: Hillsdale, Wisconsin
Wedding theme: Rustic romance
We know how important your wedding day and special events are to you and we are doing everything in our power to serve you! You can shop with us 24/7 at davidsbridal.com plus we are here for you to help guide you through your wedding planning!
Related Posts: