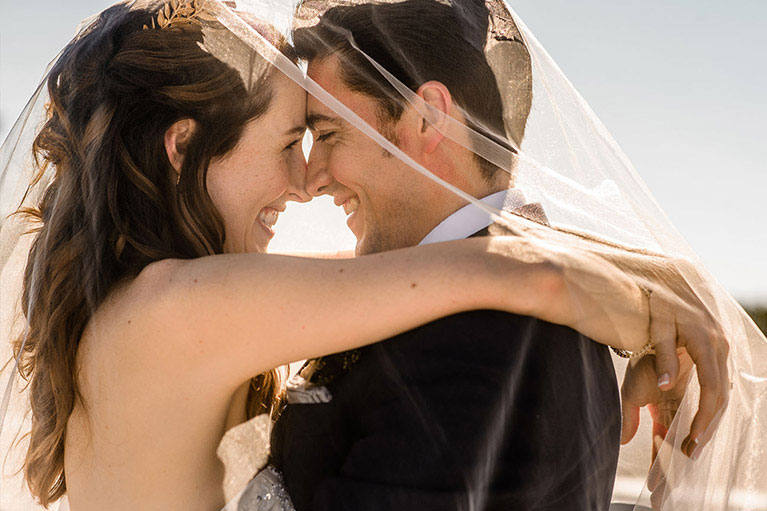 18 Aug

Real Wedding: Megan & Steve
A modern urban wedding in Philadelphia
Real weddings are so inspiring! To get you in the mood to plan—and party!—we asked real brides to spill the details on everything from getting engaged to finding their wedding dresses to the special touches and surprising moments that made their celebrations completely one-of-a-kind. Read on for Megan and Steve's modern urban wedding in Philadelphia, Pennsylvania. (P.S. Steve is a member of the David's Bridal team!
How did the proposal happen?
Steve, who's a digital designer and videographer at the David's Bridal headquarters, proposed in September 2016 after a beautiful scavenger hunt through Philly, starting at the improv theater where we first met, and then to the places we went on our first few dates. He proposed on the Ben Franklin Bridge, where we had gone on our first run together, and then he whisked me off to a surprise party at our home in South Philly, where 70 of our closest friends and family were waiting. The best part was that our family and friends thought it was a surprise birthday party for me, so not only was I surprised, but everyone there was surprised, too.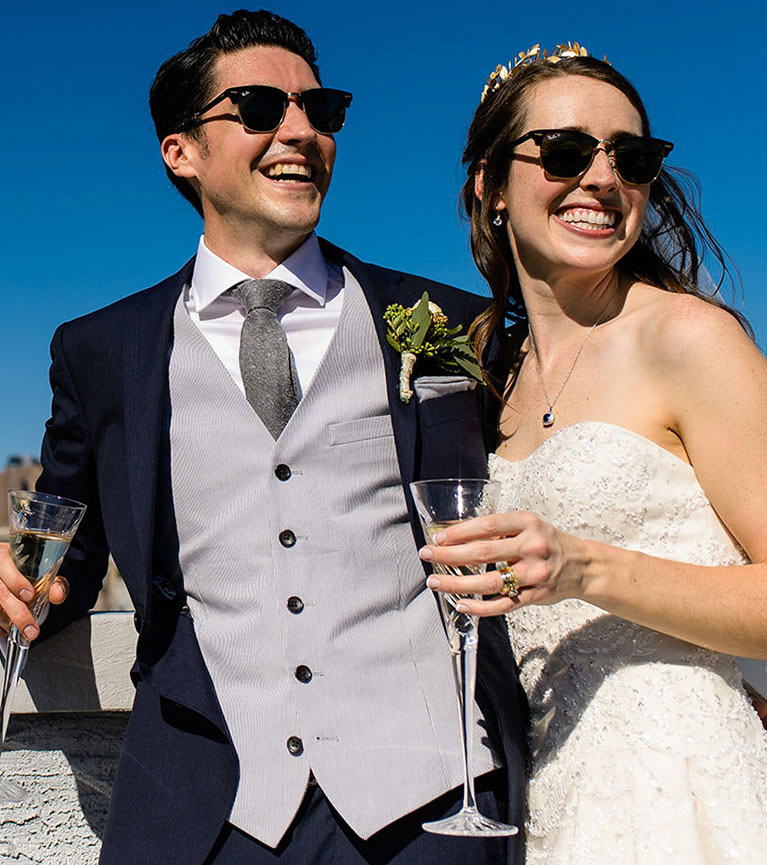 How did you decided on your wedding dress?
My dress was quite a surprise for me! I am a fairly casual person and always thought I would be more of a bohemian bride—a big or fancy gown never seemed "me." When I was looking through the David's Bridal site, I was really drawn to the Oleg Cassini line. All of the dresses were so elegant and regal. At my appointment, I tried on a few dresses I liked online but none of them made me feel like a bride. When I tried on this Oleg Cassini ball gown, I immediately knew it was the dress for me. I felt like a heightened version of myself, and truly like a bride! When I walked out of the dressing room, my mom, future mother-in-law, and my aunts had tears in their eyes (so did I!). I did not want to take the dress off!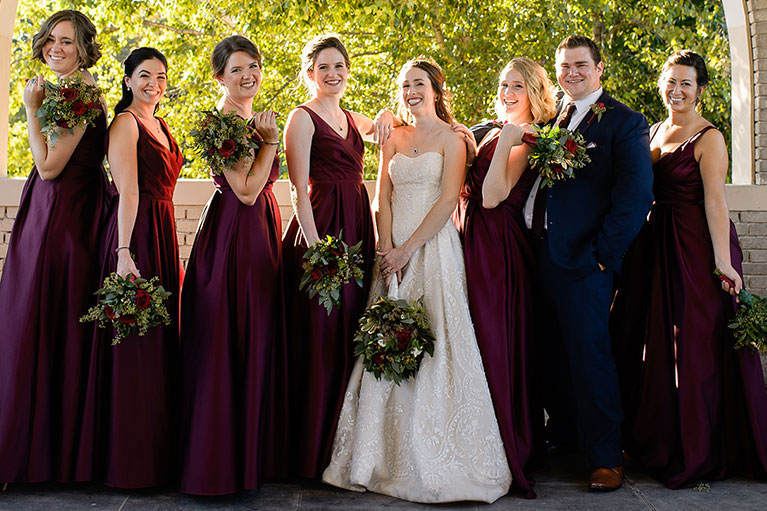 The look of love:
Our photographer captured the perfect picture of Steve as I was walking down the aisle. He had tears in his eyes and told me how beautiful I looked when we met at the altar. I never feel more beautiful than when Steve is looking at me!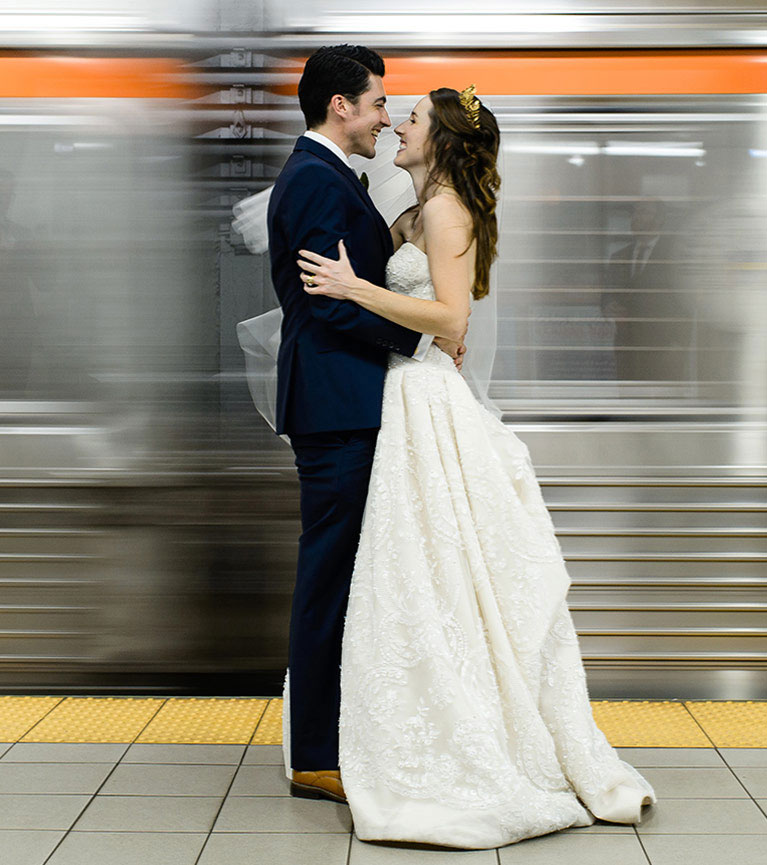 Tell us about your wedding day!
Our wedding day was so fun and beautiful! We really wanted a venue in Philadelphia because the city is our home and where we feel happiest. We knew we did not want a ballroom or country club wedding—it just did not feel like us. When we went to visit the American Swedish Historical Museum, located in one of our favorite parks, we instantly loved it. We loved that our guests could explore the museum and its grounds and then hit the outdoor tent for dancing. We also took the subway to and from our reception!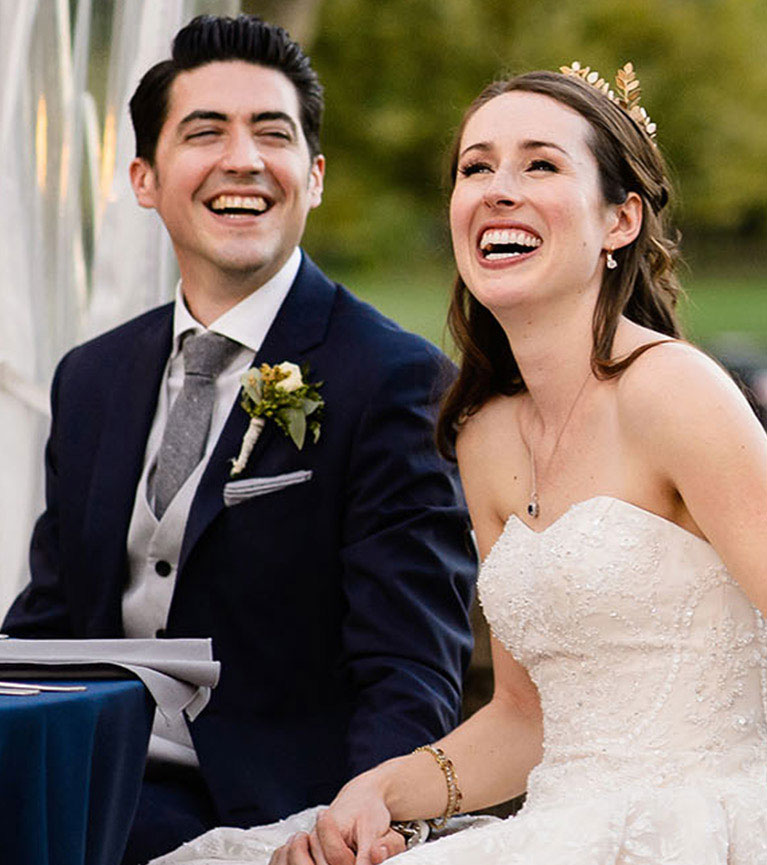 The perfect first dance:
We were surrounded by 200 of our favorite people, with our bridesmaids and groomsmen on acoustic guitar, electric guitar, and ukulele playing "Wagon Wheel," the first song we ever slow danced to. That moment was so full of love and joy!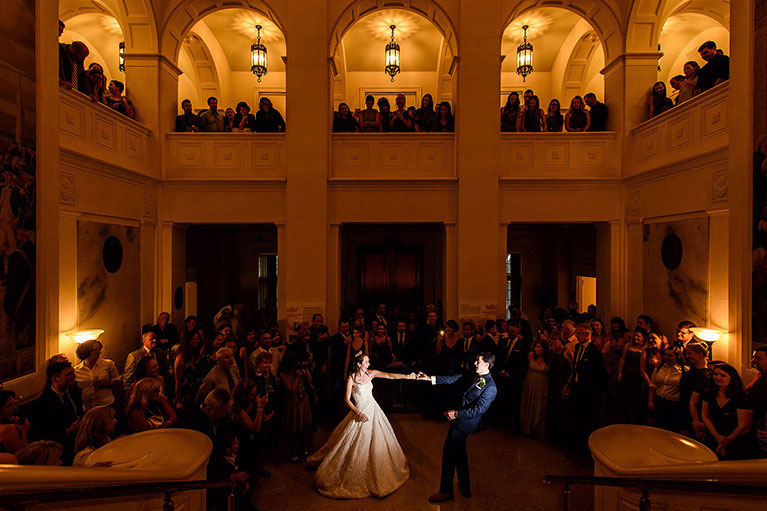 A lift from friends:
We have always loved the Jewish tradition of the Hora but since we are Catholic, we knew it wouldn't be part of our wedding. While dancing, Steve and his brother picked me up, then one of our friends yelled, "Grab a chair!" Our friends lifted us up and gave us our own Hora! We didn't tell anyone that we wanted that to happen and we were ecstatic!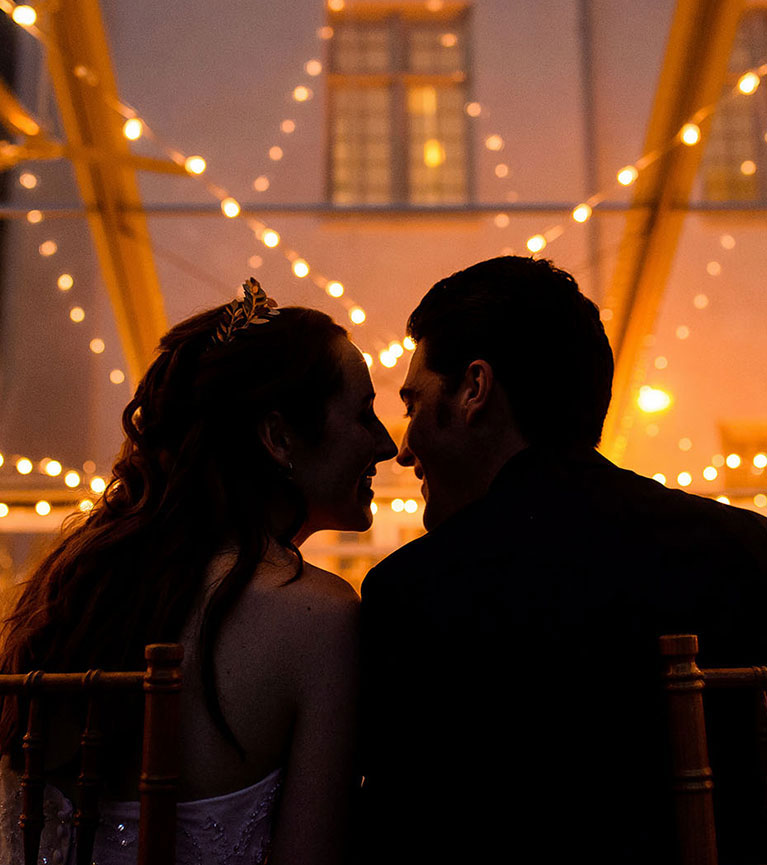 What is your best wedding advice?
Do you! It's your wedding and you will have the most fun if it reflects who you are as individuals and as a couple. We met performing improv comedy and used to warm up by dancing crazily to the song "Chop Suey" by System of a Down, so we played this song at our wedding along with a song from "The Little Mermaid" and a Weird Al polka—everyone was having so much fun singing and dancing along. Remember the day is about the incredible love you share with your partner that you are proclaiming to the world! Nothing is better than that!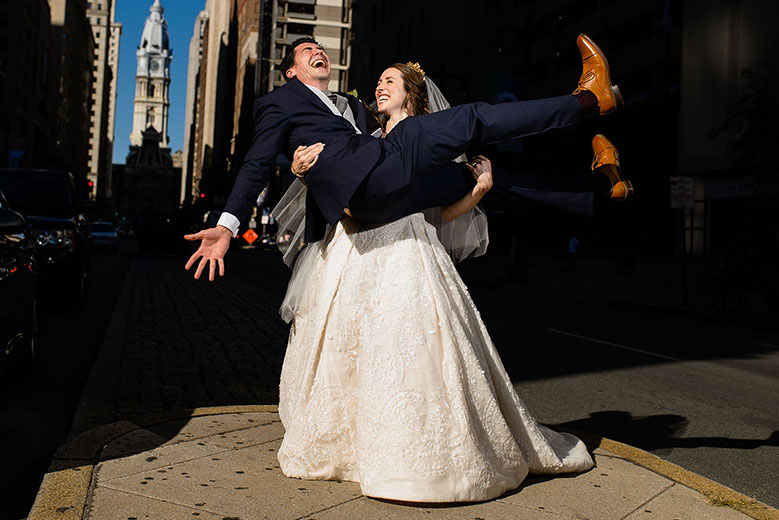 More details:
Silhouette: Ball Gown
Location: Philadelphia, Pennsylvania
Date: September 23, 2017
Photographer: Daniel Moyer
Wedding theme: Fun and personal
---
Find your style, stay in budget, Our stylists can help you put together a look that checks all the boxes. Make An Appointment
Related Posts: