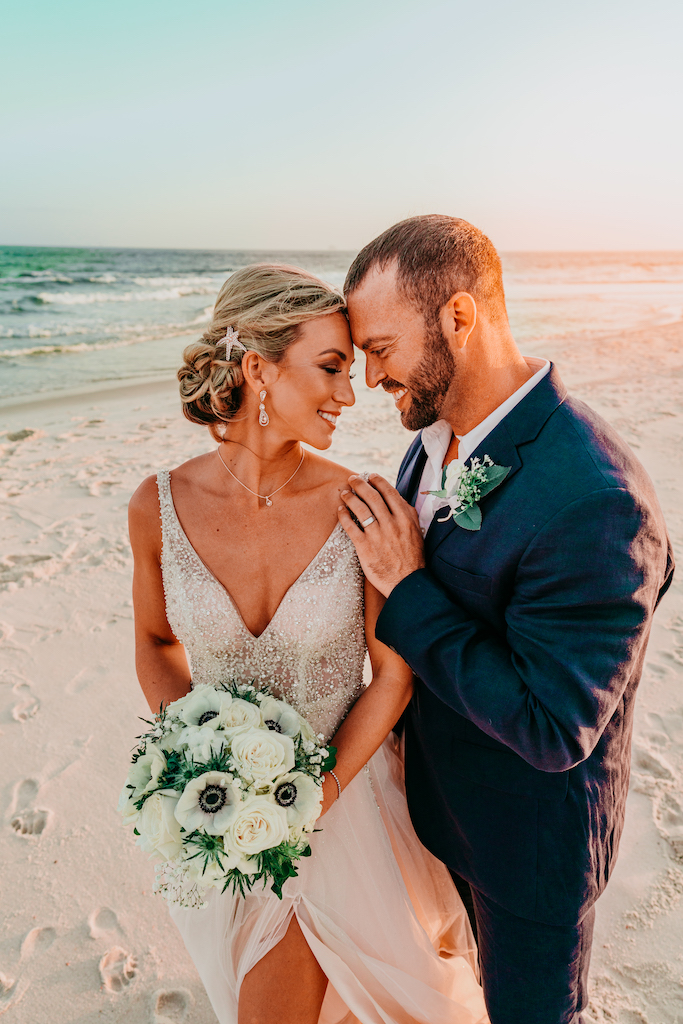 28 Jul

Real Wedding: Ashley & Derek
Romantic Beach Wedding in Alabama
Real weddings are so inspiring! To get you in the mood to plan, we asked real brides to spill the details on everything from getting engaged and finding their wedding dresses to the special touches and surprising moments that made their celebrations completely one-of-a-kind. Ashley and Derek tied the knot in a romantic beach wedding in Alabama. Keep reading to see more details from their beachside nuptials!
Briefly tell us how you and your fiancé met!
My fiancé and I actually graduated high school together, but we are far from your typical high school sweethearts. We lived less than a mile apart for most of our young lives. That being said, we would barely have considered each other friends back then. I moved away a short time after college while he stayed in our hometown and built a life for himself.
After multiple failed relationships on both ends, we reconnected via Facebook. I thought I was back in our small town temporarily and I needed a gym to work out at in the meantime. He had just happened to see a recent post of mine and realized I was back and asked how I had been. It was nothing more than simple small talk, as all old acquaintances do. Neither one of us had plans of anything other than a friendship, we had both recently become single and had full intentions of staying that way for a while. He ran the local gym and offered me a pass. I actually took a couple of weeks to go by his place and pick it up, because I was so skeptical of men in general in that period of my life. To make a long story short, I finally decided to go pick up the gym key. When I got to his house, he had the key ready, written on it was my high school nickname. I smiled. Then I realized he had ordered pizza for himself. I guess he saw me eyeing it because he offered me a piece of pizza and a drink. So, I skipped the gym and stayed. The connection and conversation from that one night were all it took. The rest is history. It really is true; when you know you know…you'll feel it. It didn't take long before we both admitted that.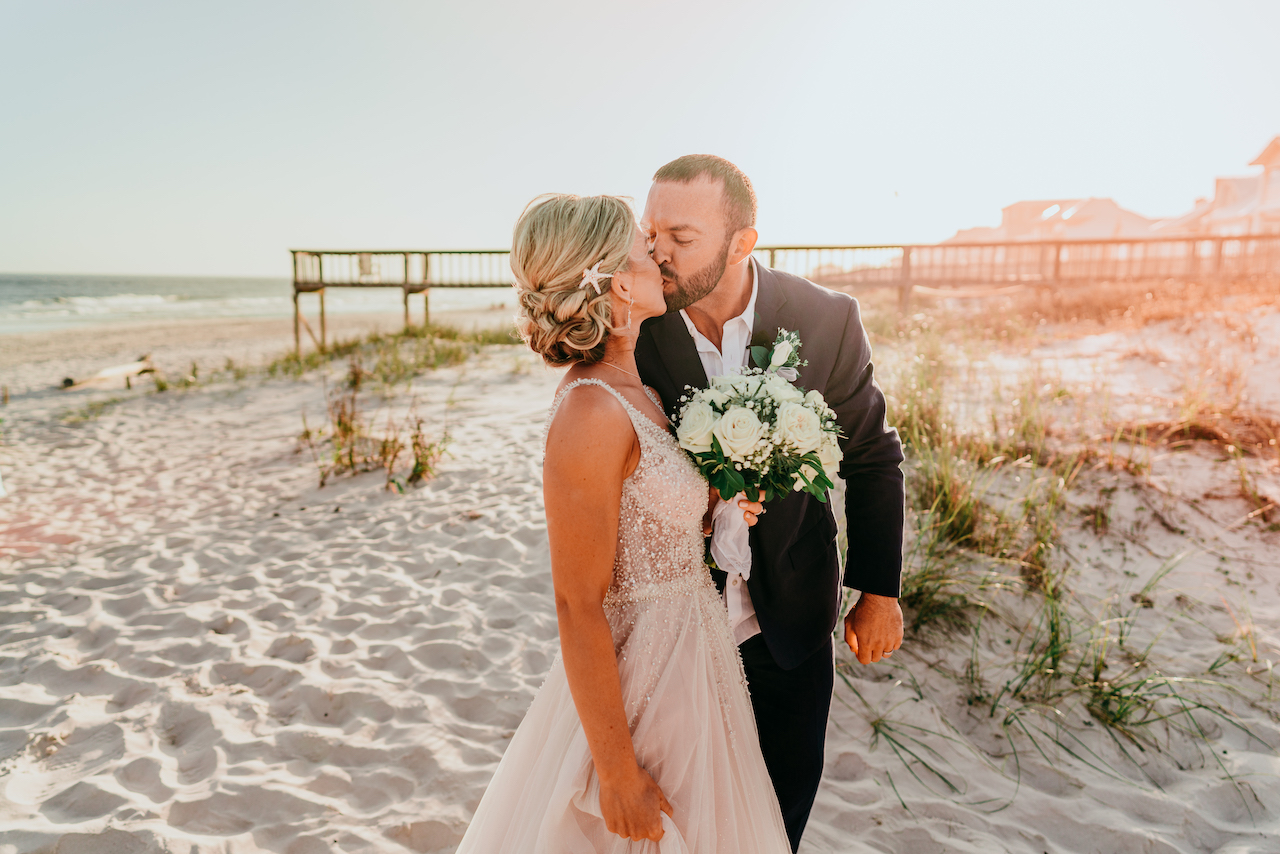 How did you know that he was the one?
Finding "the one" seemed like an impossible task at a time in my life. I finally stopped looking and I ended up on his doorstep without knowing it. It's a feeling that you can't quite put into words. It hits you like a ton of bricks and you know there is no going back from it. Had one thing gone differently, our paths may not have aligned at the right time, if ever at all. It completely restored my faith and unleashed my dreams. Everyone deserves to feel that. Finding your person feels like the missing puzzle piece that pops right into place.
Tell us your proposal story!
One of my favorite hobbies is hiking. Derek is terrible at planning almost everything, even as detailed as he is. It was January 6th in Kentucky, so it was cold. He had repeatedly asked me to make sure I didn't plan anything for that Saturday because he wanted to go hiking with my brother and sister-in-law. I didn't think much of it, in fact, I almost suggested we just stay home and cozy up to a movie. We went to Cove Springs in Frankfort Kentucky, it's a small park and was nearly empty that day due to the dreary weather. We were finishing the hike and we all decided to take pictures near the waterfall. My sister-in-law insisted she get one of just Derek and I. The picture was taken, and I started to walk away, only to have him grab my hand and pull me back. I turned around just in time to see him getting on one knee. My sister-in-law had champagne ready and recorded the entire thing.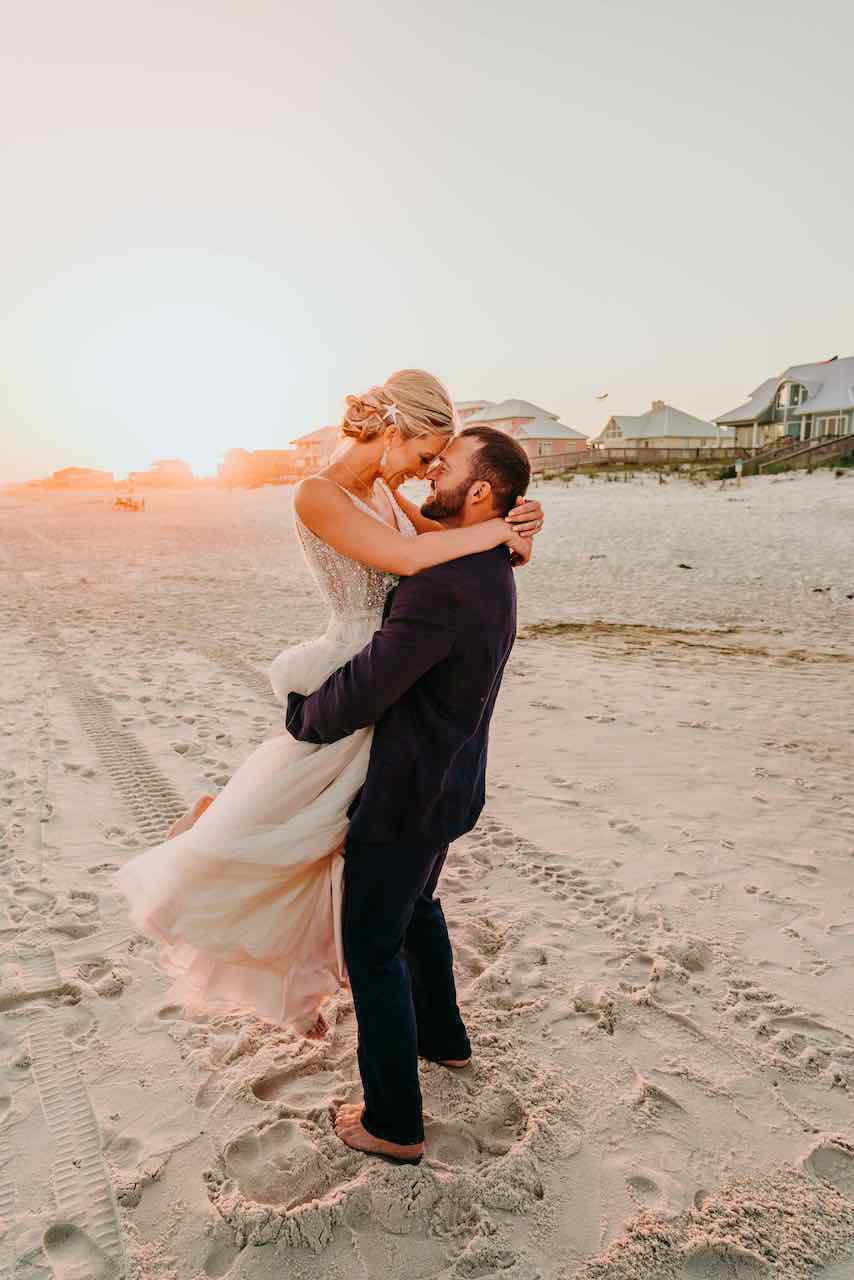 How did you both decide on your wedding day look?
We both knew we wanted a beach wedding because after all, it's our favorite place on earth. Linen was our go-to for the groom and groomsmen; we chose navy blue pants as a contrast to the sage green dresses the girls would be wearing. The guys all wore white linen shirts, and Derek wore a matching navy linen jacket to set himself apart. The look fit perfectly with white sand beaches and the glow of the sunset. And Everyone was barefoot, of course. The look fit perfectly with white sand beaches and the glow of the sunset.
My dress was picked out by my mom—she had them take it straight off the mannequin. We went to David's Bridal just to get an idea of what I liked (I had already pinned 100 dresses on Pinterest). I went in with one idea and came out with something completely different, but it was the dress of my dreams. I didn't want to take it off! It was the perfect amount of sparkle and flow, elegant and beachy… the dress was so very me.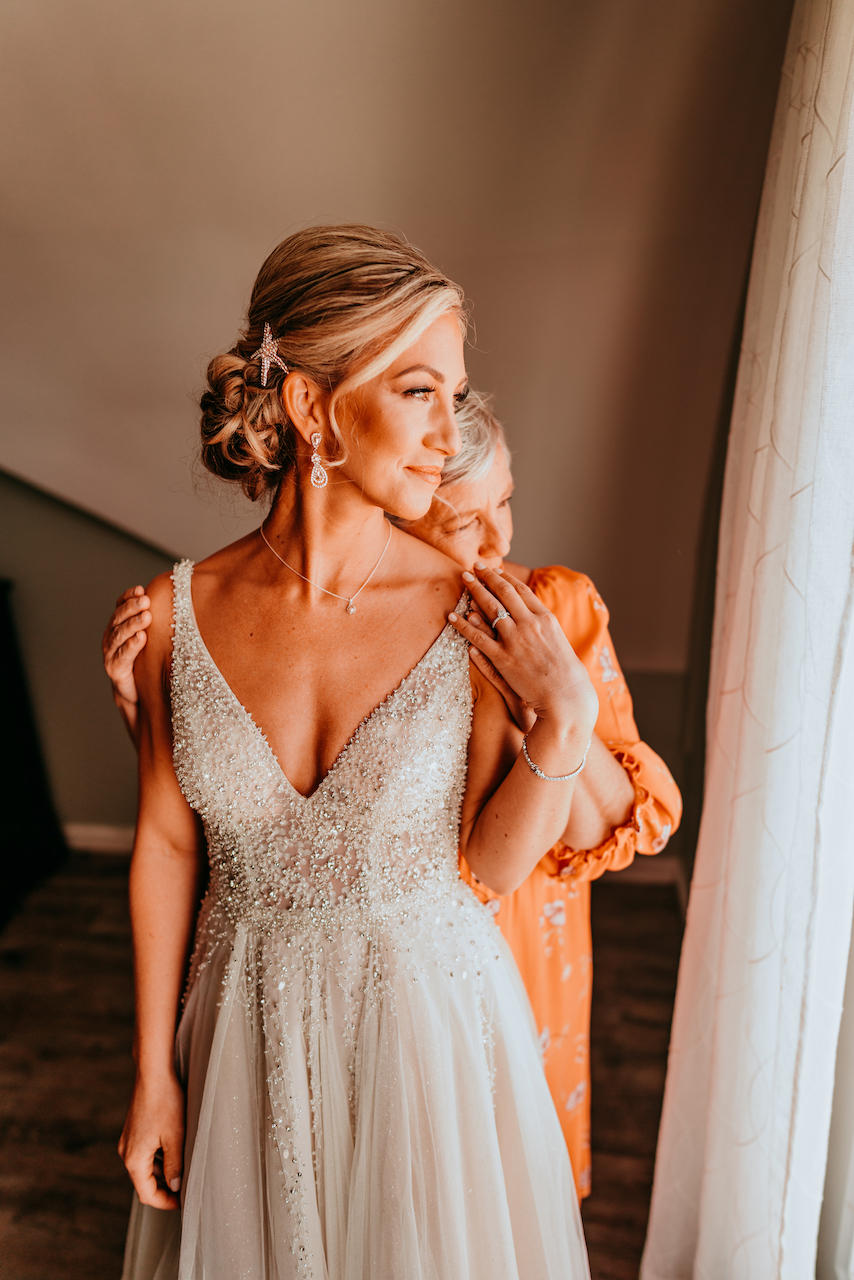 What was your favorite detail about your look?
My dress was THE favorite detail of the wedding, but I also loved my starfish hairpiece. It matched my dress and even though it was small, it was impossible not to notice. I really enjoyed tying in little details of the beach along with my classic ideas—the best of both worlds. I don't think anyone else knew, but I secretly engraved Derek's ring before the wedding with the words, "I love you the most". He noticed it right before the ceremony. He always teases me with that saying every time I tell him I love him.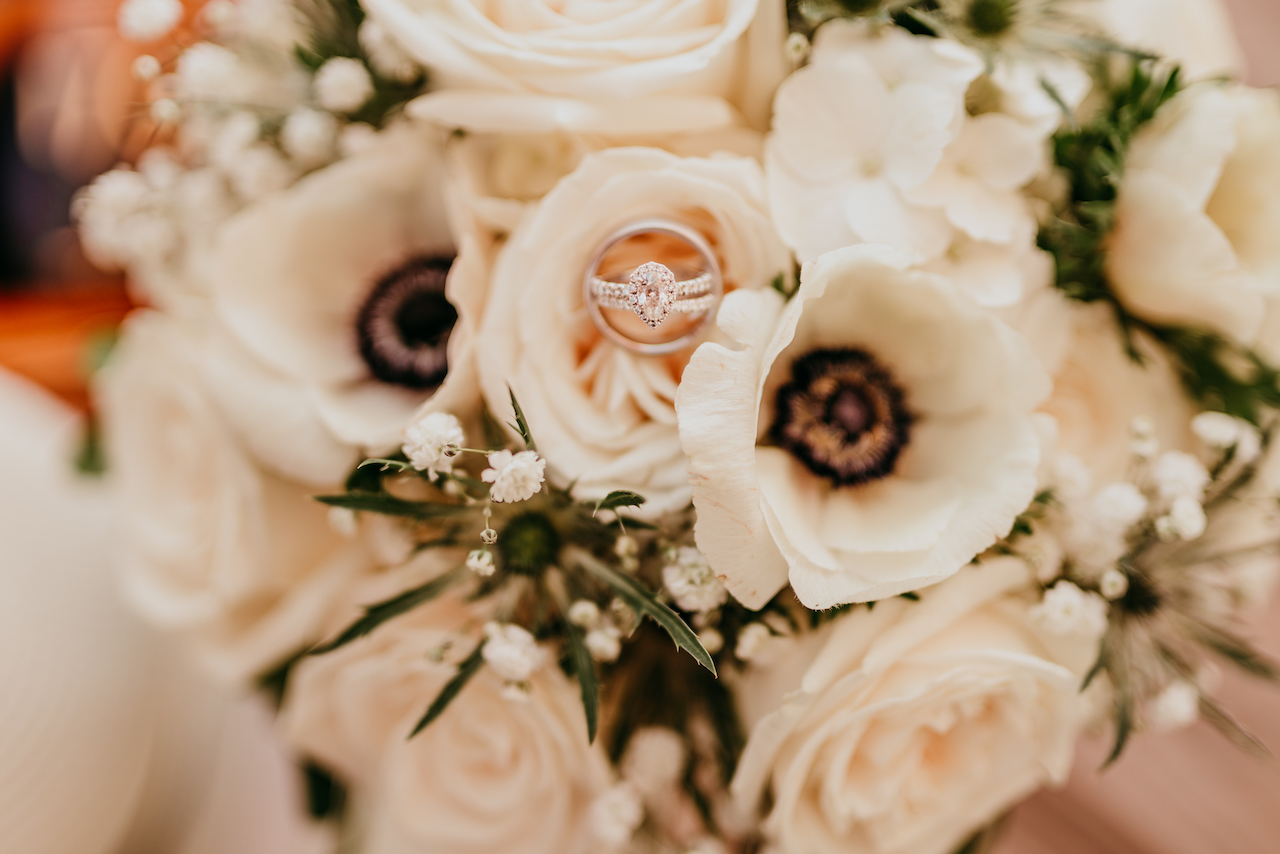 Tell us about your wedding day!
Our wedding day was the best day of my life thus far. It was absolutely perfect. We rented a large beach house in Gulf Shores, Alabama. We wanted it to be intimate, so we had our siblings and their children, parents, groomsmen and bridesmaids as guests. My favorite part was that our beloved dogs were also part of the wedding, as Dog of Honor and Best Dog. We arrived on a Saturday, got married on Wednesday and didn't leave for home until the following Saturday. His father married us and a friend of mine from school was our photographer. The week and house were full of family and incredibly close friends. The love was overwhelming. It's not often that everyone you love comes together and gets to be in one place at the same time. It was a dream. We spent days on the beach, hanging out, eating amazing food, stringing all the lights, toes in the sand, waves in the background. It was paradise with all our favorite people.
Was there a highlight or most memorable moment of the day?
I decided to do a first look with my Dad and all three of my younger brothers. I came down the stairs as they had their backs to me. When they turned around, the emotion was over-pouring. My very stoic brother who never shows much emotion even shed a tear. Other than my Husband (and dog) they are the most iconic men in my life. To share that moment was unforgettable.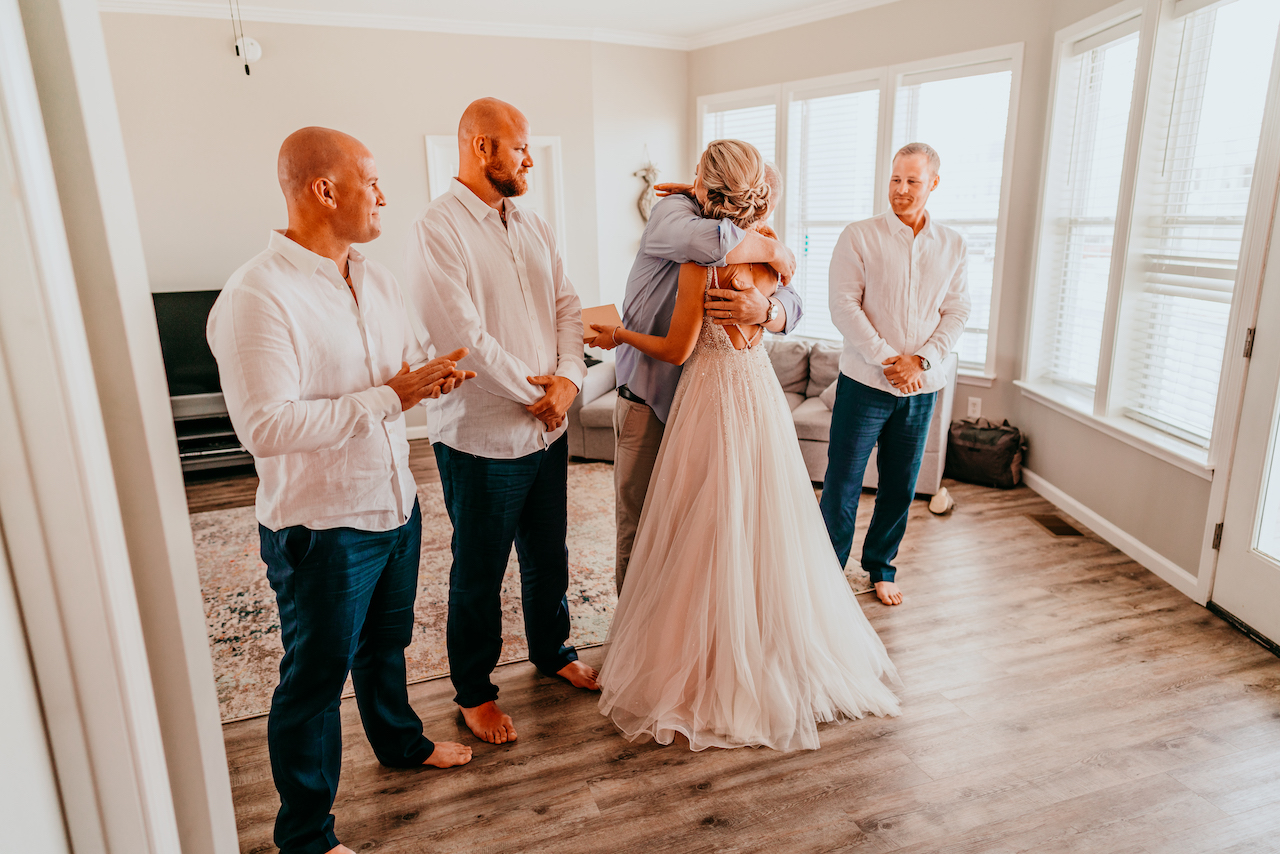 What flavor was your wedding cake?
The cake was a two tired buttercream cake, one tier being chocolate and the other was vanilla. Of course, it had to be topped with a wooden "you, me and the dogs" as well as matching silhouettes of their breeds.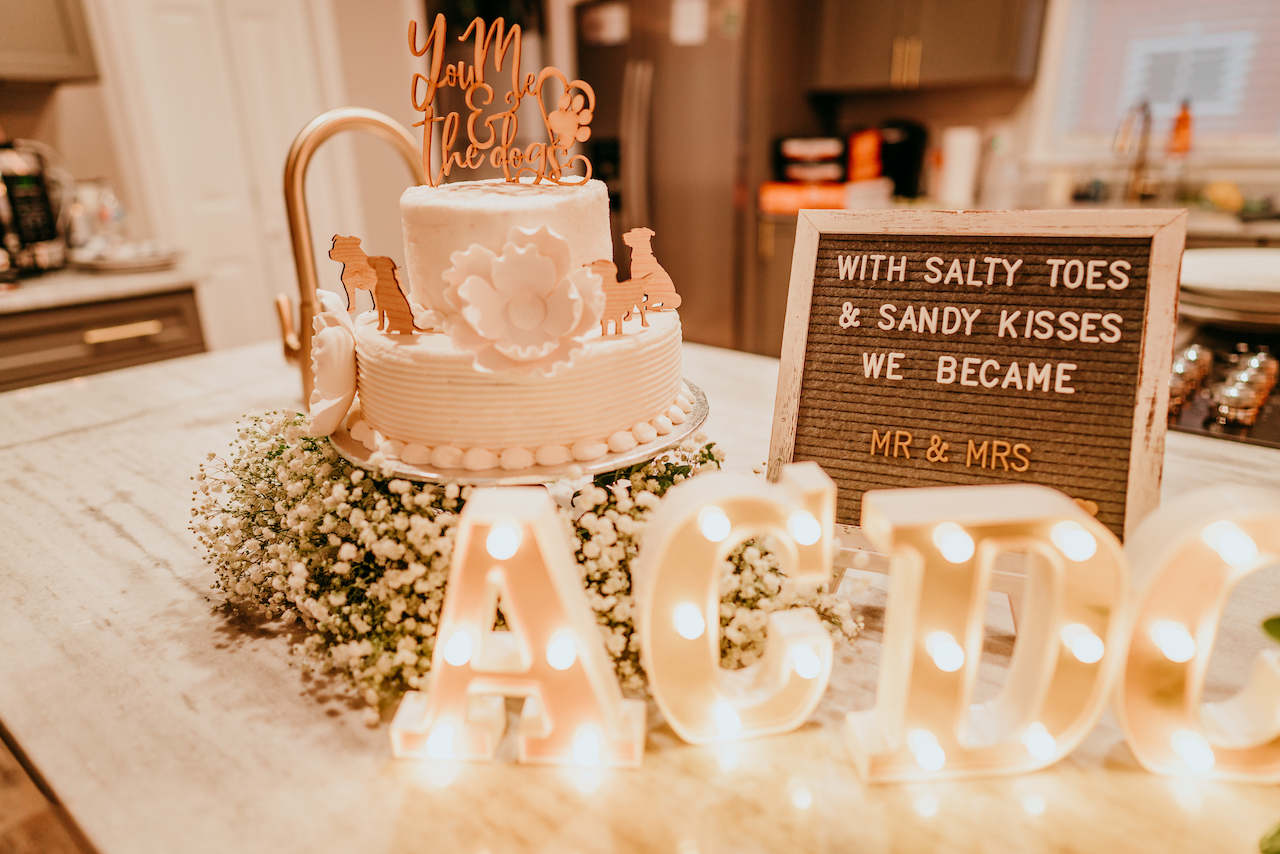 Did you have a first dance song?
After dinner, everyone headed out to the light-covered porch and gathered 'round while we danced to our song, "I'm Yours," by Andy Grammar. I danced with my dad and he danced with his mom as well. So private and so sweet. We took some more pictures, then everyone changed into dancing clothes, and we partied the night away right there, on the beach and under all the lights. Blessed is an understatement.
Did you have to make any changes to your wedding plans because of Covid?
Covid definitely impacted our wedding. In fact, for our dreams to have such a simple and intimate ceremony, the pandemic made it the most difficult event to plan. Our original date was 9.19.2020. We already had the house booked and were unable to get any kind of refund, even though the pandemic escalated. Making the decision to postpone the ceremony was difficult in itself, but even worse when you have a photographer, videographer and an entire wedding party to account for as well. By the grace of God, we were able to find one date that worked for almost everyone, so I took it. I wasn't thrilled about April being the month we had to choose, but we really didn't have any other options. That month just so happens to be my birthday, but its also not the best beach vacation month as far as weather goes and it was 6 months further away. Planning came to a halt until the world calmed down and I was able to make sustainable plans again. It turned out to be better than I could have imagined, even the weather cooperated. We did have one bridesmaid that was unable to be in the wedding because the new date happened to fall on her due date, so she ordered herself a cardboard cut out in her bridesmaid dress and sent it to me. She attended every wedding event as "cardboard Katie." Everyone got a kick out of it.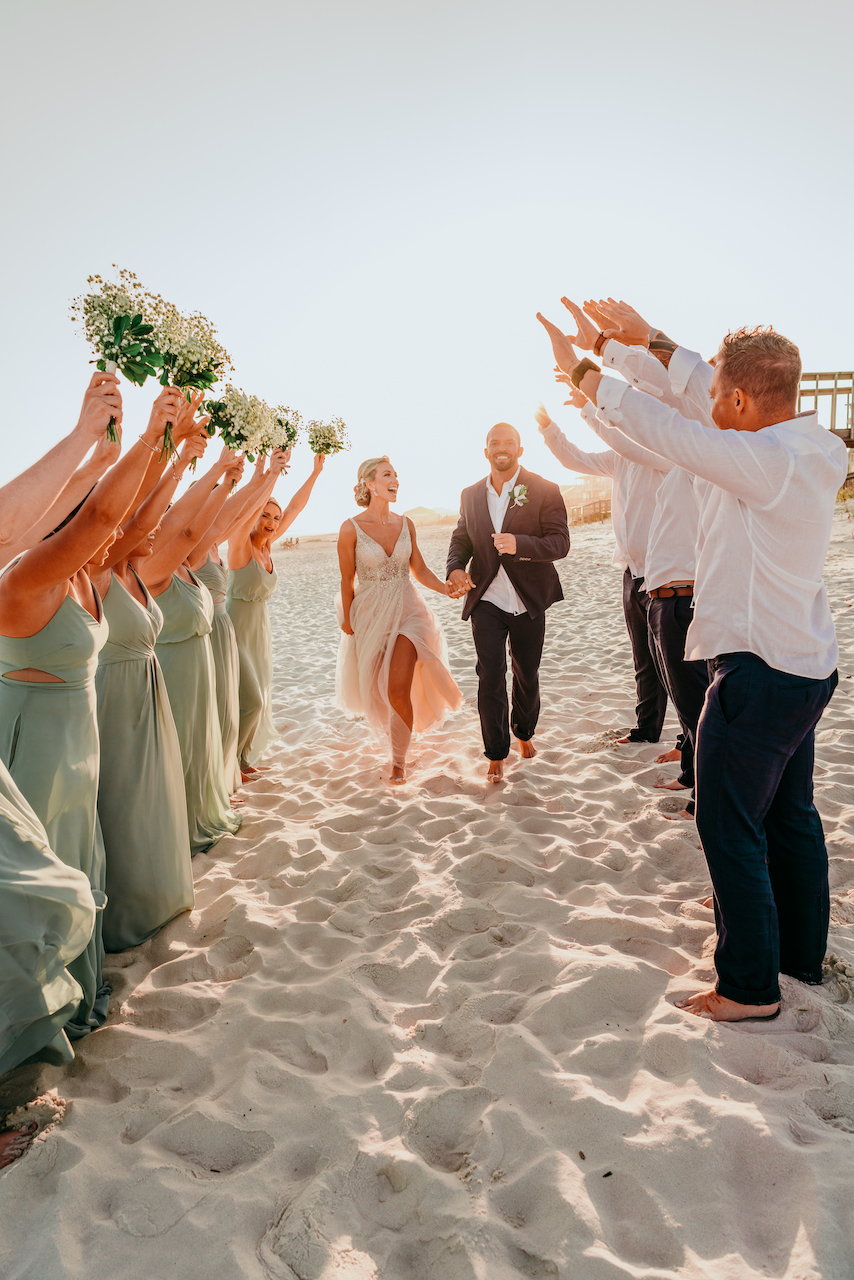 What was your favorite DIY or personal touch?
My favorite DIY touch was the table décor. My bridesmaids and I sat down after a long day on the beach, gathered the sand, shells and candles and created the most adorable table pieces. I gave everyone who was there one to take home as memorabilia.
What's your best wedding planning advice for brides that are planning their weddings right now?
My advice to future brides is to do exactly what you want, whatever it is that will make your day feel special to you and your partner. Remember that it is a day of love and celebration for you and yours, it's not anyone else's day. Personally, after my experience, I whole heartedly recommend doing a small intimate wedding with the people you adore the most and throwing a bigger reception for everyone else later. You won't regret it.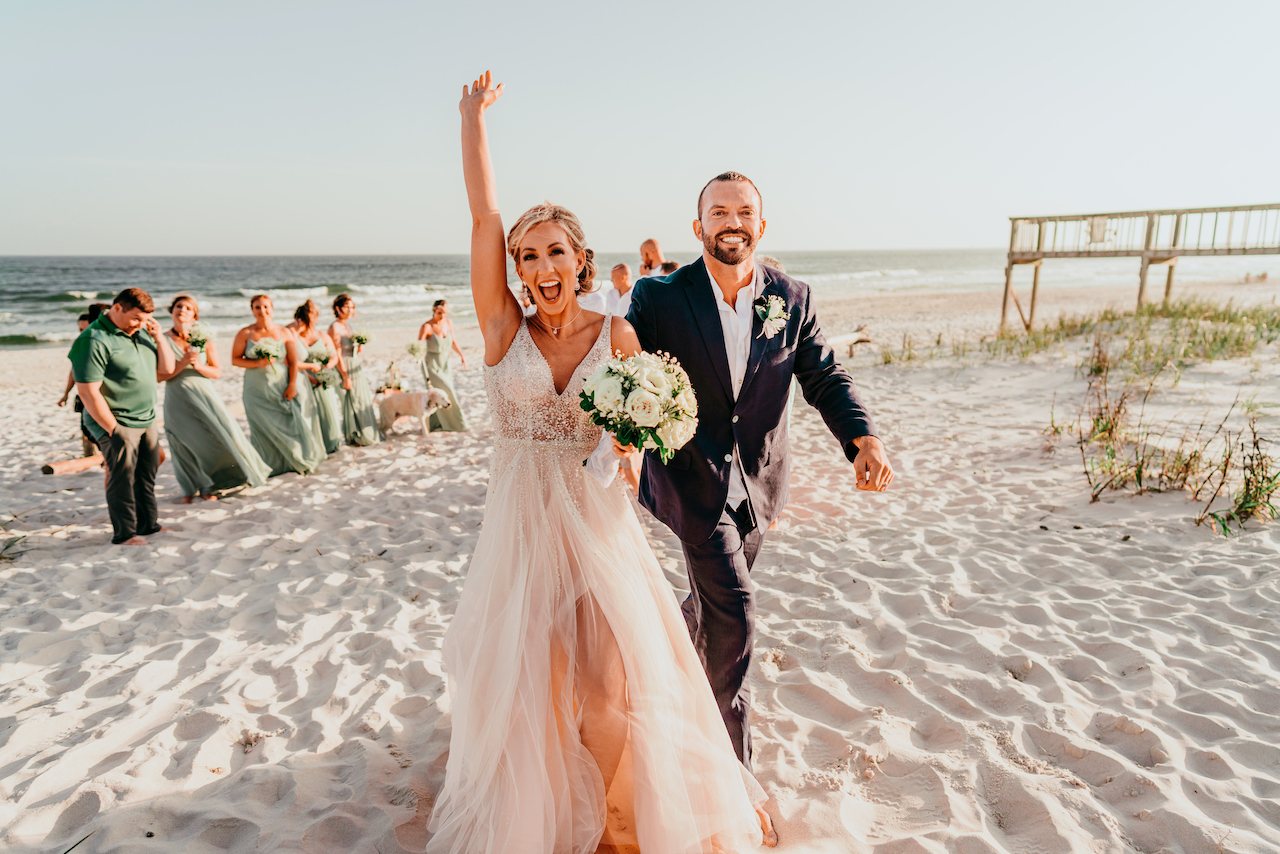 More Details:
Date: April 28th, 2021
Location: Gulf Shores/Fort Morgan Alabama
Wedding Song: "I'm Yours" by Andy Grammar
Dress Style: Beaded Plunge Illusion Bodysuit Wedding Dress
Photographer: Asher and Rose Photography and Shae X Jes Photography
Videographer: Fabian Photo and Films
Love this romantic beach wedding in Alabama? Read more real wedding stories here!
We know how important your wedding day and special events are to you and we are doing everything in our power to serve you! You can shop with us 24/7 at davidsbridal.com or come see us at your local David's Bridal. Plus we are here for you to help guide you through your wedding planning! See tips for starting to plan your wedding at home, shopping for your wedding dress online with confidence, and more on the blog.
Planning a wedding? Sign up for our Diamond Loyalty program—it's free! Follow us on Instagram, Pinterest, and Facebook for more real wedding inspiration, or click here to book an appointment.
Related Posts: