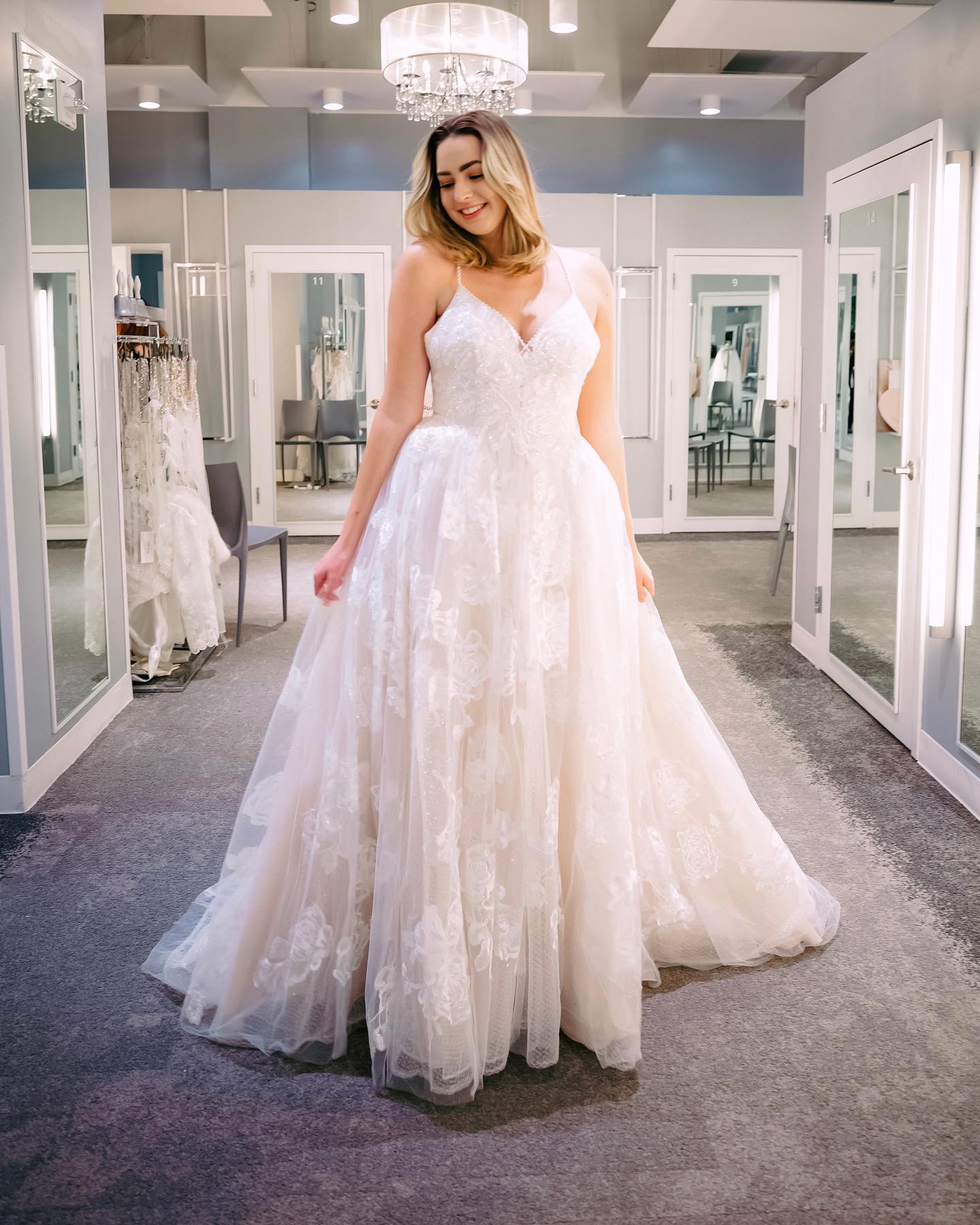 29 Jan

What to Expect at Your First Bridal Appointment
Everything you need to know before you #FindTheOne
You've been dreaming of this day since your fiance popped the question…it's time for your first wedding dress appointment! Playing dress up in glamorous gowns with all your friends and family is part of most bride's fantasies! But, before you can say "I Do" to your down the aisle dress, here's what to expect at your first bridal appointment.
Before the appointment
Get Inspired:

Before you arrive for your first appointment, do some research! Between styles, fabrics, prices, and more – the endless options can sometimes send brides into a tizzy! To ease any stress, take our wedding dress quiz to get a feel for what you might want to wear down the aisle. Just answer a few questions to get a few wedding dress style recommendations picked just for you! Plus, while you're in the planning mode, curate your ultimate wedding vision board for your stylist to get a better feel of your bridal vision!

Save your Favorites

: After scheduling your bridal appointment, you'll receive details about how to make a profile on davidsbridal.com. Before the appointment, be sure to browse the styles and save your favorites so your stylist can get to know your style preferences and wedding details and pull your favorites for you to try on!

Set a Budget

: Setting a budget is an important step before your first appointment. Nailing down a budget will help you streamline dress options and will make you feel more comfortable saying "I Do" to a dress! You'll want to communicate your desired price range to your stylist they can pull gowns to match.

Invite Guests

– saying yes to your dream dress can be a big decision and sometimes you need your support system with you to make it! Invite your closest friends and family to help you find your perfect dress! But just remember, it's your wedding so how YOU feel is what's most important when picking the dress!

Prep for your Visit

: It's almost time for your appointment – there are just a few more things to keep in mind! Be sure to review our safety guidelines to be prepared for your visit. And, don't forget to bring a few must-haves like the shoes and shapewear you plan to wear on the big day!
During your Appointment
Meet the Stylist

: Meet your dress matchmaker! At your first appointment, tell your stylist all about your dream day & look. They will bring an array of styles to try on – including some of the favorites you saved!

Play Dress Up

: Here comes the fun part! Try on the dresses, show them off to your friends and family, and (hopefully) say "I Do" to your dream dress! If you don't find the one of the first try, no worries! Keep an eye out for new arrivals and schedule another appointment at any time!

Complete Your Look

: Found the dress? Now, complete the look with finishing touches like accessories, shoes, and a veil to really bring your bridal look to life!

Have Fun:

Dress shopping is a highlight of your wedding journey so have fun! Try on dresses outside your comfort zone! You never know which one you'll fall in love with!
Sign up for the Diamond Loyalty Reward Program: A wedding dress is a big purchase, so why not get rewarded as you shop! Earn 1 diamond point per $1 spent on dresses, accessories, even alterations – each purchase counts! Plus, tell everyone to use your phone number when they shop so you can get diamond points from friends & family. It's that easy and you get to enjoy FREE gifts at every level.
After
Alterations:

Found your dream dress? Congratulations! If you have visions of customizing your gowns (think sleeves, dress length, etc.) now is the perfect time to schedule a follow-up alterations appointment. Our alterations specialists will tailor your dress to your perfect vision and fit!

Bridesmaid Appointment

: Now that you've checked off wedding dress from the list, it's time to start thinking of your maids! Now's the time to think about scheduling an appointment for your maids to find their perfect matches!

Text Us

: Have questions after your appointment? We're here to help 24/7! Our expert stylists are just a text away! Get help with delivery timeframes, accessorizing, or any follow-up question after an in-store appointment. Just text HELLO to 38201 to reach us.
Share Your Photos: Celebrate this fun bridal moment with a photo! Share a pic and write a review to help other brides-to-be as they shop for their dress. Don't forget to tag us @davidsbridal when you post!
Don't feel ready to visit us in-store yet? Book a virtual appointment with one of our expert stylists from the comfort of your own home! They'll help you find the one, figure out sizing, and place your order!
Your first bridal appointment is such a highlight of your wedding planning journey and we're excited to be a part of it. After getting to know What to expect at your first bridal appointment, it's time to book your first visit! Make an appointment at your local DB here and start browsing styles you want to try on!
Featured image: @mrsjessielove
Related Posts: