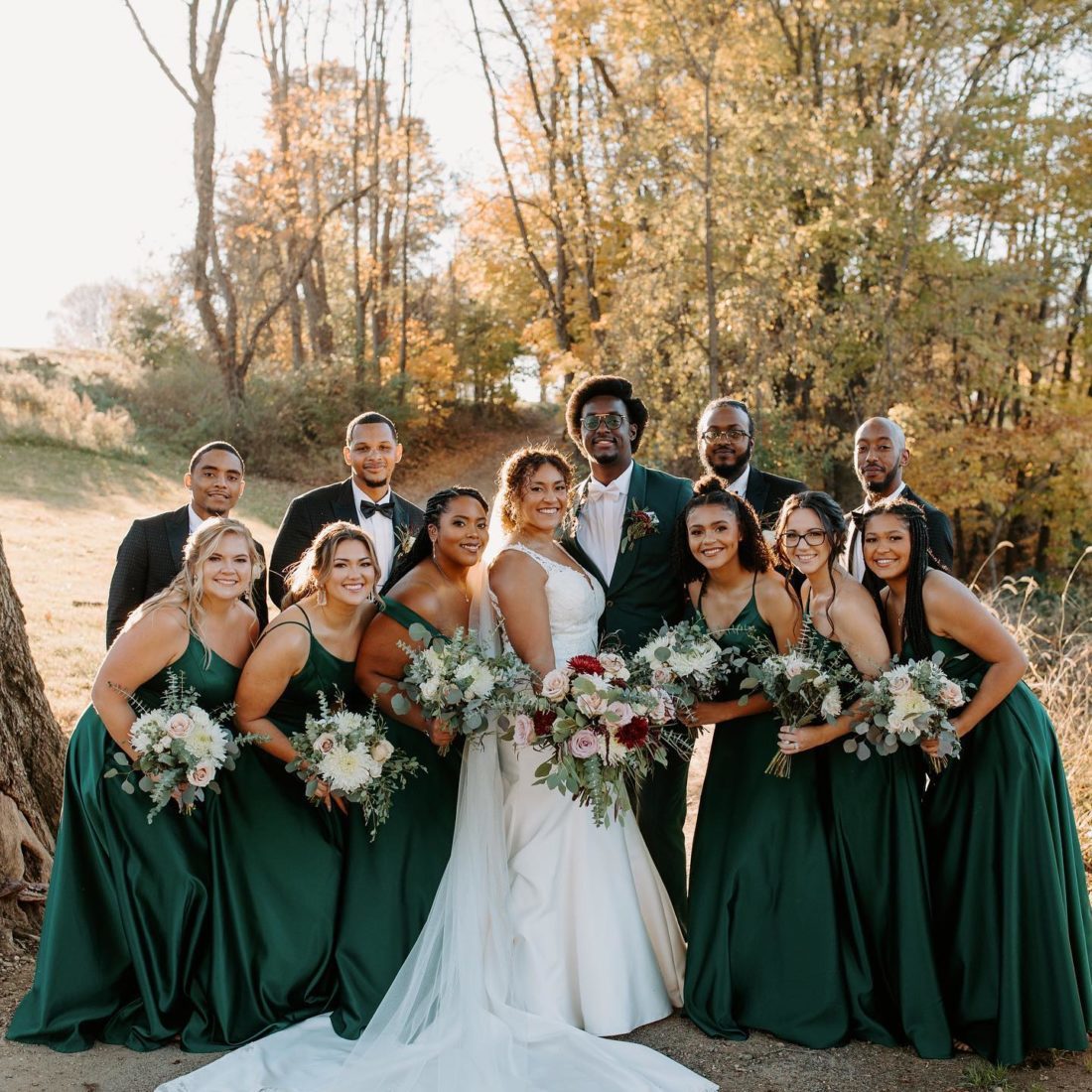 29 Sep

Bridal Party Color Coordination Guide
Picture Perfect Pairings
When it comes to wedding aesthetics, color plays a huge role. From your flowers to your tablescape, the colors you pick help set the mood for your big day. Color also plays a role when it comes to your wedding party. The Black Tux and David's Bridal make it easy to coordinate looks for your entire group with matching shades and complementary hues. Not sure where to start? We've got you covered! Read on for our bridal party color coordination guide.
Time To Coordinate
From bridesmaids to bromaids, groomsmen to groomswomen, there are a lot of people to consider when coordinating your party. The most common way to coordinate is to have your bridesmaids' dresses match the color of the groomsmen's tie or bowtie. While we love this classic look, you do have additional options! Do you want your maid of honor and best man to stand out? Or, are you looking for an eclectic vibe where everyone wears a different color or pattern? Whichever option you pick, The Black Tux features shades that match back to your favorite David's Bridal palette. Keep scrolling for some of our top color options!
Spice It Up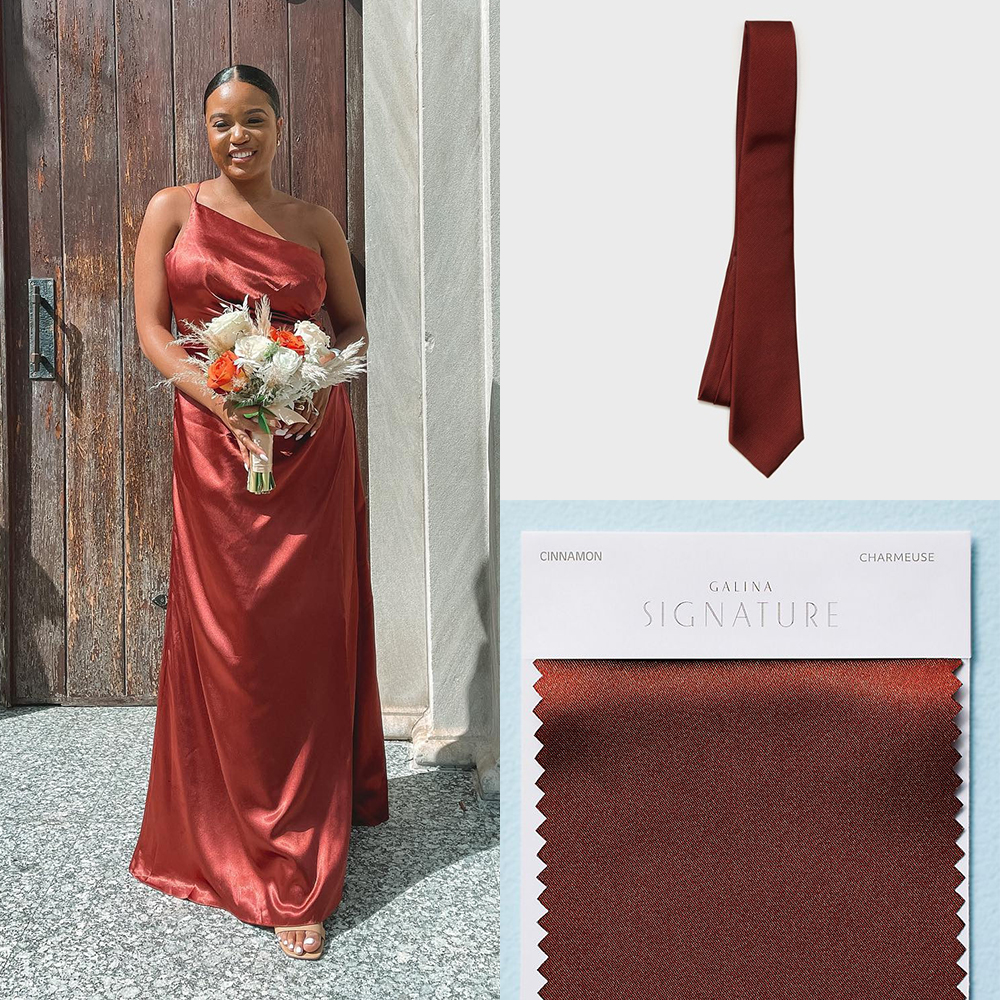 Style GS290018
Calling all our fall couples—you're going to want to save this for later! For a color that matches the look and feel of your autumn nuptials, the shade Cinnamon is a must-have. This hue looks gorgeous set against the vibrant backdrop of an outdoor fall wedding. To add interest to your party, consider mixing fabrics among your dresses and ties. This is a great option if you're looking for a standout party that's still cohesive.
Go Green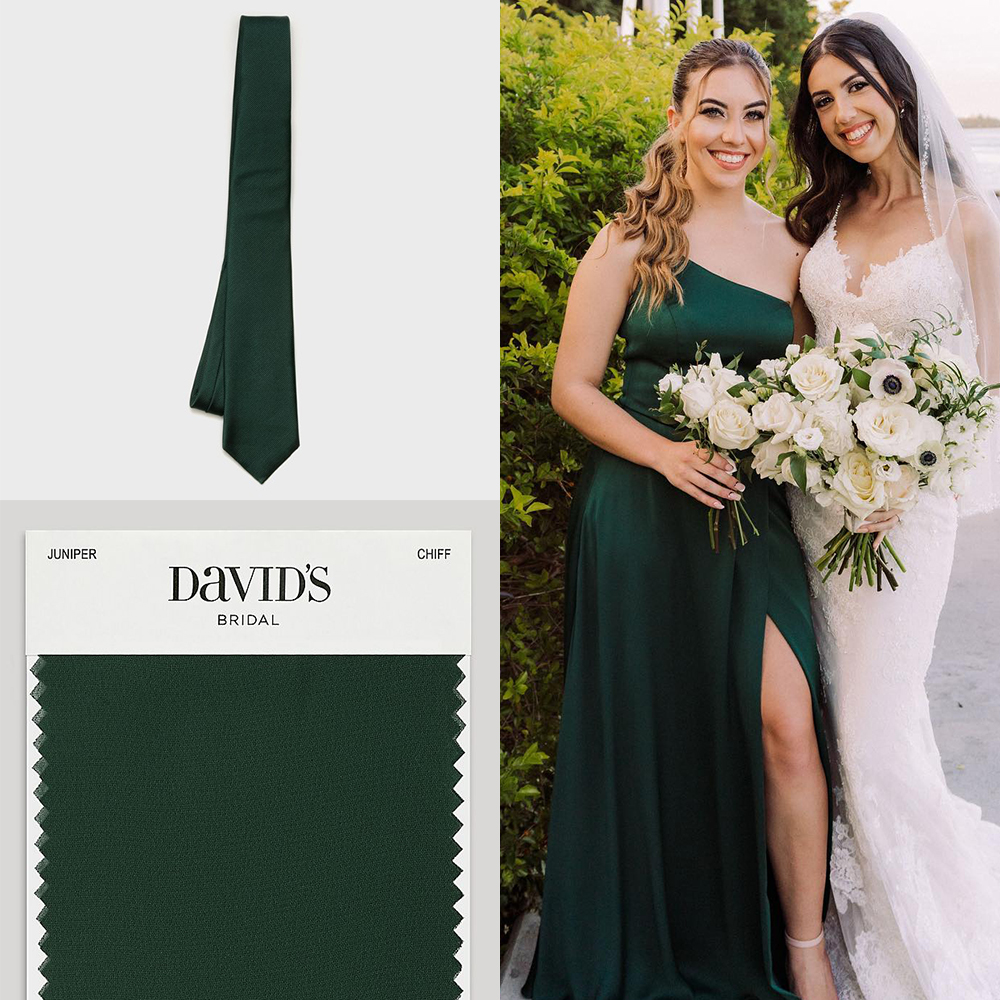 Style F20099
Green bridal parties are on the rise! This timeless color is making its way into weddings with a variety of aesthetics, and Juniper is especially popular among DB brides. This deep forest hue will complement any venue and looks particularly beautiful for an outdoor ceremony. When it comes to your bridal party, we love the idea of dressing your maids in mix-and-match dress styles to let their individual personalities shine. For the groomsmen, we recommend pairing their Juniper-colored tie or bowtie with a light grey suit or classic black tux.
Cheers to That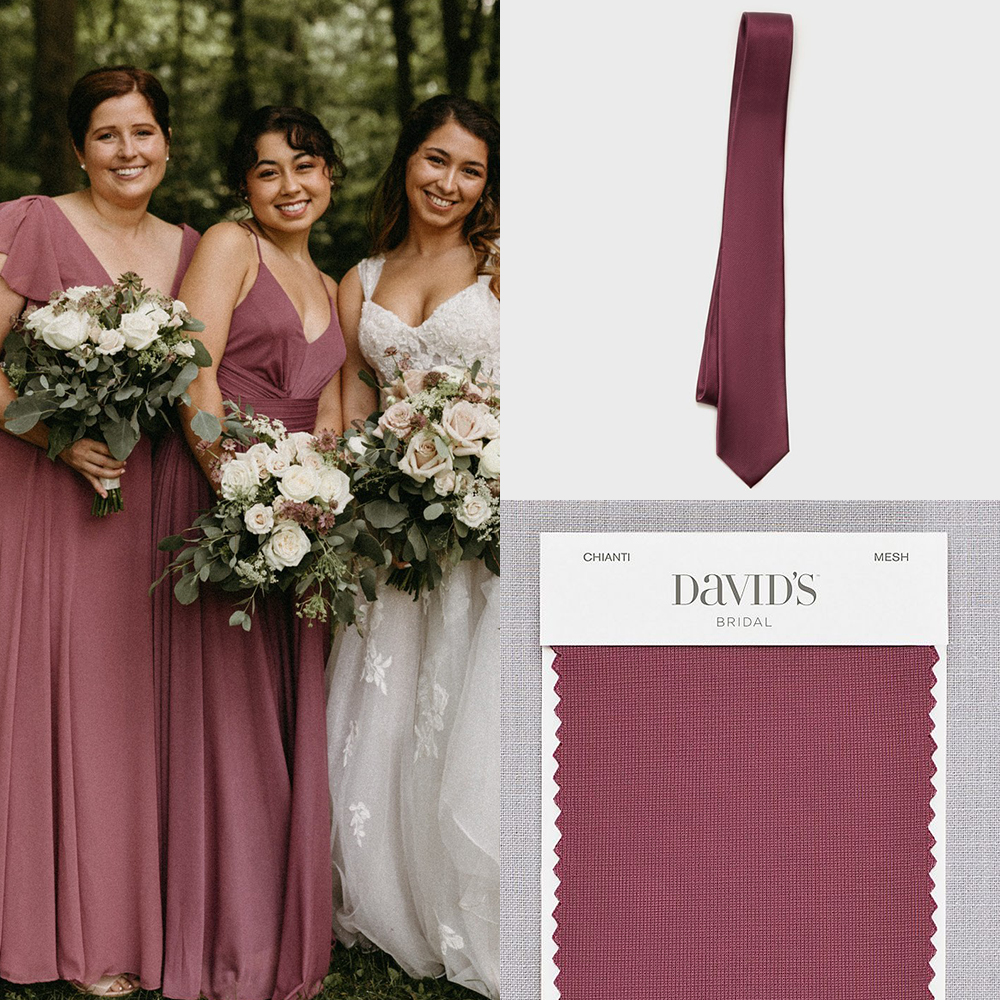 For another shade that's beautiful all year round, look no further than our color Chianti! This sweet shade is the perfect blend of purple & pink hues. Looking to go bold with your bridal party? The Black Tux offers colored tux options in shades like burgundy and rose that pair back beautifully with Chianti, perfect for a bromaid, best man, or groomsmen.
Rock It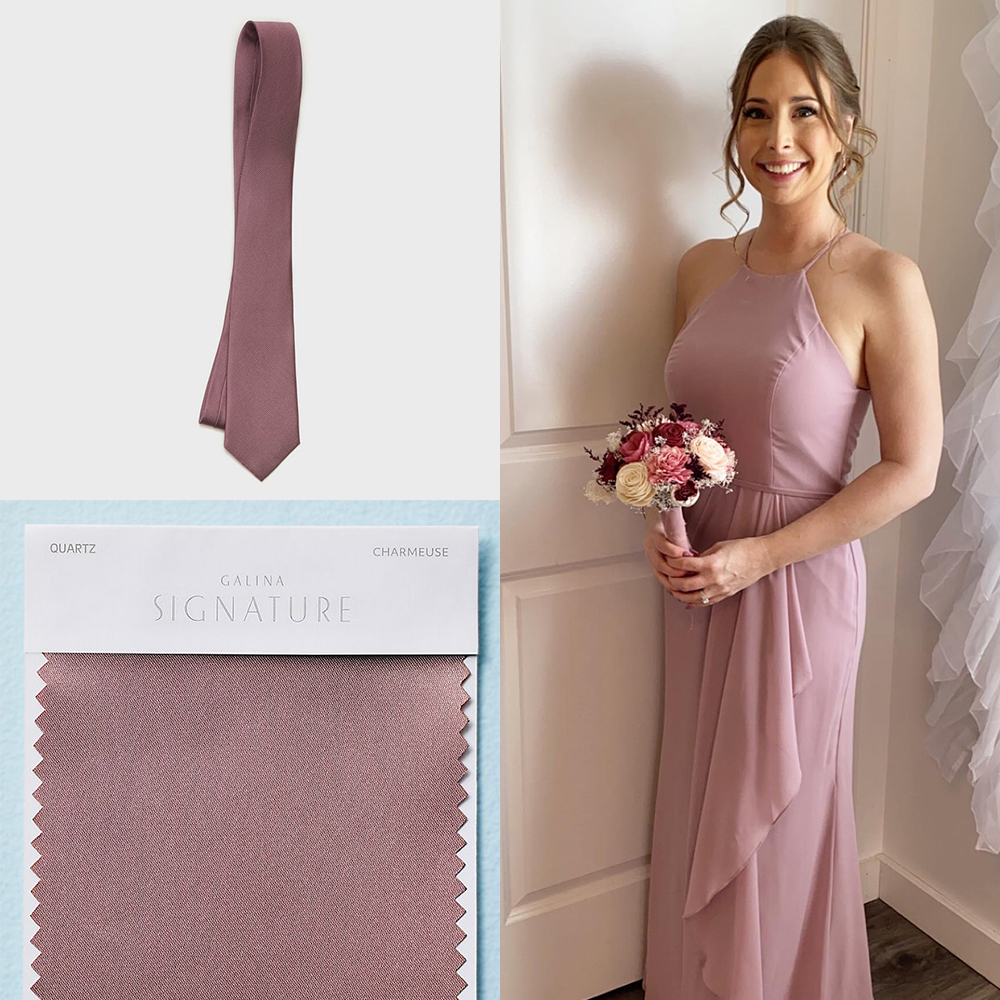 Style F20014
Beautiful on all skin tones, our shade Quartz is a fan favorite. This dusty hue offers a light & airy feel to any wedding and is perfect for the spring or summer months. This color looks great paired as a full party or part of a mix-and-match color scheme. To keep up with that dreamy aesthetic, pair a Quartz-colored tie with a tan or light grey suit.
Colors That Complement
Looking for more color combinations to bring your dream wedding party to life? Scrolling down for some of our favorite shades & their color pairing from The Black Tux.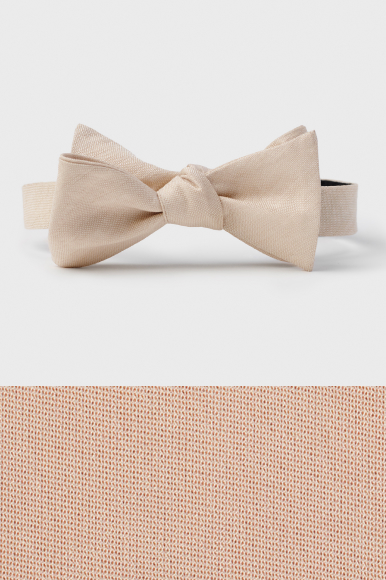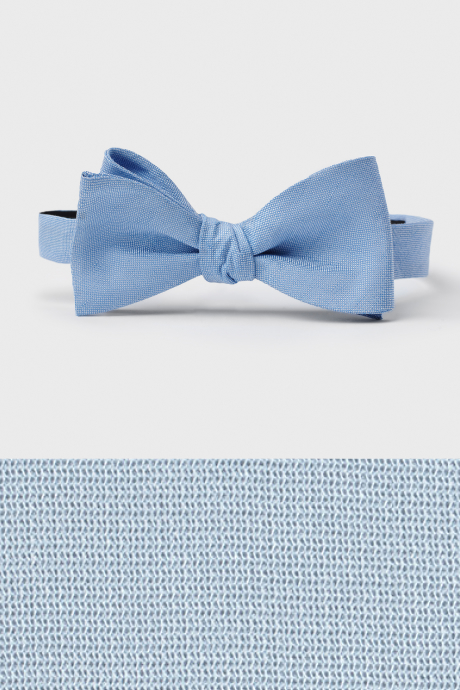 Ready to start building your dream wedding party? Shop styles & colors for your bridesmaids at your local David's Bridal or online. Browse looks for the guys online with The Black Tux. The best part? The groom rents for FREE with six or more suit reservations for your party.
Sign up for our Diamond Loyalty program—it's free —and find local wedding vendors! Follow us on Instagram, TikTok, Pinterest, and Facebook for more bridal party color coordination ideas, or click here to book an appointment at your local David's Bridal.
Featured image: @tay_marie17
Related Posts: