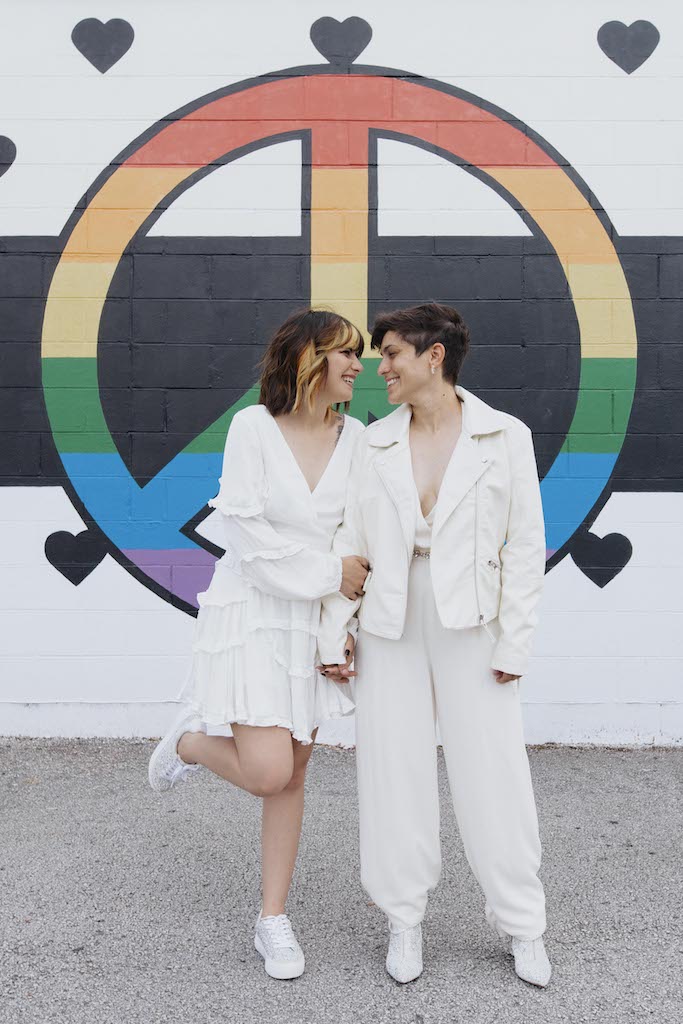 30 Jun

Engagement Stories: Mackensey & Allison
The Sweetest Engagement!
Here at David's Bridal, we're all about celebrating new beginnings. We love hearing about the moments before the aisle and learning all about a couple's proposal, wedding vision, and style ahead of their big day. Read on for a peek at the beginning of DB bridal ambassador Mackensey and her fiancé Allison's wedding journey.
Congratulations on your engagement! How did you and your fiancé meet?
We met at a brewery and became really good friends after that. I had been at the brewery a week before we met saying I was trying to make more gay friends and the bartender said 'oh we have a gay bartender here, you should meet her.' I laughed and didn't think much about it, but the next time I came in, Allison was there. It was a little over a year after that when we started dating!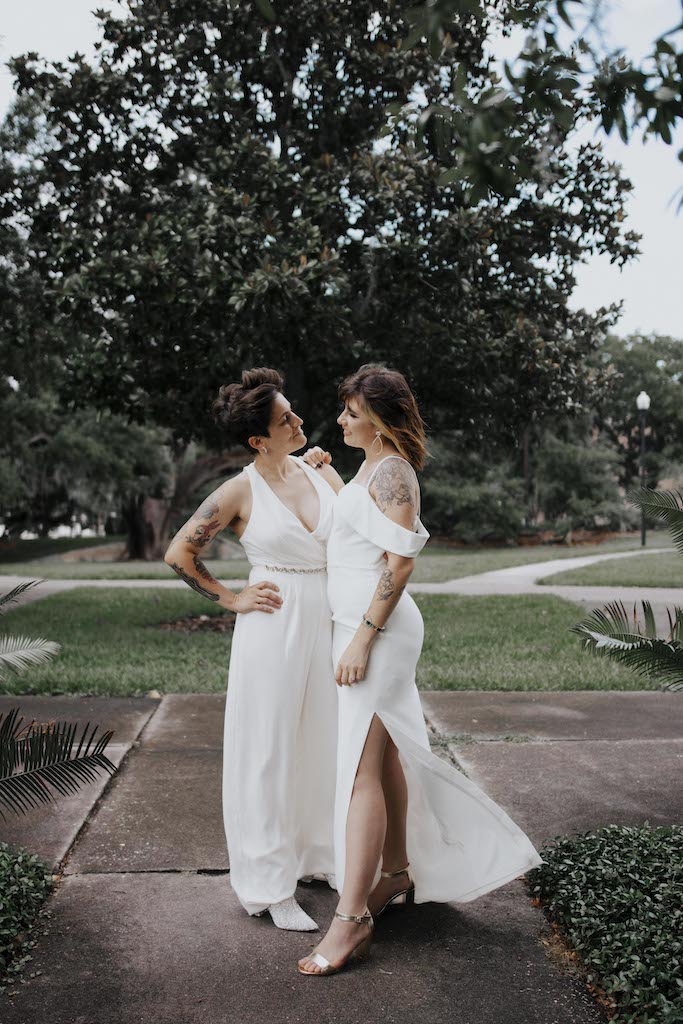 Tell us about your first date!
Our first big date was going to Disney! I am from Orlando and Allison is from Fort Lauderdale, so we've always been around Disney and love visiting! It was one of my favorite moments because I didn't know Allison was really into Disney history and I learned a lot of new facts that I never knew. It's cheesy, but it was perfect!
How did the proposal happen?
I'm already starting to laugh writing this! Allison and I both had a Saturday off together, which never happens, and I thought her family was in town to see her sister's house improvements. Yeah, turns out that wasn't the case. Luckily, I woke up and said I'm going to look extra cute because we never have the day off together… lucky for Allison I guess! We went and got Starbucks and were going to meet her family for lunch. We stopped at home to walk the dogs and Allison kept saying let's go a little further and I was complaining saying 'why? They just need to pee?' I thought we were gonna be late for lunch haha! Well we walked over to this pretty park by our house that has a lake and Allison asked me if she could ask me something and of course I said yes! Her words exactly were 'I love you and we survived the pandemic and um do you wanna marry me?' and before I could say yes, she did this quick lunge and I was just laughing so hard and said 'of course!' It was special because our dogs got to be there and when we went to lunch it was both our families and I was so surprised! Allison getting nervous, the dogs and all, was just how I pictured it!
Do you have any ideas for wedding theme/color scheme yet?
We are going for a unique rustic theme. Not too barn-like, but lots of greenery. We are going for a variety of greens, browns and whites!
Are you planning on a honeymoon? If so, where?
We don't have anything planned out just yet. We have 3 dogs and 3 cats, so planning a honeymoon may have to wait. Our plan is to invite our family and friends the day after our wedding to meet us at Disney! Since Disney plays a weirdly important part of our relationship, we want to share it with all our loved ones!
Do you have a wedding hashtag?
Well we haven't quite yet decided what we are doing with our last names, but mine is Moor and I thought #LivingLifeWithMoor could be cute.
What are you looking forward to the most on your wedding day?
Our biggest goal for our wedding is for it to just be a big party with all the people we love. We want to celebrate and have fun with our favorite people with some good food and beer. I'm looking forward to making that a reality. We have some fun ideas like a Taco Bell to-go bar at the end of the night and other unique details that describe us. I can't wait for everyone to see what we have planned!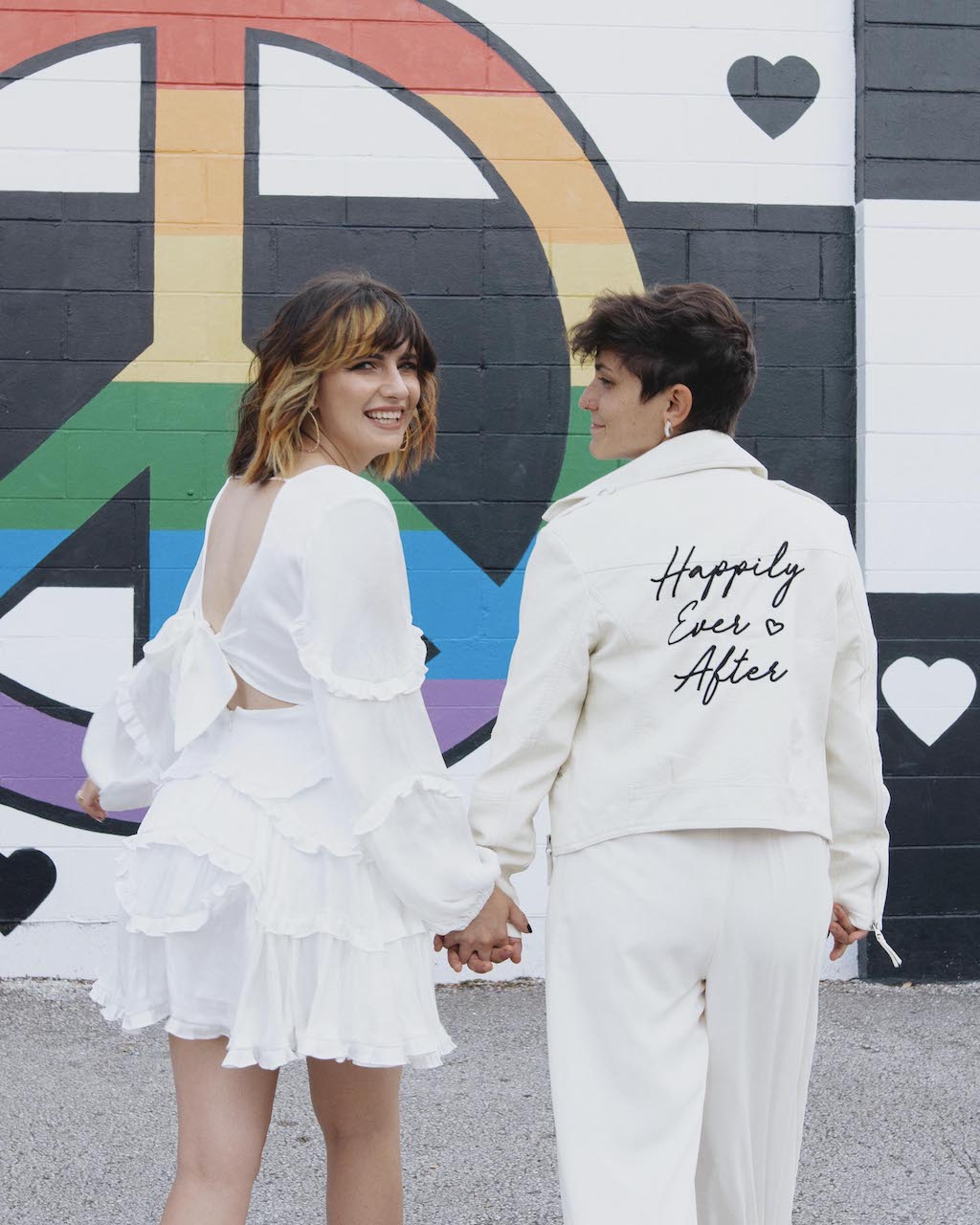 Life is full of amazing, magical moments and we can't wait to be there along the way for every special dress, accessory, or memento that life calls for. Are you recently engaged and ready to get planning? Sign up to be the first to know about the latest trends, launches, and inspiration throughout your wedding journey and beyond.
Photographer: Lucy Ward Photography
Featured Styles: 55079DB1, SBBRET, IH8481KUVA, DS870065, SBCADY
Related Posts: