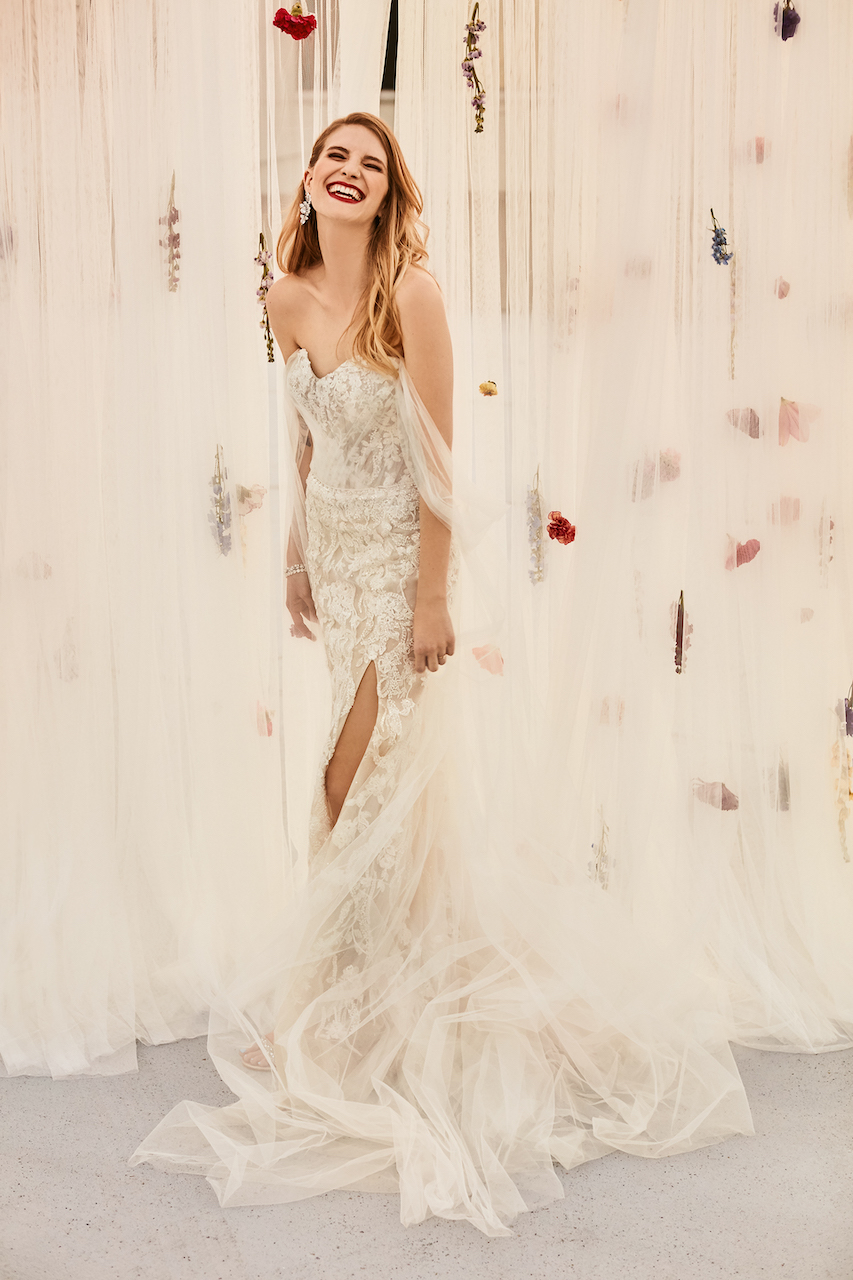 07 Apr

Trend Alert: Convertible Wedding Dresses
Two Looks, One Dress
Transform your bridal look in seconds (literally!) with these one-of-a-kind convertible wedding dresses that let you customize your look! Whether you're looking to make a ceremony to reception switch or a dance-floor to cake-cutting change, these incredibly versatile wedding dresses are the perfect fit for you! Read on for a list of our top convertible wedding dresses!
Detachable Sleeves
WG4020 – $499
Style WG4020
Look lovely in lace with this stunning sheath style gown made from an intricate leaf-patterned lace. This modern boho style features a boned bodice, sweetheart neckline, and illusion long sleeves, accented with a subtle shoulder puff. Hidden buttons and hook fixtures inside the bodice allow you to add or remove the sleeves from the gown, giving you two gorgeous looks in one!
WG4024 – $499
Style WG4024
This gown is all about effortless beauty! From the trendy spaghetti straps to the low back and figure flattering silhouette, this gown is a must-have for all our carefree brides. Made with a non-floral all over lace this gown also features two unique trims. Fringed lace shoulder swags finished off the look, and add a fun and unique touch. For a wedding day switch-up, simply slip off or snap off the arm cuffs for a whole new vibe!
WG4022 – $499
Style WG4022
For the boho bride looking for something to show off her curves, this gown is the one for you! Made from an all over stretch lace, there's no doubt you'll be comfortable all-day and all night. Detachable matching lace straps give you the option of wearing straps or going strapless (who doesn't love options!).
Removable Overskirts
MBSWG881 – $999
Style MBSWG881
Talk about gorgeous details! Leave your guests in awe as you walk down the aisle in this all over beaded gown! With classic tulle touches and sexy details this dress is perfect for the modern bride. Wear the tulle overskirt to your ceremony then easily unhook to remove for a reception-ready look! But, the options don't stop there. The sleeves on this dress are versatile too! You can wear them as traditional straps, off-the-shoulder swag sleeves, or remove completely for a strapless style.
SWG882 – $799
Style SWG882
Dare to dazzle all-night long this in this stunning sequin sheath style gown. Delicate lace appliques and a soft tulle overskirt add a touch of romance to this glamorous dress. Switch up your style on the big day by easily removing the overskirt for two different bridal looks in one!
SWG851 – $1,399
Style SWG851
'Wow' your guests in this beautifully alluring wedding day look! This stunning dress features beaded floral blooms and branches that cascade down the length of the gown and the illusion long sleeves. The sexy illusion plunge neckline contrasts beautifully with the soft and romantic tulle overskirt, creating a dramatic-yet-dreamy bridal style. Unveil multiple looks on the big day by simply unhooking the small fixtures on the overskirt to show off the stunning, curve-hugging sheath dress.
Transformative Straps
LSMS251246 – $999
Style LSMS251246
All our whimsical weddings dreams are coming to life with this stunning A-line tulle gown. Hand-draped tulle, sparkling lace touches, and intricate appliques make this a one-of-a-kind style! The best part? This dress offers multiple looks in one! The long, soft tulle lace straps can be tied as off-the-shoulder swag sleeves, a trendy halter with a bow, or removed for a strapless design.
MS251243 – $899
Style MS251243
This gown was made for all our beautiful boho brides out there! An intricately embroidered lace overlay adds stunning detail and dimension to this mermaid style wedding gown. Trendy balloon sleeves with a tassel-tied scoop back complete this unique bohemian inspired gown. Change up your look up by wearing them on your shoulders for a statement look or off-the-shoulders for even more drama.
MBSWG885 – $1,299
Style MBSWG885
It's all in the details for this gorgeous sheath wedding dress. Over 4,000 beads and six different floral appliques cover the bodice and cascade down the length and chapel train of the dress. Our favorite part? The stunning straps, made from a mix of 3D floral appliques, can be styled multiple ways. Whether worn with just one shoulder, both straps or strapless, you can't go wrong with this one-of-a-kind style!
Are you ready try these dresses on and explore all the different way to style them? Shop these convertible wedding dresses in-store at your local David's Bridal or online at davidsbridal.com!
Related Posts: