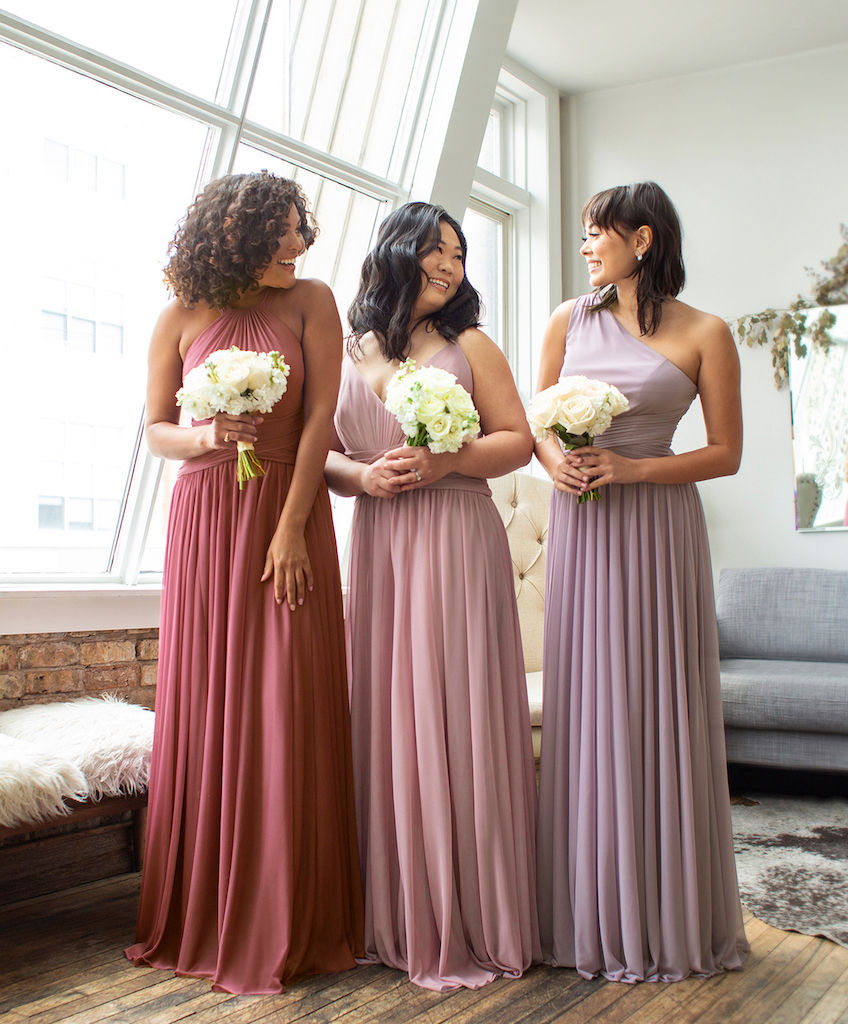 29 Jul

Introducing Maids Made Easy
Simple (and pretty!) ways to mix and match bridesmaid dresses
Finding the perfect wedding dress can be hard, but in some cases, dressing your bridal party can be just as difficult! Say "hello" to bridal party bliss, because we're here to make it easier to bring your wedding-day vision to life. Mismatched maids are one of our favorite ways to build a party, and we've rolled out new dresses that pair together with ease. Shop our 17 exclusive bridesmaids collections with dresses designed to seamlessly coordinate with each other. Anchored with the same skirt style, these dresses come in varying colors, bodices, and necklines for a personalized, almost-custom feel for each of your girls. Read on for a peek at some of our mix and match bridesmaid dresses and explore a few of our exclusive collections!
The Daydream Dress
Capture an aura of dreamy romance on your wedding day with the Daydream Dress! A full billowy skirt of pleated chiffon is paired with a plunging V-neckline and faux-wrap style bodice. And with options like adjustable spaghetti strap, one-shoulder, classic tank and more, your girls can pick whatever neckline flatters them best.
The Lively Dress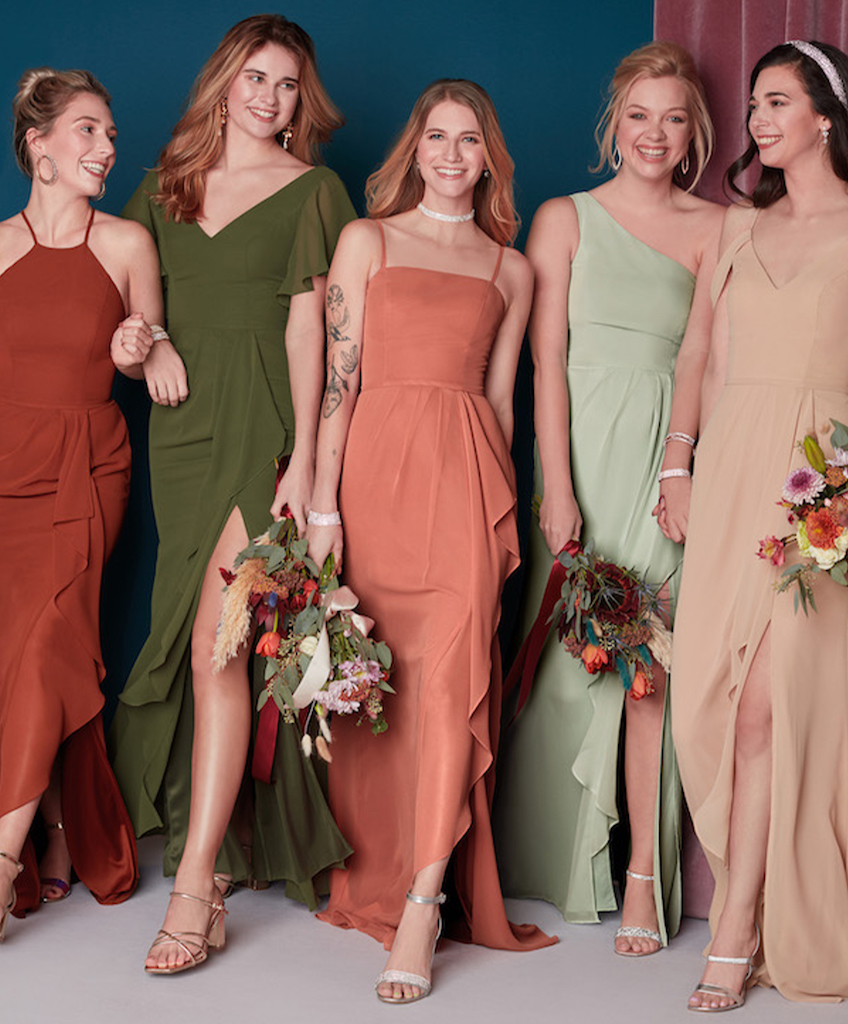 Embrace the feel of modern romance with the Lively Dress. The bold slit and soft ruffle means this dress fits perfectly with any wedding style, from glamorous to boho, and the classic chiffon fabric provides the perfect canvas for accessorizing. Let your friends choose from seven different necklines based on their personal style, and don't forget the coordinating dress for your junior bridesmaid!
The Beloved Dress
Meet the Beloved Dress, a delicate combination of lace and mesh, perfect for a fun and feminine bridal party. With the ability to choose from seven different necklines in maternity, long, short, and junior bridesmaids, it's no surprise that this is a customer favorite!
The Lavish Dress
Unexpected details make the Lavish Dress a one-of-a-kind style. Designed with luxury in mind, this dress is crafted with a moss crepe bodice and finished with a lustrous matte charmeuse skirt. A high shine sash pulls the look of these contrasting fabrics together. Choose the same neckline in different colors or have your besties pick from spaghetti straps, an off-the-shoulder neckline, flutter sleeves, or one shoulder.
The Wish Dress
There's more to these dresses than meets the eye! Embrace ultra-feminine design details on your wedding day with the Wish Dress. The poetic embroidery and delicately stitched floral details sit atop an illusion neckline and are complemented with light-catching sequins. Paired with an ethereal layered soft net skirt, your bridesmaids will be a vision of charm and romance on the big day! Capture the trend of illusion necklines with either a high-neck, one-shoulder, or sleeveless high-neck.
The Enchanted Dress
Hello, twirl-worthy skirt! Meet the Enchanted Dress, a princess-inspired silhouette that's full of whimsy! With a figure-flattering crisscross waistband and a soft and flowy mesh skirt, this classic style has a modern and magical feel. The ability to choose from six different necklines will ensure each of your bridesmaids feels confident and comfortable. Plus, your pregnant bestie can fit right in with a maternity style, and we have coordinating dresses for your junior bridesmaid, too!
The Bliss Dress
Your girls will be a vision of elegance in the Bliss Dress, which pairs clean-lined, crepe-back satin with a flattering bodice seam. Radiate glamour with this sleek finished satin and sexy skirt slit. Let your friends find their favorite fit from a sexy strapless, cool one-shoulder, simple spaghetti strap, or classic tank neckline.
The Graceful Dress
Lovely lace, soft chiffon, and back details that "wow"—meet the Graceful Dress. A stretch lace bodice adds a touch of romance while also keeping you comfortable all night long. A full chiffon skirt flows from the bodice for a graceful walk down the aisle. Give your girls the choice between timeless spaghetti straps, elegant long sleeves, cool cold-shoulders, or trendy tank straps. (P.s this dress also has pockets!)
The Promise Dress
We pinky promise you will love this bridesmaid dress. The Promise Dress has one of our most flattering bridesmaids' fits with a full skirt and cummerbund-style waist with a tie at the back. The soie chiffon fabric is luxurious and lightweight for an all-around lovely look. Let your party pick between a high-neck, one shoulder or tank necklines. Plus, we have a dress for your junior maid and expecting friend, too!
The Essential Dress
For a dress your bridesmaids can wear time and time again, try the Essential Dress. This easy-to-wear chiffon dress will be a favorite among your maids for its timeless-yet-trendy style and amazing value (under $100 for diamond members!). The stretch lining of these dresses makes twirling around the dance floor a breeze. Take your pick from a modern square neckline, chic cowl neck, or trendy cold-shoulder style.
We know that no two bodies are alike and no two bridesmaids have the same style. We wanted to create a way to give the bride and her maids the opportunity to customize their look. With our exclusive bridesmaid collections, it's easy to make sure everyone feels confident and happy on the big day. Ready to find your perfect bridesmaid dresses? Head to your nearest David's Bridal location or visit our site to explore and shop these collections and more!
In the middle of your wedding planning journey? Sign up for our Diamond Loyalty program—it's free! Follow us on Instagram, Pinterest, and Facebook for more mix and match bridesmaid dresses, or click here to book an appointment.
Related Posts: