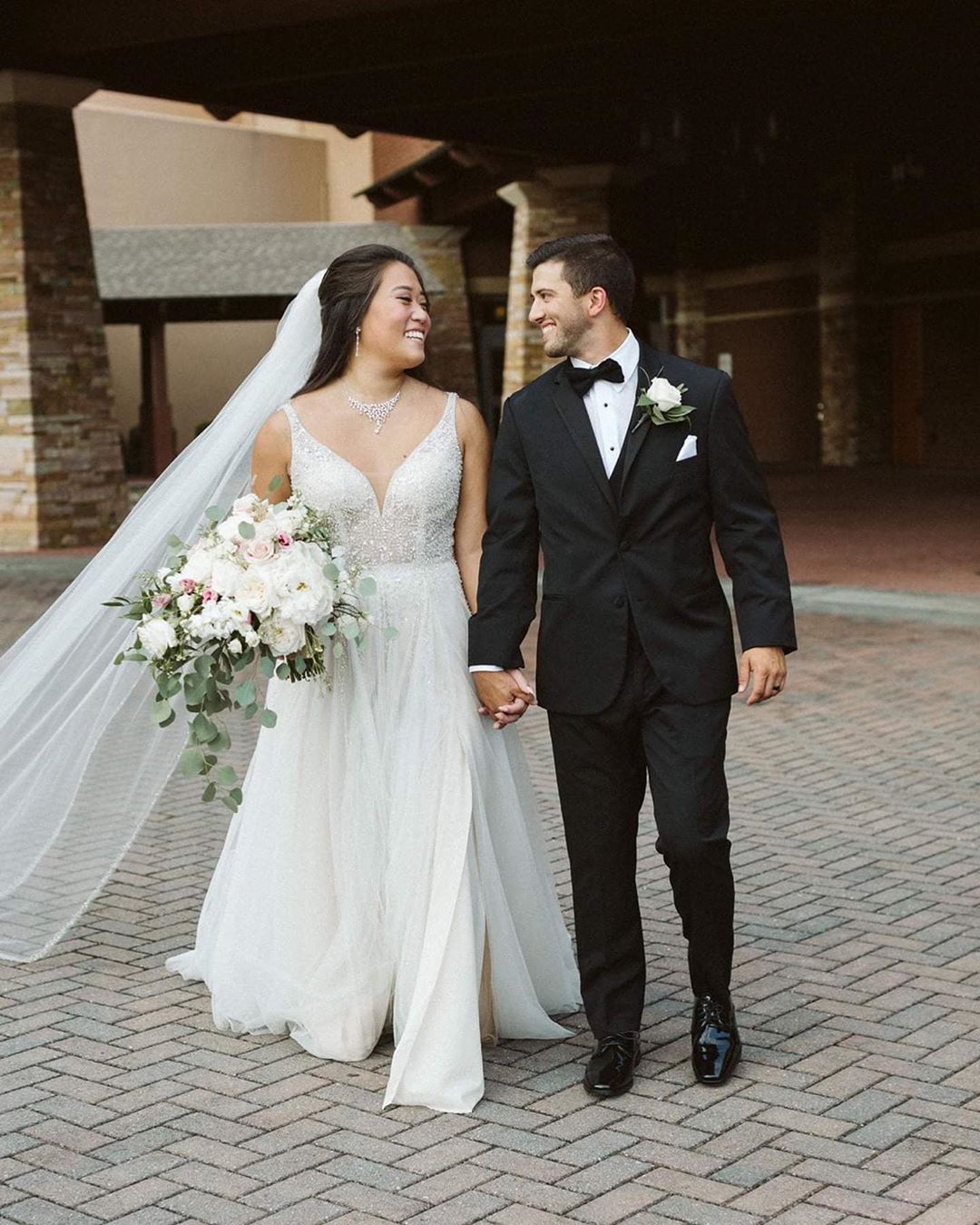 18 Sep

Friday Faves: Wedding Dresses Over $1000
A Roundup Of Bride-Approved Gowns Over $1000
…and what real DB brides love about them.
No matter what your bridal budget is, you can find your dream wedding dress at David's Bridal! See what real DB brides love about a handful of our most-loved wedding dresses over $1000 so you can say "I Do" to your dream gown too! Keep reading for a few wedding dresses over $1000 to help inspire your bridal style and wedding planning.
Style MS251177 – Scalloped A-Line Wedding Dress with Double Straps, $1,299.00
Effortlessly ethereal and intricately details, this gorgeous gown has every bit of romance and elegance that a bride craves. Appliqued with pearl-centered blush flowers, this scalloped-bodice, A-line gown is the definition of charming, for a final look that's flattering on every bride-to-be. The tulle skirt is softly voluminous, and the double-strapped, low back lends a delicate feel.
Photo submitted by MsMaciel / Wild Zephyr Photo and Co. / The Bouqs Co,
What brides are saying…
"From the moment I tried on the dress I was in love. We were having a beach wedding and the dress was so comfortable and lightweight. Our day was fabulous and I wore my dress for 12 solid hours and I couldn't have felt more comfortable. I didn't want to take it off." – CdNGurl
"I absolutely loved this dress for my beach wedding. It was comfortable and the light material kept me cool throughout the ceremony. The blush pink details on the flowers were a perfect match for my bridesmaid's skirts." – Missy
"This dress was an absolute dream. Everything about this dress was perfect, from the blush floral detail down to the champagne slip underneath for the perfect amount of color. It was lightweight, and I was able to move and dance all night in it!!" – Tyler
"This dress is so stunning! The intricate detail in the dress is so beautiful I just knew it was the one for me. The pink flower details are beautiful and so are all the beading and lace appliqués! I love the double strap and the back is just low enough but not too low. I love the neckline. The train is just the right length also. Overall I'm so in love with this dress and can't wait for it to come…so I can put it on again!" – Sarajane135
Style XTCWG808, Beaded Lace Off-the-Shoulder Mermaid Wedding Dress, $1,499.00
This off-the-shoulder beauty is a classic bride's dream come true! Six different types of hand-crafted lace appliques and 3,000 beads take this mermaid gown to the next level. The sheer corset back and 90-inch train add the perfect touch of drama to this opulent gown. All eyes will be on you for your walk down the aisle!
Photo submitted by Anayeli27 / @laura_voetenfashionmodel_art / Photo submitted by 'Wedding'
What brides are saying…
"This was my dream dress and it checked all my boxes… mainly the GORGEOUS TRAIN! The amount of times someone told me it was "the most beautiful dress they have ever seen" was unbelievable!" – Kelly
"I loved wearing this dress on my wedding day. It was gorgeously detailed and is not made of heavy or stiff material so you didn't feel swallowed by the dress. I could not imagine myself in any other dress for such a special day – it was truly a romantic look, with a subtle sexy element with the off-shoulder sleeve and sheer back. Also, this dress bustles nicely so that you can twirl for days and get lots of "oohs" and "ahhs"! " – 2018OctoberBliss
"I saw this dress on the mannequin and loved it but was hesitant as it wasn't what I wanted! So, I tried it on and turned around to look at myself in the mirror and couldn't help but cry. This dress made me feel sexy and beautiful. I want to wear it every day leading up to my wedding day!" – Mackenzie
Style SWG837 – Beaded Bodice Plunging-V Illusion Wedding Dress, $1,399.00
Over 11,000 beads, crystals, and sequins will have you sparkling as you walk down the aisle in this gown. For the bold bride looking to make an extra-sparkly statement, this gown is the perfect pick. Layers of glittered tulle and figure-shaping, bead-outlined godets, crisscrossed beaded straps, a thigh-high skirt slit, and a supportive illusion panel give this romantic gown a modern and edgy update.
@taymeophotography / @hisprincessleia / @jordanorion
What brides are saying…
"Let me say, this dress is *not* what I thought I wanted. I walked in as a woman on a mission. I wanted a form fitting dress, sleeves, a touch of sparkle & *lots* of cleavage. However, the moment I slipped this dress on I felt like a goddess. I think you *should* feel a bit magical on your wedding day. This wedding dress is nothing short of ethereal. " – LittleWeddingLotsOfLove
"This dress is lightweight, comfortable, sparkly, and stunning. I fell in love the first time I tried it on, I tried on several other dresses in various stores and came back to this one. An absolute showstopper and the ivory/champagne color will flatter anyone. You can't go wrong with this dress! " – Karen
"I bought this dress online because I fell in love with it when I saw it. I was scared because I couldn't try it on in stores first, but omg the dress is amazing. The beading and sparkles that flow throughout the dress are beautiful! Love the dress!" – Britt
Style SWG871, Floral Beaded Wedding Dress with Metallic Tulle, $1,399.00
A show-stopping gown for the bride that's ready to make a statement. Airy and elegant, this wedding dress is crafted with four different layers of tulle throughout the A-line skirt, including a rose-gold metallic layer that lends a warm, romantic hue. The sweetheart bodice is topped with delicately beaded 3D floral appliques and finished with sparkling crystals. The best party? A thigh-high slit gives you a chance to show off a killer pair of heels!
Photos by @venitaaspen
"I found the one! And I fell in love with this the moment I put it on. I was going for a completely different look… but this dress blew the others away." – Blushingbride
"As soon as I put it on, I knew this was my dress. It's lightweight, which is important to me since my wedding is at the end of August. I can move easily and don't feel overwhelmed by the weight or amount of material. I'm very short and felt like this dress made me look the way I wanted to on my big day. It's nontraditional but still timeless and classy. " – Kass
"This is the last dress the stylist recommended I fell in love with the rose gold one! Its so beautiful! And so flattering! " – Amanda
Inspired and ready to find the one? Book your appointment to see these gowns and more customer favorite wedding dresses in person at your local David's Bridal! Plus, explore more wedding dresses over $1000 online! For even more inspo, check out our top wedding dresses under $1000 and under $500. Are you a past DB bride and want to share your gown story? Leave a review and upload your photos at davidsbridal.com!
Related Posts: