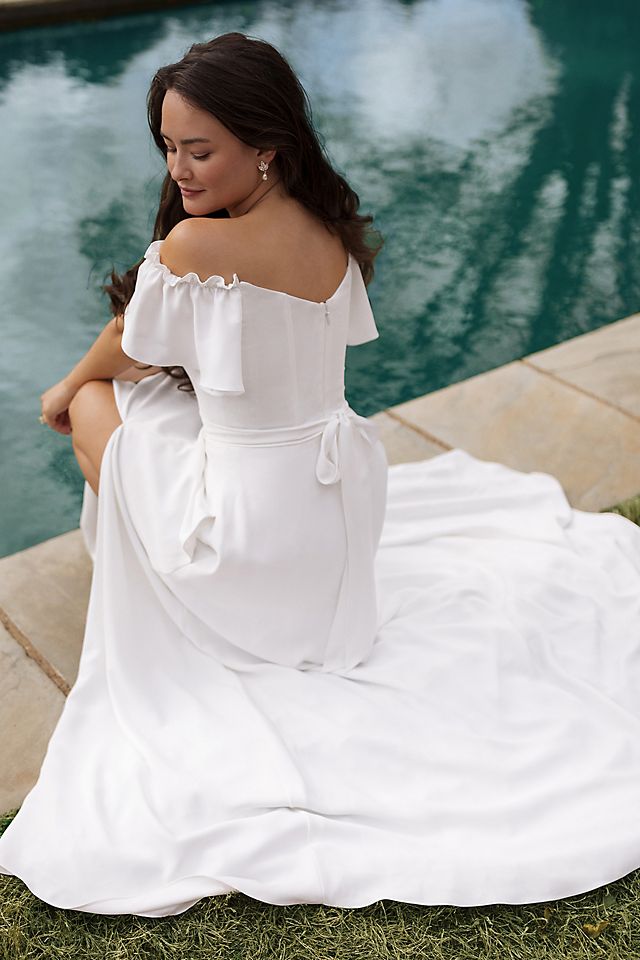 02 May

The Ultimate Guide to Sustainable Wedding Dresses

Sustainable wedding dresses are a new trend in the bridal industry as reducing environmental impact becomes more and more important to modern couples. But a wedding dress made of recycled materials isn't just good for the environment; sustainable wedding dresses are often more affordable, and the simple styles are perfect for a modern bride. Keep reading to learn everything about eco-friendly wedding dresses.
What Kind of Material Makes a Wedding Dress Sustainable?
Many sustainable wedding dresses are made out of recycled materials. These materials might include organic cotton, bamboo, and recycled polyester. The ReImagine Collection at David's Bridal uses dresses made of recycled fabrics including polyester, crepe, chiffon, lace and satin.
How Affordable are Sustainable Wedding Dresses?
Utilizing eco-conscious materials often means that sustainable wedding dresses have fewer adornments like beads and sequins. This leads to a simpler, more modern look that's in line with a clean bridal aesthetic that many brides are looking for. It also means that these styles can be made more affordably, making them perfect for a bride on a budget. The ReImagine Collection by David's Bridal has seven wedding dresses, all at affordable price points under $600 (with many of the styles falling under $500!).
What do Sustainable Wedding Dresses Look Like?
Just because a dress is eco-conscious, doesn't mean it's not beautiful! The ReImagine collection by David's Bridal is perfect for the modern bride who wants to a find a stunning dress that is also eco-friendly. Keep reading to see the seven styles from the ReImagine Collection from David's Bridal.
Recycled Crepe Wedding Dresses
Styles RWG4078, RWG4076 and RWG4074
A sleek fabric like recycled crepe is the perfect choice for a trendy bride. With details like off-the-shoulder sleeves and embroidered lace, these styles were designed with boho and beach weddings in mind, and can easily be accessorized with a floral head piece or a sustainable veil.
Recycled Chiffon & Satin Wedding Dresses
Looking for a romantic bridal look? These two styles are perfect for an eco-conscious bride who wants to look elegant on her wedding day. Details like a pleated waistband and twirl-worthy tiered skirt make style RWG4082 one of our most popular sustainable wedding dresses. If you're looking for something a little more classic, RWG4077 is thoughtfully-designed with yards of recycled satin and a trailing train with a line of pearl buttons.
Recycled Lace Wedding Dresses
Styles RWG4081, RWG4079, RWG4080
Delicate recycled lace was used to create these three sustainable wedding dresses. The cap sleeves on styles RWG4081 and RWG4080 are perfect for a bride who wants some additional coverage. If you want to show a little more skin, consider RWG4079, which has spaghetti straps and a slit for added allure.
A wedding dress is one of the most special pieces of clothing you'll ever purchase, and brides should take their values into consideration when shopping. Picking a dress made of recycled fabric will help brides make a positive impact on the environment as part of their big day.
Planning a wedding? Sign up for our Diamond Loyalty program—it's free!—and find local wedding vendors with Pearl by David's. Follow us on Instagram, Pinterest, TikTok, and Facebook for more wedding inspiration and book an appointment to find your dream dress!
Related Posts: