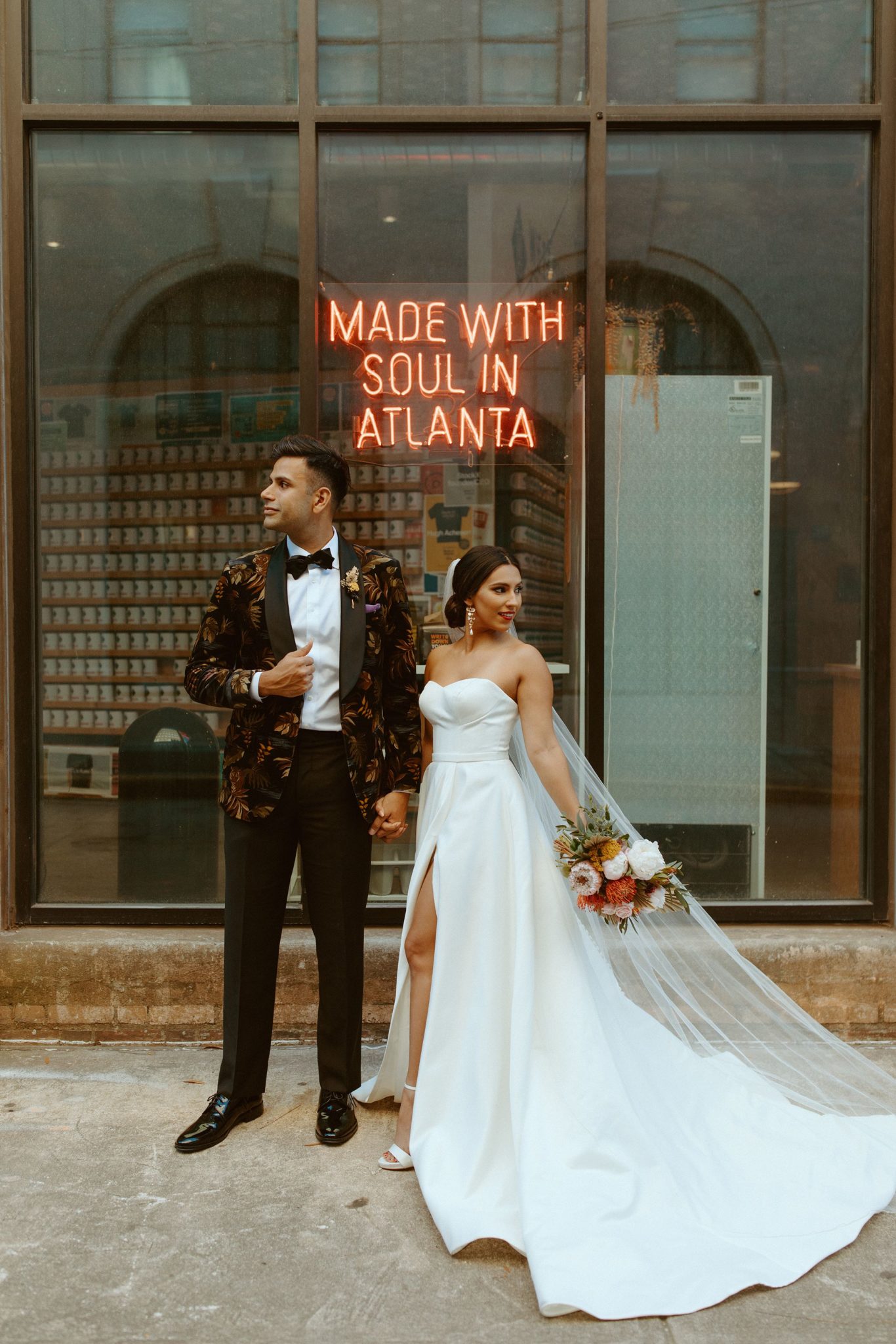 04 Feb

On Location: Downtown Atlanta Wedding Inspiration
Real Couple + City-Chic Views = Dreamy Downtown Date
Come along as we jet set from Los Angeles to downtown Atlanta as we introduce a few more styles of our newest collection of Spring 21 wedding dresses with the help of fashionista Sabrina of @sabrinamolu in this downtown Atlanta wedding inspiration shoot. While Sabrina and Sahir may have already tied the knot, these two are still celebrating a major anniversary and were the perfect pair to show off these new styles in downtown ATL!
Atlanta-based wedding photographer Nicole Little of Wild Heart Visuals helped to capture this romantic city-chic wedding inspo. So, read on for downtown Atlanta wedding inspiration and a closer look at some of our new Spring 21 wedding dresses.
The love story starts here…
Who doesn't love a high school sweetheart love story? Well, this #DBLoveStory starts even before that. Sabrina and Sahir met when they were kids (she was 7, he was 8!) at the local Jamatkhane, a place of worship for Ismaili Muslims.
Fast forward a few years and their friendship blossomed into something more! After the easiest yes to a homecoming dance proposal on Jan 28, 2006, the two started dating in their sophomore year, and well…it just never ended! Through different high schools and different colleges, Sahir and Sabrina grew up and grew together! The proposal happened right after college graduation and the two were married three years later. Sabrina and Sahir just celebrated 15 years together and 5 years of being married on January 28th!
Behind the Scenes
We tapped into local photographer Nicole Little of Wild Heart Visuals to help capture this romantic city shoot! Learning about the couple and their wedding style helped Nicole bring these magical moments to life. Stunning Atlanta backdrops already provided the perfect setting for this shoot. But, thinking outside of the "traditional" box was important during this shoot to get that 'this belongs on a magazine cover' shot! Sabrina and Sahir looked, and felt, like superstars!
The Final Looks
Budding Romance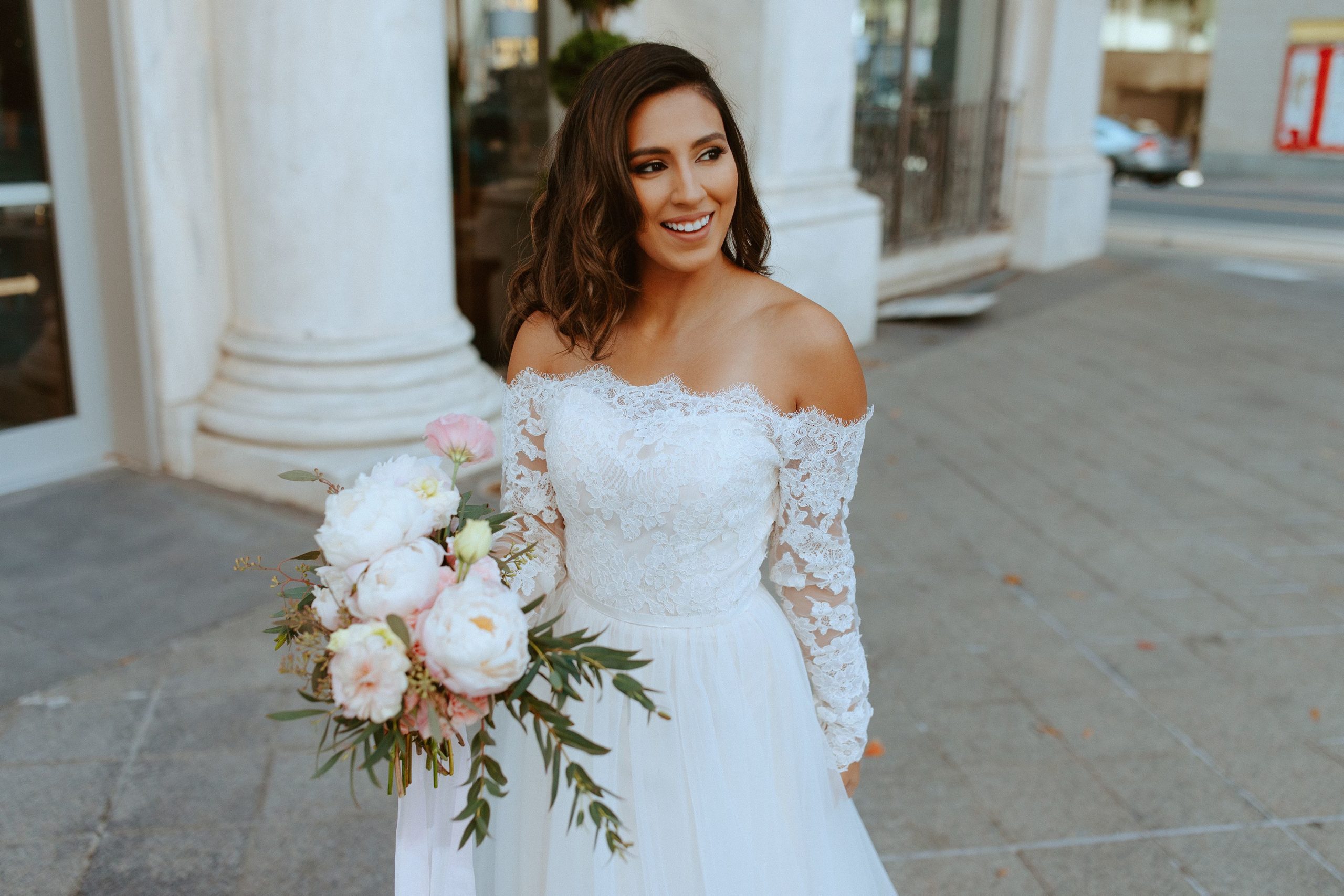 Lace Applique Off Shoulder Tulle Wedding Dress, WG4031 available to order in sizes 0-30, suiting from The Black Tux
Take a stroll down the streets of Atlanta to get a sense of the rich vibrance that this city has to offer. A dress that captures the Southern charm of the city is only appropriate! An off-the-shoulder bodice is detailed with scalloped trim and lace appliques, keeping all eyes on the bride. The tonal lining underneath the dramatic twirl-worthy layered tulle skirt adds a warm touch to this romantic wedding-day look. Gorgeous blooms that match the detailed long sleeves are a must-have finishing touch for this budding romantic bridal look.
City-Chic Elegance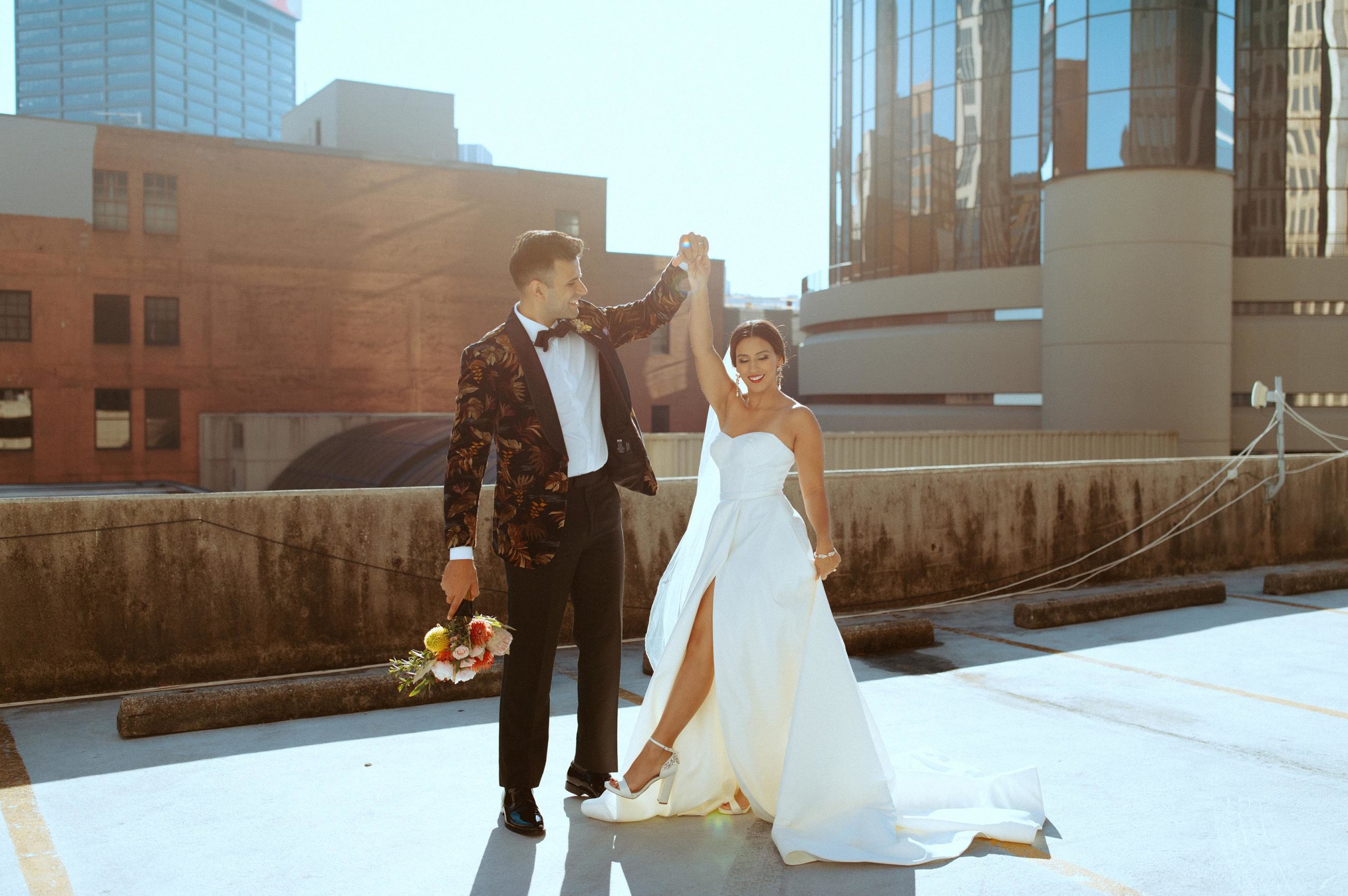 Strapless Satin Wedding Dress with Skirt Slit, Style, WG4017 available to order in sizes 0-30, suiting from The Black Tux
The sleek city skyline is a perfect backdrop for this ultra-chic gown. Drawing in inspiration from the city's modern architecture, details like clean lines and structured silhouettes give this ballgown a fresh update. Crafted from luxe satin, which lends elegance and sophistication, and finished with a bold skirt slit that's perfect for showing off a stunning pair of shoes, this gown is perfect for the modern and traditional bride alike.
"I love having the task of not only capturing such an important day but being able to tell the story of their love through those photos as well. For me it's so much more than just capturing the big moments and classic portraits, it's capturing those little moments that show the connection and foundation of the love my couples share." Wild Heart Visuals
Downtown Drama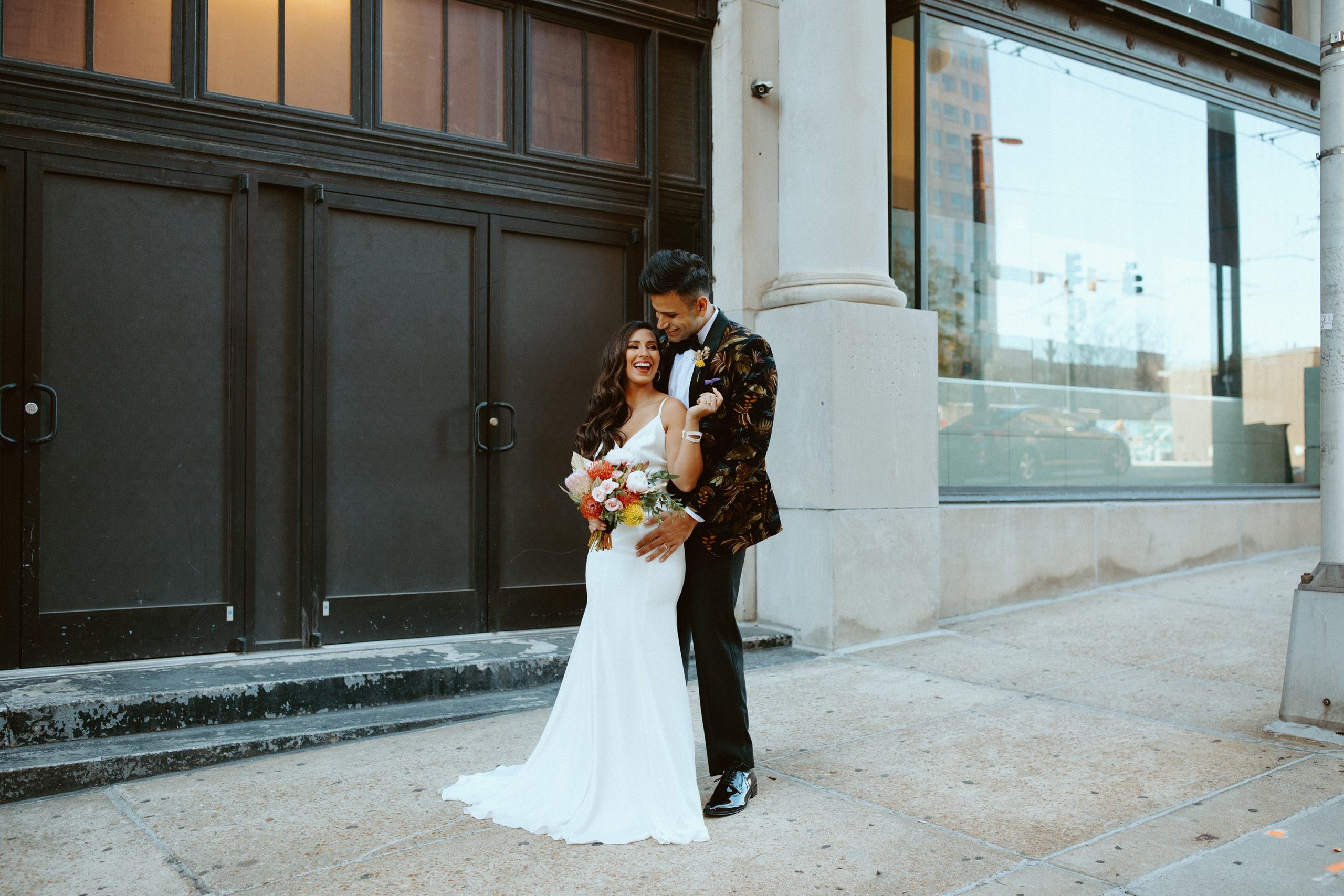 Style WG4044 arriving late February, available to order in sizes 0-30, suiting from The Black Tux
Pockets of modern architecture provide a stunning change of scenery in this charming southern state. Having a black-tie affair? Take inspiration from the ultra-polished, modern moments of downtown for a dramatic look. A body-hugging silhouette flatters the figure and is finished with classic details like thin spaghetti straps and a romantic v-neckline. Dress up this black canvas with finishing touches like shoes and accessories to suit your style.
Feeling inspired by these glamorous gowns? Well, we've still got more to share! So stay tuned as we head to Texas next to catch up with Makeda of @glamazondiaries for more of the collection! Until then, shop these styles and more new arrivals on davidsbridal.com. Or make an appointment at your nearest David's Bridal!
Related Posts: