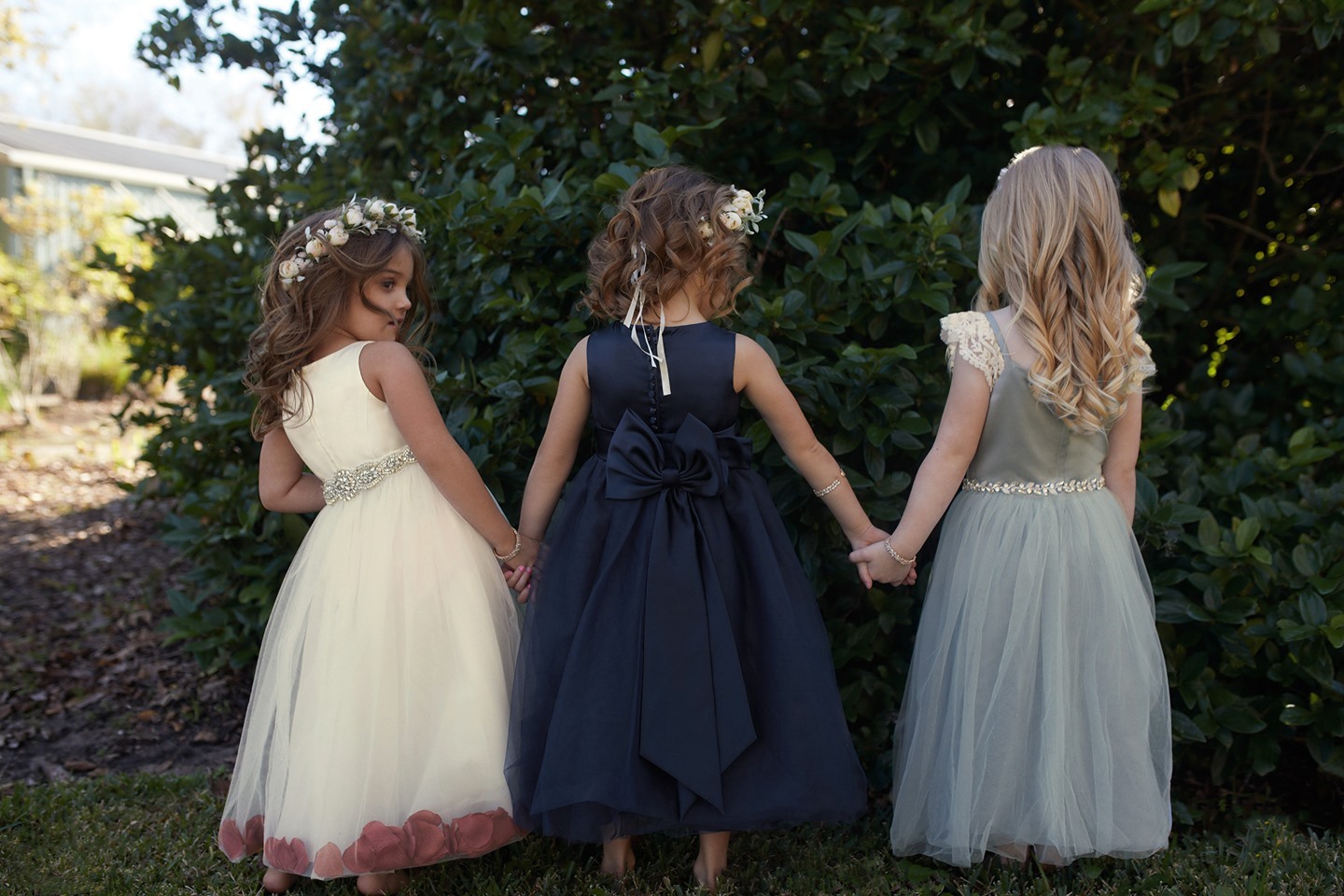 21 Mar

What is A Flower Girl? All About The Tradition
Everything you need to know about the littlest members of your party.
Considering adding a flower girl or two to your wedding party? Here, we answer the most common questions we get asked about the cutest wedding attendants. If you are looking for even more flower girl information head on over to David's Bridal Flower Girl Guide!
What is the history of having flower girls?
Greeks and Romans who were high up in society often included little girls in the wedding procession. The story goes that these little girls would walk ahead of the bride and throw grains and herbs to represent the hope the bride would go to give birth to children.
Around the Elizabethan era, children were included in the wedding party but more for the idea that they were symbols of hope and innocence. It was at this time in history that the flower girl started to walk right before the bride and was there to represent a younger version of the bride.
How old are flower girls?
Typically flower girls are between 2 and 8 years old—though some brides ask their grandmothers! If your flower girl is on the younger side, you may want to pair them with a bridesmaid for the walk down the aisle so they stay on-course. For tweens, consider making them junior bridesmaids, with dresses that coordinate with what your bridesmaids are wearing.
How many flower girls can I have?
As many as you'd like! Lately, we've been seeing some bridal parties comprised entirely of cute kids, like at Pippa Middleton's wedding. In fact, in Great Britain, it's a royal wedding tradition to have children as attendants, rather than adult friends.
Is there such a thing as too many flower girls?
Flower girls are super cute at weddings and add a wonderful sense of charm but you should consider keeping the number to something that can easily be managed. The average is somewhere between 2-4 girls.
When should I ask my flower girls to be part of my big day?
Typically around the same time, you figure out who will be in your bridal party and you start to ask your bridesmaids you should also ask your flower girls. The earlier in the planning process you do this the better so people can plan on a budget for the dress and make any other plans they need to attend the wedding.
Should I do a flower girl proposal?
It has become very popular for brides to "propose" to their bridesmaids and flower girls – essentially asking those special people to be part of the big day. If you would like to ask the youngest members of your bridal party in a fun way you certainly can plan something special.
What should flower girls wear?
Little white dresses are the traditional choice, and there are even "mini me" styles that play off the designs of our wedding dresses (think bohemian lace vs. classic tulle). You can also match your flower girl to your bridal party with dresses in the same color palette. Recently we have seen some brides select more vibrant color dresses for their flower girls which can be a nice way to add a pop of color to your wedding party.
Do I have to have flower girls in my ceremony?
The short answer is no – it is your wedding so you do exactly what you want. If you don't have anyone you are close with to play the flower girl role there is no pressure to have to find someone.
When do flower girls walk down the aisle?
The custom is for flower girls to go after the last bridesmaid, right before the bride. Many times it is helpful for the bridesmaids to be already up at the ceremony spot so they can help wave the flowers girl down the aisle. But it's your wedding, so decide what works for you!
Where does the flower girl stand during the ceremony?
That all depends on how old your flower girls are and what they're comfortable with. After they've done their aisle-walking duties, flower girls can take a seat (maybe with their parents), or they can stand alongside your bridesmaids during the nuptials.
Do flower girls have to throw petals?
Not necessarily—and some venues don't allow them to throw petals since certain types of blooms can leave marks on the floor. So it is always a good idea to check with your venue before you assume you can have your flower girls throw petals.
What are other good options instead of throwing petals?
A sign that says "Here comes the bride"
A basket filled with flowers
Bubbles
Mini bouquet
Confetti
Feathers
Lavender
Pinecones
Fall leaves
Paper hearts
Glitter
Mini wreaths
Pictures of loved ones who have passed
Candles (fake ones are best!)
Can I have my flower girls carry a small bouquet?
Yes! If your venue does not allow tossed petals (many don't because of the mess it can make) or that is simply not your vision for the day go ahead and work with your wedding florist and create a small bouquet for your flower girls. One fun idea is to have the flower girl's bouquet be a "mini-me" version of your larger bridal bouquet.
Do I also have the flower girls at the reception?
Most of the time anyone who is in your bridal party will also attend the reception but if you are having an adult-only wedding you can share that information with the parents and help them find childcare for the reception part of the day.
Should I purchase flower girl gifts?
While there is no hard and fast rule that says you need to purchase a flower girl gift it is a sweet way to say thank you for their service. A few of our favorite flower girl gifts are flower girl jean jackets, flower girl necklaces, and flower girl shirts.
When should I order my flower girl dresses?
Since little kids grow so fast, it's a good idea to purchase flower girl dresses closer to the wedding date than the rest of your party's attire. We typically recommend shopping about three months before the celebration. (And you may want to size up if they're adding inches by the minute!)
Who pays for the flower girl's dress?
Typically the parents of the flower girl will take on the cost of paying for the dress. If you have a little extra in your wedding budget and you can gift the dress to the flower girl that is lovely but not required.
How can I make sure my flower girl behaves during the ceremony?
Kids will be kids and there is no way to ensure your flower girls or ring bearers will actually do what they are told or behave but a few tips to help.
1. Establish A Point Person
Have a dedicated person (outside of the bridal party) be the main babysitter for your flower girls. This person should be ready to jump in if the flower girl needs a break from the ceremony or needs just a little extra attention.
2. Be Sensitive To Time
Wedding days can be long for anyone involved so make sure you are sensitive to how much of the day you need the flower girl present for. Don't have them get ready too early and try to limit the number of photos you need them in.
3. Stay On Their Schedule
If they are really young try to keep within their normal schedule (nap, meals, downtime).
4. Create A Plan
Have some sort of device ready for backup and have their favorite show or movie ready to go in case of emergency.
5. Roll With It
You can't control everything at your wedding so you might have to let a few little things slide, like minor behavior mishaps from the youngest members of your bridal party. After all, some of the best wedding pictures that come out from a wedding can be the ones where not everything is perfect!
What are some options if I don't want to have a traditional flower girl?
It has become very popular for couples to find someone else to play the role of flower girl so if you are thinking of asking someone else you totally are within your right and right on trend. Below is a list of flower girl alternatives.
Grandmothers
Mother of bride / Mother of the groom
Siblings
A baby in a wagon
Your pet
For more about flower girl attire, check out our flower girl guide.
Related Posts: