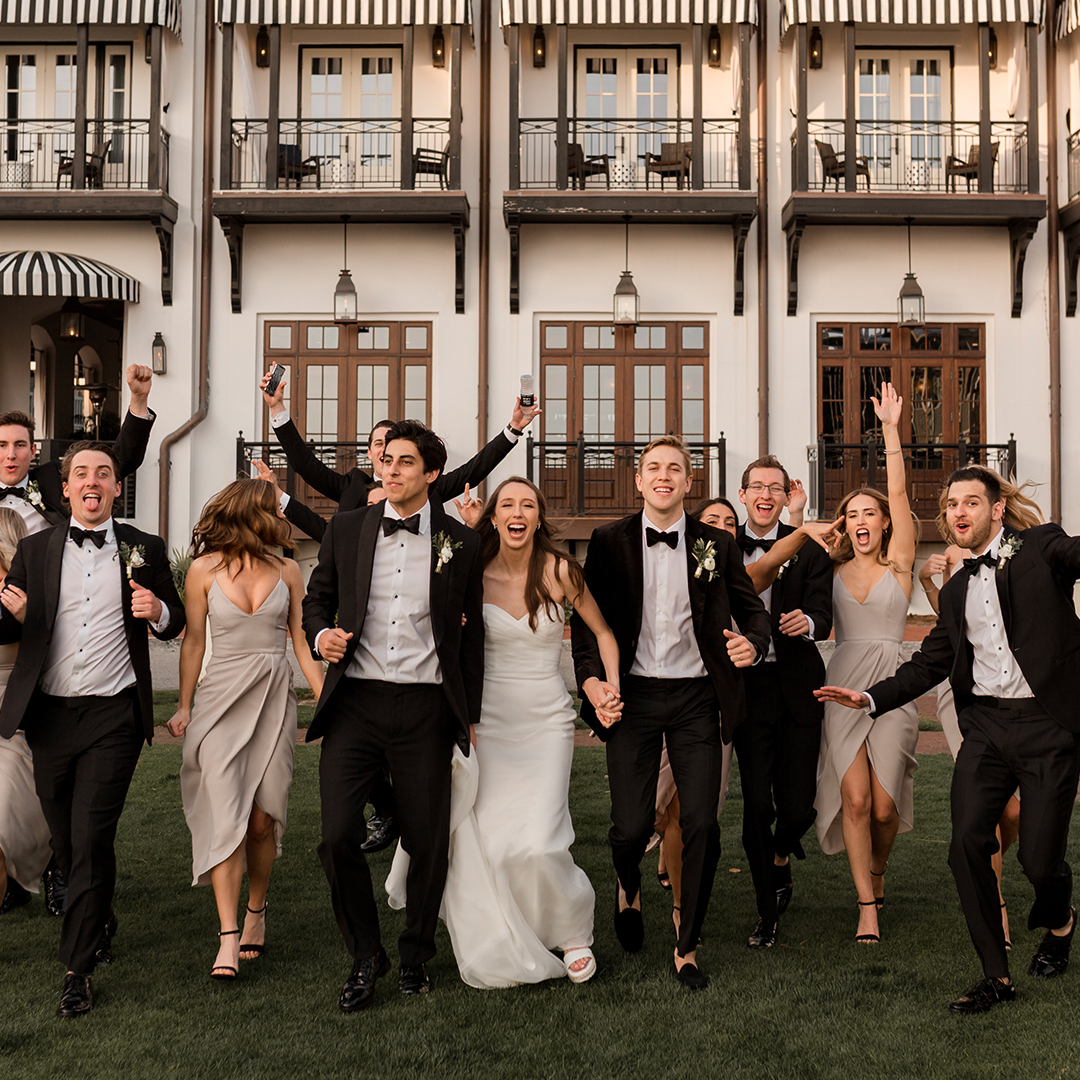 26 Oct

A Guide to Groom and Groomsmen Attire
A Monthly Timeline to Help the Groom & Groomsmen Attire Look It's Very Best!
Picking out the groom and groomsmen attire shouldn't be at the bottom of the wedding planning to-do list. The bride and bridesmaids aren't the only ones with tons of options when it comes to what to wear in the wedding! With help from our plus-one The Black Tux, we've curated a monthly timeline leading up to the wedding to help your groom and groomsmen look their best on the big day. You will be guided through the process of choosing between a tux or suit (and whether you're interested in buying or renting). We will also lay out all your options and things to consider along the way for a perfectly coordinated day.
6-9 months before: Consider Your Options
Tuxedos or Suits?
Which option makes more sense for your groom and groomsmen attire: tuxedos or suits? Base your decision off of the formality of your wedding. Here is a basic rundown of the difference between the two options. A tuxedo (distinguished by its satin lapel) is a sophisticated choice, usually chosen for more formal affairs, while a suit works well for a more casual wedding. No matter your choice, The Black Tux designs all of their tuxedo and suit options with of 100% Italian merino wool and detailed attention to fit. Their modern slim silhouettes are complete with high-quality fabric and construction, offering a more stylish (and comfortable) fit than the typical wedding tux. They also offer classic cuts for those who prefer a more generous (but still tailored) fit.
Should the groom be in unison with the groomsmen or wear something slightly different to set him apart? This is another aspect to consider during the tuxedo or suit selection process. Your partner could wear a different tux or groom suit that's still in the same color family as the groomsmen.
Neckwear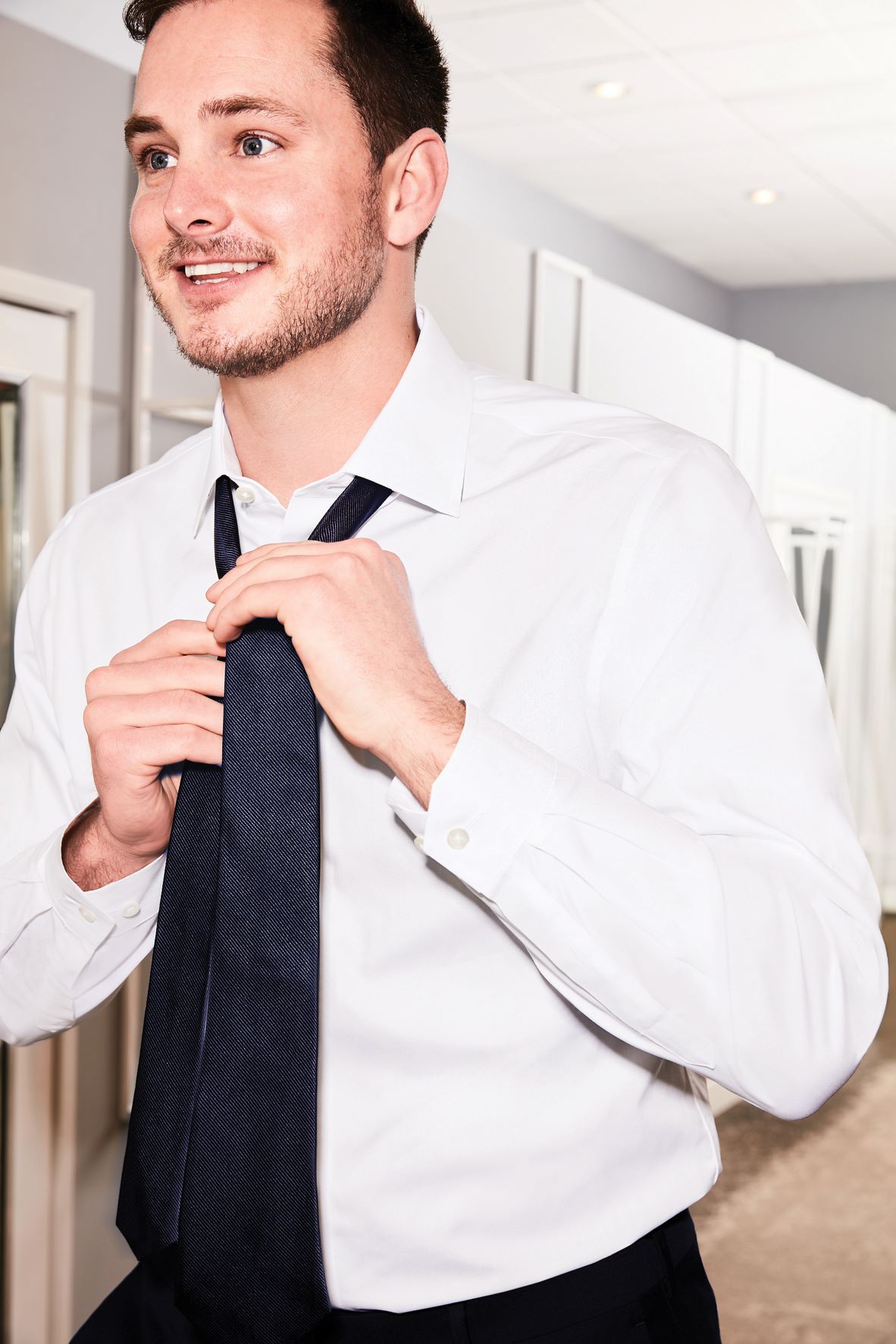 Next, choose the proper neckwear depending on your wedding style. A necktie is typically paired with a suit for a subtle look. A bowtie is traditionally worn with a tuxedo, giving off a classic or vintage feel. However, neckwear rules aren't set in stone. Make a decision between necktie vs bowtie based off of personal preference and consider the entire style of the wedding when choosing. You can even vary the neckwear styles between groomsmen attire and the groom suit to help your partner's look stand out.
Color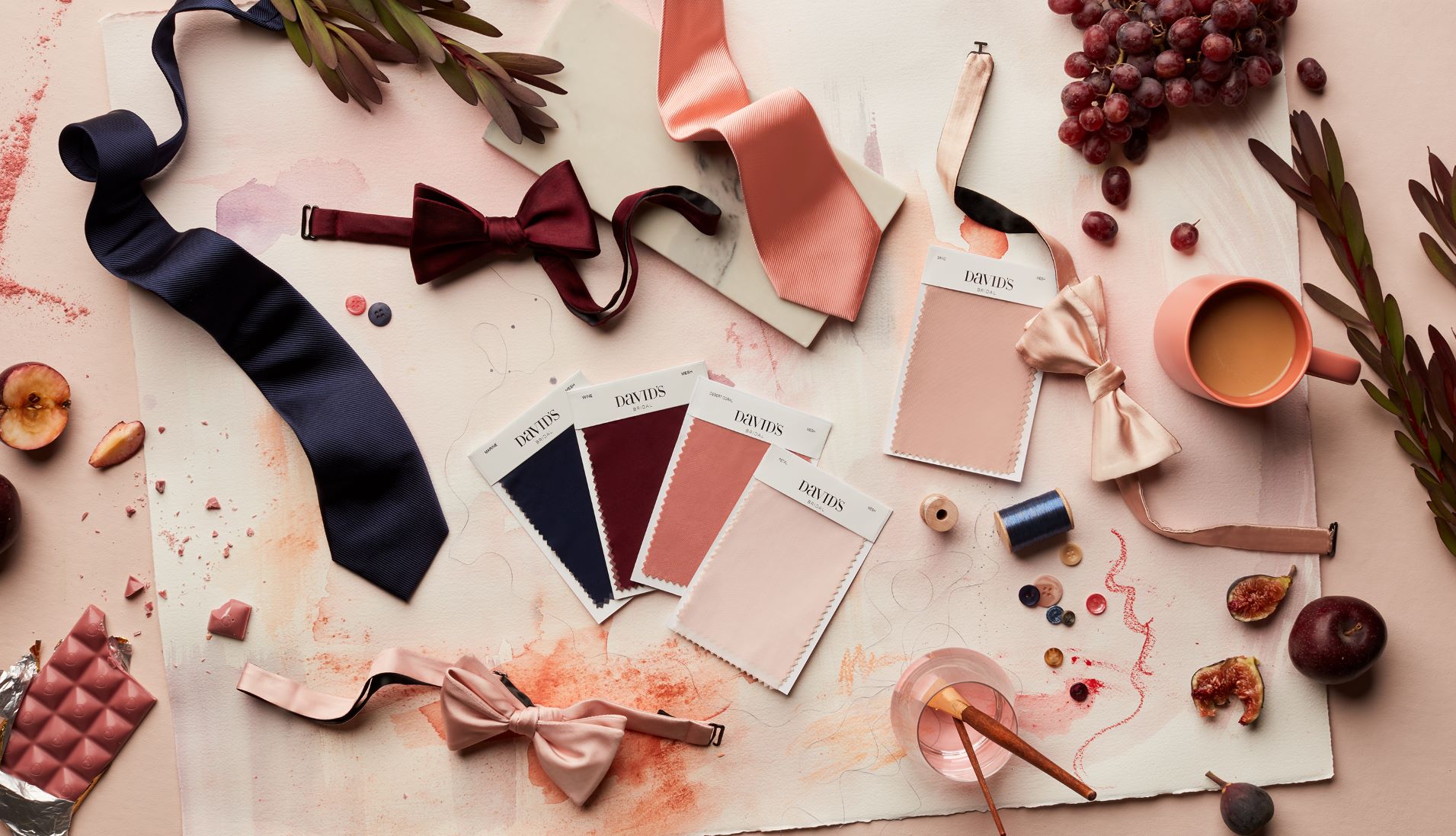 Finally, decide on color. Gone are the days where the groom and groomsmen are limited to black, navy, or gray. While these are classic and timeless colors, neutrals are also always a foolproof option. For a more modern wedding party, consider unexpected colors, patterns, or fabrics. The Black Tux offers a lot of unique options such as tartan print, luxe velvet, or marigold hue.
Accessories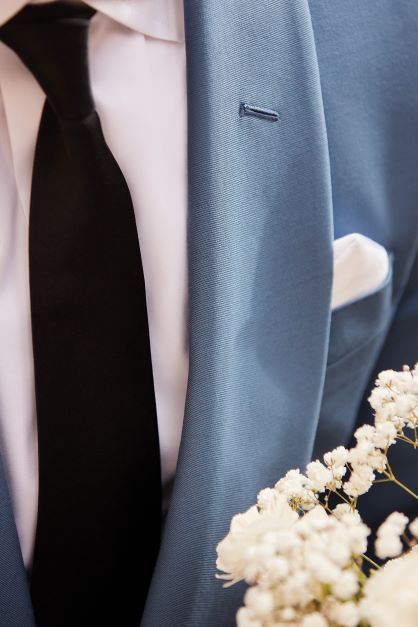 If you're still looking for ways to tie the groom and groomsmen looks together, don't forget the accessories! The Black Tux offers more than just neckwear—think vests, pocket squares, cufflinks, shoes and suspenders to customize each outfit. Keep in mind the importance of the groom and groomsmen suits coordinating with the formality of what the bride and bridesmaids are wearing. —it's up to you whether you prefer they wear colors or textures that match the color of the bridesmaid dresses, or simply complement each other.
Overwhelmed? If so, The Black Tux also offers stylist-approved complete outfits that you can tweak to fit your style.
3-5 months before: Get Measured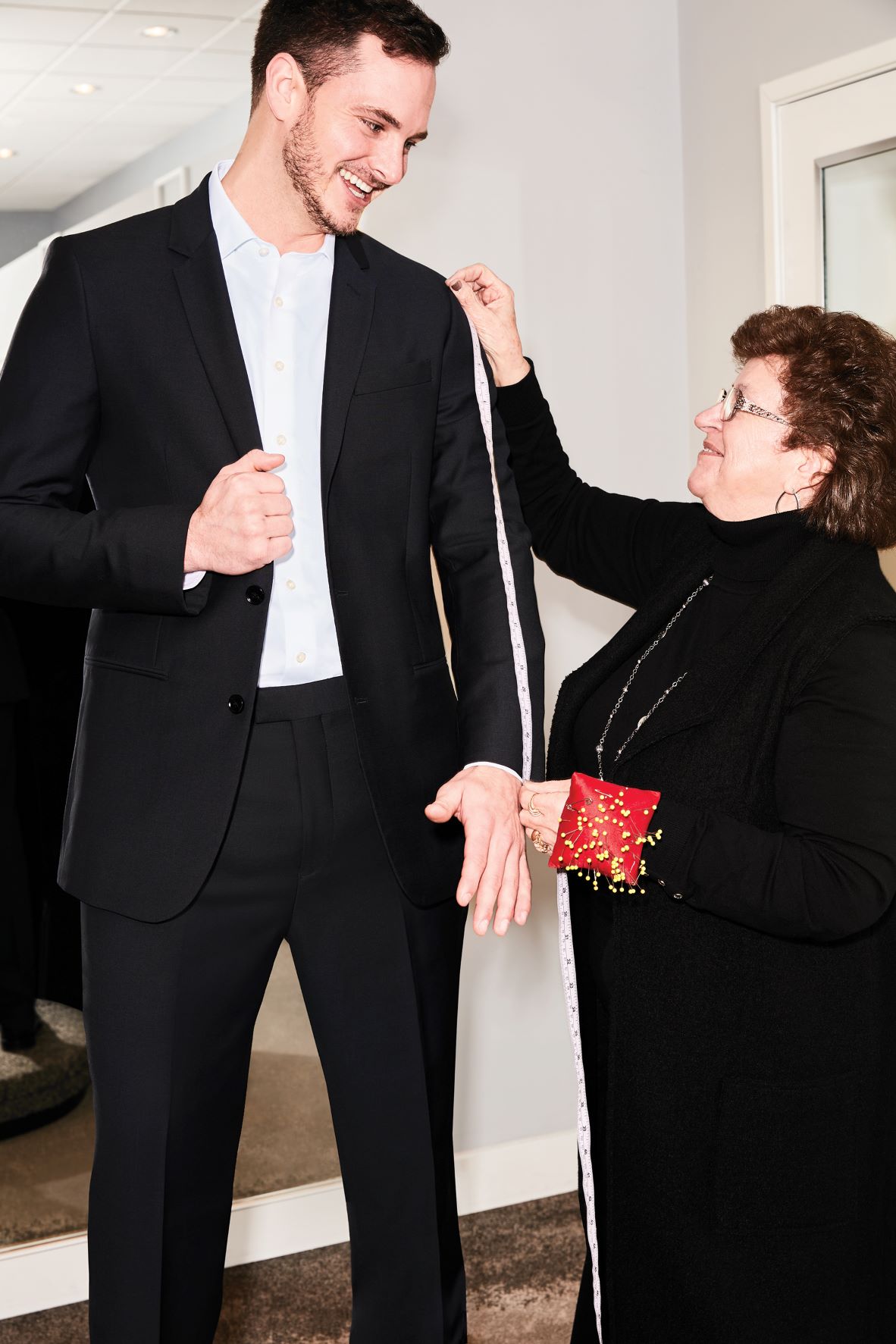 You've decided on groom and groomsmen attire, now it's time to get measured to ensure the right fit. If your wedding party is local, a showroom visit is a great excuse to get the group together. If there are groomsmen that aren't local, The Black Tux offers an easy, online fit and sizing quiz, with no measuring tape needed. As the groom, you can also check the fit before you commit. The Black Tux will send you the suit or tux of your choice so you can try it on. This way you can see the style and fabric in person—totally free.
One Month Before: Order the Groom Suit
At least one month before the wedding, you'll want to order the groom and groomsmen attire. The Black Tux allows your groomsmen time to complete the simple ordering process themselves all while keeping you in the loop. Each order is delivered two weeks before your wedding. This gives the groom and groomsmen plenty of time to try on their suits, and ensures everything is correct and ready to go before your big day.
Wedding Day:
Shower, shave, steam, and get dressed in your tux or groom suit with the confidence of knowing that you're looking your best! Bonus: with the outfit planned in advance, there's more time to spend with your guys before saying "I Do."
Day After: Post-wedding Returns
If you went the rental route, The Black Tux won't rush you to return. You'll have 3 days to send your suit or tux back with free return shipping.
See inspiration for Groom and Groomsmen attire and gifts and Pin along with us! Plus, check out The Black Tux's guide to groom suits for more outfit ideas and inspiration!
Photo by @BrookeTaelorPhoto
Related Posts: