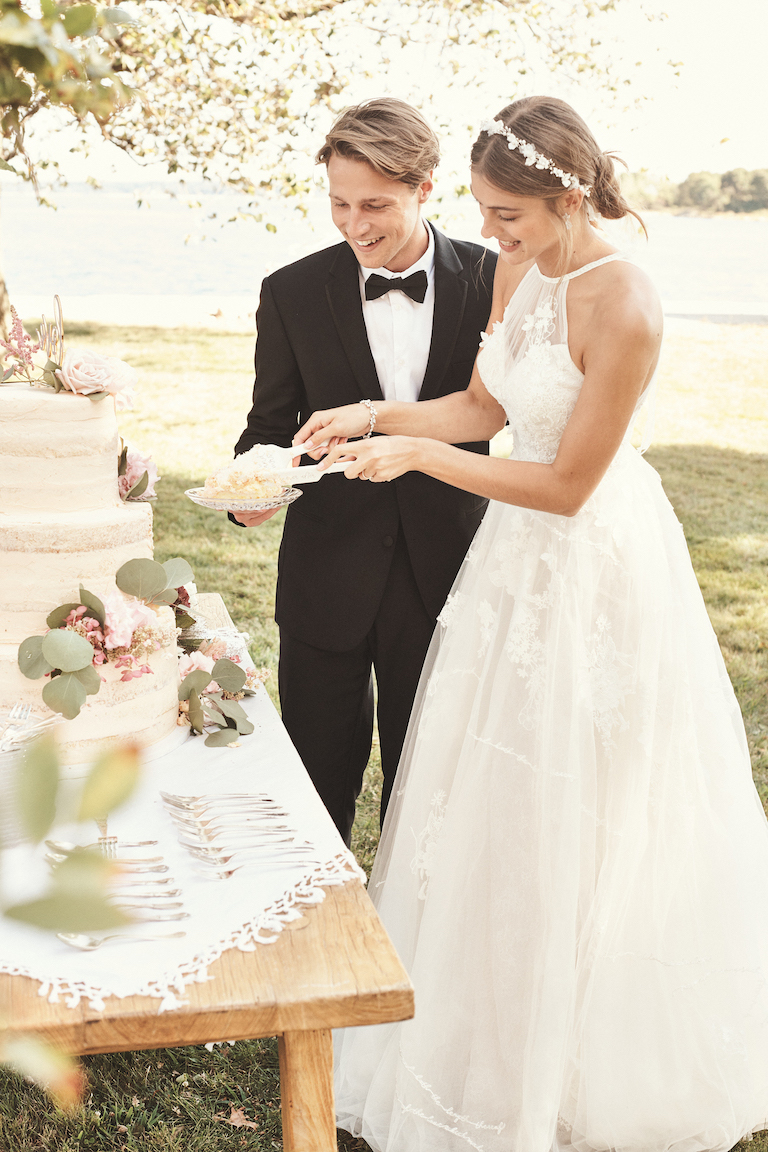 16 May

A Guide to Groom and Groomsmen Attire
Give these guidelines to your groom & groomsmen!
The bride and bridesmaids aren't the only ones with tons of options when it comes to what to wear to the wedding! And choosing groom and groomsmen attire shouldn't be at the bottom of the wedding planning To-Do list. This handy timeline from our friends at Men's Wearhouse will guide you through the tux or suit rental process while laying out all your options and things to consider along the way for a perfectly coordinated day.
6-9 months before: Consider Your Options
First, decide on the style of the groom and groomsmen attire that matches the formality of your wedding. A tuxedo is a classic choice, especially for formal affairs, while a suit works well for a more casual wedding. Men's Wearhouse offers rental options for both and packages include the complete head-to-toe look.
Next, decide on tie style depending on your wedding style. A tie is typically paired with a suit, but a bowtie is a fun option that can look preppy or even hipster depending on suit style and color choices. A bowtie is traditionally worn with a tuxedo, exuding a classic or vintage feel.
Finally, decide on color. Aside from the suit color, there are tons of options for vest, ties and accessories, such as pocket squares and socks. Groom and groomsmen attire should coordinate with what the bride and bridesmaids are wearing. As you're shopping, ask yourself if you prefer the groom and groomsmen in colors that match the color of the bridesmaid dresses or different yet complementary colors?
Regardless of your preference, there are so many options for color coordination but it's best to stick with the same shades (i.e. pastels with pastels, brights with brights, jewel tones with jewel tones). If color has you stumped, you can always go with neutral accessories, such as black, white, grey and beige, for groom and groomsmen apparel.
Another thing to consider during color selection is whether the groom will wear the same thing as the groomsmen or something slightly different to set him apart. The groom could wear a different tux or suit still in the same color family as the groomsmen, or for a subtle approach, he could wear a different color tie and/or vest.
3-5 months before: Get Measured
You've decided on groom and groomsmen attire, now it's time to get measured to ensure a perfect fit. If your guys are local, a store visit is a great excuse to get the guys together. If there are groomsmen in your wedding party that aren't local, they can visit any Men's Wearhouse location for measurements. Shopping isn't your thing? Skip the store and use Men's Wearhouse's online Fit Evaluator to find your best size in 60 seconds. If you prefer, you can even book your look online (note: online orders must be placed at least 15 days prior to your event date.) Style? Check. Size? Check. Rental booked? Check.
2-7 days before: Get Your Groom and Groomsmen Attire
Two days before the wedding, head to your local store to try on the tuxes or suits in person, make last-minute adjustments, then take home until the big day. Make sure you have all your accessories – tie, vest, socks, cufflinks, pocket square, shoes – before you leave! As an added convenience, Men's Wearhouse also has a ship to home option. Just place your order online and your tux or suit and accessories will arrive on your doorstep 7 days before the event.
Wedding Day:
Shower, shave, and get dressed in your tux or suit with the confidence of knowing that you're looking your best! Bonus: since your outfit was planned in advance, there's more time to spend chillin' with your guys before saying "I Do."
Day After: Post-wedding Returns
Return tuxes to any of the 700+ Men's Wearhouse locations or drop off your online order at Fed Ex.
Need some real-life inspiration? Check out Men's Wearhouse's #MyiDo gallery here then visit Men's Wearhouse online or in store to get started!

Related Posts: