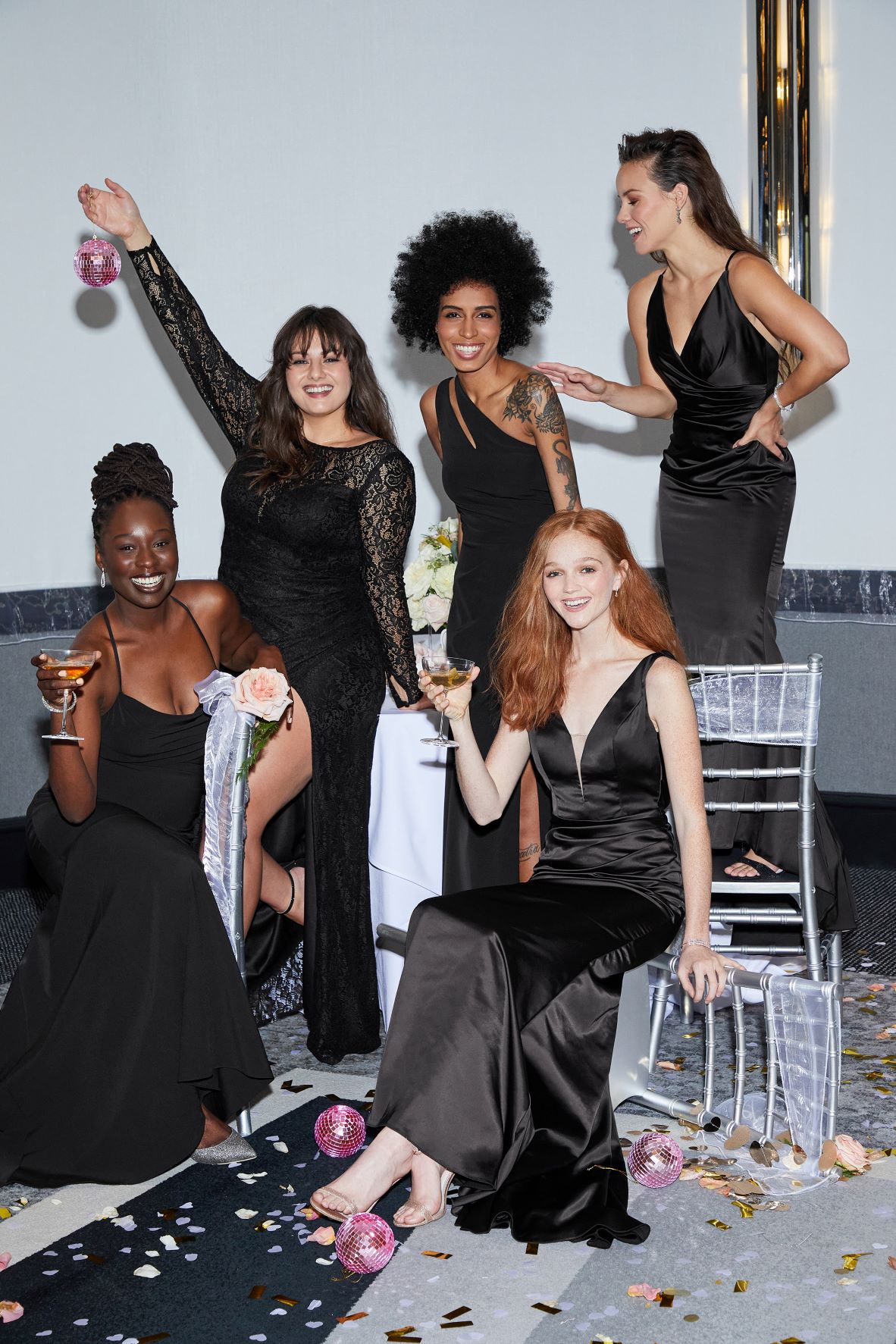 09 Aug

Wedding Guest Dress Codes Explained
Formal vs Black Tie vs Black Tie Optional Dress Codes Explained
It is always exciting when a wedding invitation appears in your mailbox! However, shortly after you RSVP, you might start down the path of deciding what to wear. To answer this question, you need to look to the cues most often listed on the invitation or on the event details. Many invitations will use phrases such as formal, black-tie, or black-tie optional to indicate what the dress code is for the event. What do all of these mean? You came to the right place to get all the wedding guest dress codes explained! Use this guide to understand all the formalities of what each specific wedding guest dress code means, along with some suggestions of attire as well.
Formal
Style D21NY2112, D21NY22305V3, D28NY22297
When attending a wedding with a formal dress code, consider a long dress. If a long dress is not your style, an elegant and elevated cocktail dress is suitable for this type of event as well. Consider a cocktail dress that hits below the knee or mid-shin level. Dark colors such as navy and black are always an elegant go to. Jewel-toned and metallic dresses are also great options if you are going for a more exciting look. Wearing a classy jumpsuit can be another amazing option! It fulfills the dress code and delivers both style and comfort. As for the men attending the event, a suit is suggested.
Black Tie
Style D28NY22293, D40NY22371, WBM3095W
A black tie wedding will most often be held in the evening hours, and is considered the most formal wedding dress code event. Abiding by the dress code for black-tie events are especially important. For women, a floor-length dress is the most appropriate attire and usually worn in a dark color. Men should wear a tuxedo which can be paired with either a classic bow tie or a long black tie. Keep in mind that a black suit is not the same as a tuxedo, and is not considered appropriate attire for a black tie wedding.
Black Tie Optional
Style A24201D, WBM2411V2, AP1E206748
This wedding dress code is slightly less formal than a black-tie event. Quite often, guests find it difficult to know the difference between black-tie and black tie optional dress codes. The only real difference is black tie optional allows for men to decide if they want to wear a suit instead of a tuxedo. Here a tuxedo is not expected, and a suit in a dark color is acceptable. For a black-tie optional event, women should still consider a full-length dress or a fancy dress that hits below the knee.
Having these wedding guest dress codes explained will help you pick out the perfect dress to wear to your event. Then you will feel confident in your attire knowing you followed the couple's wishes.
No matter the season or dress code, we've got you covered on wedding guest attire year-round! Shop 2022 wedding guests dresses online or in-store to find the perfect look for your upcoming celebrations. The Black Tux is always available as well for all your upcoming wedding events, providing tuxedos and suits, for rent and for keeps.
Planning or attending a wedding? Sign up for our Diamond Loyalty program—it's free! Follow us on Instagram, Pinterest, and Facebook for more wedding inspiration, or click here to book an appointment.
Related Posts: