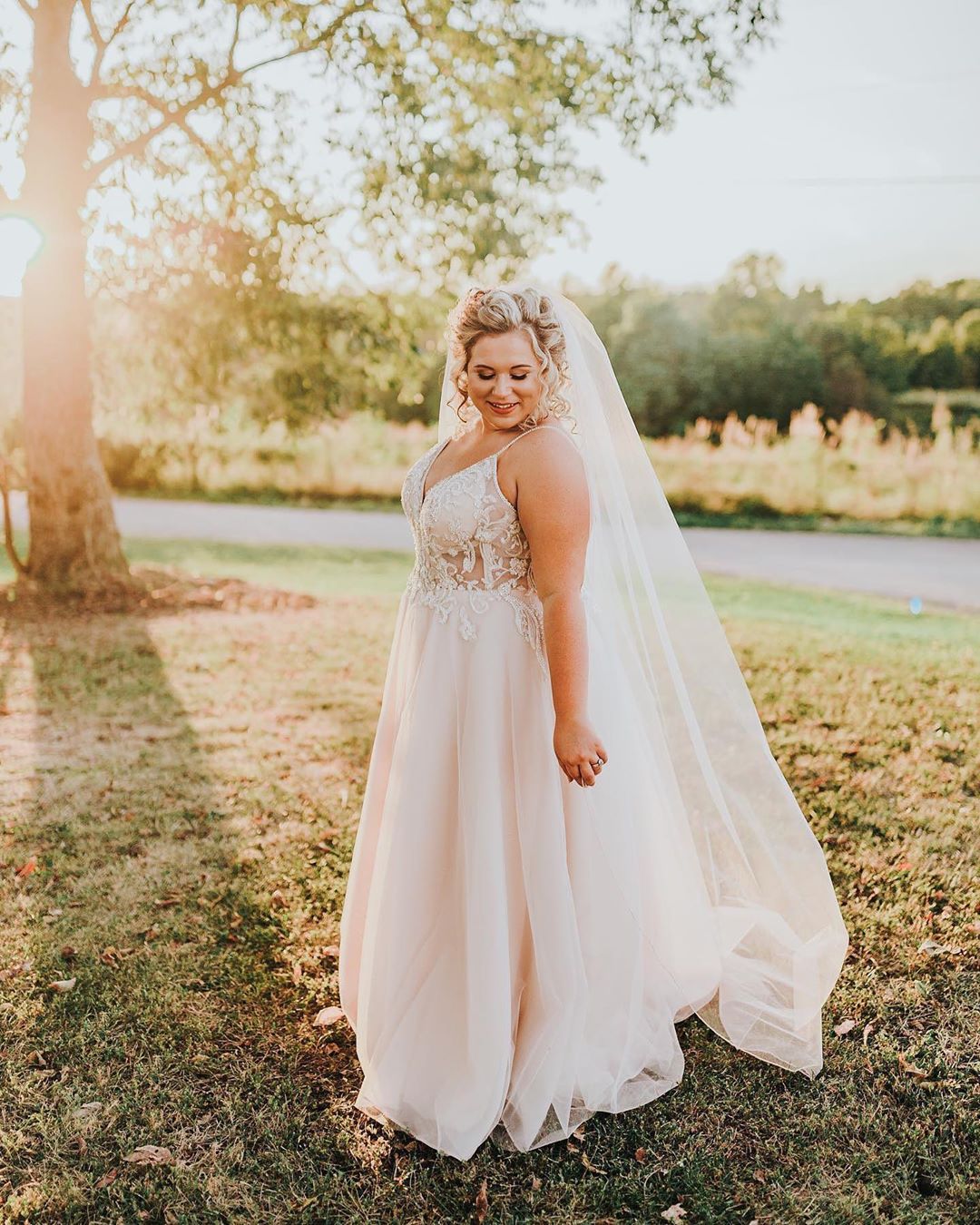 11 Feb

13 Top-Rated Wedding Dresses from David's Bridal
..and reasons why you'll love them too!
Don't just take our word for it! See what these real brides are saying about their dream dresses! Plus, the best part of the most loved looks? They're all at an AMAZING price. Keep reading for some of our top-rated wedding dresses to inspire your wedding vision.
Flower Lace V-Neck Wedding Dress with Empire Waist – KP3783, $499.99
What's not to love about this floral lace gown? This sleeveless sheath is the epitome of flattering with an empire waist and chic v-neck. Having a destination wedding? The keyhole back and ribbon detail make it a perfect option for those beach ceremonies!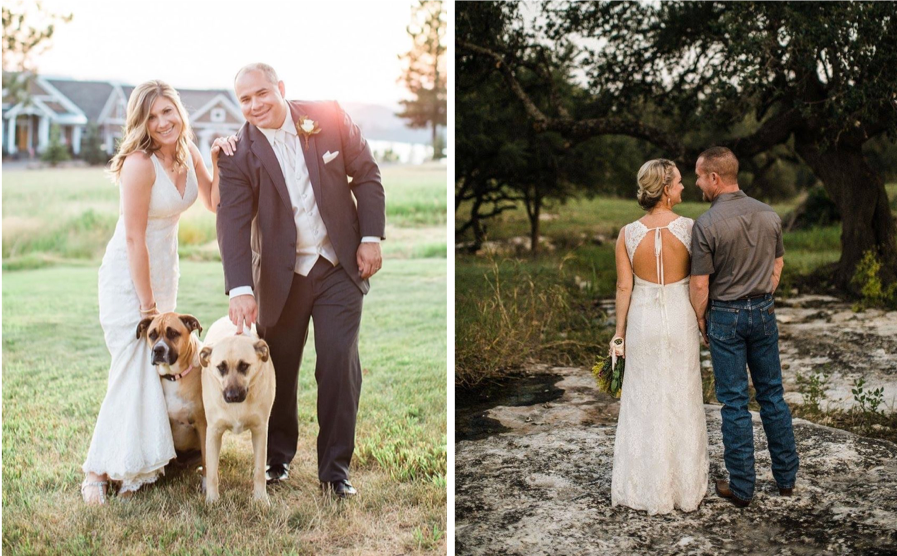 what brides are saying…
"I found this dress right as I was leaving the store, giving up for the day. I am so glad I decided to try it on at the last minute because it is perfect! It is incredibly comfortable and flattering for several different body shapes. I was looking for a natural, more laid-back look and this dress fits that description perfectly while still being elegant. The best part is that it fits me so perfectly, I don't need any alterations!" – Ness11
"As soon as I tried it on, no other dress contended. It accentuates features and curves, the open back gives it a unique fit. It was elegant yet lightweight and comfortable on. It fit my theme perfectly! I LOVED this dress." – 91717
Illusion Deep V-Neck Cap Sleeve Lace Wedding Dress – WG3951, $599
Go for a simple yet chic look with this allover lace gown! Romantic details like its trim details, plunging illusion V-neck, and leg slit bring this dress to life! Plus, cap sleeves add a touch of coverage. This gown is the best kind of simple, perfect for you to accessories and show your personal bridal style!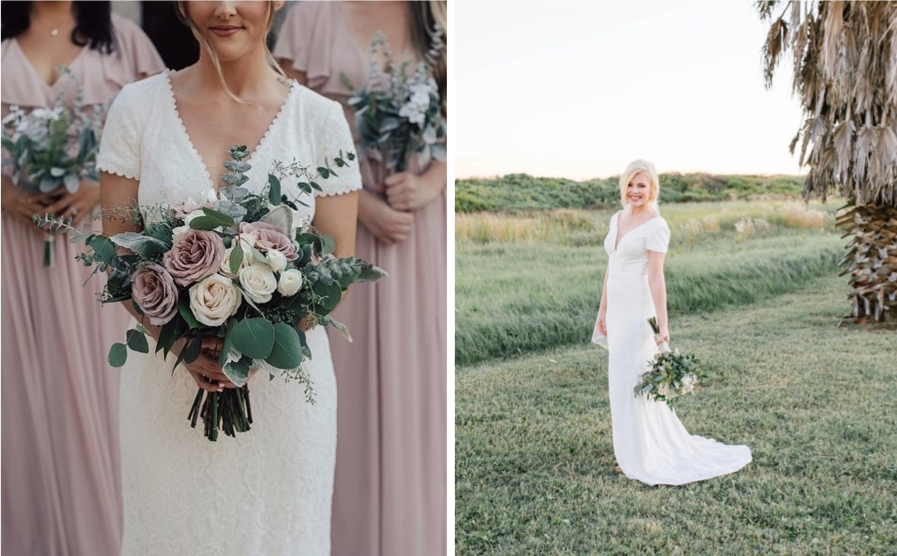 what brides are saying…
"I just bought this dress yesterday for my wedding in a little less than 3 months and I am just so in love with it. I added the same belt that is being worn in the first photo which made it even more beautiful. I can't wait to wear it again." – Danielle
"Soft and comfortable! This dress felt like a maxi dress. It has a soft stretchy liner…I thought I'd have to wear an aline dress for my figure but when I tried this dress on it was the one!" – Tpel
Lace and Point D'Esprit Open Back Wedding Dress – WG3956, $699
Calling all boho brides! Vintage-inspired and romantic, this wedding dress is tiered with gorgeous bands of point d'esprit and Chantilly lace cascading down its A-line silhouette. A V-neckline and a dramatic open back, framed with intricate Chantilly lace straps, give this gown a modern twist.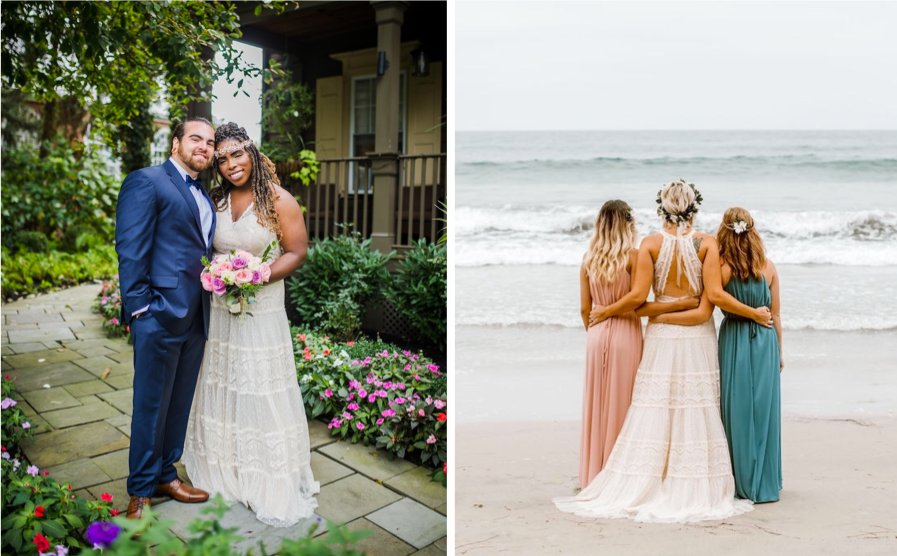 what brides are saying…
"I walked into David's planning to buy a totally different dress. When I saw this dress on display, I knew I had to have it! As soon as I tried it on, I was hooked! The dress is very light and comfortable. It's a little large in the bust for me, I'm pretty average in that department but alterations will fix that. It lays very nice everywhere and doesn't have too much train. I felt like I could walk comfortably without a lot of fabric tripping me up. It's a lovely vintage/boho dress and I cannot wait to get married in it!" – Katie Lynn
"I made an appointment with David's Bridal on a whim. This was the last dress I tried on and even though the sample was the wrong size I knew it was the one! I did have cups added and the straps shortened but all in all the price was incredibly reasonable. I received so many compliments on my wedding day and it fit our rustic brookside venue perfectly. Thank you David's Bridal!" – Violayne
Allover Lace A-Line Strapless Wedding Dress – WG3805, $599
Effortless and elegant, this gown is perfect for the traditional bride! This A-line wedding dress embodies effortless classic elegance thanks to its simple lines, sweetheart neckline, and allover lace. A subtle gathering at the hip creates a bit of intrigue as the skirt cascades in a petal-like layer.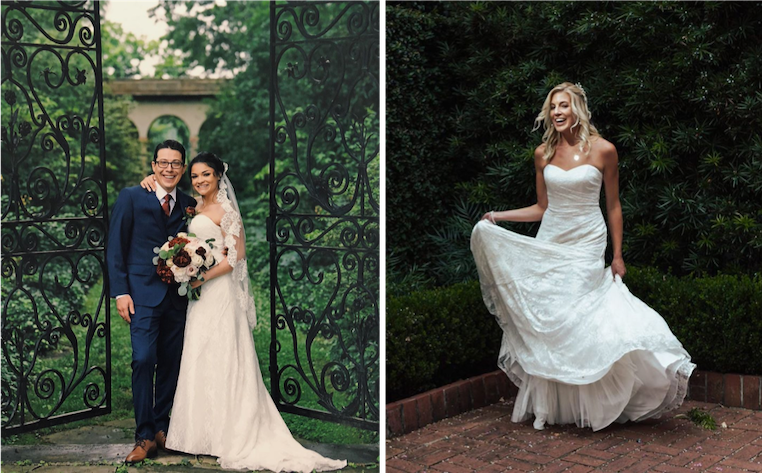 what brides are saying…
"This dress was perfect in every way! It was comfortable, hugged my curves, and was so flattering to my figure! We had an outdoor ceremony and the dress was perfect for the venue! I am so glad that David's Bridal helped pick this out for me! I wouldn't have had it any other way!" – Bviola1013
"Loved, loved, loved wearing this dress on my wedding day. It was flattering and comfortable to wear! A great value for the price (which gave me the budget I needed for alterations). Highly recommend for brides looking for a classic, all-over lace dress that will flatter your figure." – Annie
Tulle Tank V-Neck Ball Gown with Layered Skirt – WG3913, $699
Straight out of a fairytale! Layers of flowy tulle add freshness to this full ball gown. Butterfly inspired appliques, a soft tiered skirt, and dramatic low back complete this perfectly ethereal look! Choose this dress in the Ivory/Stone hue for the ultimate blushing bride look.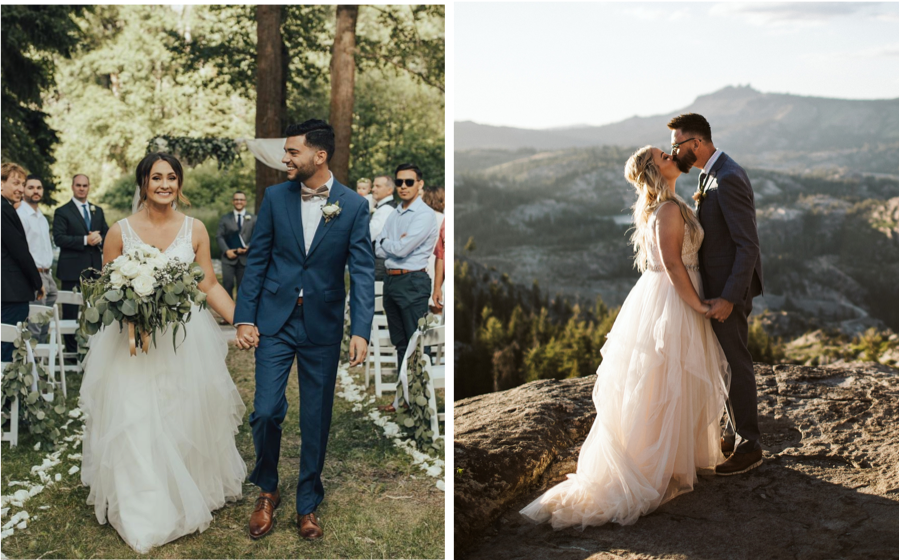 what brides are saying…
"I LOVED this dress!! I ended up changing my dress 20 days before my wedding (crazy, I know lol) to this one after realizing that my first dress just wasn't the one for me. I am so happy I chose this dress, it photographed amazingly well and was very flattering!" – Errol
"I fell in love with the dress by the pictures online and couldn't wait to try it on in person. It was the first dress I put on, I tried on 4 or 5 dresses but nothing compared. It was comfortable and flattering and just everything I wanted in my wedding dress. I purchased the blush ivory and the belt shown in the pictures to go with it because it completed the look for me." – Ahoneybuns
Long Sleeve Off-the-Shoulder Trumpet Wedding Dress – WG3943, $749
All of the beauty is in the details of this long sleeve, off-the-shoulder dress! The gown is covered in clear sequins to add shimmer and shine paired with a scroll lace motif. The illusion sleeves add some coverage and the mermaid silhouette is incredibly figure-flattering.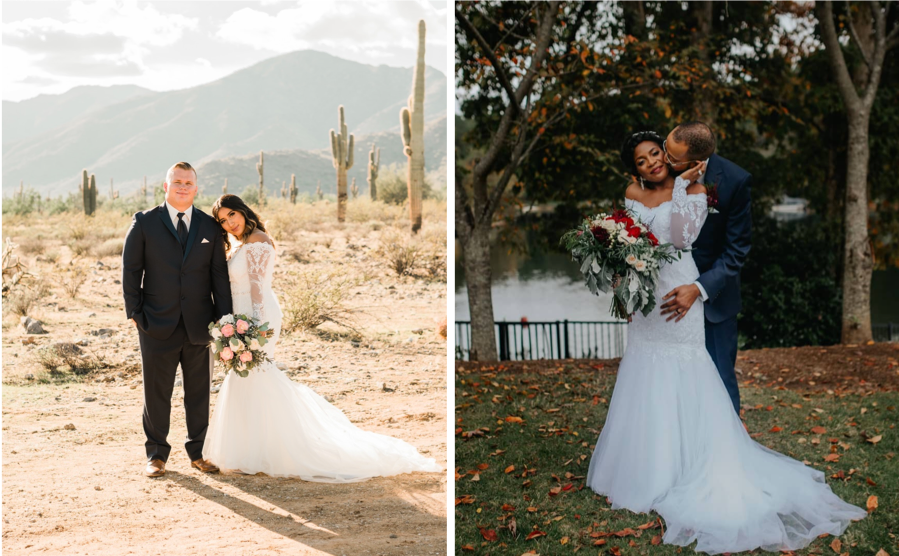 what brides are saying…
"I tried this on last minute and fell in love! If you want a "My whole family cried when I bought my wedding dress" moment, get this dress." – Godfrey
"Before my appointment, I looked at this dress every day. Once I finally tried it on, my emotions overwhelmed me. The detailing and the way the dress moves with you is absolutely amazing. I paired it with a Juniper (to match my girls!) and jeweled sash. I can't wait to wear it!!" – Anne
Plunging Lace Halter Ball Gown Wedding Dress – WG3844, $699
Want a touch of whimsy on your wedding day? Brides love the flattering A-line silhouette, plunging V-neckline and sweet daisy lace motif that covers this halter dress. The best hidden detail? Side pockets for storing tissues, snacks, and more!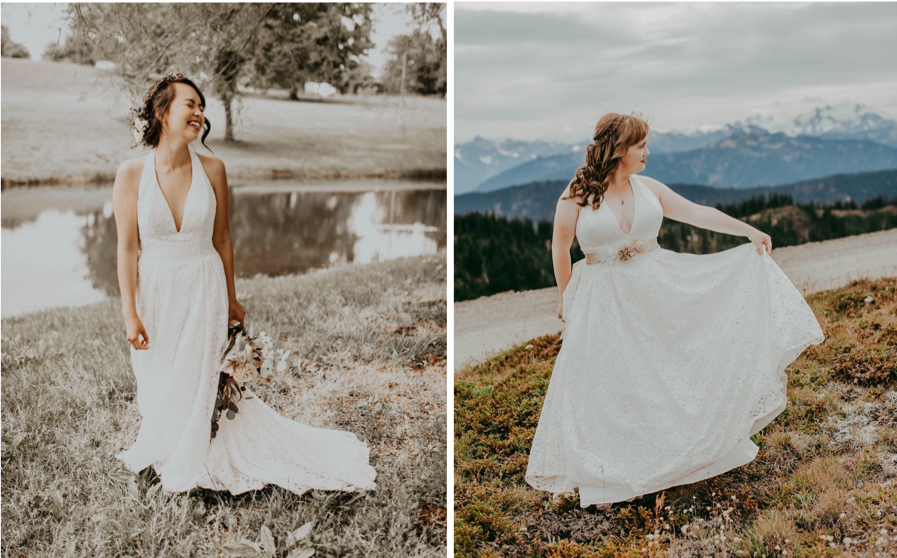 what brides are saying…
"I came in with an idea of what I thought I wanted. This dress was actually everything I thought I didn't want. I was hung up on strapless and fitted to the body. The consultant helping me asked me many questions as to what I liked and didn't like about every dress I put on. I was ready to call it a day. She said she had one more she thought I would like based on my likes and dislikes. I knew the moment I put it on it was "the one"! Light weight, plunge front and it has pockets! Yes I said pockets! Paired with a ball gown slip and a beautiful pearl and rhinestone belt they had I felt like a princess!" – IttyBitty
"This was the only dress I smiled in, so I said yes! Every time I look at it I fall in love all over again! Can't wait until my wedding day!" – EmZ16
Sheer Lace and Tulle Ball Gown – WG3861, $1,099
There's so much to love about this ball gown! It's delightfully airy thanks to the full tulle skirt (so you'll simply float down the aisle) and a little daring with its semi-sheer bodice. The result? Oh-so-romantic and the perfect balance between modern and traditional.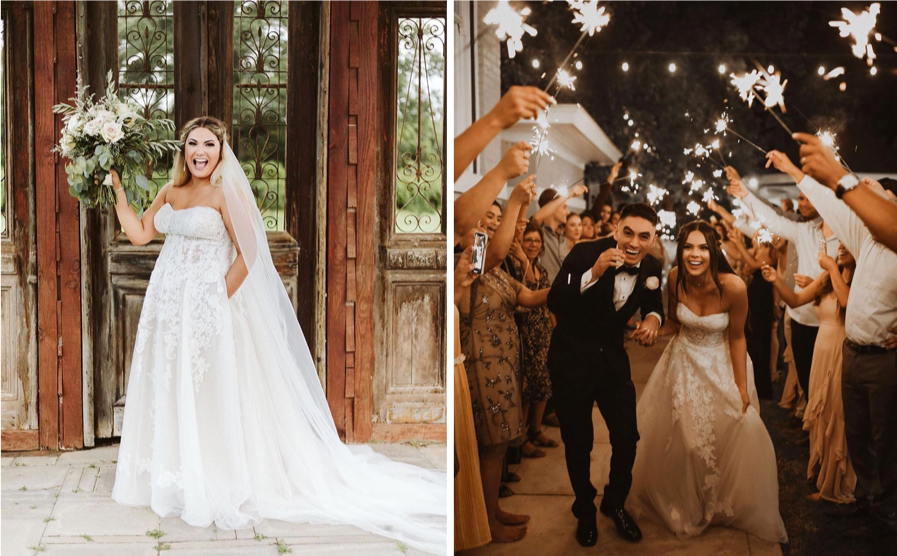 what brides are saying…
"This dress is the PERFECT blend of classic, romantic and vintage (all of the things I wanted my dress to be). I didn't originally think I would pick something that was strapless or ballgown-esque, but it's so much more flattering than I thought it would be and I think it will fit my outdoor fall, Colorado wedding venue beautifully!!" – Mblan37
"I tried on at least 10 different dresses when I went in the store. Originally had the idea of a slim fitting gown, tried on a few and didn't like how they looked. So finally my consultant pulled this one (the last gown I tried on) and i fell in love with it. It is a mixture of ball gown and A line and absolutely gorgeous! It fit great and so easy to dance in. I received sooo many compliments on it. The lace detail and sheer bodice made the dress complete, along with the POCKETS! It fit like a glove. It was the perfect dress! I had a great bridal experience at David's bridal, thanks to my consultant Cassidy!" – Emily
Scalloped V-Neck Lace and Tulle Wedding Dress – WG3850, $1,099
Princess vibes! For your unique love story, consider this lovely ball gown. Pearl and crystal beading gives the gown an allover glow from the lace straps to the scalloped bodice to the full skirt. The hem is complete with a scallop edge and the back is complete with functional buttons on illusion mesh.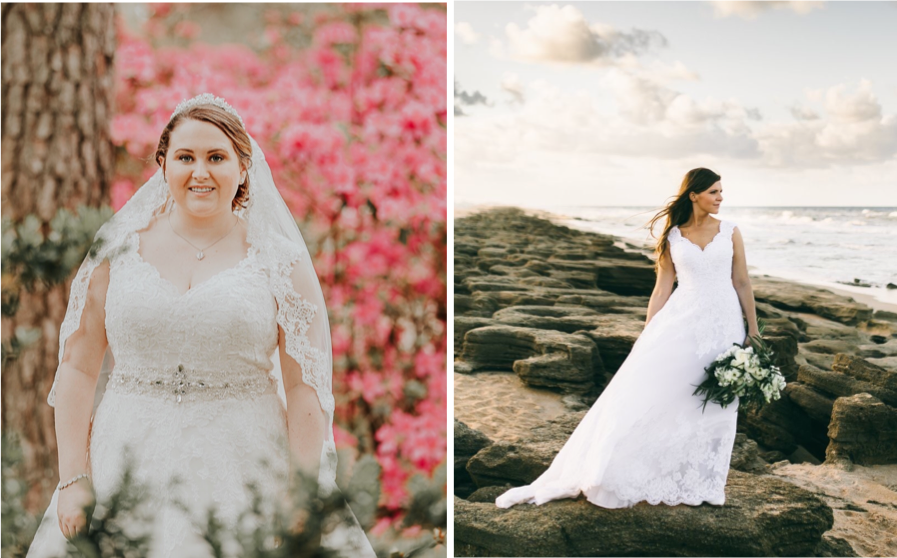 what brides are saying…
"This was the first dress I tried on at David's and my entire party knew it was the one, including myself. The lace is stunning. The fit is so flattering and I felt like an absolute princess on my wedding day." – CMartinez
"I LOVE this dress! I loved it so much online, and it was even better in person! My consultant saved this one for last because she knew how much I liked it, and as soon as I put it on, I knew this was the right dress. The lace detail is gorgeous! I love all the detail of the back. It's very romantic without being too over the top. It fits in perfectly with my venue (ballroom that used to be a library). It's flattering and they have a veil that goes with it perfectly!" – Bookseiffel
Beaded Lace and Tulle Ball Gown – V3836, $1,099
Cue the happy tears! When you see yourself in this strapless ball gown for the first time your wedding day vision will be brought to life! Lace adorns the bodice, scatters into the full skirt and lines the scalloped hem for a finished look. The Vintage Rose hue is an unexpected but fresh option for the bride who loves a traditional look with a romantic, modern spin.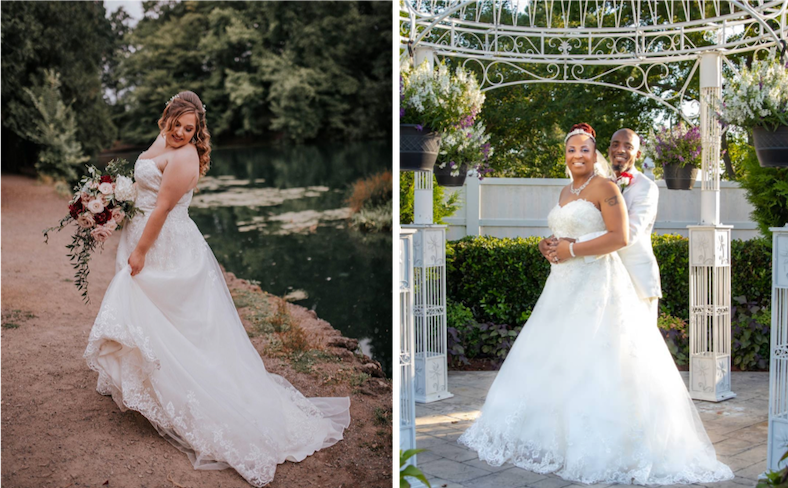 what brides are saying…
"I went into David's with my mom. We picked out about 4 dresses for me to try on. I had a certain vision in mind and it had to have straps. I put the first dress on and it was pretty just not the one. She said they had just gotten a brand new dress in and she wanted me to try it on (this was back in feb 2017). She said that she thought it would be right up my ally but it was strapless. I agreed to give it a try and almost fell over at how beautiful it was on the hanger and couldn't wait to try it on. I walked out and was in awe! It was so perfectly gorgeous!! I knew it was the one but I had to try on the other dresses I had picked to make sure. I put it on again and rang that bell! The vintage rose is so beautiful!" – Elle
"I never thought I would pick a blush colored dress for when I got married, but when I tried it on I knew I couldn't have just a normal white dress. The beading and lace is so beautiful. The train and lace on the bottom with the small rhinestones really make the dress look like it's sparkling." – Nattloopez
Sheer Beaded Bodice Organza A-Line Dress – SWG784, $1,199
This dress has 5 out of 5 stars..and for good reason! 5,000 hand-placed crystals, beads, and sequins cover the sheer illusion bodice–it simply a sparkling showstopper! Created for brides with a bit of a daring side, this dress also features a plunging V-neckline and back and crystal-traced spaghetti straps.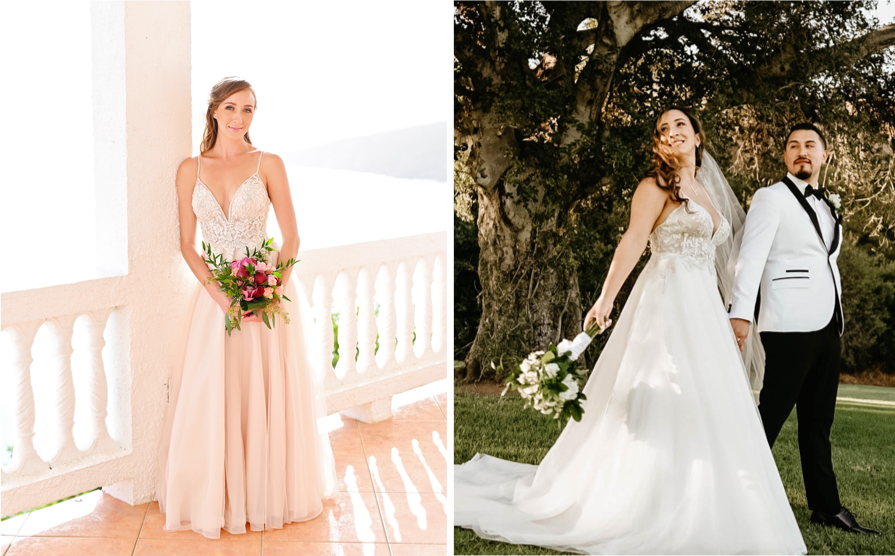 "Before I started searching for a dress I had a picture in my head of what I wanted my dress to look like. When I saw this dress it was everything I had envisioned and then some. I could not have been more happy with my dress. It was absolutely perfect!" – Sara
"Favorite part of my wedding. Literally. I was sure I was going to have a sleeved dress, so I was scrolling thru DB's dress selection online saving dresses with sleeves only. This one caught my eye and I thought "wow, I wish I could pull that off." When we went dress shopping, it was on the mannequin in store and looked SO PRETTY. I knew I had to try it on. It was the 2nd dress I tried and I knew immediately it was the one. I forgot about everything I thought was wrong with me and could only focus on how pretty/flattering the dress was. I couldn't wait for my husband to see it. It was my favorite detail about the wedding. I was nervous about the blush color, but it was different, beautiful, and memorable. I can't recommend it enough." – Hannahmichelle
Beaded Lace Mermaid wedding Dress – XTCWG808, $1,499
WOW your guests in this statement gown. From the intricate lace to the 3,000 beads to the 90-inch train, this dress has just the right amount of drama and opulence for the walk down the aisle. You will feel and look like royalty (and it is under $1,500!!).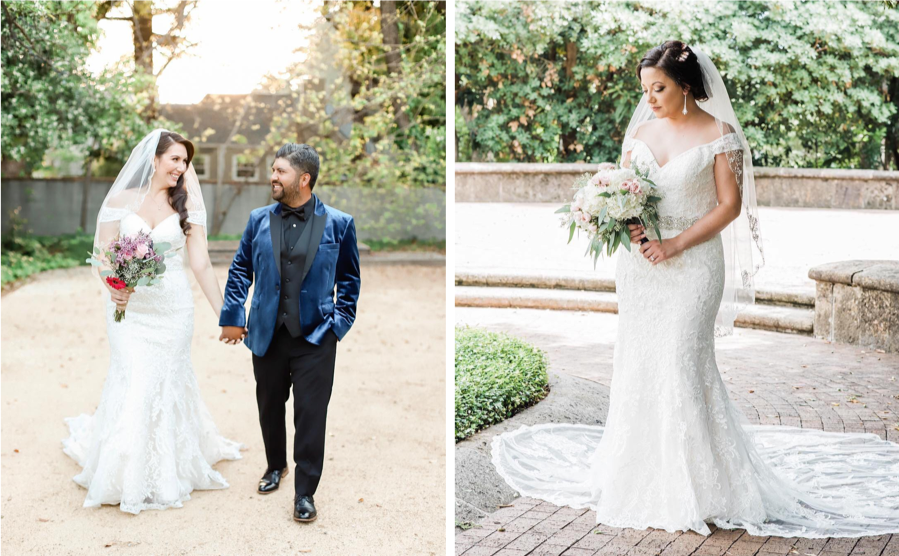 what brides are saying…
"I searched for weeks! I absolutely love this dress! I searched many different boutiques and bridal shops! I was hesitant at first but once I had it on, there was no question this was my dress. I will be married in 2 weeks and cannot wait to show it off!" – Jackie
"I initially went into my appointment looking for an A-line, long sleeved dress for my upcoming winter wedding. But as soon as i walked in, i saw this on a mannequin, and thought "why not, it's so beautiful i have to." It was the first dress i tried on, and i cried when i saw myself in it. It hits all the right spots and gives me such an elegant, sexy look. I adore how it hugs my hips and that train is to die for. I added a little belt to mine and it tied it all together. Best purchase I've ever made. I am truly in love!" – Gretchen
Lace Illusion Cap Sleeve Ball Gown – CWG833, $1,899
Hello, luxe! Pull out all the stops in this luxurious beaded lace gown. A shimmering metallic lace fabric adds shine and interest at every turn. The open back is accented by delicate buttons and the cap sleeves are complete with floral appliques. The illusion neckline gives the appearance of painted on appliques for a stunning look.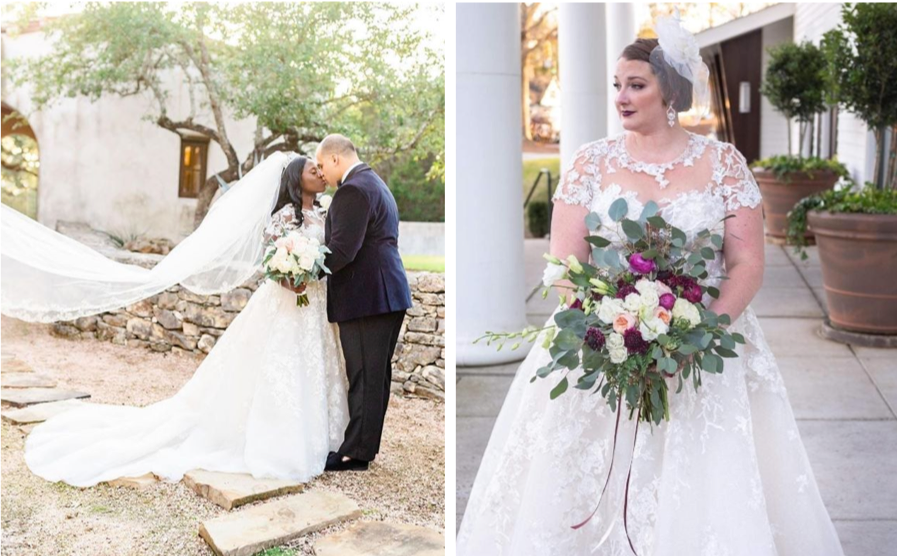 "Just as I was leaving the store this dress caught my eye. The stylist asked if I wanted to try it on. As soon as I looked in the mirror I ABSOLUTELY FELL IN LOVE WITH IT!! STUNNING, BEAUTIFUL AND WELL MADE!! Not too heavy, nice train, beautiful embellishment!! LOVE LOVE LOVE IT!!" – DeeCee
"This dress was the first one I tired on and I knew right away that it was the one. It is so beautiful and has a gorgeous sparkly underlay. It is also surprisingly very light so it would be good for a summer wedding. Also, it has pockets!" – SoonToBeBride2020
Inspired and ready to find the one? Book your appointment to see these gowns and more top-rated wedding dresses in person at your local David's Bridal! Are you a past DB bride and want to share your gown story? Upload your photos at davidsbridal.com.
Featured photo by @nelsonhollimanphotography
Related Posts: