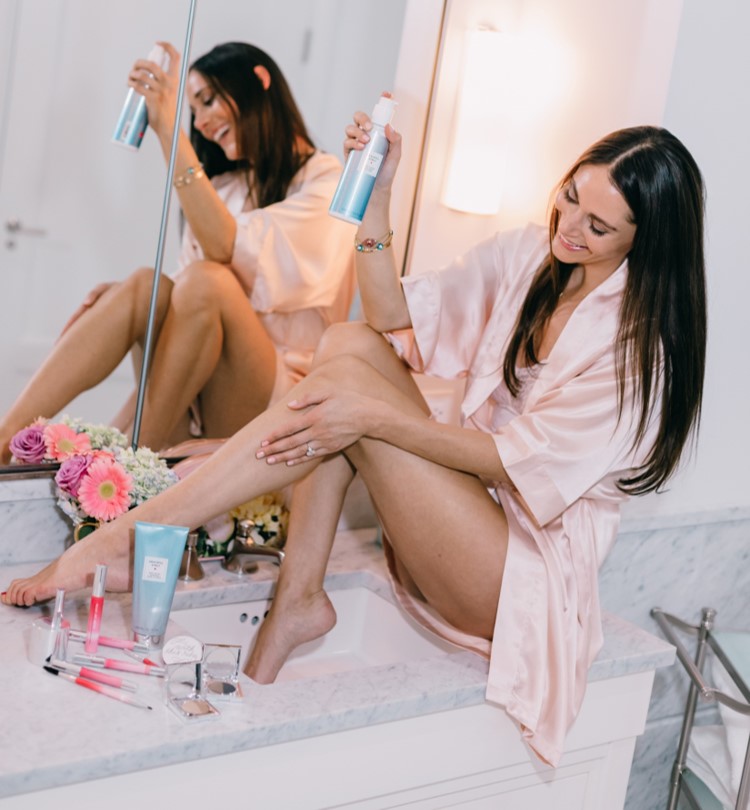 22 Mar

Why You Should Consider Waxing Before the Wedding
Your answers for smooth skin from head-to-toe.
Smooth skin gives you confidence no matter what you're wearing, and what better time to reveal your most beautiful skin than at your wedding? Whether your goal is to achieve brow perfection or a low-maintenance honeymoon, there are many reasons to add waxing to your bridal beauty routine. Curious but have questions? We did too, so we asked Melanie Coba, National Brand Ambassador for European Wax Center, all about waxing before the wedding.
What type of waxing services should a bride consider?
"An eyebrow shaping will accentuate a bride's eyes and frame her face. Under a veil or not, eyes reflect every emotion of the day so it's important to find the perfect eyebrow shape to define your face. If nothing else, I recommend adding eyebrow waxing to your bridal beauty prep so brides look gorgeous for the wedding day and in the photos they'll cherish forever. On that note, don't forget that facial hair can show up in those close-up photographs!
It's also important to focus on underarms, especially if the bride is wearing a strapless or sleeveless gown. For gorgeous wedding legs, consider the full or half leg wax (and pay attention to toes if wearing open toe shoes).
Finally, many of the services and products that help a bride prepare for her wedding day will also help her get ready for her honeymoon. Since many honeymoons are in warm-weather destinations, brides can benefit from adding bikini waxes to their routine to ensure a smooth bikini line while lounging by the pool or frolicking on the beach."
How long before the wedding should a bride start her waxing routine?
"As with every aspect of a wedding, planning is key. We recommend brides start three months out from their wedding date to schedule their first reservation at their nearest European Wax Center to discuss the right plan for achieving her most beautiful skin for her wedding. The Wax Specialist will then get her on a schedule to ensure a smooth glowing appearance."
How often should a bride schedule her waxing appointments?
"In most cases, the Wax Specialist will recommend a reservation every three weeks for the three months leading up to the bride's big day. You will get the bests results if you stay on a consistent schedule and use the products recommended by your Wax Specialist. When you follow this regimen, your skin will be smoother and more beautiful than ever before, and your wax reservation will be a relaxing me-time experience you look forward to every couple of weeks."
Is there anything a bride can do to help maintain smooth skin between waxes?
"It is essential that a bride follows the post-wax directions from her Wax Specialist. She should exfoliate and moisturize between reservations to keep skin looking healthy and smooth. EWC's The Strut Lavishly™ body lotions, washes, and polishes cleanse, restore, and pamper her skin every day, while our high-performing Strut Smoothly™ products help maintain beautiful skin between services. The Reveal Me Face Exfoliating Gel and Reveal Me Body Exfoliating Gel provide non-abrasive exfoliating, leaving skin looking softer, smoother, and more radiance."
About how long before the wedding day should a bride plan to have her final bikini waxing appointment (timing for least sensitivity and longevity for honeymoon)? 
"In the short and long term, waxing before the wedding will allow for hair growth to become softer and sparser. Most of our guests are surprised at how quickly their hair changes when they stick to a schedule, and the results only get better and better the longer you do it. Our guests benefit from waxing every two weeks for a bikini line and every three to four weeks for a Brazilian bikini service. This allows the proper amount of time for regrowth. Allow for several days between the final waxing and the big event to allow any sensitivities to calm down. EWC's Smooth Me Ingrown Hair Wipes are a must-have to keep those pesky ingrown hairs out of sight, making swimsuit time simply gorgeous."
European Wax Center believes every woman should feel unapologetically confident, every single day – but especially on her journey towards her wedding day. From the engagement, bachelorette, wedding day, honeymoon, and beyond, EWC is the destination for all brides-to-be. With discounts for brides and their bridal parties, and luxurious products designed to help minimize hair growth and smooth skin, a visit to European Wax Center is as fun and important a part of the bridal prep process. 
Related Posts: