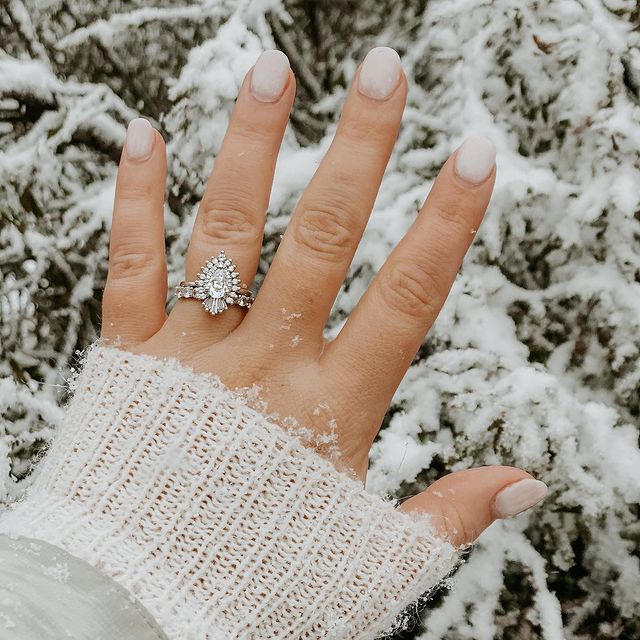 20 Dec

Engagement Gifts for the Soon-to-Be Bride 
Your bestie said yes! Time to shop engagement gifts…
'Tis the season for eggnog and engagements! With all that love in the air, it only makes sense to celebrate. Congratulate your newly engaged bestie(s!) with a gift they'll cherish as much as their partner.
For the Planner
If the bride-to-be is your go-to party/getaway/etc. planner, she'll love something for staying organized. A customizable bridal planner (complete with stickers!) will be her newest must-have accessory, with worksheets to keep track of her budget, vendor contact info, and more! Or help her keep the excitement level up with a desktop calendar she can use to count down to the big day.
For the Life of the Party
Styles CUP683, 94110046 & K1372DVB
In many ways, a wedding is the ultimate party! Gift the new bride and groom some party essentials they'll use again and again throughout the entire wedding process (and beyond!). A metal can cooler for the groom or a sassy glass for the bride will really hype them up for the big day. And don't forget the champagne toast! Mr. & Mrs. champagne flutes will have them saying "Cheers!" to a lifetime of love—and to you, for getting such an awesome gift.
For the Couple
Styles HT1444, 00211DB, 5184 & IHN415AUZM
When your friend gets married, you gain a bonus bestie! Welcome her new spouse with gifts for the happy couple that celebrate their new titles. They'll love snuggling up on the couch in their cozy bride and groom sweatshirts or touring outdoor venues in matching beanies. A silly apron set makes dinner prep a breeze for the foodie couple (and comes with matching drink sleeves for an extra level of fun)!
Of course, any gift from her girls would put a smile on the bride-to-be's face, but these sentimental favors will really help her feel the love. We've got 500+ items you can personalize for free! Shop all of these gifts  and more online at davidsbridal.com.
Planning a wedding? Sign up for Diamond, our loyalty program—it's free! And follow @davidsbridal for more wedding inspo.
Featured Image: @neelylking
Related Posts: