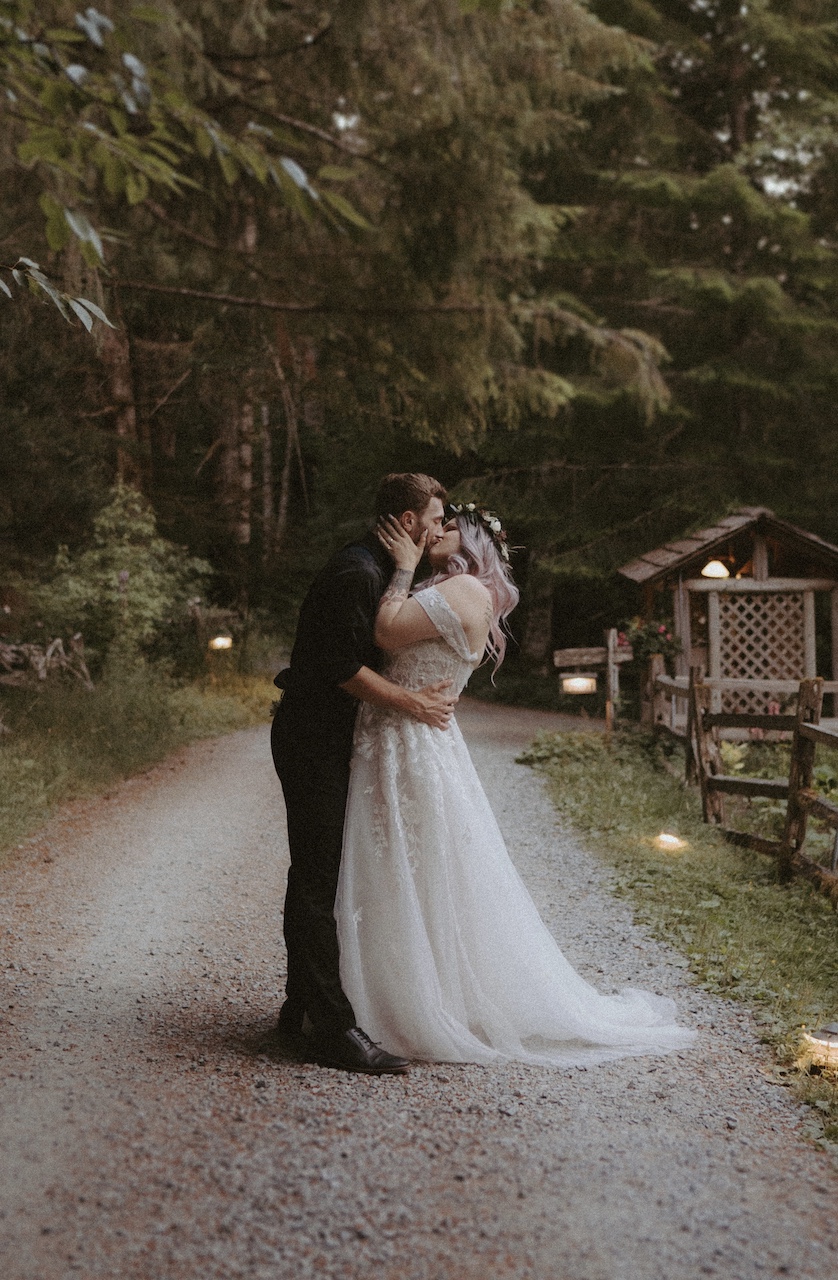 05 Jan

Real Wedding: Katie & Cameron
Woodland Wedding at Mount Rainier
Real weddings are so inspiring! To get you in the mood to plan, we asked real brides to spill the details on everything from getting engaged and finding their wedding dresses to the special touches and surprising moments that made their celebrations completely one-of-a-kind. Dreaming of an enchanted fairytale wedding? Katie & Cameron brought their dreams to life with a whimsical woodland wedding at Mount Rainier. Keep reading to see their happily ever after come to life!
Briefly tell us how you and your fiancé met! How did you know that he was the one?
Cameron and I have known each other since the sixth grade. As embarrassing as it is to admit when I first met him I thought to myself "holy crap that is the cutest boy I have ever seen in my entire life and I am SO gonna marry him someday!" Little did I know, after years of dating other people but staying connected as friends, I would. When the timing was right, we were both pretty battered and bruised from our previous relationships. But, our past experiences helped us connect on a new level and see different sides to one another. It felt like we were pulled together like gravity and pure magic.
Tell us your proposal story!
August 2019, Cameron took me on a weekend trip to the place he grew up, Whidbey Island, WA. We had a perfect day revisiting his favorite places such as the local playground, skatepark, and beaches whilst making new traditions like visiting wineries, the farmer's market, and the art district. After hours of adventuring, Cameron spontaneously took me to a lookout called Smuggler's Cove where he finally felt the perfect moment arrive. In the woods with a view of the beautiful Puget Sound through a clearing, Cameron asked me to marry him. It was so special and everything he said was pure and filled with love and intention. Afterward, with happy tears in our eyes and wild love in our hearts, we visited a winery. There we picked up a special bottle to use to take communion with during our wedding ceremony years later.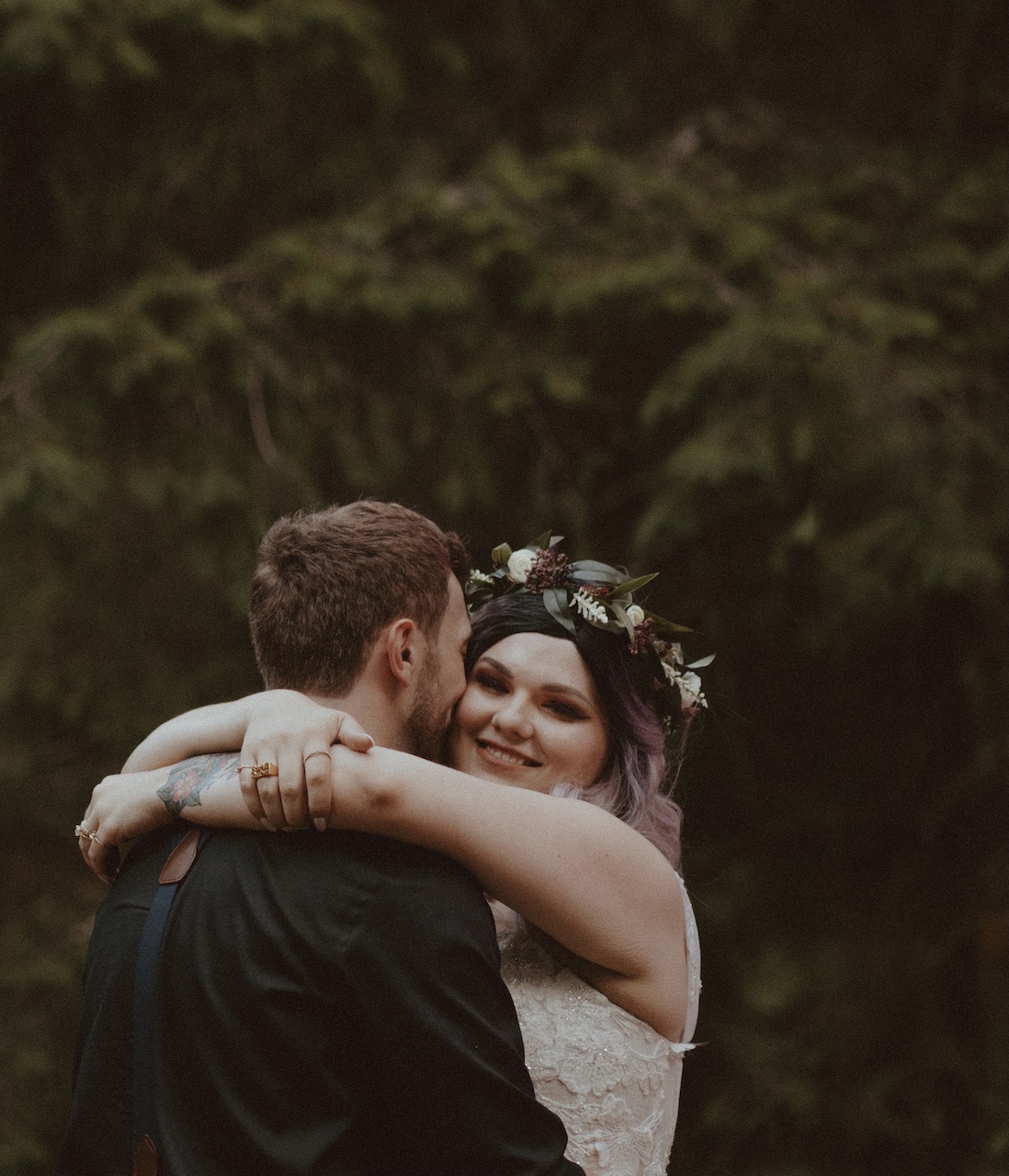 How did you both decide on your wedding day look?
My husband didn't mind what he wore as long as he could wear a bow tie and suspenders. I wanted the guys in all black, and Cameron had accents of the color of his choice. Something I knew I wanted us to have for our reception was personalized jackets for the bridal party. I put together an all-black leather letterman's jacket for him and eccentric denim jackets for me. They made for the cutest photo op!
Do you have any shopping advice for future brides?
When you know, you'll know – however: it's okay to change your mind. I changed my dress from two ENTIRELY different styles and the team at David's Bridal made it stress-free and easy.
What was your favorite detail about your look?
I absolutely LOVED the classy yet very sexy sheer bodice on my gown!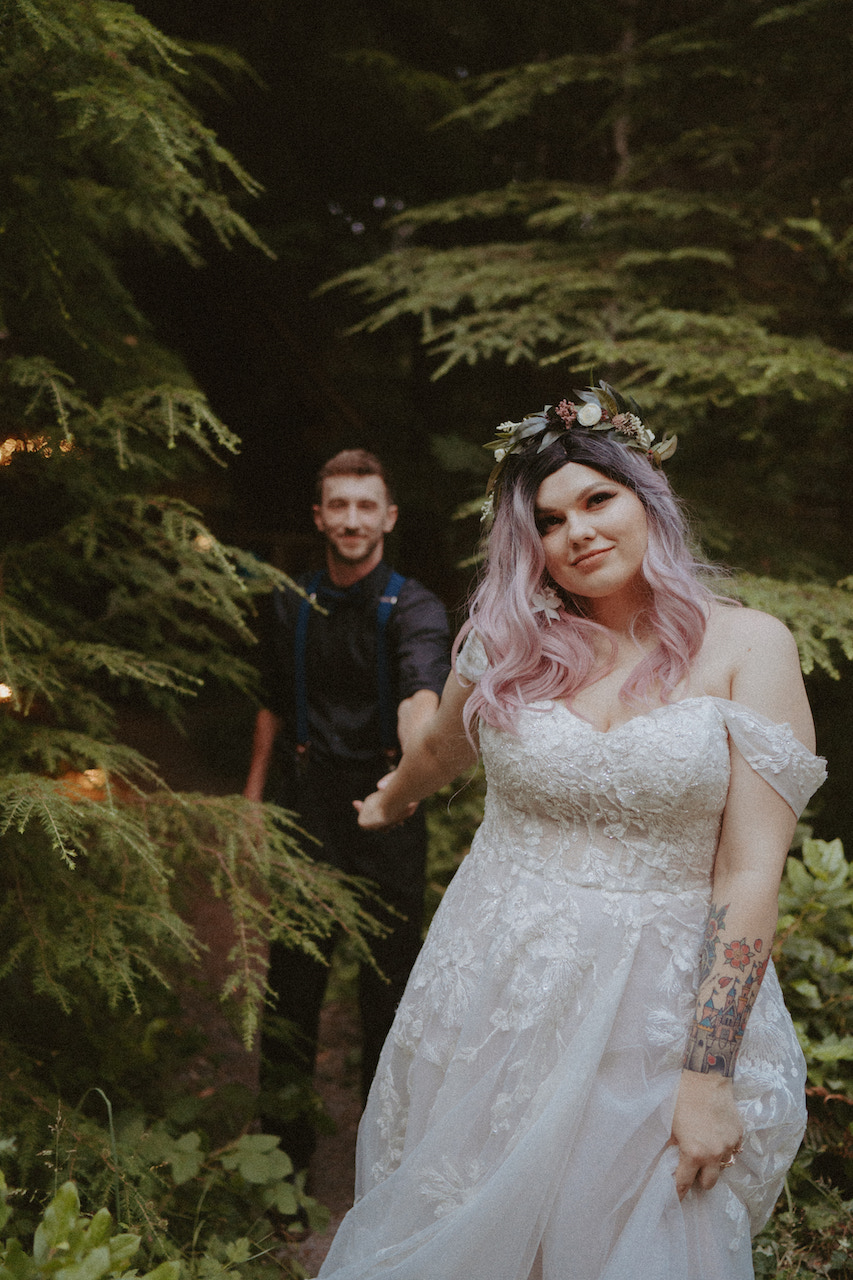 How did you feel when you knew that you #foundtheone?
When I put on my Galina Signature gown, I stopped worrying. All of a sudden, I just felt like…a bride. A princess. I couldn't stop staring at myself and never wanted to take it off!
Did you have to make any changes to your wedding plans because of Covid?
Yes, our wedding day was July 12th, 2020. As the date inched closer we realized for the safety of our loved ones we could not go through with the gathering. In an epic change of plans, we got married that day in our very first apartment and it was perfect! We dressed up, decorated our living room like our venue, and had our ceremony live-streamed on Facebook. A year later, thankfully we were able to have a big wedding celebration and vow renewal at our gorgeous Mount Rainier venue.
Tell us about your wedding day!
A feeling of magic and light bounced through the air and the energy was all love! Our ceremony was our vow renewal, and we kept it short end sweet which we received endless thank-yous from our guests afterward. Our reception to follow was a true celebration of our relationship, filled with pop culture references and little nods to our story along the way. For dinner, we served our favorite street tacos (El Chapulin Oaxaqueno in Seattle for my Seattle brides!) and had churros, flan, and homemade brownies at our dessert bar. The churros were a MUST as they are one of our favorite snacks to eat in our happy place, Disneyland!
There were so many epic moments to our reception. My favorite memory was finally getting to be alone with my husband for a few minutes during our first dance. I'll never forget swaying in my lover's arms while a first dance version of Taylor Swift's "Lover" played through the dusk-lit trees. We finished off the night with an EPIC dance party complete with a disco ball, lightsabers, and bubbles. Best. Day. EVER!
Was there a highlight or most memorable moment of the day?
Something we knew we wanted to do from the very beginning stages of our wedding planning was a lightsaber tunnel send-off, and it did not disappoint! Our DJ played the Imperial March and we felt so freaking cool. Nerds in love for the win!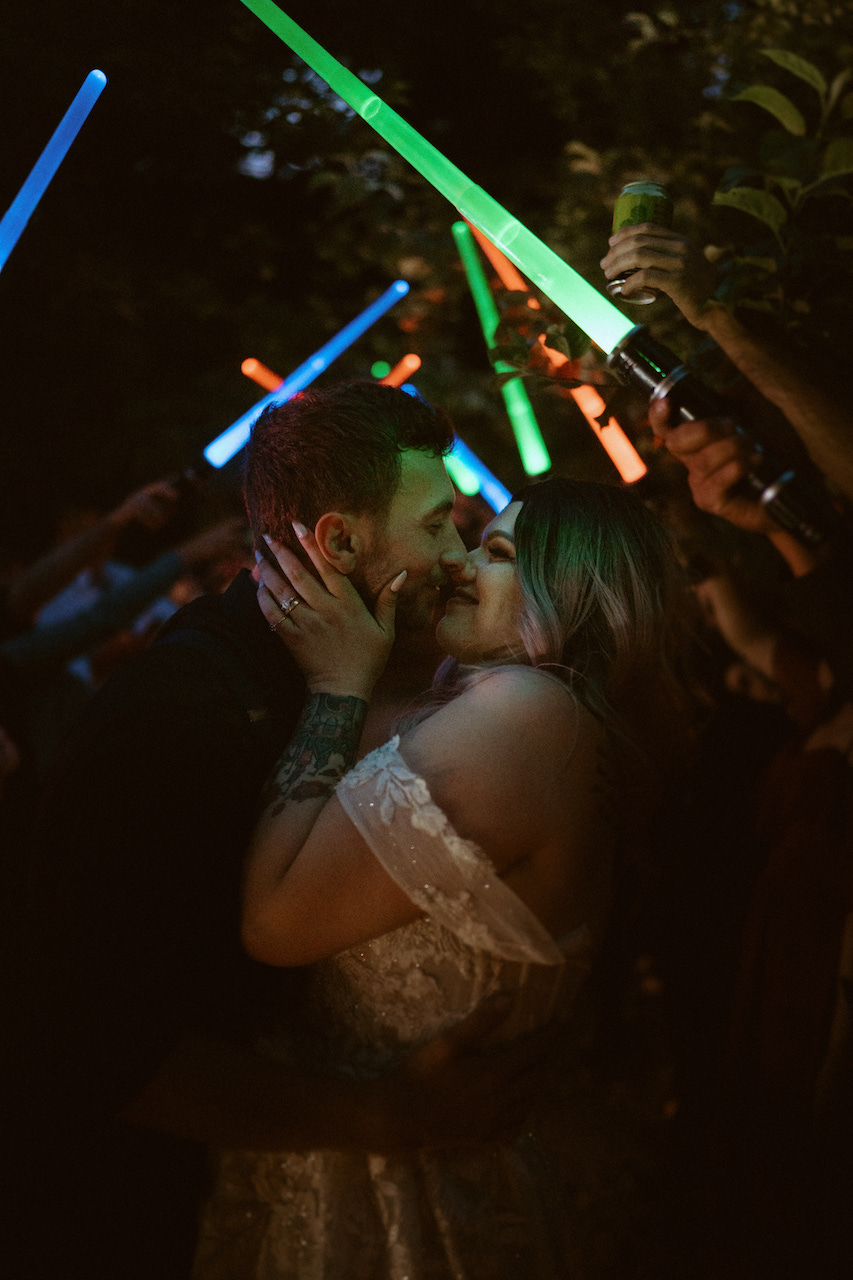 What's your best wedding planning advice?
Do what YOU want to do for your big day. Even if it feels wacky or nontraditional, your wedding day should be a celebration of what makes you and your partner unique. Do what makes you two happy!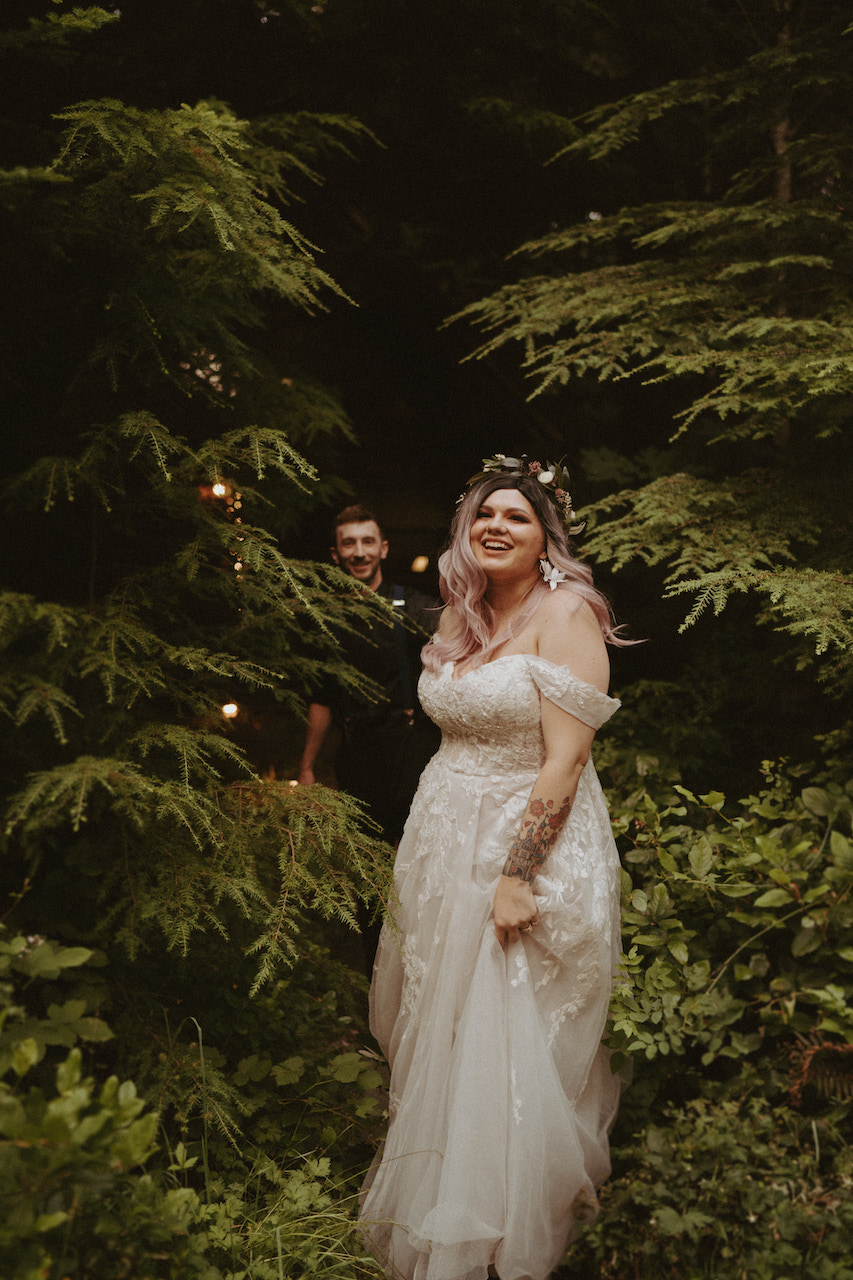 More Details:
Vow Renewal Date: July 11th, 2021
Location: Wellspring Spa & Woodland Retreat, Mount Rainier National Park
Dress Style: Floral Tulle Wedding Dress with Removable Sleeves
Cake Flavor: Marionberry
Photographer: Woven Legacies
Love this woodland wedding at Mount Rainier? Read more real wedding stories here!
We know how important your wedding day and special events are to you and we are doing everything in our power to serve you! You can shop with us 24/7 at davidsbridal.com or come see us at your local David's Bridal. Plus we are here for you to help guide you through your wedding planning! See tips for starting to plan your wedding at home, shopping for your wedding dress online with confidence, and more on the blog.
Planning a wedding? Sign up for our Diamond Loyalty program—it's free! Follow us on Instagram, Pinterest, and Facebook for more real wedding inspiration, or click here to book an appointment.
Related Posts: