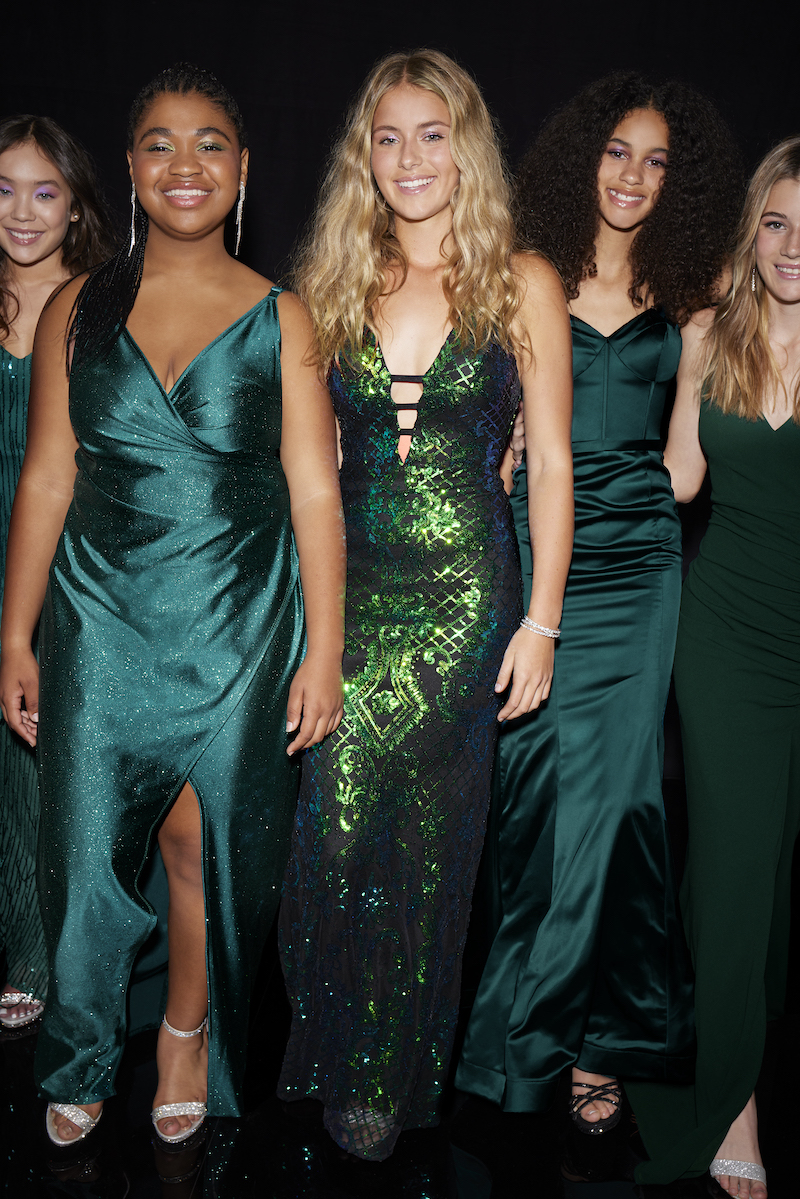 27 Dec

Best Prom Dress Color Trends
On-Trend Colors for 2023 Prom Dresses 
Prom is on the horizon and it's time to find your look! Before thinking about prom dress trends like silhouette and fabric, you may want to think about the first element that catches the eye—color! From bright shades to subtle hues, these are the 7 prom dress color trends for 2023 prom dresses.  
Green
The perfect transitional color, picking a green prom dress means you'll love the color just as much in the winter months as you will in the spring! Fall in love with our exclusive shades, emerald and gem, and you're guaranteed to be the jewel of the party. 
Blue
Perhaps one of our favorite prom dress color trends, blue lends itself to so many different vibes, so your prom dress can be totally unique! A blue prom dress lets you channel the daytime sky in our lightest and brightest shades or match the midnight mood in deeper hues, like sapphire or navy. 
Black
It's classic for a reason! Black prom dresses never go out of style, which makes black a perfect choice for a timeless look. Have fun with your accessories and makeup to really show off your personal style. 
Reds
If you're looking to make a statement at prom, a red prom dress is a great option. Convey elegant boldness in a shade as passionate as your love for style. You'll turn heads whatever the silhouette, from voluminous ball gown to figure-skimming mini, and anything in between.   
Purple
Dress like royalty on prom night in rich purple shades like plum and eggplant, or softer hues like lilac and dreamy lavender. Whether your ideal purple prom dress comes designed with scintillating sequins, subtle shine, or ethereal embroidery, you'll find a style that fits your vision. 
Neutrals
Turn prom into your very own red-carpet experience! Neutral colors like gold, champagne, and blush feel reminiscent of Hollywood's golden age and make for a truly glamorous look. Shop styles in a variety of fabrics from iridescent metallic to timeless lace. 
White Iridescent
You already light up the room, and a white iridescent prom dress will add to your sparkle! Glistening fabric helps white feel less "bridal" and more "beautiful for prom." With the ability to reflect different colors, the accessorizing possibilities are endless! 
Love these prom dress color trends? Follow us on TikTok for more 2023 prom dress inspo, and shop online or at your local David's Bridal store to find the perfect 2023 prom dress!
Related Posts: