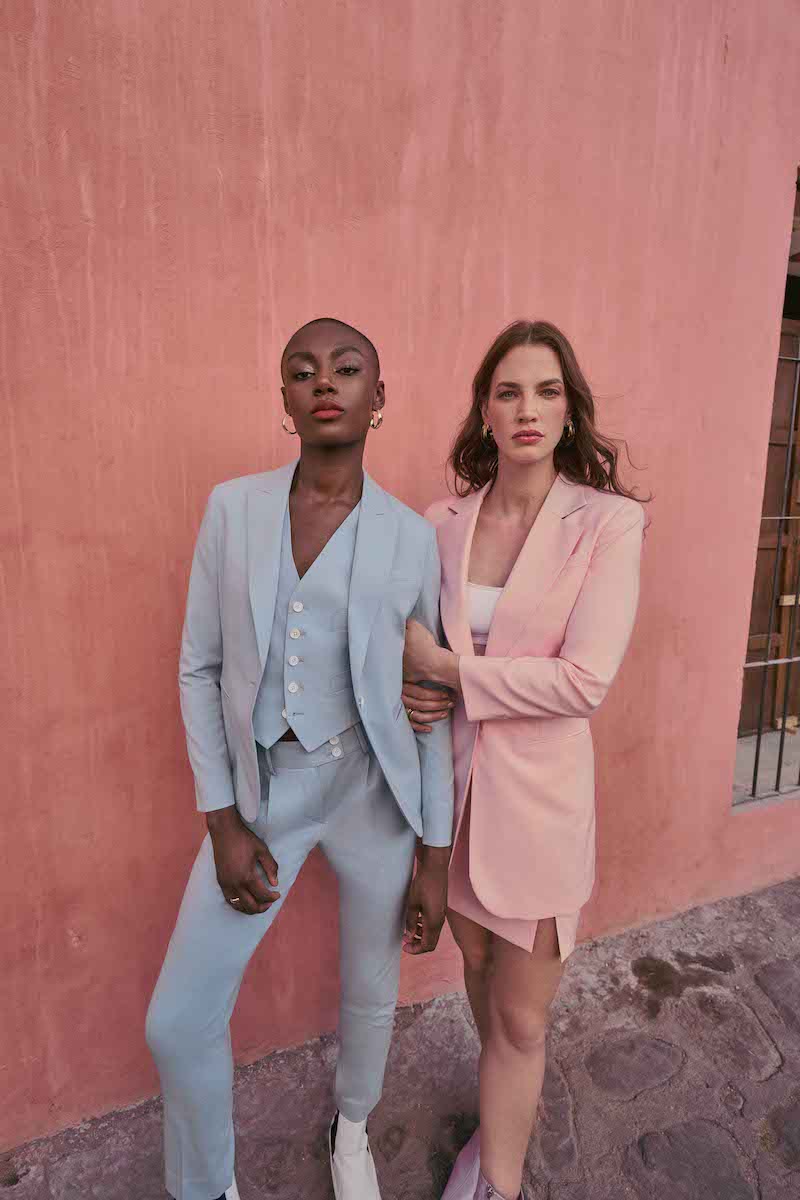 16 May

Custom-Tailored Bridal Suits and Tuxedos

If a wedding dress isn't your style, consider joining the growing number of brides who are opting to wear bridal suits or tuxedos instead! David's Bridal has partnered with Indochino to offer custom-tailored womenswear that will bring your wedding day vision to life, whether you're looking for an all-white power suit, a cute skirt and blazer set, or something with a pop of color!
Why Bridal Suits?
Bridal suits are a great option for a non-traditional bride who still wants to look polished on her big day. Suits are often more affordable that wedding dresses, and can be worn again and again. Choosing a custom suit also means the look will fit you perfectly, without alterations!
Build the Perfect Bridal Suit
Whether you're looking for just a blazer or a three-piece suit, the Style Experts at Indochino will help you build a custom look that fits your bridal vision.
Blazers
Indochino's blazers come in a variety of fits, colors and fabrics—the options are truly endless! Not sure what style blazer fits your body shape best? Their Style Experts will be able to advise what's best for your height, body type personal style.
Pants
Do you want pleats? Belt loops? A high-waisted look? Regardless of your style preferences, find the perfect pair of pants to match your blazer.
Skirts, Capris and Vests
Looking to go beyond the classic two-piece suit? Book an in-store appointment to learn all the unique bridal suits Indochino style experts can create!
How it Works
The number one thing you should consider when picking out a bridal suit? The fit. Buying a custom suit means you'll get exactly what you want—and, as a bonus, there will be no need for alterations!
Indochino is the leader in made-to-measure suits, with over 80+ showroom locations across North America. Brides can choose from hundreds of premium and luxury fabrics, from sturdy wool and comfy cashmere to breezy linen and cotton. Customization options like linings, lapels and monograms means your final product will be one-of-a-kind and fit you perfectly.
Ready to get started? Book an appointment and get measured by an expert Style Guide to create a look that's perfect for your big day. If you can't make it to a store, you can shop online and submit your measurements at Indochino.com to ensure you'll still get the bridal suit of your dreams.
Related Posts: