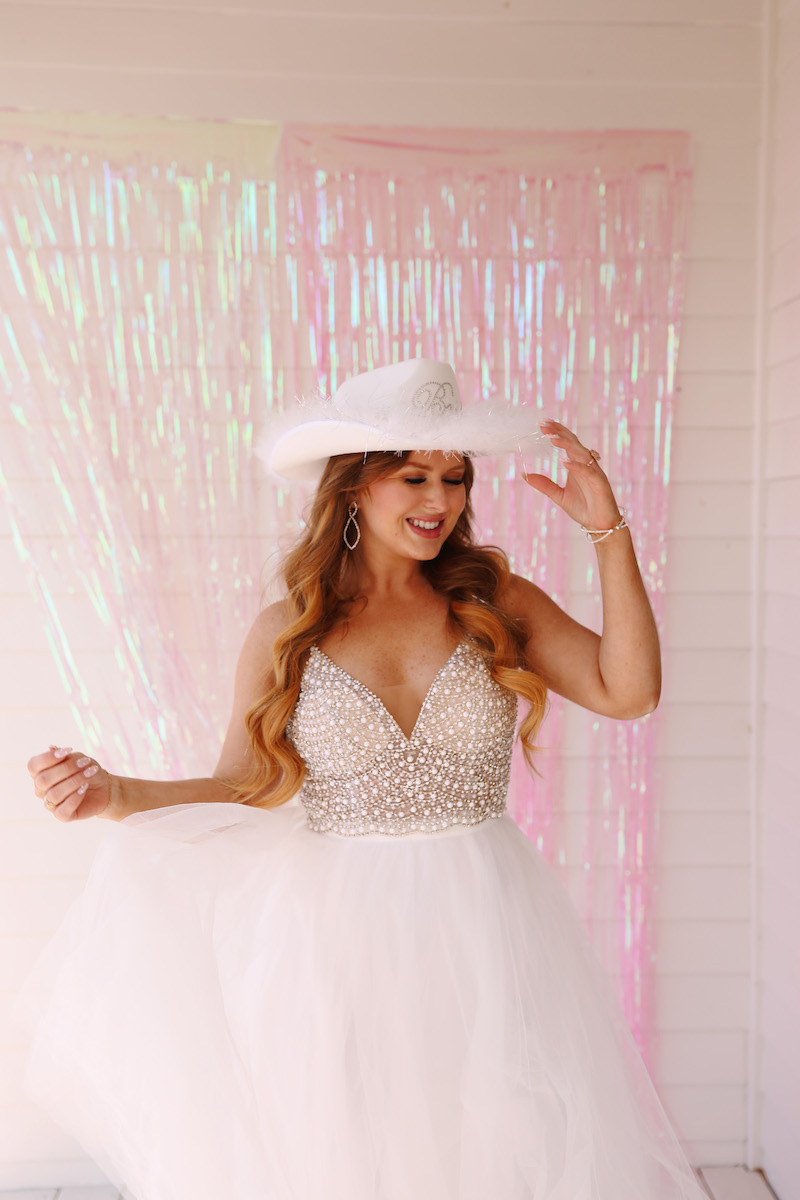 20 Jul

What to Wear to Pre-Wedding Bridal Events

Your wedding day is exciting, but engaged couples often have more events to prep for than just the big day. Figuring out what to wear to your engagement party, bridal shower, and bachelorette trip can be stressful, but the key is to shop based on what makes you feel comfortable and beautiful. Keep reading for all the info on what to wear to your pre-wedding bridal events.
Little White Dresses
Styles SDWG1135, DB3230 & SDWG1049
Nothing says "I'm getting married" like the perfect white outfit, and having a few little white dresses on hand will ensure you always have something to wear to your pre-wedding events. From classy full-coverage dresses to fun, flirty frocks, shopping for little white dresses can be almost (almost) as fun as picking out your wedding dress.
Shoes
Styles SBBRISA, SBBRET & RISSA
While you might have elegant bridal shoes picked out to walk down the aisle in, at your pre-wedding bridal events, you can have a lot of fun! For the engagement party, bridal shower and bachelorette party, many brides pick a pair of bridal heels that reflect their personality, whether it's something striking and sparkly or soft and feminine. If you'd rather go for comfort, opt for a fun bridal sneaker that will ensure you shine at your events!
Jackets
Styles DDBOBBIE, OW2176 & IH84181KUV
When it comes to bridal outerwear at your pre-wedding events, it's all about having fun! A quirky jacket is the perfect thing to throw over your outfit if you're worried you might get cold. And don't be afraid to showcase your personality when picking one; they make for great pictures!
Purses
Styles HBLILY, EB3433DBX & HBKAYA
When picking out what to wear to your pre-wedding events, don't forget the bridal accessories! A chic handbag can be both functional and fun, and we won't judge you if you need to grab one for each occasion.
Jewelry
Styles 10070824BR, SP223347E, SP23N220103 & 497883EP003
Your pre-wedding bridal events are the perfect time to test-run jewelry, hair, and makeup styles for the big day. Are you going to wear your hair back, with statement jewels? Or maybe your hair is the statement, and you need something simpler for the big day. Now's the time to stock up and have fun trying everything from dainty pearl necklaces to sparkly bridal earrings.
Figuring out what to wear to your pre-wedding events is a great opportunity to showcase your personality and have fun with bridal fashion. At David's, you can find everything you need for your engagement party, bridal shower, bachelorette party, and more!
Planning a wedding? Sign up for our Diamond Loyalty program—it's free!—and find local wedding vendors with Pearl by David's. Follow us on Instagram, Pinterest, TikTok, and Facebook for more wedding inspiration and book an appointment to find your dream dress!
Related Posts: