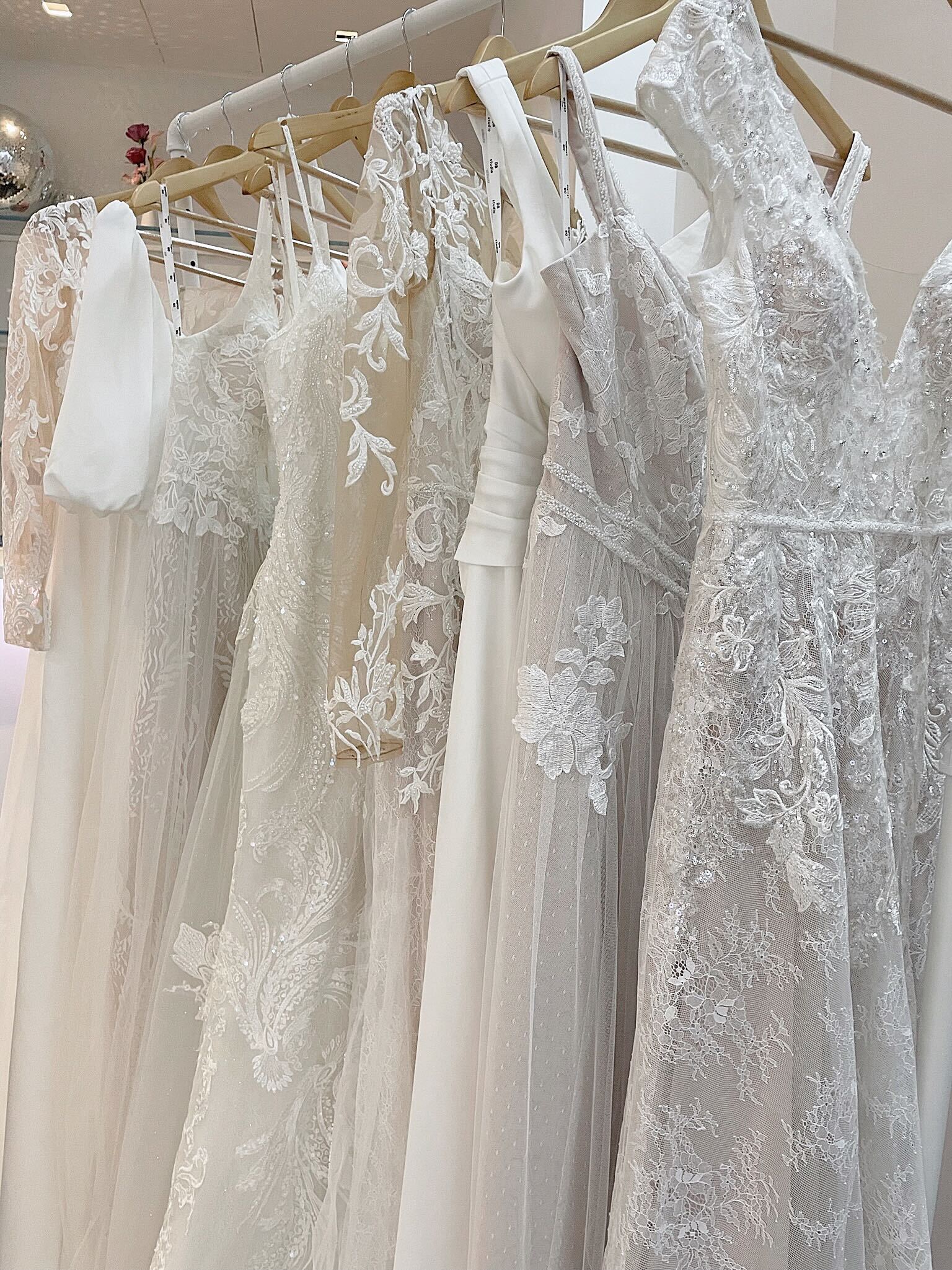 09 Dec

Spring 2023 Wedding Dress Trends
Just In: 2023 Bridal Trends
Calling all brides-to-be! The 2023 wedding dress verdict is in, and we've got all the details on the hottest trends for the upcoming spring season. We're talking show-stopping styles, classic silhouettes, and price points that will make brides jump for joy. No gatekeeping here! We've compiled a list of the top 2023 wedding dress trends to inspire you for your bridal appointment. Read on for our insider look at the latest trends & a few sneak peeks from our newest collection!
Sparkle and Shine
This season is all about having your main character moment! Brides are loving all things that sparkle & shine. Our newest collection is full of sequins and beadwork cascading over a variety of lush fabrics. Whether you're looking for a subtle shine or allover crystal embellishments, we have styles that will help you shimmer down the aisle. Already know this trend is for you? Look no further than our exclusive Galina Signature collection.
Beautiful Ball Gowns
There's an increased demand for glamorous ball gowns this spring season. Many brides are looking for a princess moment on their big day, and in this case, the bigger the better. High-volume skirts and jaw-dropping trains will dominate the wedding scene in 2023. Unexpected details like botanical-inspired embroidery and 3D floral lace are also on the rise. These elements add a unique touch to the traditional ball gown silhouettes. For our modern brides, try a ballgown made of satin for a chic & clean look.
Luxury Styles Under $500
Style WG4073, SDWG0971 & WG4070
Sticking to your bridal budget doesn't mean you have to compromise on finding a dress you love! Our spring 2023 collection features a variety of different luxury styles to pick from, all under $500! Choose a silky satin dress for a sleek timeless look or a tulle a-line gown for an ethereal boho vibe. With a mix of classic, modern, and daring styles, there's a match for every bride and budget.
We can't wait to see which Spring 2023 wedding dress trends are our brides' favorites! Interested in the latest styles for your maids? Click here for the spring 2023 bridesmaid trends.
Planning a wedding? Sign up for our Diamond Loyalty program—it's free!—and find local wedding vendors. Follow us on Instagram, Pinterest, TikTok, and Facebook for more spring 2023 wedding dress trends & inspiration, or click here to book an appointment.
Related Posts: