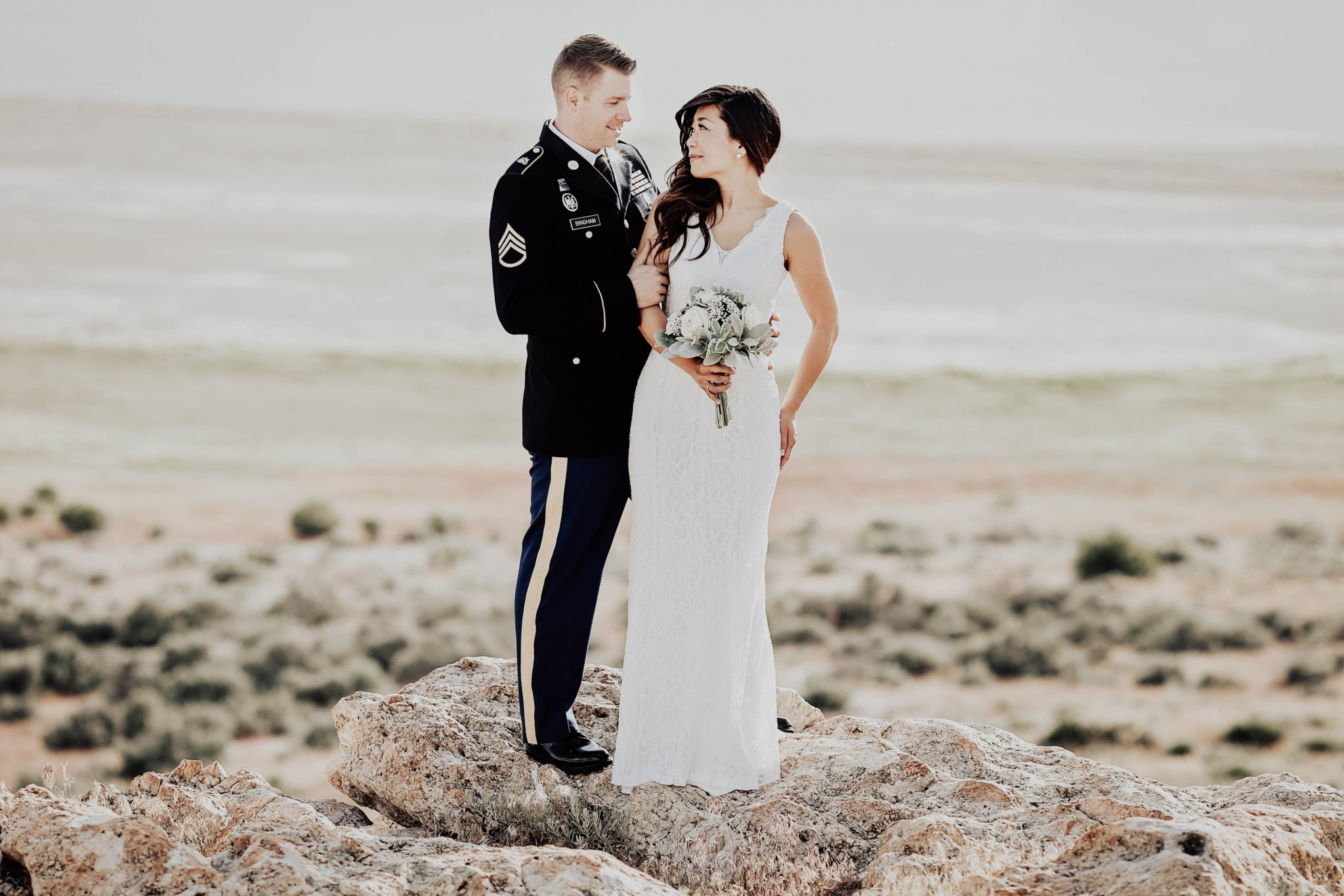 28 May

What Makes Planning a Military Wedding Different
Tips for planning a military wedding.
Planning a wedding can be stressful with so many decisions to make and elements to coordinate, but planning a military wedding brings additional factors to consider. To help military brides navigate the unique experience of planning a military wedding, we connected with Stephanie Bates, a military spouse and founder of  Military Travel Mama Blog, to share what she learned from planning her own military wedding.
Budget
Wedding planning always starts with setting a budget. Military couples can enjoy many discounts for important wedding details such as bridal gown, music, wedding rings, wedding cake, etc. (A small thank you for serving our country!) At the very least, military couples can save on their venue by choosing to host their wedding at a military chapel. A military chapel is a great option to consider when planning a military wedding because the chapel and military halls and restaurants are free of charge, which cuts a lot out of your overall wedding budget. It can also help with the scheduling and the unpredictable nature of living life as a service member and never knowing where or when you'll be deployed.
Wedding Attire
Couples planning a military wedding still have some decisions to make when it comes to wedding attire. It's customary for the service members getting married to wear their ceremonial dress (military suit) instead of typical wedding attire. If the groom is a service member, he may opt to dress in whites in the spring and summer or blues in the fall and winter. If the bride is also a service member, she may choose to wear ceremonial uniform as well, but many choose to wear a more "traditional" wedding dress. A similar dress code applies to wedding guests who are military members. Men often where their military suits and women wear their military suits or dress-code appropriate dresses.
Military Traditions
Brides planning a military wedding should consider including some unique traditions to honor the service member's important role and provide guests with an unforgettable experience.
For example, an exciting military wedding ritual is having the best man pass the wedding rings to the couple hanging from the edge of a sword! Another thrilling custom is having the newlyweds march down the aisle passing underneath the arch of swords or sabers held by military cadets. Having the newly married couple cut their cake with a specially designed blade or even a sword is a sight you won't forget!
There are often numerous kinds of military-themed decorations, such as labeling wedding tables with the names of military formations and teams. Some military couples give custom-made challenge coins as wedding favors; these unique memorabilia will serve as a memory on this unforgettable celebration!
All in all, military weddings in the U.S. are all about paying proper respects to the armed forces and to the unit the bride and/or groom is serving, and celebrating the couple and their love for one another.
Stephanie is the founder of Military Travel Mama; she is the wife of a military professional and mother to two children. Follow her blog for more about military life, military discounts, family trips, healthy eating, and parenthood.
Feature image c/o Ashley Hawkes of Hawkeye Photography.
Related Posts: