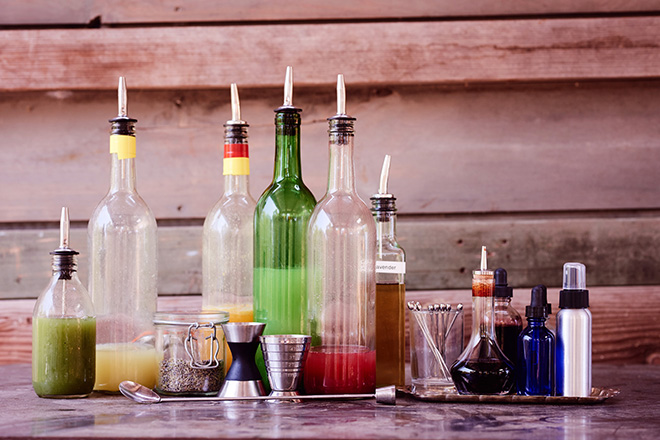 07 Apr

Wedding Signature Cocktail Tips
5 steps for a crowd-pleasing signature cocktail.
Signature drinks are a delicious way to personalize your wedding's cocktail hour. To help you figure out what to serve, we asked Marcos Menendez, managing partner of Los Angeles speakeasy Room 31, for advice on best-loved liquors and yummy garnishes for your wedding signature cocktail.
Create the perfect mix
"
It's all about finding the balance between what you'll like and what your guests will like. A lot of couples do an old-fashioned style cocktail and then one that's light and refreshing. It's always good to have options."
Cater to guests' palates
"Vodka cocktails that are refreshing and citrus-forward tend to be crowd-pleasers. But nowadays I'm seeing people moving back to more robust flavors like gin, whiskey, and scotch. In general, good cocktails create a tension between flavors: sweet, salty, herbaceous, and bitter."

Add a tasty finishing touch
"A garnish should look nice—you eat with your eyes first—but it's best if it can actually be consumed, like ginger candy, or lends flavor to the cocktail, like an orange peel."
Simplify bar service
"I cook herbs into our simple syrups so I don't have to sit there and muddle things. It makes for a faster execution when someone orders a cocktail."
Have mocktails on hand
"Simply double the specs on an existing cocktail recipe to make up for the lack of spirit, and top off the drink with soda water to help smooth it out."
Saint Charles Cocktail Recipe
Created by Menendez, this drink is an update on a classic: "It's a riff on a drink called the Monte Carlo, which is a riff on an old-fashioned."
2 dashes orange bitters
2 dashes Angostura bitters
.25 oz Benedictine
.25 oz Amaro CioCiaro
2 oz Rittenhouse Rye
Orange zest (for garnish)
In a mixing glass, combine all of the ingredients and stir together. Strain over a large ice cube. Garnish with orange zest.
Looking for custom glassware and drink stirrers to complement your cocktails? Explore reception decor.
Related Posts: