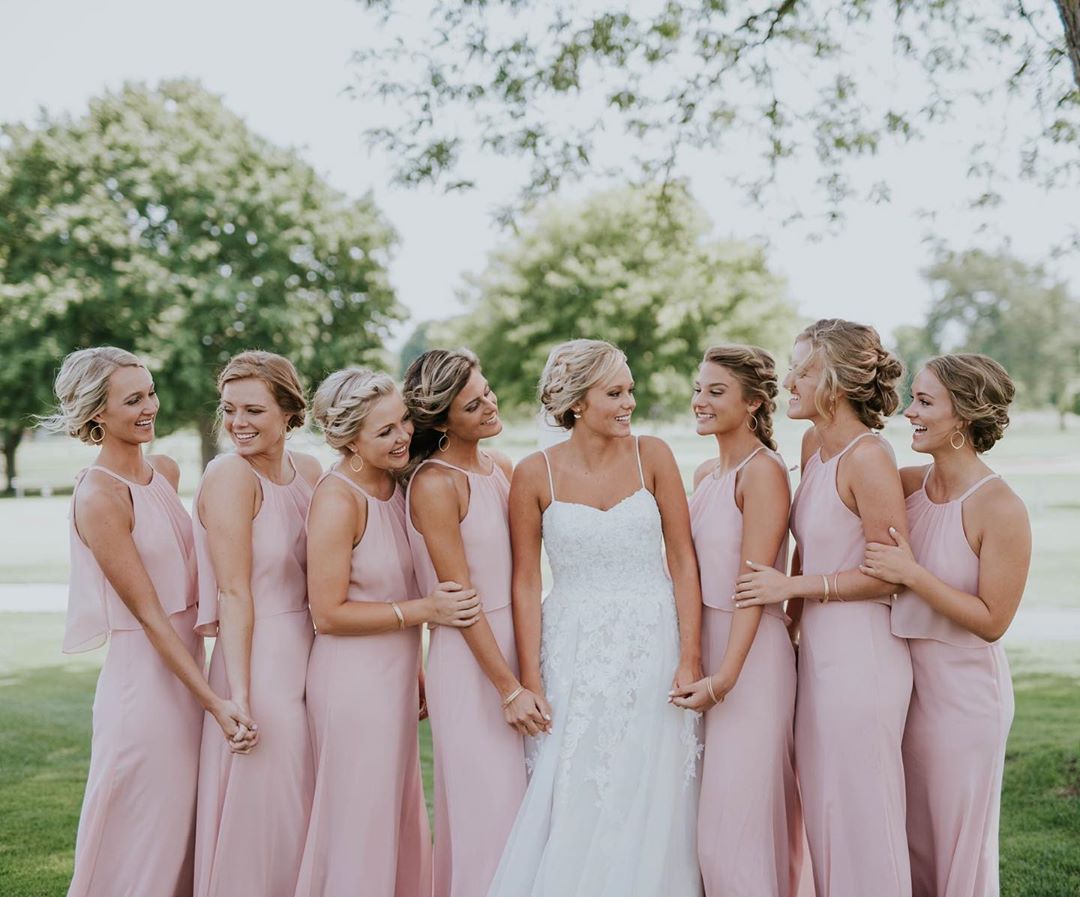 15 Aug

The Cost of Being a Bridesmaid
Your bridal party budget guide
How much does it cost to be a bridesmaid? The long and the short of it is that it varies. But no matter the wedding, when you say "yes!" you sign up for a financial and time commitment of some sort—and play an invaluable part in a couple's life. Here's an idea of what you can expect to spend as a bridesmaid.
Bridesmaid Dress (<$100–$300)
Does the bride want everyone to wear the exact same dress, the exact same color, or different dresses and colors? Depending on her vision, your bridesmaid dress cost may range from $30 (there are so many cute bridesmaid dresses under $100!) to more than $200. Ask the bride early on what she's thinking so you have plenty of time to save up—and get an amazing deal.
Engagement Party & Bridal Shower ($25–$150)
The engagement party and bridal shower are likely being thrown by family or close family friends, but it's not uncommon for bridesmaids to co-host. Regardless of your level of financial involvement in planning a bridal shower, expect to help with setting up, creating games, jotting down which gift came from which guest, and assisting with cleanup at the end.
Bachelorette Party (up to $750)
Depending on the type of bachelorette party the bride hopes to have, this could be your biggest expense as a bridesmaid. A bachelorette party can be as short as one night or can last an entire long weekend. And some brides keep the party local while others choose to get out of town.
You'll want to factor in travel, lodging, and dining (plus a portion of the bride's costs), as well as bachelorette party gifts and decorations. Since the bachelorette party usually takes place closer to the wedding, you should have some time to save up, making the cost a little easier to manage.
Gifts ($75–$300)
Even with the additional money that you've spent on bridesmaid duties, maids still give gifts throughout the wedding event process. In fact, bridesmaids often feel obligated to get the newlyweds a larger or more expensive wedding gift because of their role in the bridal party. But feel free to get creative with your gift ideas, which can be a great way to save money.
One idea, perhaps for her engagement party, is for the maids to buy the bride an oh-so-cute bride jean jacket. She'll be able to wear it for any wedding event from her engagement photos to her bachelorette to her honeymoon.
For the wedding itself, it's up to each maid to decide how much to spend, and she should gift the couple with whatever she feels appropriate. Etiquette suggests that wedding guests have up to one year to send a couple their wedding present. As such, if you would feel more comfortable taking time to budget for the cost, giving a gift after the wedding is always an option!
Total Cost: Up to $1,500
Being asked to be a bridesmaid in someone's special day is priceless, and you'll make memories that last a lifetime. Just be sure to keep the financial responsibility in mind to make sure the cost of being a bridesmaid doesn't set you too far back. The bride will be so happy to have you play a big role in her wedding day—and she'll be thrilled to return the favor when it's your turn.
Featured photo by Laura Lang Photography
Related Posts: