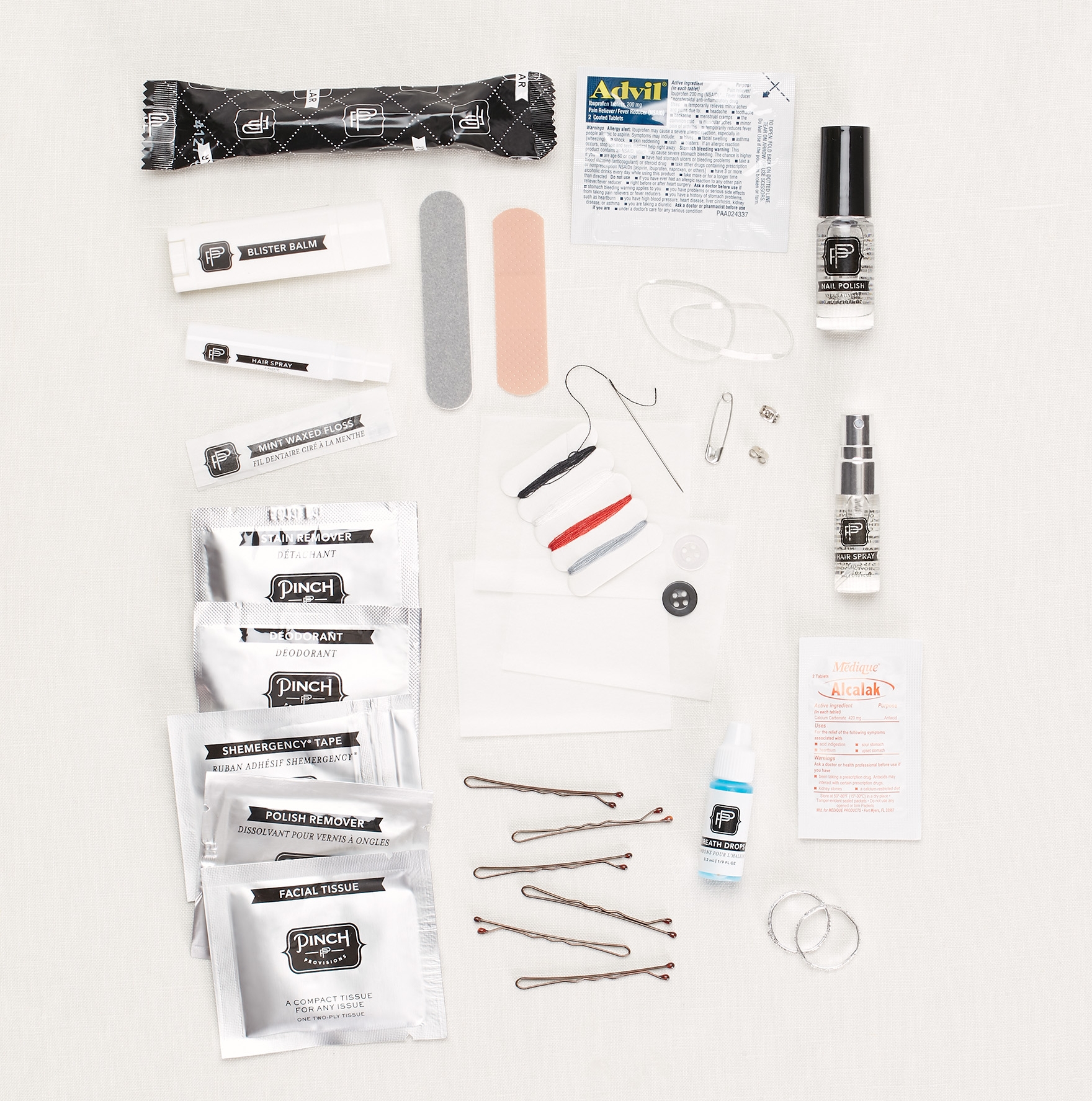 19 Jul

A Bride's Guide To Last Minute Fixes
Stock your wedding emergency kit with these essentials.
No matter how much you've planned, prepped, and prayed, something still may go awry on your big day. But don't stress! With a little thinking ahead, you'll be able to conquer any close call in time for your grand entrance. Here's what to pack in your wedding emergency kit:
Safety pins
Safety pins are perfect for on-the-fly alterations, positioning your wedding dress for photos or, heaven forbid, mending a tear. Ask a bridesmaid to tuck a few into her purse and gain instant peace of mind.
Nail polish
Grandma's trick still works: If you have a run in your stockings, clear nail polish will stop it mid-stride. The same technique works if you get a snag in your veil, too.
Bobby pins
Bobby pins are your hair's best friends: they're strong, supportive, and they make you look good. Be sure to have a heap of extras on standby for wedding hair fixes.
Translucent face powder
Movie stars are often patted down with translucent powder on-screen and on the red carpet—and aren't you the star of your special day? Take a moment every now and then to step aside and dust a little powder on your T-zone to continue to look flawless.
Home remedy stain removers
White is beautiful, but it's not always easy to keep pristine. For unexpected smudges and spills, invest in a few tried-and-true tools, including white chalk, baby powder, and travel-size stain remover. Be certain to consider the type of fabric before attempting to remove the stain, and test the remover on a small, obscure area of your dress first.
Scissors
Even the best-made dresses can occasionally spring a few strings. This makes a pair of mini-scissors an absolute must in your "I Do" kit.
Double-sided tape
Double-sided tape is indispensable. Be certain to have some on hand if you're in doubt that your dress will stay put.
Super glue
It's crazy how many things you can do with super glue, including repairing broken heels and repairing bouquets.
Too busy to DIY? Be prepared for any big-day dramas with a Minimergency Kit, a purse-sized pouch filled with many of the quick-fixes listed above and more.

Related Posts: