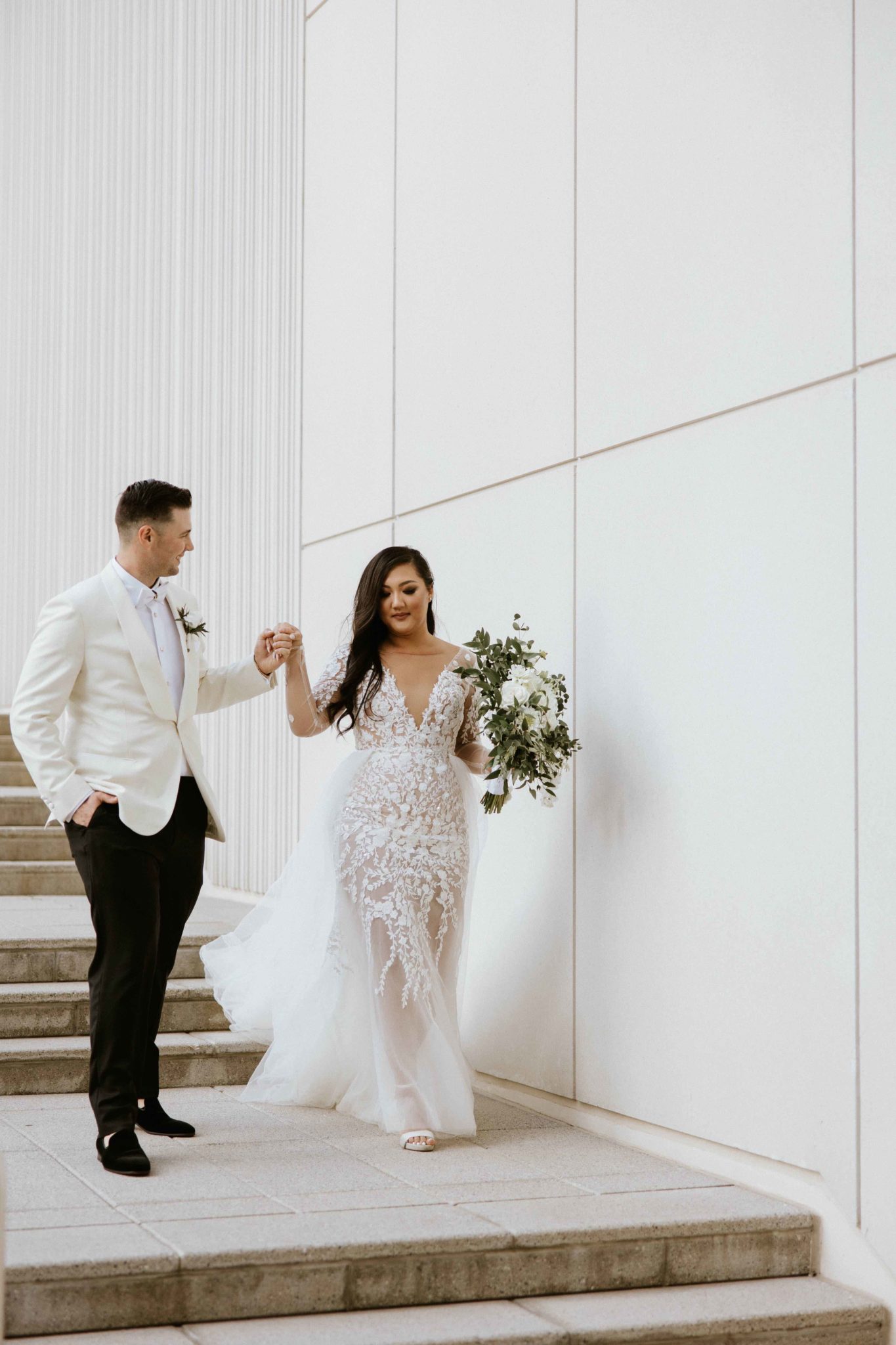 03 Mar

Real Wedding: Nickie & Hunter
A Romantic Glam Wedding in Texas
Real weddings are so inspiring! To get you in the mood to plan, we asked real brides to spill the details on everything from getting engaged to finding their wedding dresses to the special touches and surprising moments that made their celebrations completely one-of-a-kind. If today's bride looks a little familiar, it's because Nickie recently took over our Instagram to take you along with her as she shopped for her dream dress! Her big day finally came and Nickie and her now-husband Hunter officially tied the knot in a romantic glam wedding in Texas. Read on for more from their big day.
How did you and your fiance meet?
We met at a pool party, Summer 2011 in college. He got my number that day but never called. The following week was the first week of classes and sure enough, we ended up having a class together. We didn't speak at all and he sat right in front of me the entire semester. We eventually had a couple of conversations during finals time, I added him on Facebook and we became acquaintances. Two years later, I saw him out at a bar and we ended up hanging out all night with our friends. We began dating and graduated together the following year with the same major. We moved in together 6 months later and he proposed on our 5 year anniversary in 2019!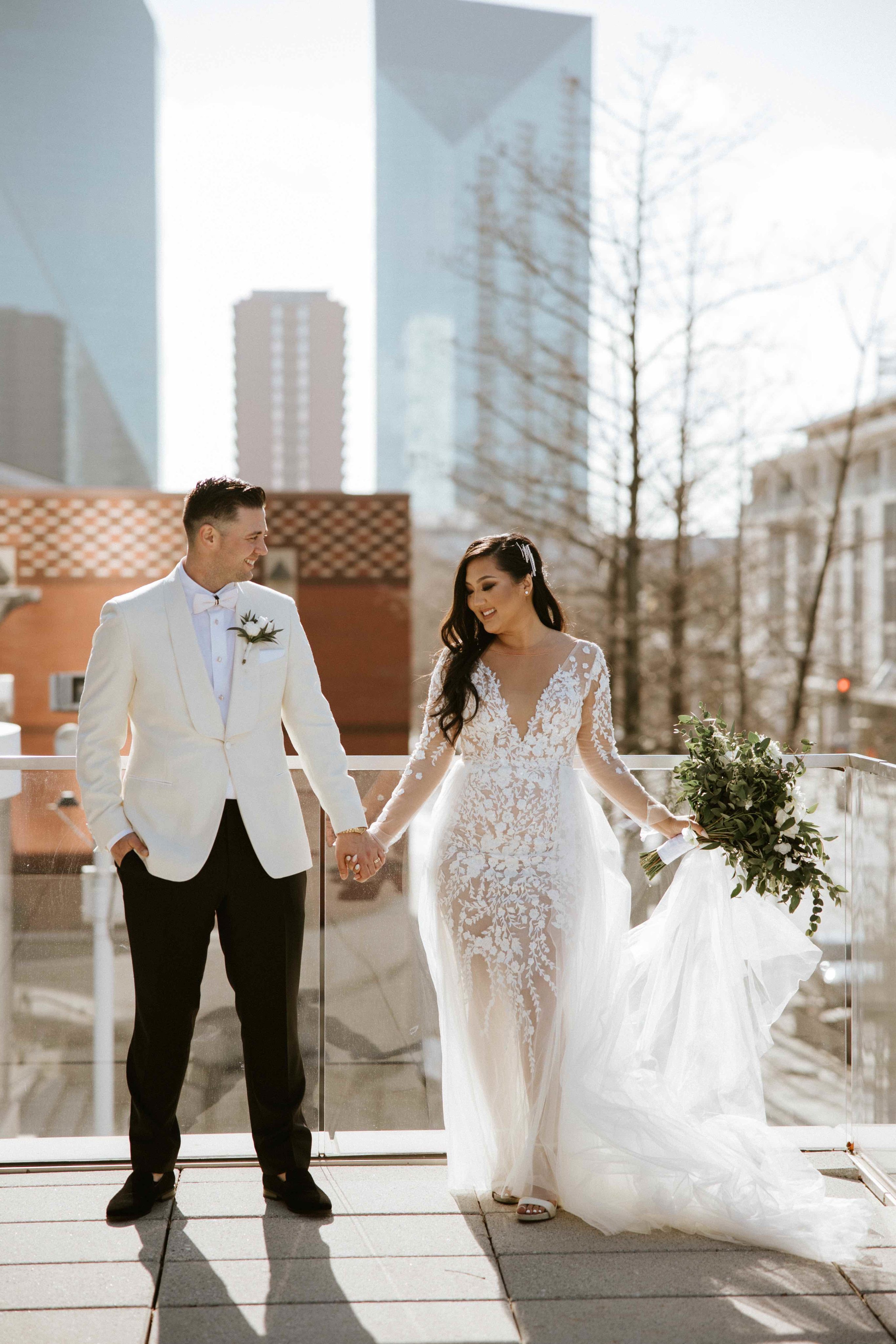 Tell us your proposal story!
This is a lengthy one because the many details make it a much better story!
During the fall of 2018, Hunter let it slip that he bought a ring for me! Fast forward to New Year's Eve, he slipped up again saying that he was originally wanting to propose that night but it wasn't in the cards. Some of the people he wanted there would have been out of town! It was a bummer!
I work with my Dad at our small family business. A few weeks before our anniversary in January 2019, I was checking the caller ID to see what calls we missed for the day. Oddly, I saw Hunter called the store not long before I got to work. No clue why he didn't call my Dad's cell, but I suspected he must have been calling him to ask for permission to marry me! That's when I really knew it was happening soon.
The week of our anniversary, Hunter told me that we were going somewhere special for our 5 year anniversary, but said the location was a surprise. He insisted that we go get our nails done together. He never gets his nails done, let alone with me. If that wasn't a dead giveaway, I don't know what is. He later told me it was because none of my girlfriends or family could go take me without it being suspicious.
Saturday is here, our anniversary, and I was a wreck! It took me forever to figure out what to wear and I couldn't have been more nervous because I was certain he was going to propose. He eventually took me to the NYLO Hotel in Dallas where he had planned for us to have some drinks on the rooftop before heading to dinner. When we got there, the front desk told us the rooftop lounge was closed due to bad weather. The day before, there were CRAZY tornado-like winds that picked up some of their patio furniture up there and broke some of the glass windows.
I could see in his eyes he was FREAKING OUT, so I went to the restroom to give him some time to think of a new plan. The manager eventually told Hunter she would escort us up there for a quick drink and gave us complimentary champagne. Once we made it out to the rooftop terrace, we talked about us and our life together while taking in the beautiful skyline view. He then dropped down on one knee and asked me to marry him, and of course, I said YES! One of his best friends is a photographer and was secretly taking photos the whole time!
The story still isn't over yet! We left to go to dinner and I truly thought that was it and wasn't expecting anything else at this point. But of course, as soon as we stepped out of our Uber at the restaurant, I saw my parents walking into the restaurant at the same time. Poor Hunter, another surprise ruined! We made our way up to the rooftop terrace and were greeted with loud cheers and clapping from our closest family and friends. It was the sweetest (almost) surprise, after knowing the whole time that he would be proposing.
How did you decide on your wedding day look?
I had an idea of the style I wanted a dress with little traditional lace, sleeves, and mermaid fit. I wanted something different! With the help of the DB Frisco team, they pulled items they felt I would love including a beautiful cathedral veil, shoes, and earrings that all looked stunning together. For Hunter, I work in menswear and my family has a men's suit store. So it was easy to decide on what he'd wear since I dress men for a living! I wanted him to stand out and look very dressy so we went with the custom ivory tuxedo!
Do you have any shopping advice for future brides?
Look online to see what catches your eye first. Then when you go in-store, try that style on BUT also try on a bunch! You'd be surprised what you end up liking when it's on your body. I never wanted an A-line style dress, but once I put one on, I felt like a princess and loved it!
What was your favorite detail about your look?
My favorite detail was the overskirt on my dress. I just loved that it made me look like a princess with it on, then when it was off I looked like I was ready to party!
How did you feel when you knew that you #foundtheone?
I was absolutely thrilled! I loved it so much that I could not stop smiling and didn't want to take it off!
Tell us about your wedding day!
Our wedding day was truly the best day ever. Since we went through so much disappointment and tough moments during the planning process, the day actually exceeded our expectations.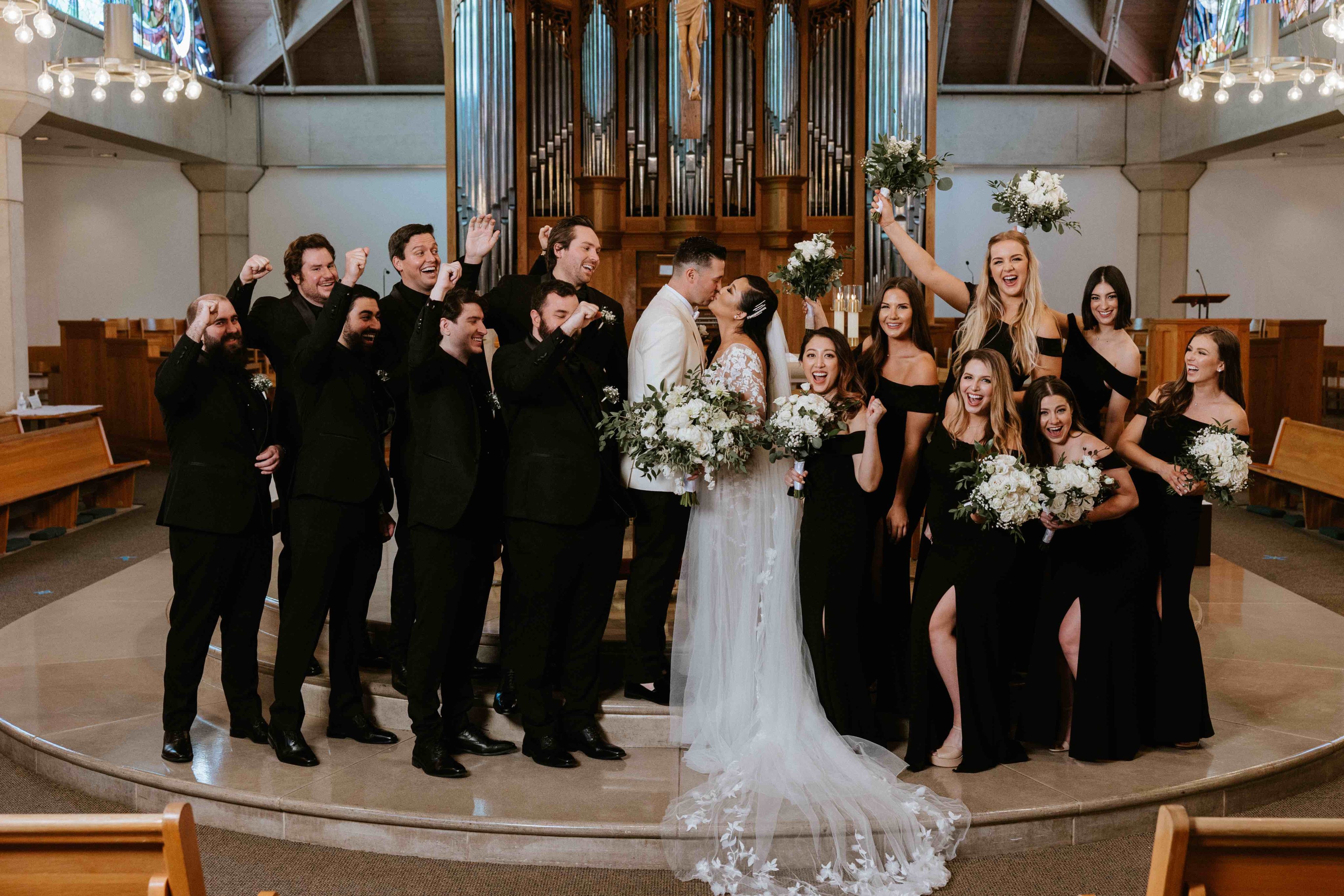 Did anything funny or unexpected happen?
A few things actually!
The florist pinned Hunter's boutonniere to his jacket, but he thought it was too low so he moved it higher on his lapel. He realized there was some kind of residue where it was initially so when I walked down the aisle and got to the altar, I noticed it and laughed at him! He always gets stains on his clothes so it was so fitting!
Later at the reception, it is within Vietnamese tradition for the bride and groom to greet each table. Oftentimes, guests will do a table game that the couple must partake in that can get pretty raunchy!
But, everyone was having SO MUCH FUN dancing the night away. When it was the last call, we got really sad and didn't want the fun to end so we asked our day-of coordinator to see about extending our reception an extra hour. All vendors were on board so we partied for a little longer!
Did you have to make any changes to your wedding plans because of Covid?
We definitely did. Our original wedding date was November 14, 2020. We ended up deciding to postpone it in the summer and chose February.
Was there a highlight or most memorable moment of the day?
One of the most memorable moments of our wedding day according to Hunter was seeing me walk down the aisle. He uncontrollably cried once we saw me turn the corner and couldn't stop crying until I took his hand. It was definitely a highlight for me as well because seeing his reaction was the sweetest thing!
Did you have a first dance song?
Our first dance song was Conversations in the Dark by John Legend.
What was your favorite DIY or personal touch?
I loved our guest book! We displayed our record player and laid out vinyl records for guests to sign that we plan to frame to use are decoration above our record player! We also had a traditional guest book for guests to write longer love notes to us!
What flavor was your wedding cake?
We actually did a fake display cake, with a real middle tier so we could cut it! And then served sheet cake we ordered from Whole Foods. It's so cost-effective this way and everyone LOVED the Berry Chantilly flavored cake we picked! We got multiple texts the next day raving about the cake!
What did you do to stay stress-free on your wedding day?
For the first half of the day, I delegated tasks and responsibilities to specific bridesmaids. Most importantly, I had one bridesmaid be strictly in charge of time and our schedule. Doing this helped make the morning getting ready with 9 ladies to go very smoothly. A few bridesmaids were in charge of steaming everyone's dresses. Two were in charge of drinks and brunch. Also, I can't stress enough how important it is to tell your bridesmaids that you want their help. It'll make the day go smoothly and to delegate these small details to them. I did so much on my own during the planning process since I planned it entirely by myself so I had to delegate the day of or I would have exploded from stress!
Also, I made sure to hire a day-of coordinator for the reception. The night would not have gone as well as it did if it wasn't for her and her expertise. Find someone who has experience with coordinating multiple weddings and who is clearly very organized and assertive. I used to coordinate weddings myself so take it from me–you do not want a timid coordinator. There are too many moments that could arise that a timid or soft-spoken person would not be able to handle or resolve.
Whomever you choose as a coordinator, make sure they know to only bother you throughout your day for timeline events (time for cake cutting, bouquet toss, etc.) or any major event that absolutely, 100% needs your attention. Otherwise, they need to figure it out on their own, or with the help of your family or wedding party. I always suggest designating one bridesmaid and one groomsman that will be in constant contact with the coordinator should they need their assistance.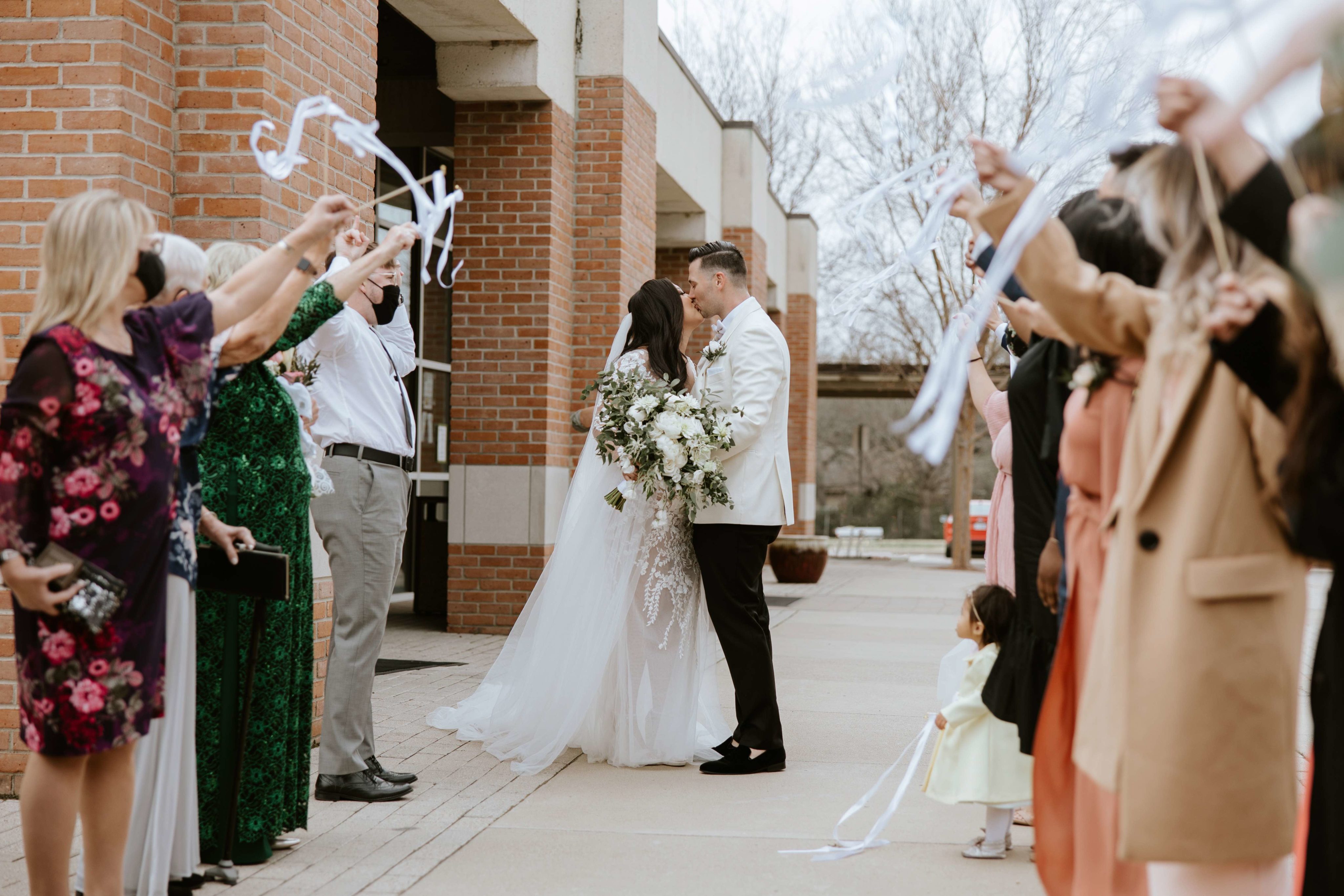 What's your best wedding planning advice?
Ask for help! Even though I have a background in special events and catering and used to coordinate weddings myself, planning this wedding was no easy feat. I wish I had hired my coordinator to help plan as well because I just could not get it together!! I was disorganized, late to get too many things done and so stressed that by the wedding week, I was just ready for it to be over. When in reality, I should have been overjoyed with excitement!
If you are going to plan your wedding on your own, recruit a mom, sister or bridesmaid to help with certain parts! I found it hard to delegate because I had such a specific vision and I chose to be so controlling. But closer to the wedding when I finally let go and asked for help, I was kicking myself for not asking sooner.
Do you have advice for brides that are planning their weddings right now?
If you're planning right now during this pandemic, learn to expect the unexpected. You have to be flexible and open-mind since the situation is so fluid. If you don't think you are willing to be open to compromise and disappointment, maybe consider a date in 2022!
MORE DETAILS:
Date: February 6th, 2021
Location: Dallas, TX
Dress Style: Floral Illusion Dress with Overskirt
Photographer: Hubert Huy Photography
Love this romantic glam wedding in Dallas, Texas? Read more real wedding stories here!
We know how important your wedding day and special events are to you and we are doing everything in our power to serve you! You can shop with us 24/7 at davidsbridal.com or come see us at your local David's Bridal. Plus we are here for you to help guide you through your wedding planning! See tips for starting to plan your wedding at home, shopping for your wedding dress online with confidence, and more on the blog.
Related Posts: