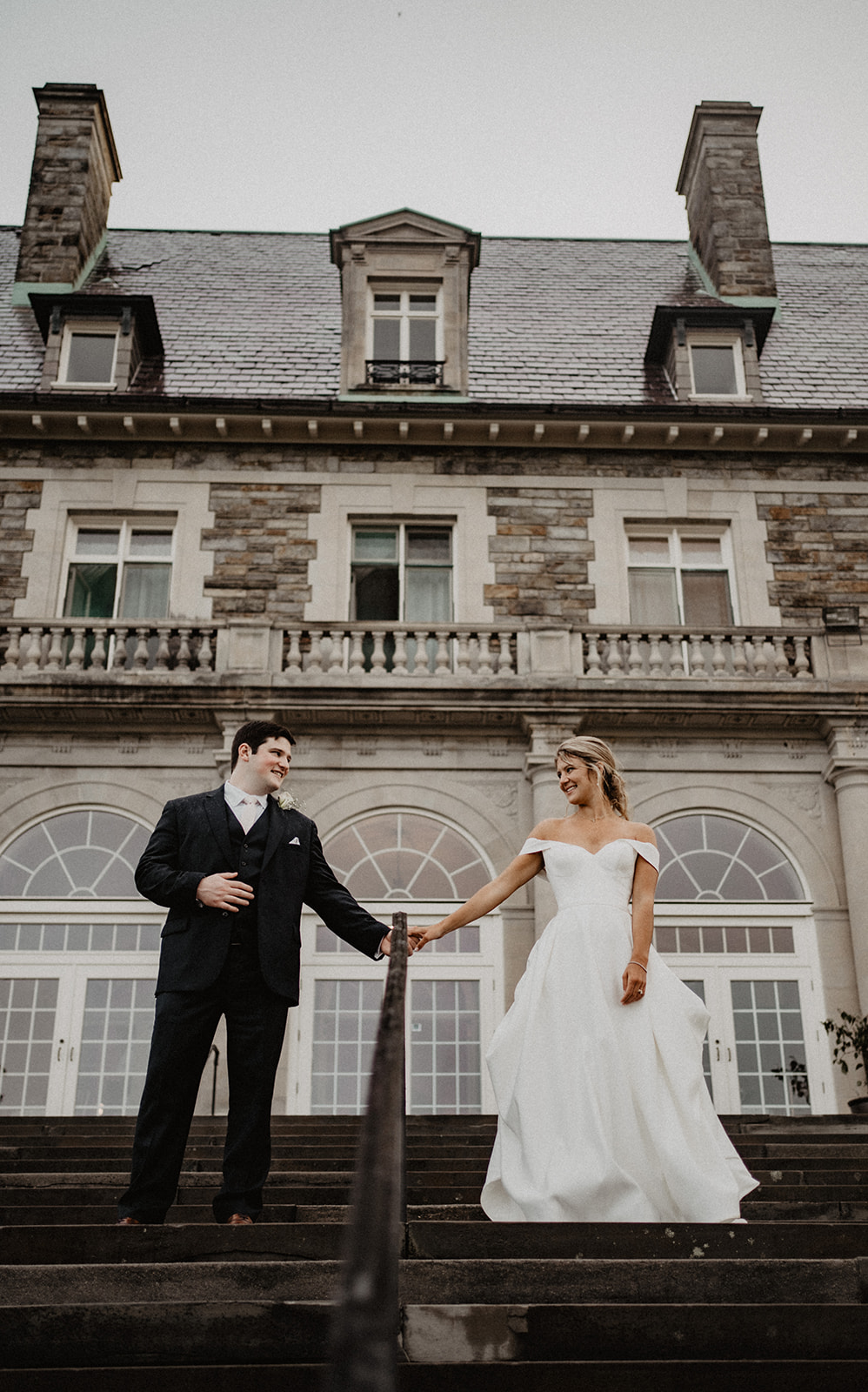 04 Aug

Real Wedding: Elle & Jonathan
Timeless Mansion Wedding in Rhode Island
Real weddings are so inspiring! To get you in the mood to plan, we asked real brides to spill the details on everything from getting engaged to finding their wedding dresses to the special touches and surprising moments that made their celebrations completely one-of-a-kind. We're headed to New England for today's real wedding. Breathtaking views, classic details, and a one-of-a-kind location brought Elle and Jonathan's timeless mansion wedding in Rhode Island to life. Read on for more from their special day!
Tell us how you and your fiancé met!
We met on the last night of our freshman year of college at Providence College.
Tell us your proposal story!
Jon surprised me by proposing on a pre-Thanksgiving dinner hike in my hometown. My mom, sister, and brother were there.
Do you have any shopping advice for future brides?
There are so many different directions you can go, so many options and different looks – just pick one and stick with it!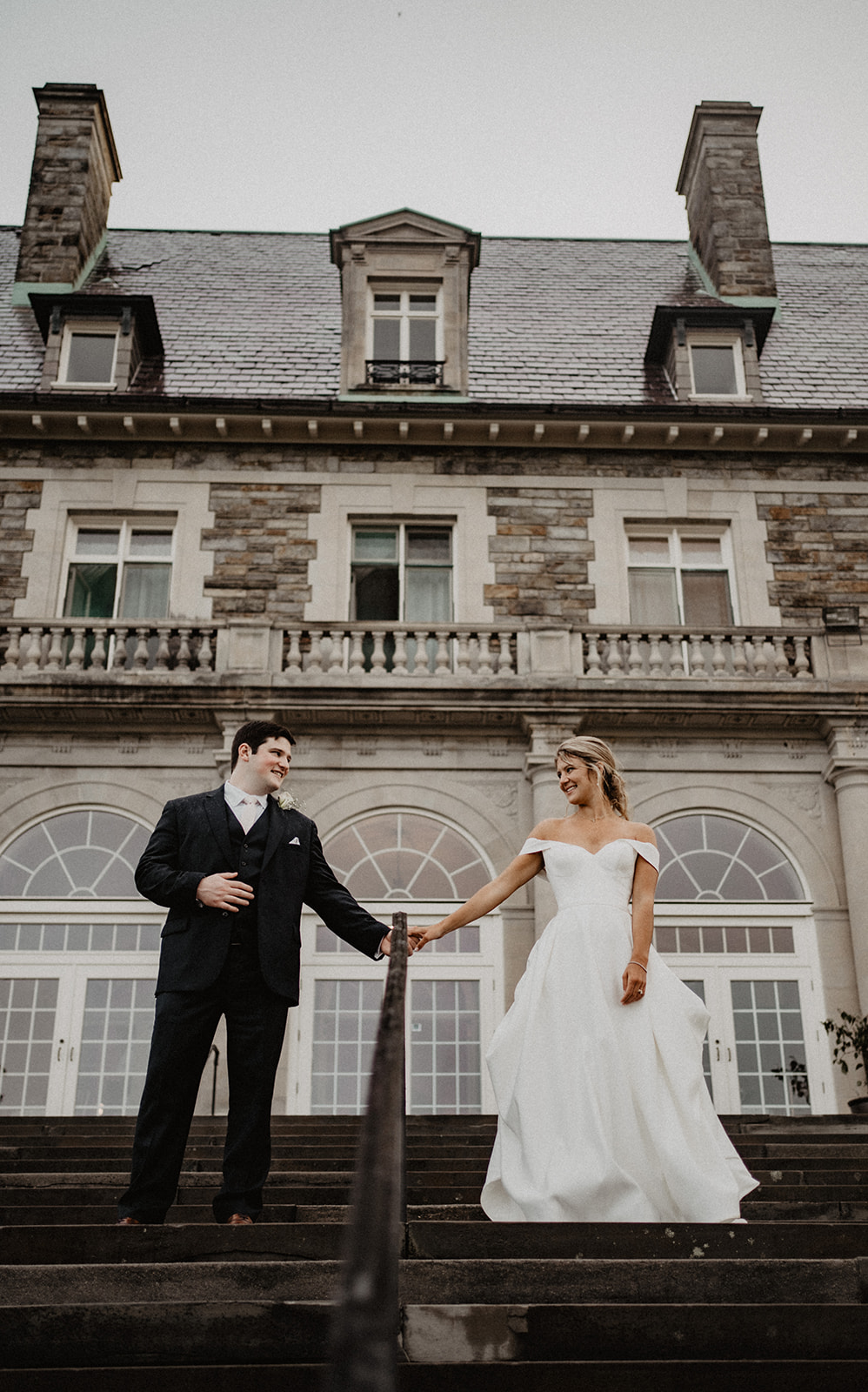 What was your favorite detail about your look?
I loved the pockets in my dress!
How did you feel when you knew that you #foundtheone?
I felt comfortable and confident!
Was there a highlight or most memorable moment of the day?
It rained for about an hour and then there was a double rainbow over the ocean!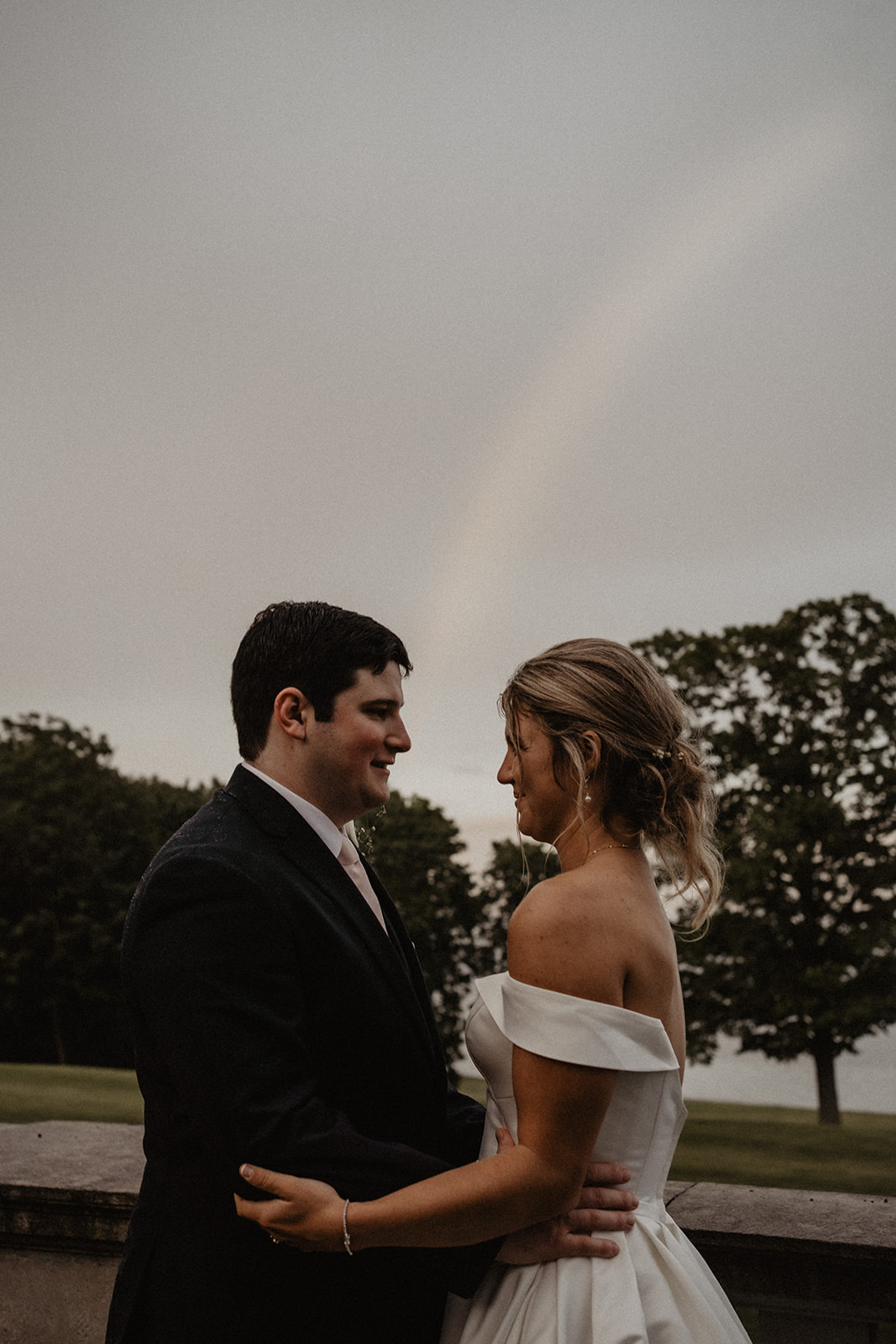 Did anything funny or unexpected happen?
My brother caught the garter and his girlfriend caught the bouquet!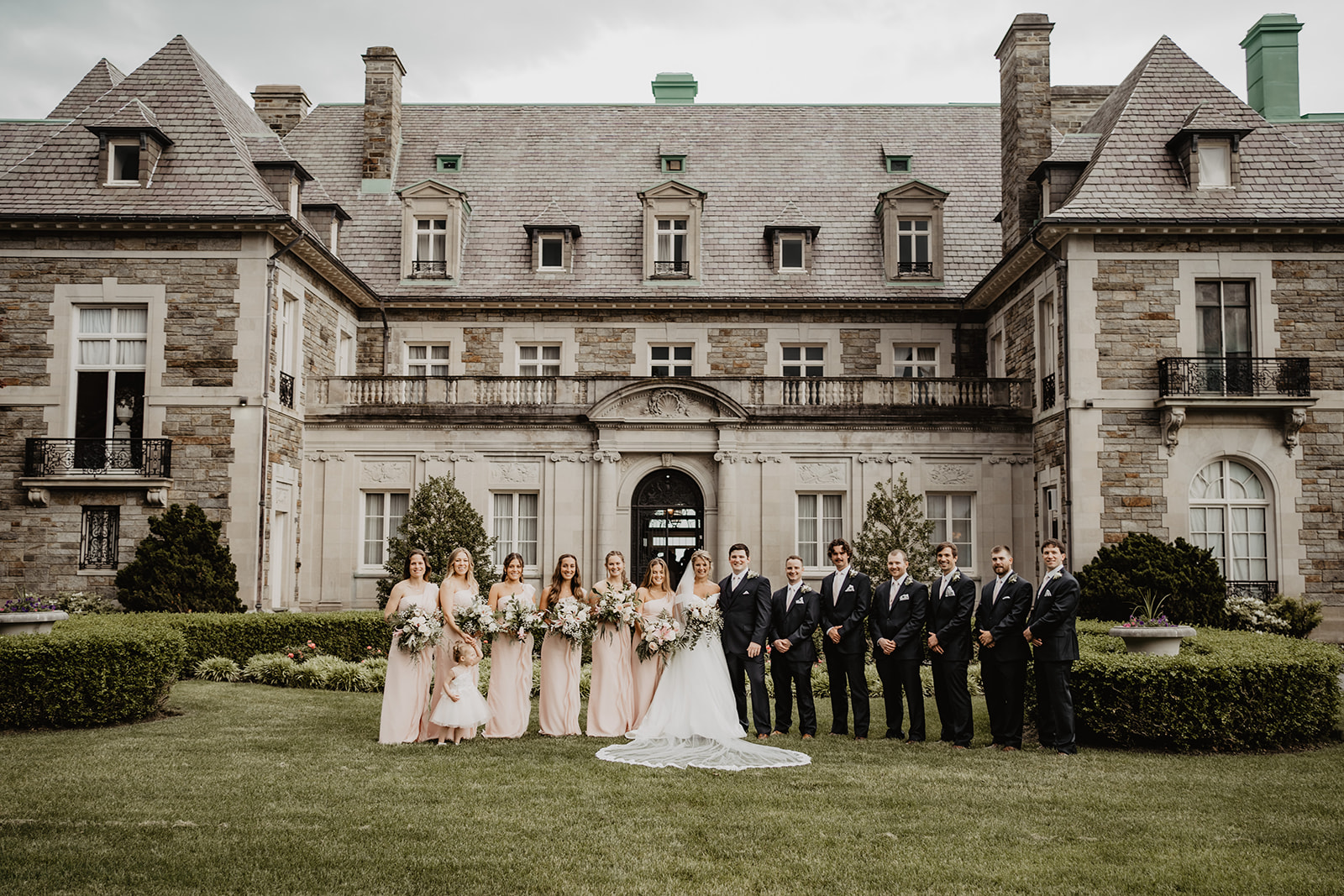 Did you have to make any changes to your wedding plans because of Covid?
It was a lot smaller than originally planned but it ended up being perfect.
What was your favorite DIY or personal touch?
Our polaroid guest book!
What did you do to stay stress-free on your wedding day?
I tried to have everything done a week before. We also made sure to give each activity plenty of time so we were not rushing.
What's your best wedding planning advice?
Delegate! Have one person who you can be your go-to on the day of for all the last-minute things. Also, transportation is definitely worth it if it is within your budget.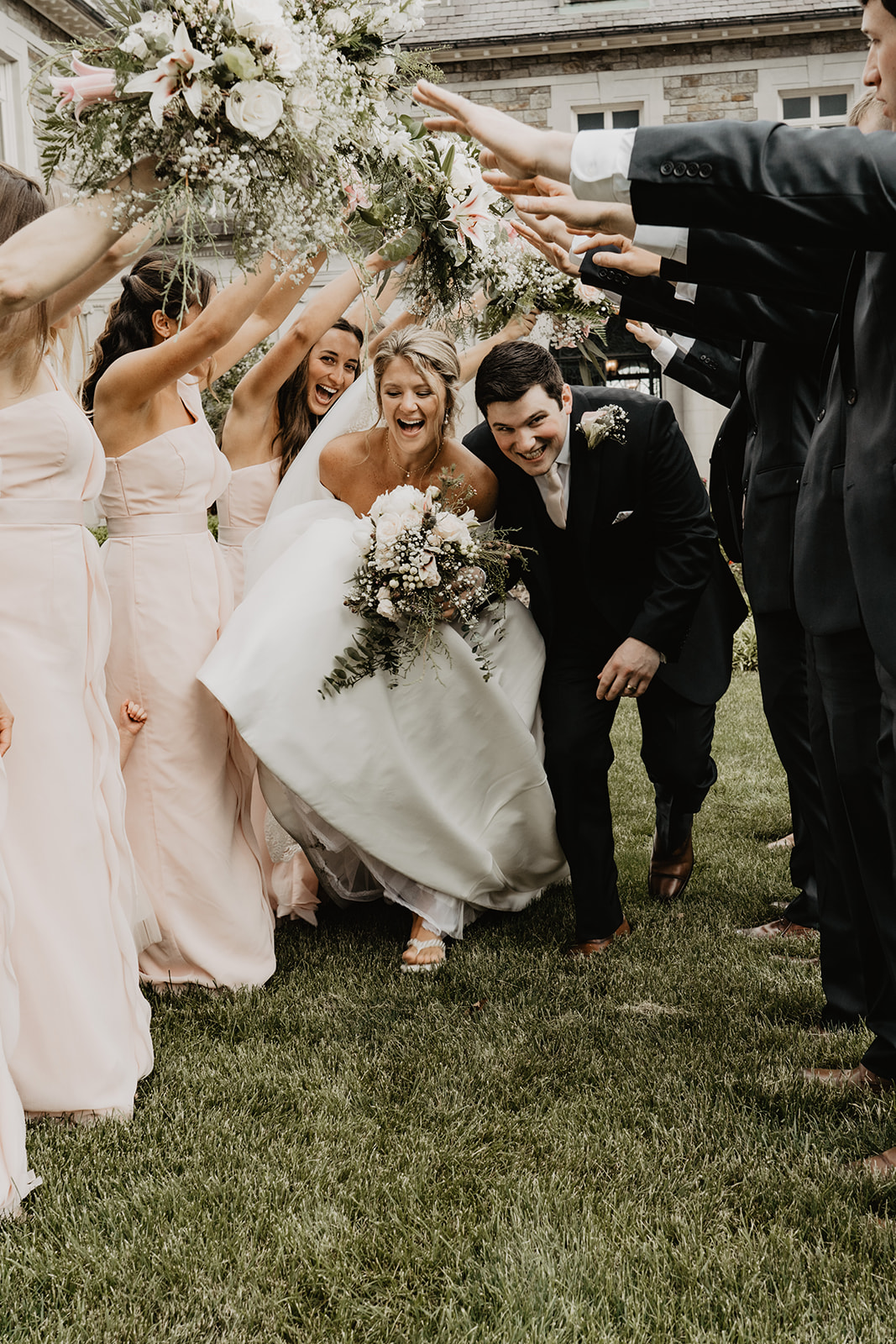 More Details:
Date: June 4th, 2021
Location: Aldrich Mansion, Warwick RI
Wedding Cake Flavor: Lemon cake with raspberry filling
Wedding Song: "Can't Help Falling in Love"
Dress Style: Off the Shoulder Satin Ball Gown Wedding Dress
Photographer: Lexi Foster Photography
Love this timeless mansion wedding in Rhode Island? Read more real wedding stories here!
We know how important your wedding day and special events are to you and we are doing everything in our power to serve you! You can shop with us 24/7 at davidsbridal.com or come see us at your local David's Bridal. Plus we are here for you to help guide you through your wedding planning! See tips for starting to plan your wedding at home, shopping for your wedding dress online with confidence, and more on the blog.
Planning a wedding? Sign up for our Diamond Loyalty program—it's free! Follow us on Instagram, Pinterest, and Facebook for more real wedding inspiration, or click here to book an appointment.
Related Posts: