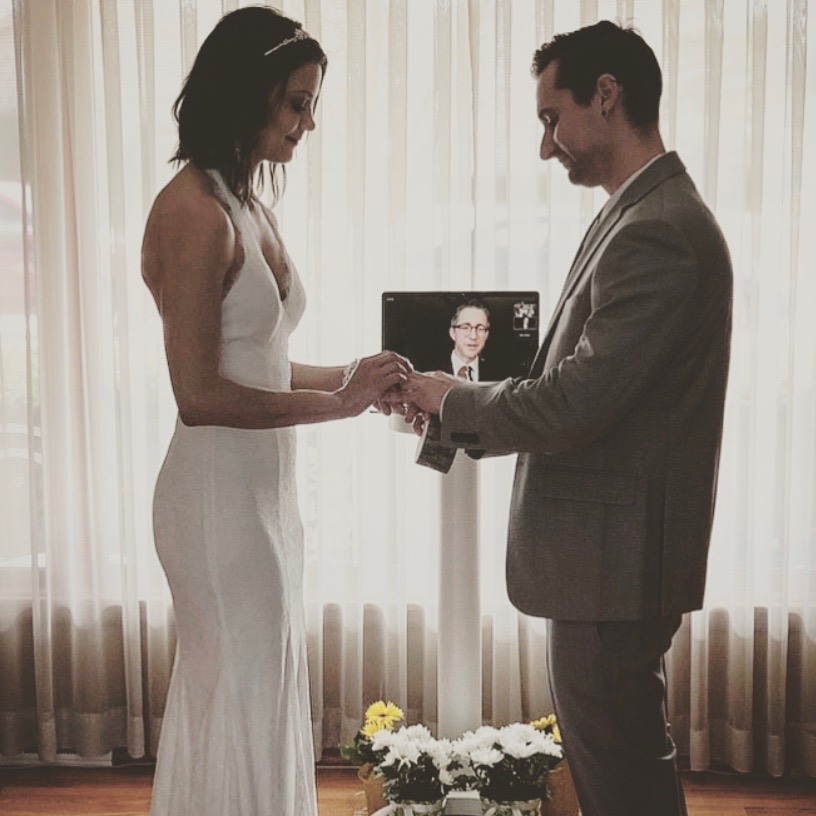 01 Apr

Real Wedding: Vanessa & Ross
An intimate living room wedding
Real weddings are so inspiring! To get you in the mood to plan, we asked real brides to spill the details on everything from getting engaged to finding their wedding dresses to the special touches and surprising moments that made their celebrations completely one-of-a-kind. Vanessa's wedding changed course due to COVID-19 but she didn't let it stop her from marrying the love of her life. Read on for Vanessa and Ross' intimate at home wedding!
How did you two meet?
Just as I was about to call it quits with online dating, I received an unexpected notification for a Bumble match. The next morning, I excitedly replied to a thoughtful note from Ross, which would mark the beginning of many fulfilling exchanges. Feeling an instant connection upon meeting, we knew it was right. We shared a similar foundation in Christianity—even had a similar faith story—and I just knew he was the one.
What's your best wedding planning advice? And what advice do you have for brides that are going through a similar situation right now?
Keep it simple and make quick decisions (and stick to them!) The worst thing you can do is overanalyze and give yourself too many options. For brides whose weddings and pre-wedding events are being impacted by COVID-19: simplify. If you're getting married soon, aim for 5% of your original plan. Invite only your immediate family—your friends will understand. Definitely wear your dress—you deserve to feel beautiful on your special day! Consider inviting some of your original guests to a dinner celebration later in the year. For brides getting married months from now: make sure you choose vendors who take refundable deposits. Don't overcomplicate or add too many logistics—be prepared for your wedding to not go according to plan. If you have enough time, change your logistics, keeping in mind why you're doing all of this—to marry the one you love.
Tell us about your wedding day! We know you had to make a few last minute changes to your plans.
Our original wedding date changed as we married a week early in case the government ordered further social restrictions. Plus we changed our location from Francesca's on Chestnut to Ross's childhood home and our guest list went from 50 to 5. We were able to keep our cake – the bakery agreed to make it a week early for us! – and one of my maids-of-honor, a bridesmaid, some centerpieces, and our pastor. Despite having to change most of our plans, the goal remained the same—to get married in the presence of God.
Since our pastor could not longer marry us in person, he gave us the option to get married over a Zoom meeting. We Zoomed my dad in and FaceTimed my sister, my mom and her boyfriend, who all live out of state.
The most memorable part of our day has to be when Ross' family dog, Annie, and our dog, Striker started acting up during the ceremony. Also, Striker wearing his bow tie!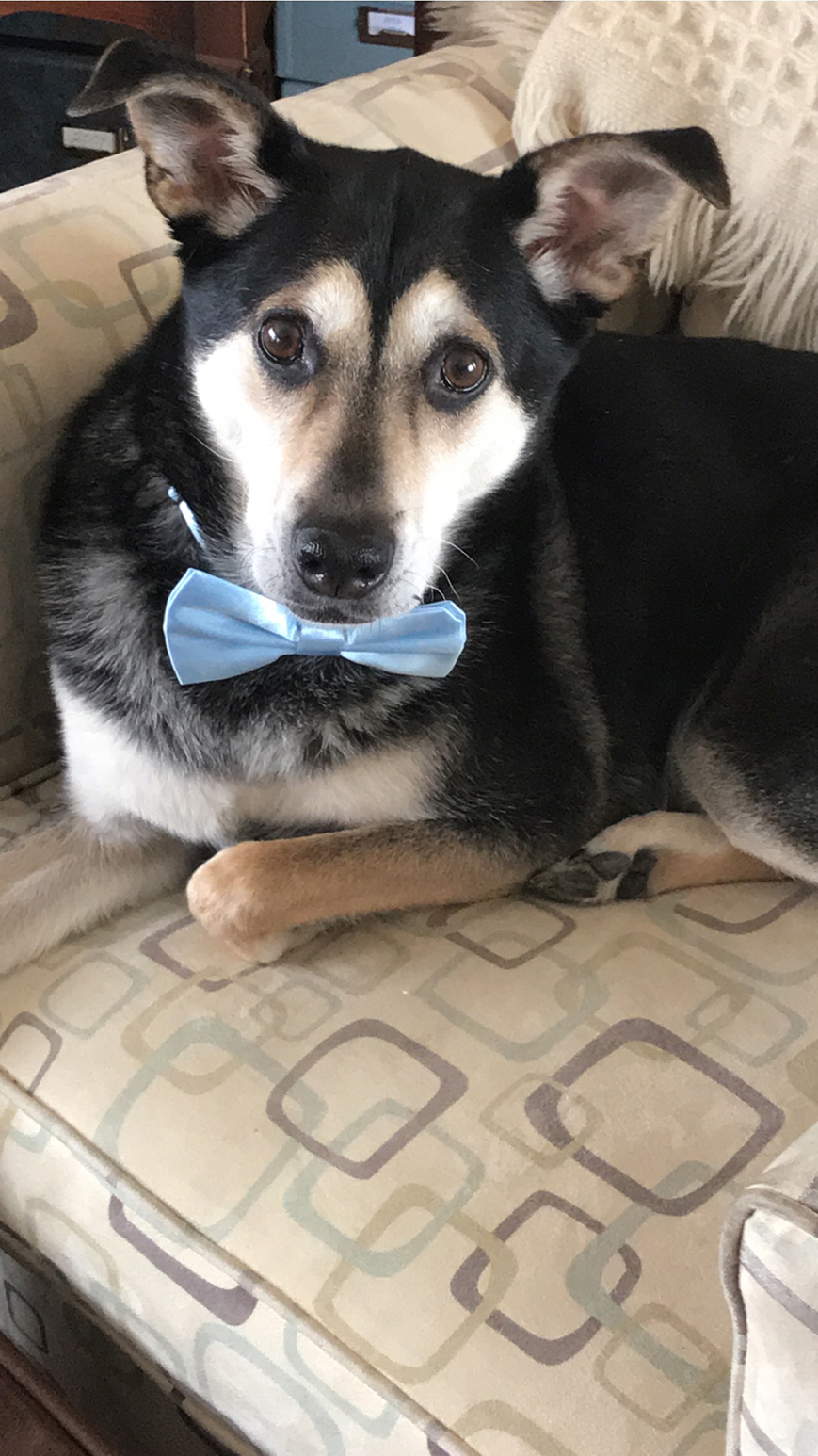 Tell us about your dress and accessories! Any dress-shopping advice for future brides?
I knew I had to find a dress quickly, since our engagement period was just five months. I tried on a few dresses at David's Bridal, but it was the fourth one that won my heart! I loved it because it fit me perfectly—it was my exact size! It really helps to try on dresses in your size or as close as possible. I also loved the low back, the lace, the slight flare. My stylist set a veil atop my head and as soon as I got a glimpse of myself in the mirror, my girlfriends and I shouted, "nope!" I'm definitely not a veil girl… tiara all the way! My stylist replaced the veil with the perfect tiara, adorned with crystals and faux pearls, and I felt like a princess. It made me feel pretty—and responsible, that I wasn't going to break the bank on a dress I'd only wear once. And I'm glad I stuck to my budget because our original wedding plan didn't happen!
Future brides: to save time and not get overwhelmed by all of the options, do some research before setting your dress appointments. Decide on a silhouette, preferred fabric, color and most importantly—your budget. Don't tease yourself by trying dresses way out of budget.
What flavor was your wedding cake?
It was a yellow cake with buttercream frosting and cream cheese filling. It tasted just like a Twinkie- YUM!
What was your favorite DIY or personal touch?
We had the wedding in the town that Ross grew up in and got married right in the living room of his childhood home! Ross' friend made his wedding band out of recycled skateboarding parts, and he wore his favorite shoes- a classic pair of turquoise chucks. Can't forget the Krispy Kreme donuts- we are huge fans!
More Details:
Silhouette: Sheath
Location: Ross' Childhood Home
Date: 3/21/2020
Photographer: Ross's sister, mom, and Vanessa's best friend
We know how important your wedding day and special events are to you and we are doing everything in our power to serve you! You can shop with us 24/7 at davidsbridal.com plus we are here for you to help guide you through your wedding planning! See tips for starting to plan your wedding at home, shopping for your wedding dress online with confidence and more on blog.
Related Posts: