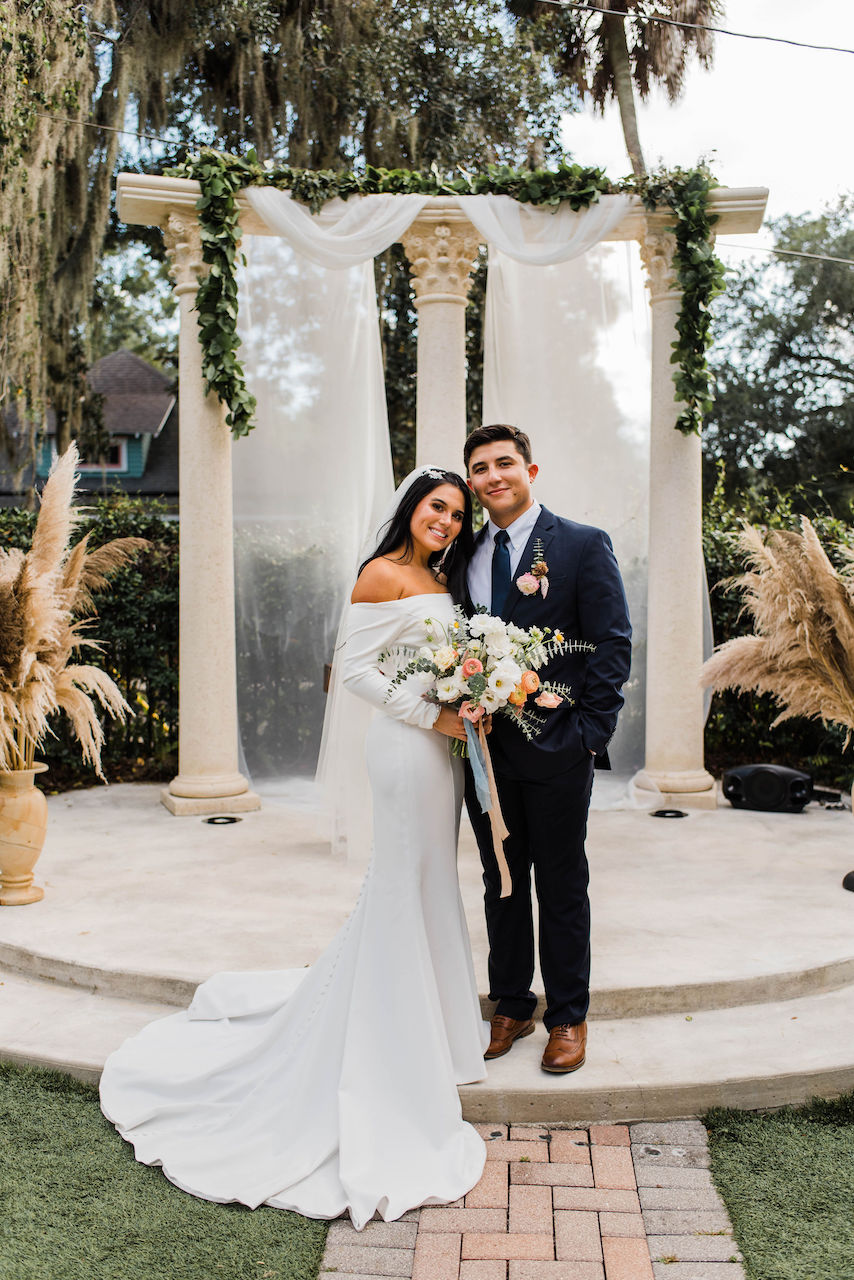 31 Mar

Real Wedding: Savannah & Nathaniel
An Intimate & Romantic Wedding in Florida
Real weddings are so inspiring! To get you in the mood to plan, we asked real brides to spill the details on everything from getting engaged to finding their wedding dresses to the special touches and surprising moments that made their celebrations completely one-of-a-kind. Savannah and Nathaniel's gorgeous wedding, set at a quaint bed & breakfast in Gainesville, FL, was full of sweet moments and delicate details. Read on for more from their intimate and romantic wedding in Florida!
How did you and your fiancé meet! And when did you know that he was the one?
We met through friends and his sister complimented my outfit. I was so
happy because she was dressed amazing, and he was standing right next to her! I knew he was the one after our first conversation! We went from talking about what we do for work all the way into what we want in the future. It all happened so fast. After our first conversation I looked at my friends and said 'I call dibs!'.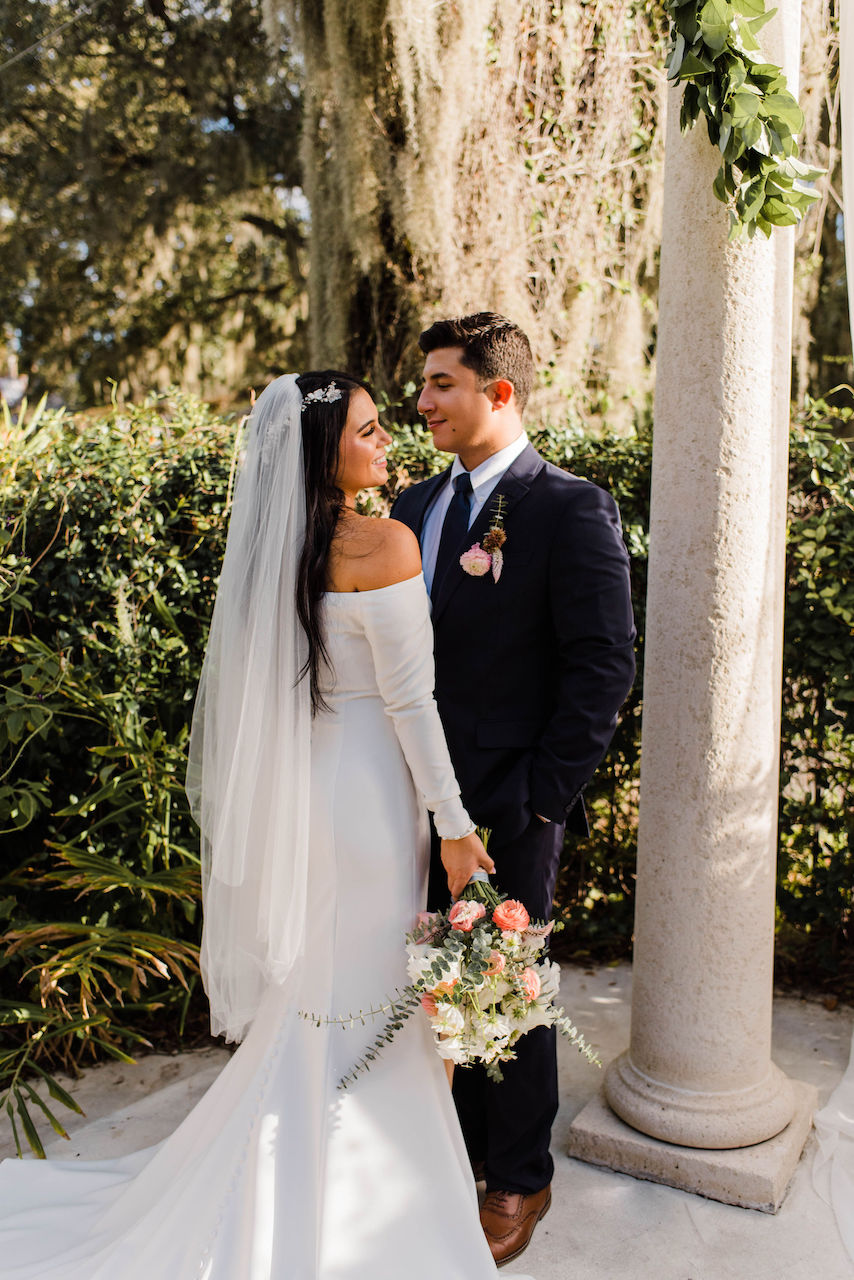 Tell us your proposal story!
We were having lunch with both families in downtown St. Augustine,
Florida, and we decided to take a walk downtown, little did I know that would lead us to the Lightner Museum and he dropped to one knee in the middle of the garden on the bridge. Then my cousin and one of my best friends (who's a photographer) were hiding in the bushes and captured the whole thing! Afterwards, we all went to Casa Monica Hotel where we
enjoyed champagne and desserts. It was one of the best days of my life (besides the wedding!)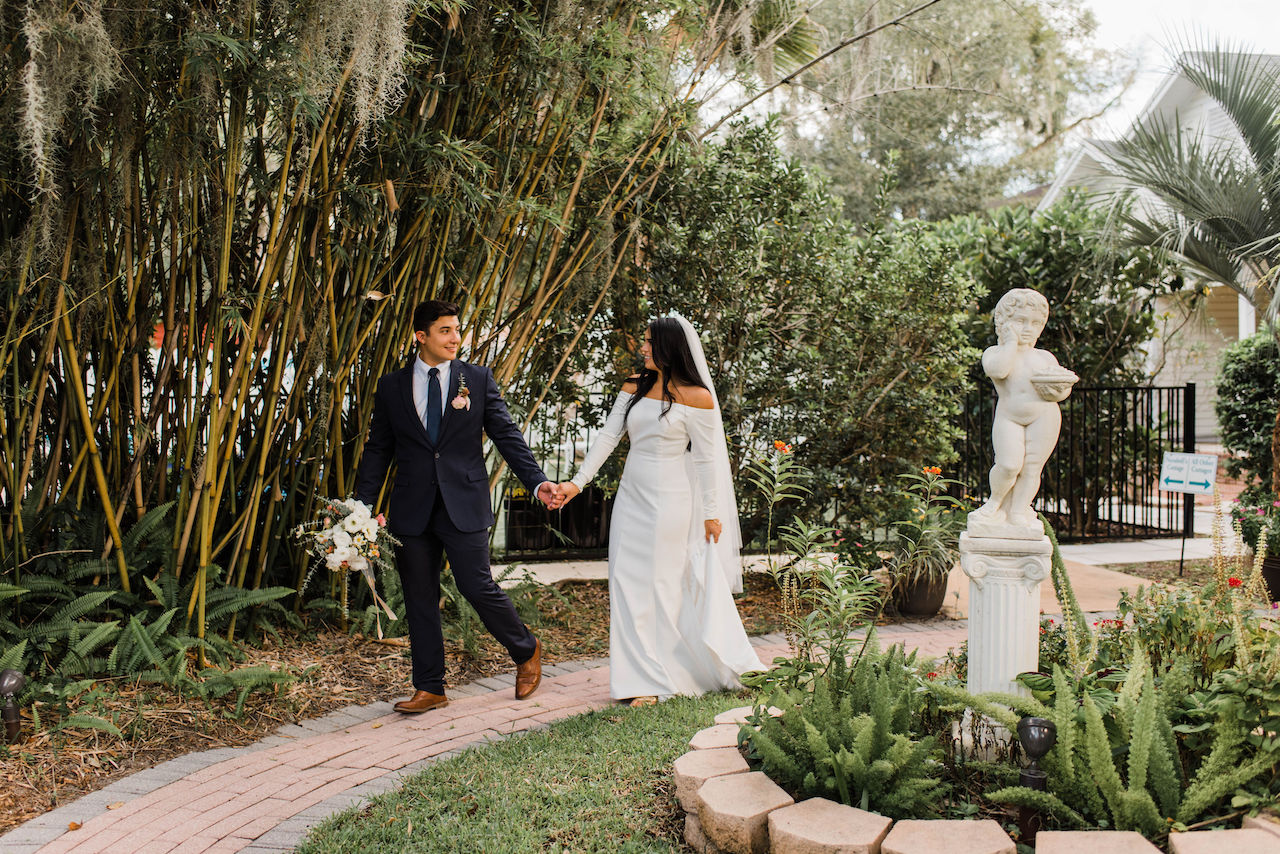 How did you both decide on your wedding day look?
We went through hundreds of wedding vision boards! He was easy! He has always been good at dressing and always looks amazing in a suit. I just knew the vibe and colors I wanted, and we did lots of research.
How did you know that you #foundtheone? And what shopping advice do you have for future brides?
Tears, tears and more tears! As soon as I put on the dress I could not stop smiling and did not want to take it off. My favorite detail was all the buttons going down to the end, it made me feel so elegant.
If you get the amazing opportunity to go with your mom, listen to her! Like they say, they are always right. I was so insistent on a certain style, but was striking out everytime I put that style on. Then, my mom found my dress and said 'just put it on for laughs and for me to see', little did I
know that was THE ONE.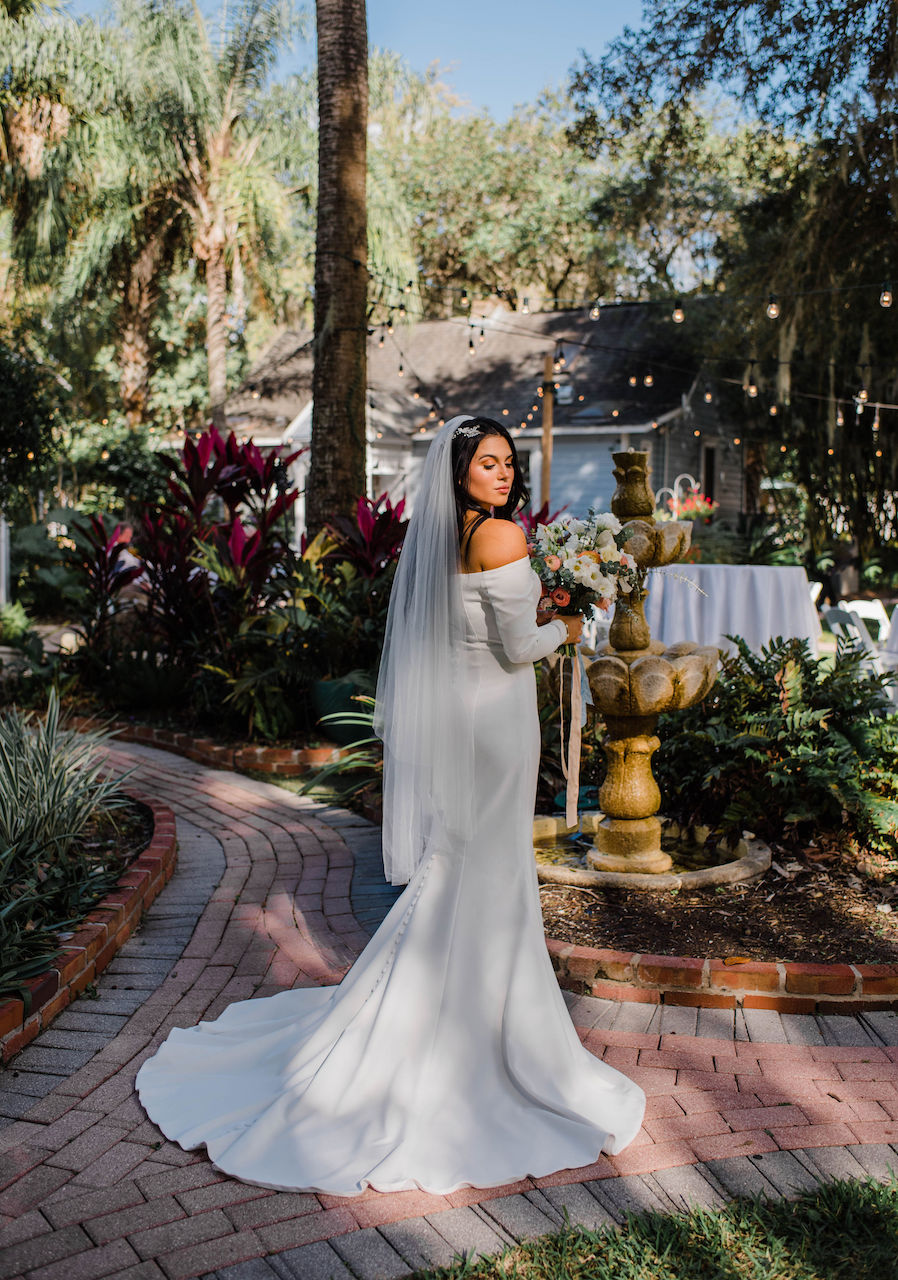 Tell us about your wedding day!
Our wedding day was everything I dreamed of! The weather was perfect, and the day went so smoothly. One of my favorite memories of the day was doing first looks! Tirzah made it so magical and fun. My first look with my father still makes me cry when I look at the pictures.
What was your favorite DIY or personal touch?
The whole wedding! Shout out to my Aunt Kim who was my wedding coordinator and got everything together. It was a team effort and without family, none of it would have happened. Everything was set up by them.
Did anything funny or unexpected happen?
I FORGOT THE RINGS! Yes,that's right! All day I was nervous Nathaniel would forget my wedding band. In reality, I forgot his wedding band (face
palm moment) we just laughed and had to keep going.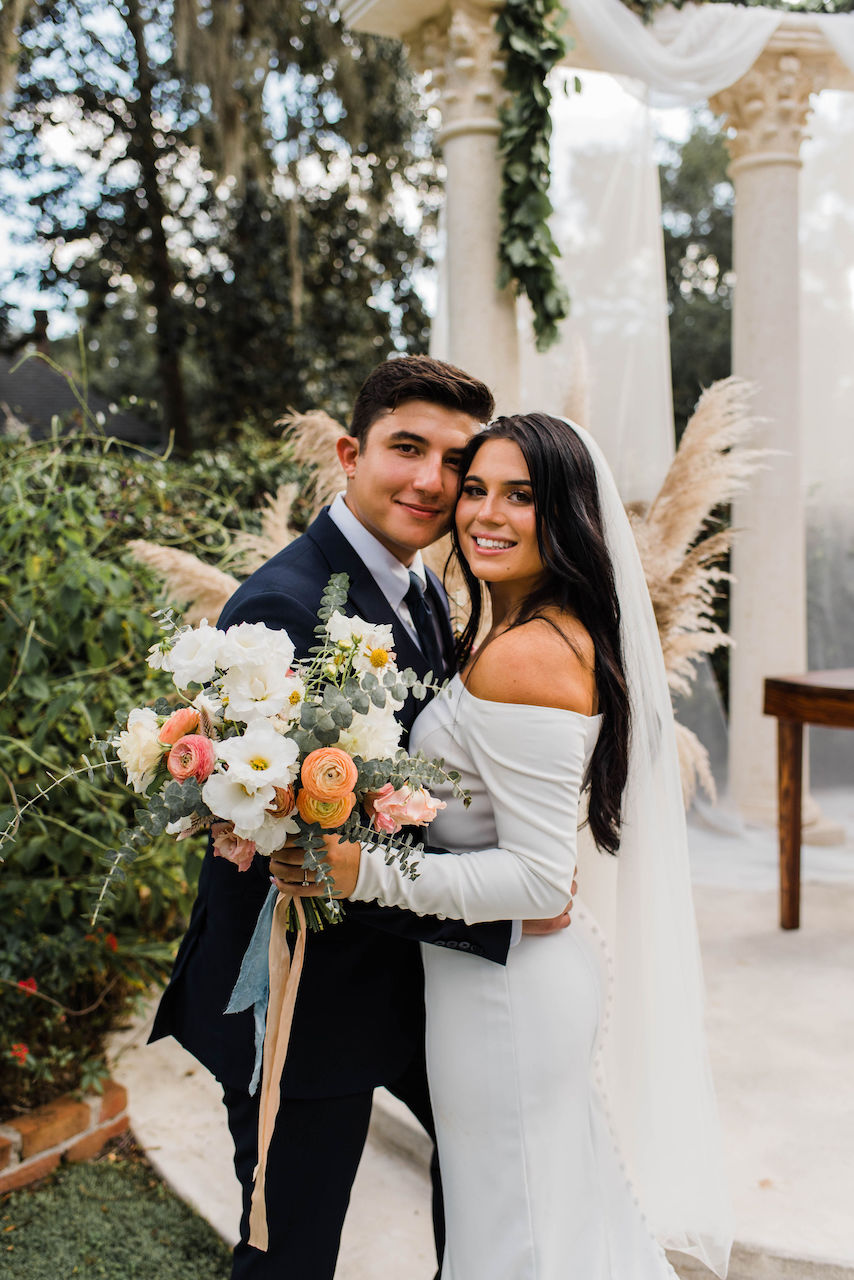 Did you have to make any changes to your wedding plans because of Covid?
Yes, lots! We were originally scheduled for June and because of Covid pushed it back to October. We also were supposed to have 180 guests but ended up having only family. I was sad at first but, I wouldn't have changed it. I was able to have all the important people in my life there and stay Covid safe! We set up a zoom video chat so everyone who was originally invited were still able to be there, and watch from their own homes. It was so nice they were able to see the ceremony, first dance and cake cutting with still abiding Covid precautions.
What's your best wedding planning advice for brides that are planning right now?
My best advice especially during these times is to be flexible. If something happens that's out of your hands it won't crush everything! Things always
workout. As long as you get to be married to the amazing partner you picked at the end of the day it will be a happy day. Just don't let the stress get in between the once in a lifetime experiences.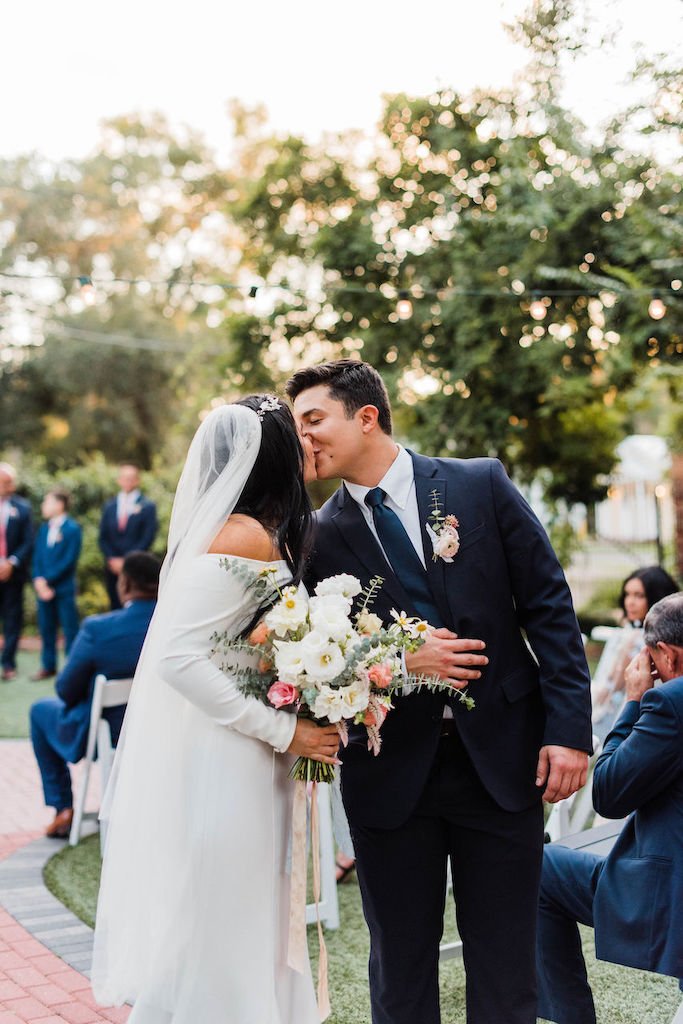 Any words of wisdom for brides-to-be?
This day is about the love between you and your partner! Don't let that get blurred between the lines. Weddings are stressful but you aren't alone in that feeling! As long as you pick the right people to help and the right companies it will workout. You also cannot go wrong with choosing David's Bridal for your dress needs.
More Details:
Date: October 25th, 2020
Location: Sweetwater Bed and Breakfast in Gainesville, Florida
Wedding Cake Flavor: Carrot Cake (created by close family friends & Savannah's grandparents!)
Wedding Song: The Wonder of You by Villagers
Dress Stye: Off-the-Shoulder Buttoned Back Crepe Wedding Dress
Photographer: REN Photography
Love this intimate and romantic wedding in Florida ? Read more real wedding stories here!
We know how important your wedding day and special events are to you and we are doing everything in our power to serve you! You can shop with us 24/7 at davidsbridal.com or come see us at your local David's Bridal. Plus we are here for you to help guide you through your wedding planning! See tips for starting to plan your wedding at home, shopping for your wedding dress online with confidence, and more on the blog.
Related Posts: