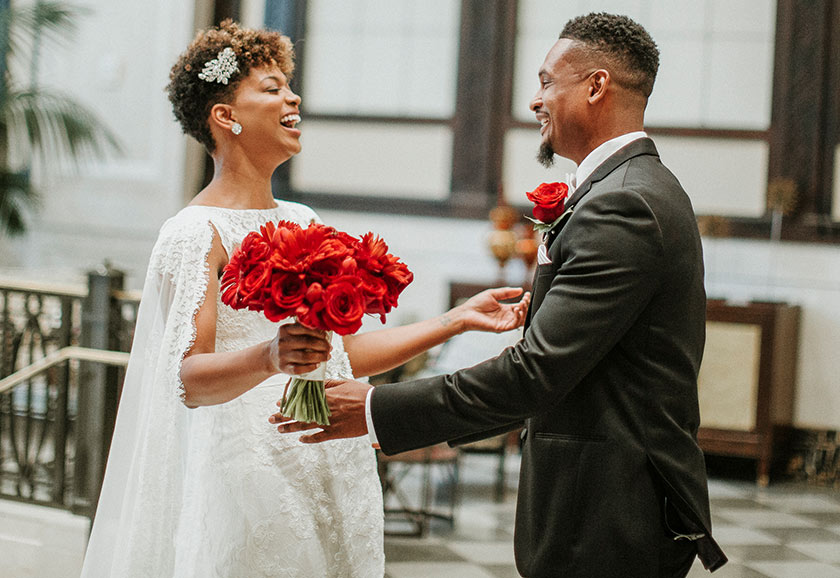 14 Jul

Real Wedding: Erica and Ramiyus
A glamorous spring wedding in Richmond
Real weddings are so inspiring! To get you in the mood to plan—and party!—we asked real brides to spill the details on everything from getting engaged to finding their wedding dresses to the special touches and surprising moments that made their celebrations completely one-of-a-kind. Read on for Erica and Ramiyus' glamorous spring wedding in Richmond, Virginia.
So how did you two meet?
In the spring of 2013, I was waiting in the service area of the local Porsche dealership when Ramiyus walked in. We chatted until he left to look at cars in the showroom. He noticed as I was leaving that I was getting into a car identical to his. He shouted, "Hey, you're getting into my car!" I laughed, and he asked for my number and a date. He asked in such a gentlemanly way that I couldn't resist.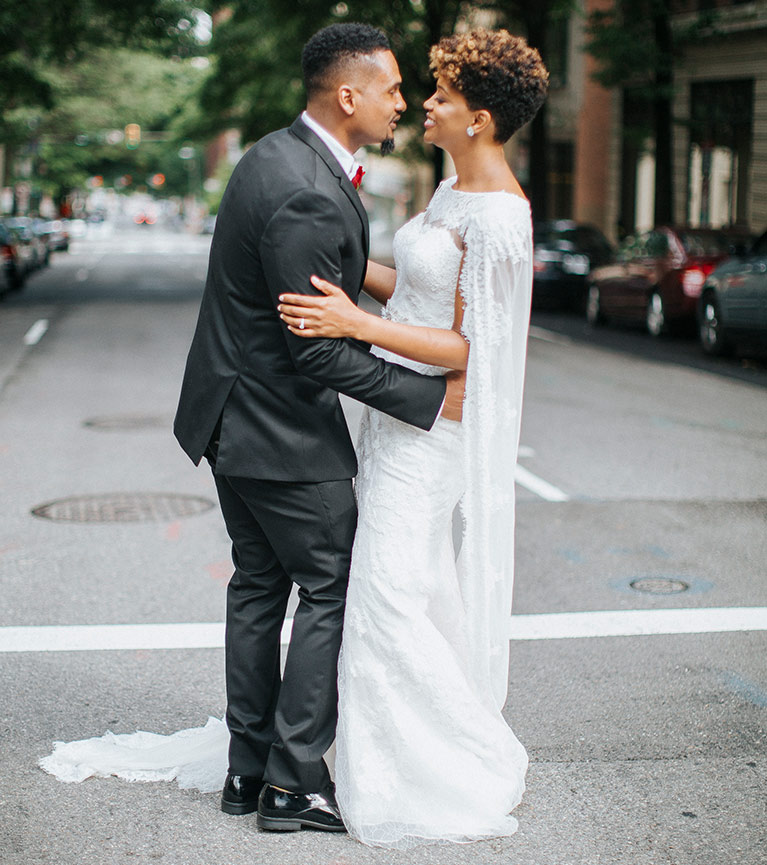 Tell us about your dress!
My coworker won tickets for a big bridal show and was kind enough to give them to me since she knew I was getting married. Before the event, I went to David's Bridal, but I didn't find my dress. Then at the bridal show, there was a David's runway show. When the dress with the cape came out, I sat straight up, and we ran back over to the store so I could try it on. I felt like royalty! Of course, the best part was the cape.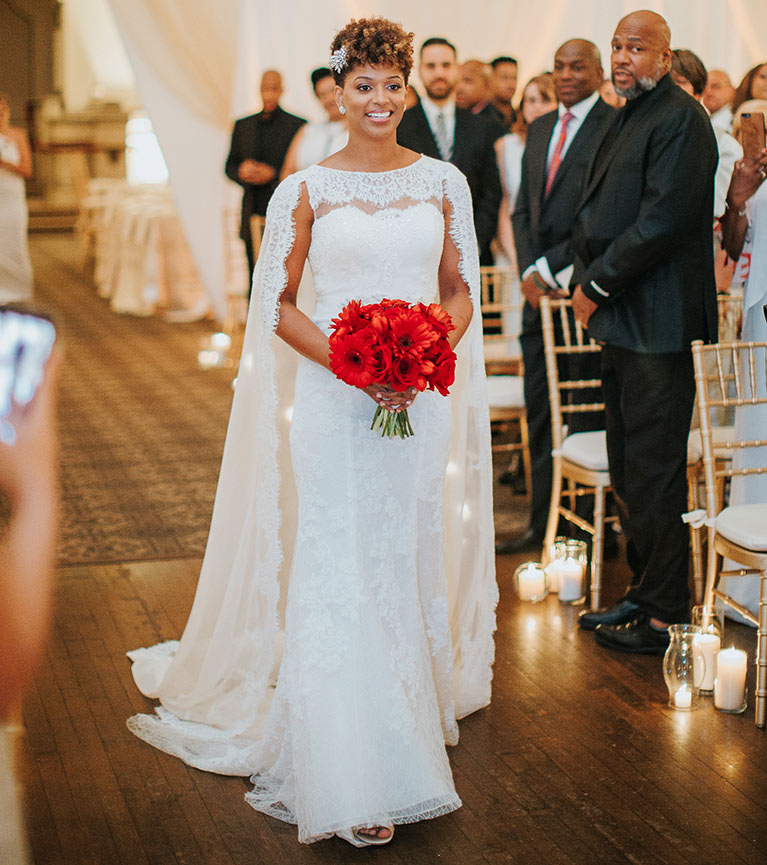 A bridal party to remember:
We asked our guests to dress in white and black so they could all serve as the bridal party alongside me, my fiancé, and my son. We added touches of red for spic—our moms were the only ones in red.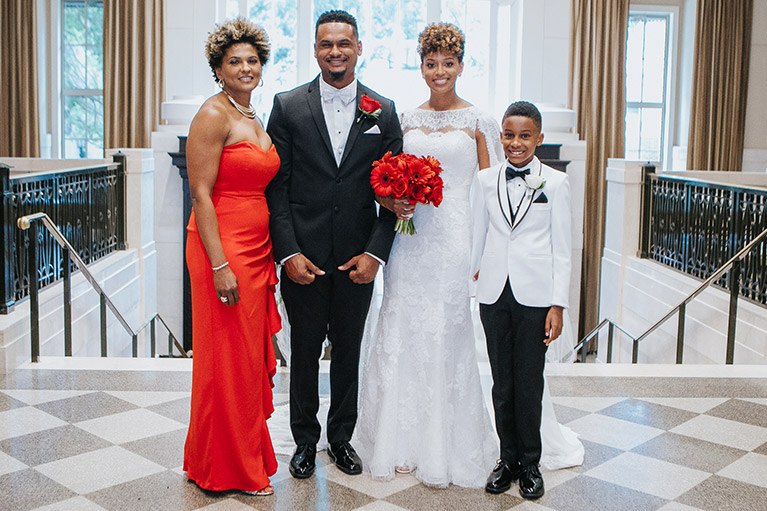 Meaningful tokens:
My favorite personal touch was our party favors: We gave everyone a Porsche paperweight in honor of where we met.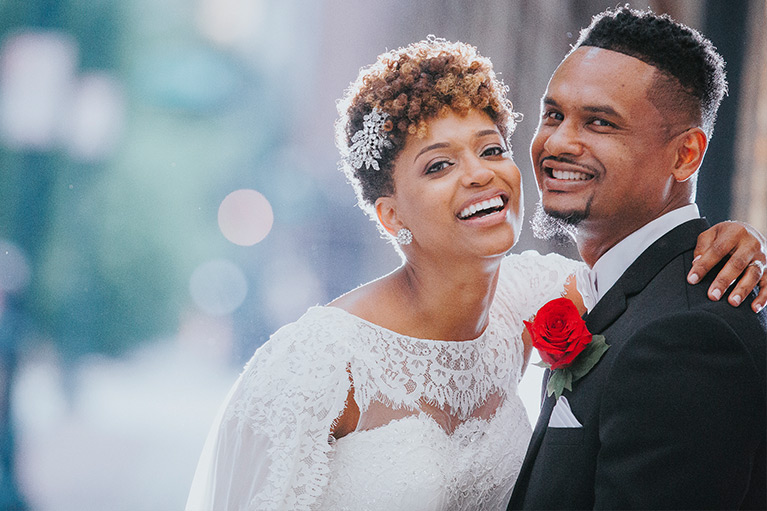 How did you choose accessories?
I wanted everything to center around my hair and dress, with my hair being my biggest accessory. I wanted to stay true to who I was and keep my hair as a natural fro–hawk. My stylist helped me keep everything else simple. We did a touch of bling for my hair and simple earrings so my hair and dress could do the rest.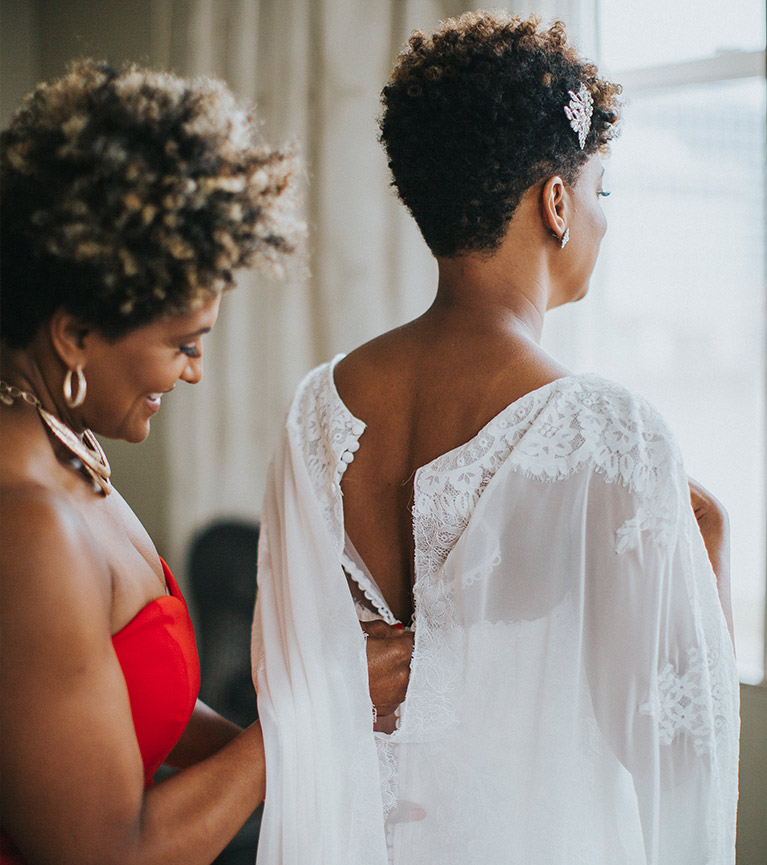 What made you fall in love with the venue?
When we visited the historic John Marshall Ballrooms, I knew it was perfect. We love the historic look of downtown Richmond, and the John Marshall is filled with gold, white, and black. To me, those are always classic colors. And with such a dramatic and elegant dress, I knew the venue would have to match.
More Details:
Silhouette: Sheath
Location: Richmond, Virginia
Date: May 28, 2017
Photographer: Ézé Amos Photography
Wedding theme: Ballroom elegance
Related Posts: