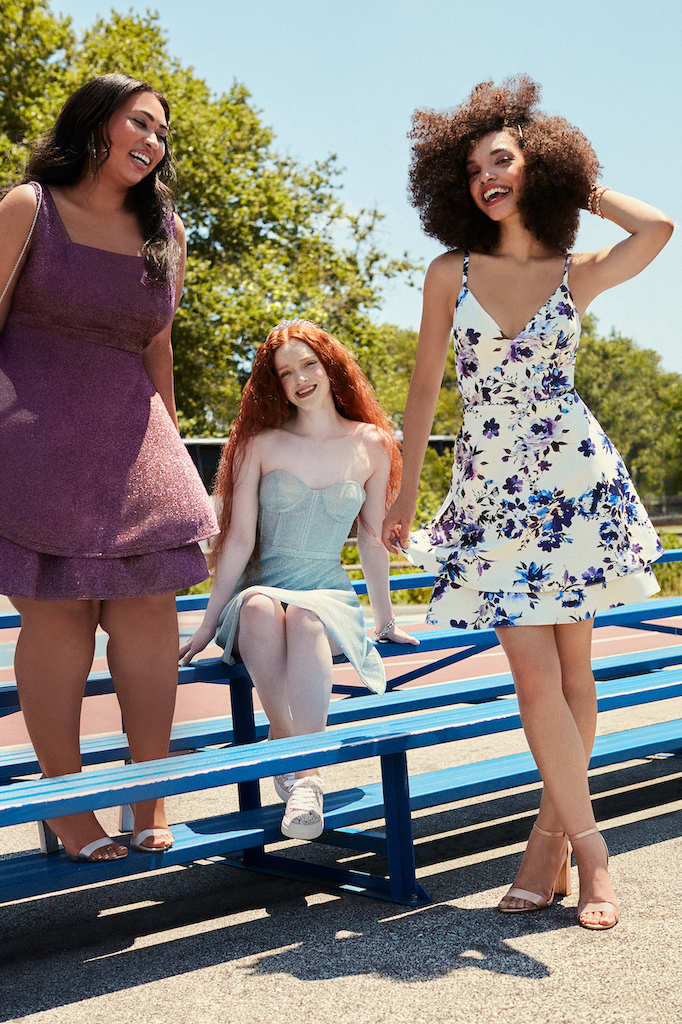 21 Jul

Homecoming Dress Ideas: HoCo 2021 Trends to Wear
Homecoming 2021 Trends, Dresses, Ideas & More
Text the group chat & Facetime your BFF, homecoming season is back! The biggest question we have: What are you going to wear? From sequin mini dresses to satin A-line styles, picking your perfect hoco look can be as hard as deciding on an Instagram caption. But, no need to stress, we've got you covered. Keep reading for our best homecoming dress ideas & the trends you won't want to miss out on!
Ruching & Gathers
For a figure-flattering fit, try a style with ruching & gathering! This trendy touch adds interest to your dress and is an effortless way to make heads turn. We're obsessed with this blue mini dress & this green satin style! Pro tip – find dresses made from comfortable stretch satin or jersey material. These fabrics are guaranteed to keep you comfortable when you're breaking it down on the dance floor or filming a TikTok dance with your besties.
Skater Skirt
Style D24NY2114V2 & D24NY2110
Looking for a dress perfect for twirling? You can't go wrong with a skater skirt. This fit & flare silhouette has been trending for countless seasons and continues to reign supreme when it comes to homecoming dresses. Find a dress that fits your personality like an all-over glitter style, trendy lace, or a floral print design!
Sparkle & Shine
Style D24NY2104V1 & D24NY2113W
Make your way to the dance floor in a dress that shines! This homecoming season it's all about the sparkle & shine factor. Think the brighter the better. We're loving sparkly sequin and shimmering glitter. Shop dazzling silhouettes and designs that will have you feeling & looking your best!
Trendy Cutouts
Trendy cutouts are a must this season. Achieve that cool-girl look & vibe for the big dance with a dress featuring a front, back, or side cutout. This modern detail will take your outfit to the next level and will no doubt have you in the running for homecoming queen.
Corset Detailing
Corsets are back, but don't worry, we're not talking about the ones you can't breathe in! Inspired by everyone's favorite Regency-era duchess, this modern take on a corset adds a flattering, supportive structure to a strapless dress that will help you step out in comfort and style. Who knows, it might help you catch the eye of a lucky duke… or the cutie from your chemistry class!
Ready to find your perfect 2021 homecoming dress and rock out on the dance floor? Follow us on Instagram, Pinterest, and Facebook for more homecoming dress ideas, or click here to book an appointment to try on styles IRL!
Related Posts: