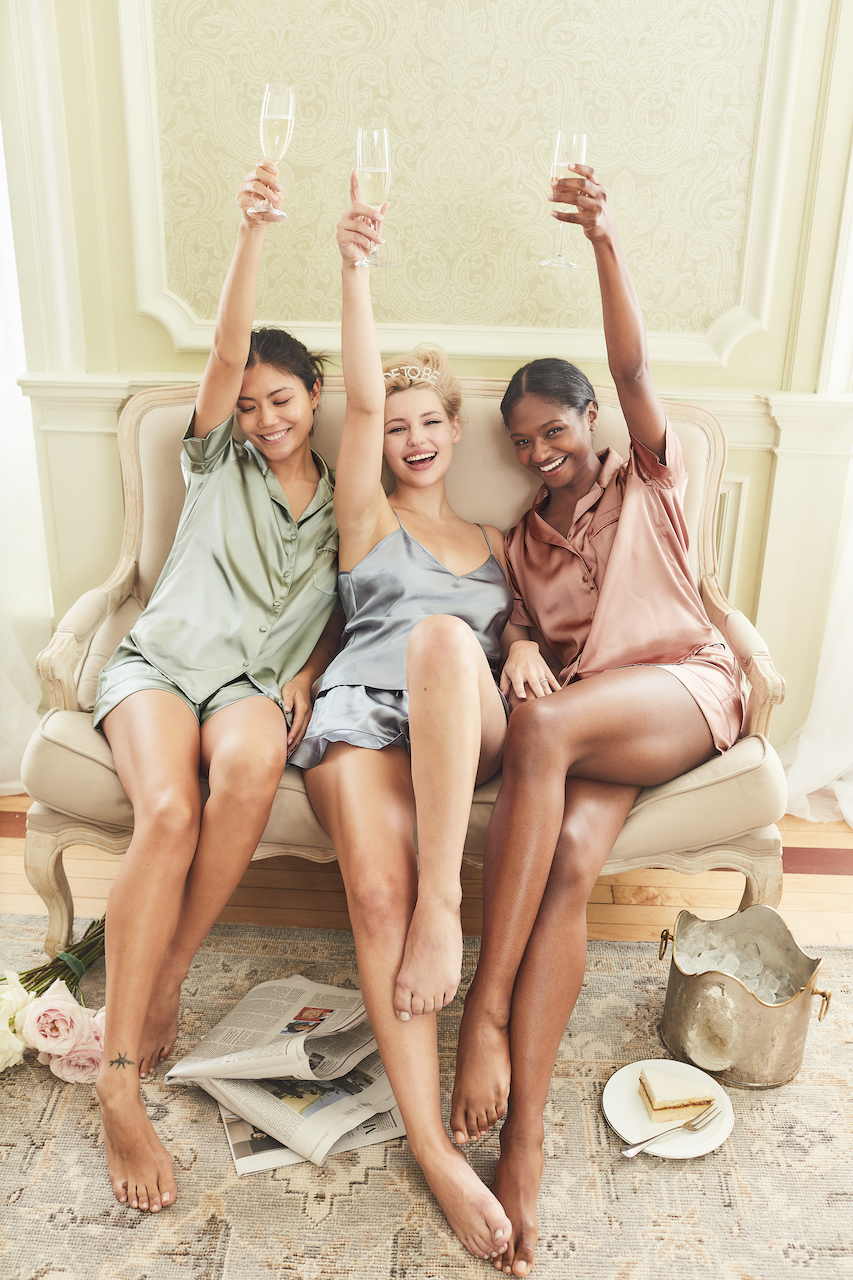 02 Feb

How to Propose to Your Bridesmaids
7 Ways to Pop the Question to your Besties
You've said yes to your soulmate, and now it's your turn to propose! No matter if you're planning on having 1, 4, or even 28 bridesmaids in your bridal party, we love the idea of planning a special bridesmaid proposal for each of your besties. You may be asking yourself, "how do you propose to your bridesmaids?", and if you are, you're in the right place. From proposal boxes to flowers, or even a simple text, here are our top seven ways to pop the question to your gal pals!
Bridesmaid Proposal Box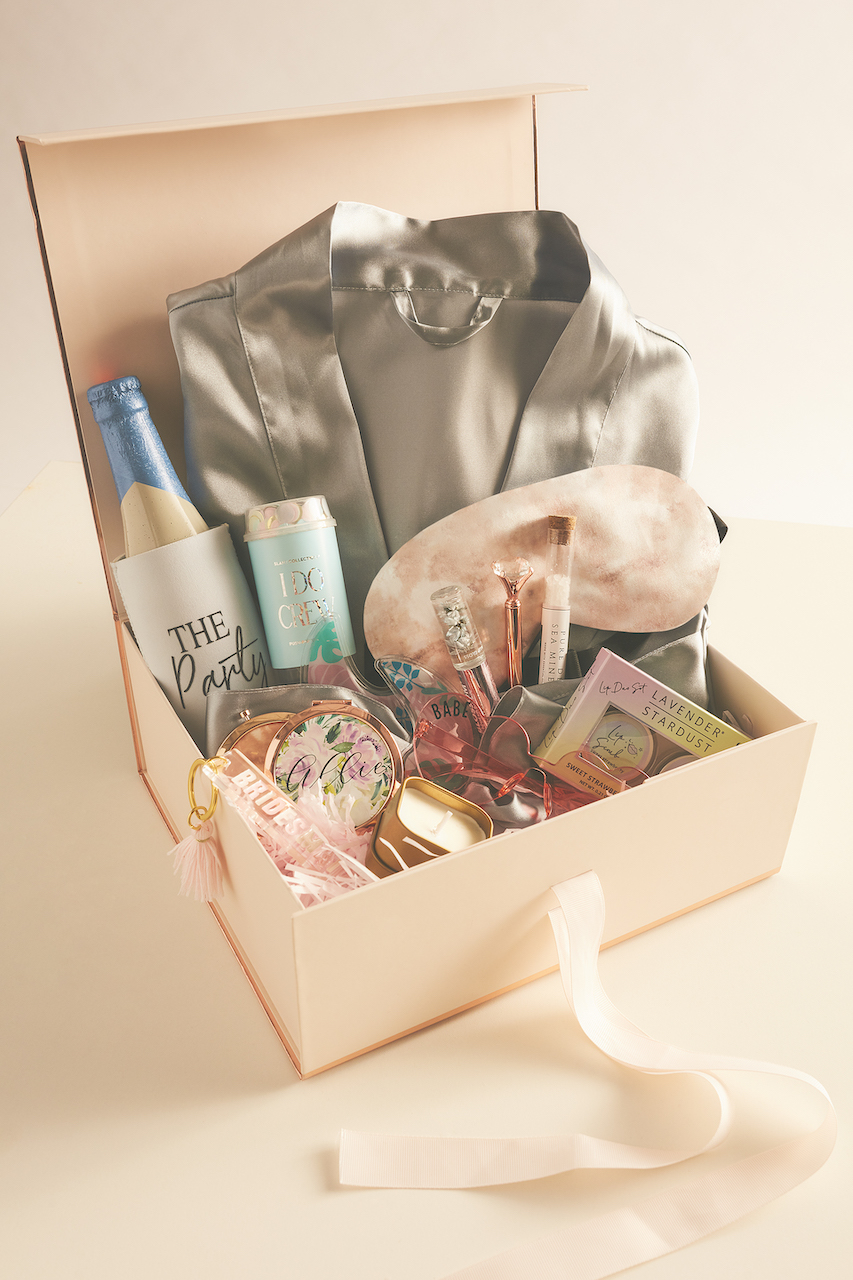 A favorite among 2021 brides was the bridesmaid proposal box. These curated (and very Instagrammable) gifts boxes are a great idea if you're looking to give your besties something special. And making one is easy: just select a box, fill it up, and gift them this sweet surprise. Our must-haves for a bridesmaid proposal box include a mix of personalized gifts and items for the big day like getting ready robes and makeup bags.
Host a Wine Night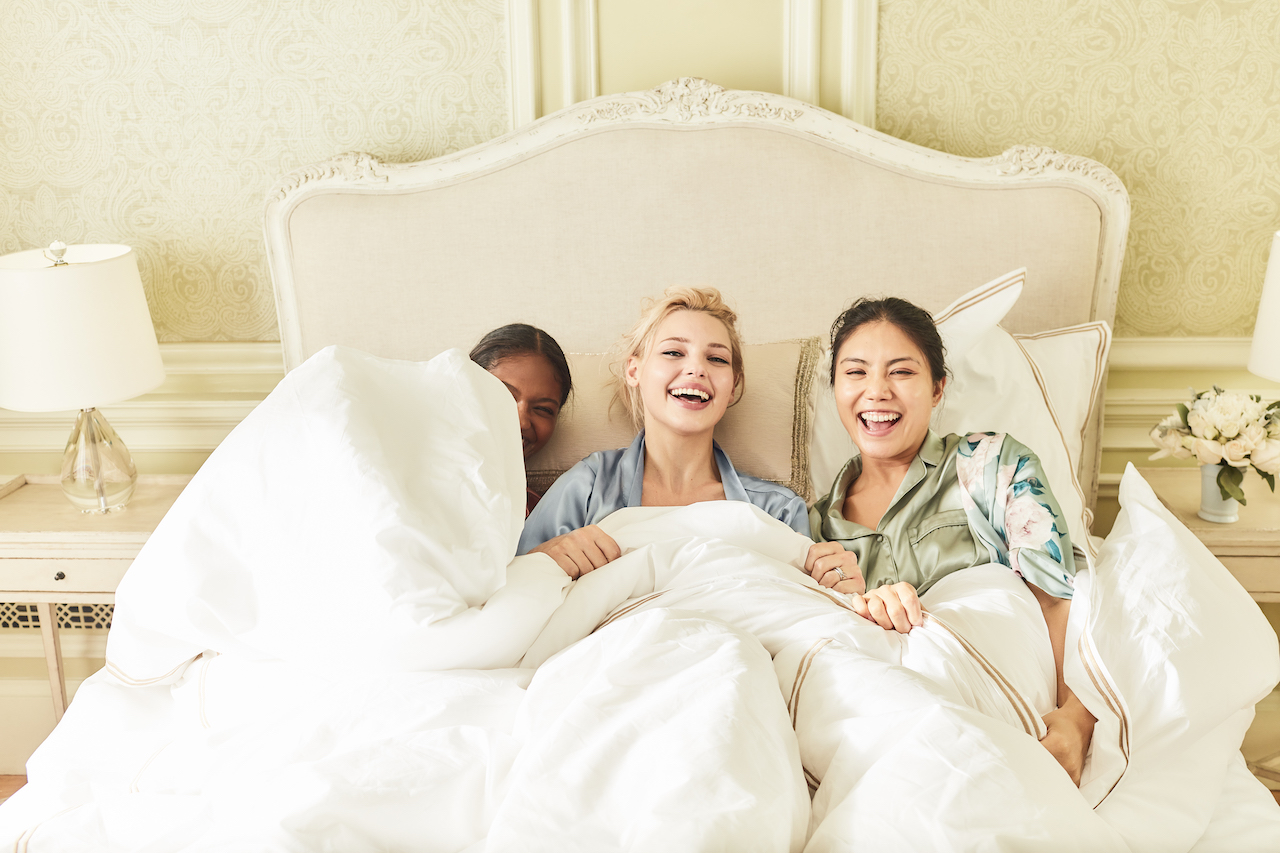 Style 4823, DBWINELABELBM, 4754
Nothing is better than a night in with your gals. And what pairs perfectly with a night in? Wine, of course! We love the idea of hosting a wine night to not only pose the question to your soon-to-be-maids but to talk all things wedding-related. These peel & stick wine bottle labels are such a cute and unique way to ask. Plus, gift them each one of these fun glasses and you're guaranteed to seal the deal.
Send Flowers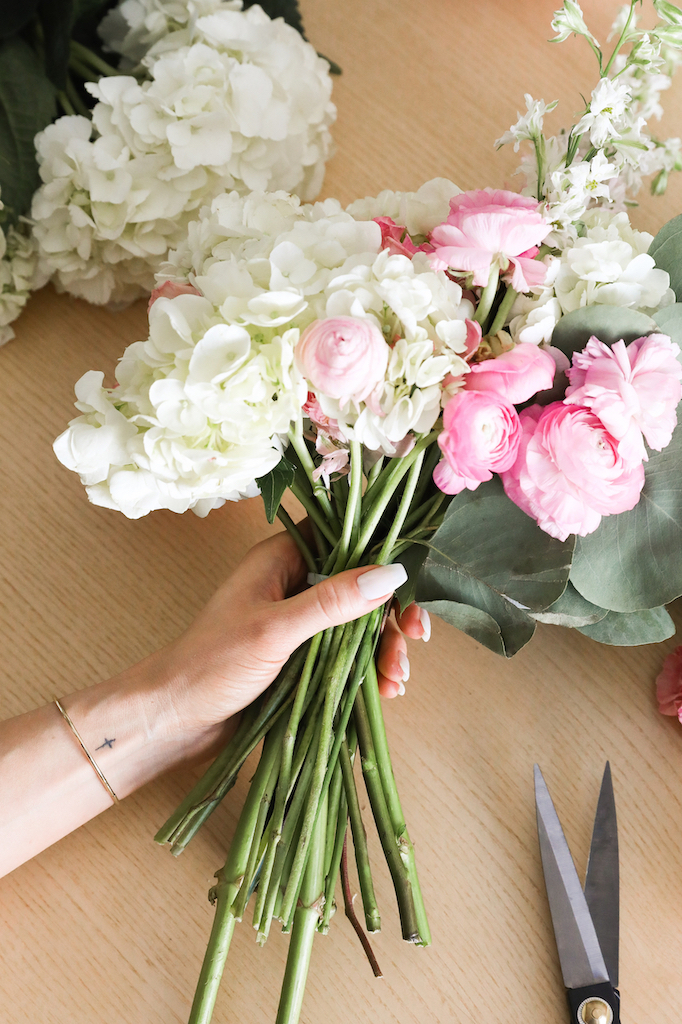 Everyone loves getting flowers! Whether your friends live close or far away, surprise them with a lovely bouquet of flowers they'll appreciate and put on display. Simply add a note asking if they'll stand by your side on the big day for a sweet & sentimental touch.
Personalized Jewelry
Style VG2012G01, EB3145SPFL & DB20100120
For something special your friends can wear time and time again, we love the idea of gifting jewelry. These charm bracelets and necklace are a perfect way to propose with their cute little sayings like "I couldn't tie the knot without you." The best part is that your leading ladies can also wear these on the big day.
Invite your Besties to Brunch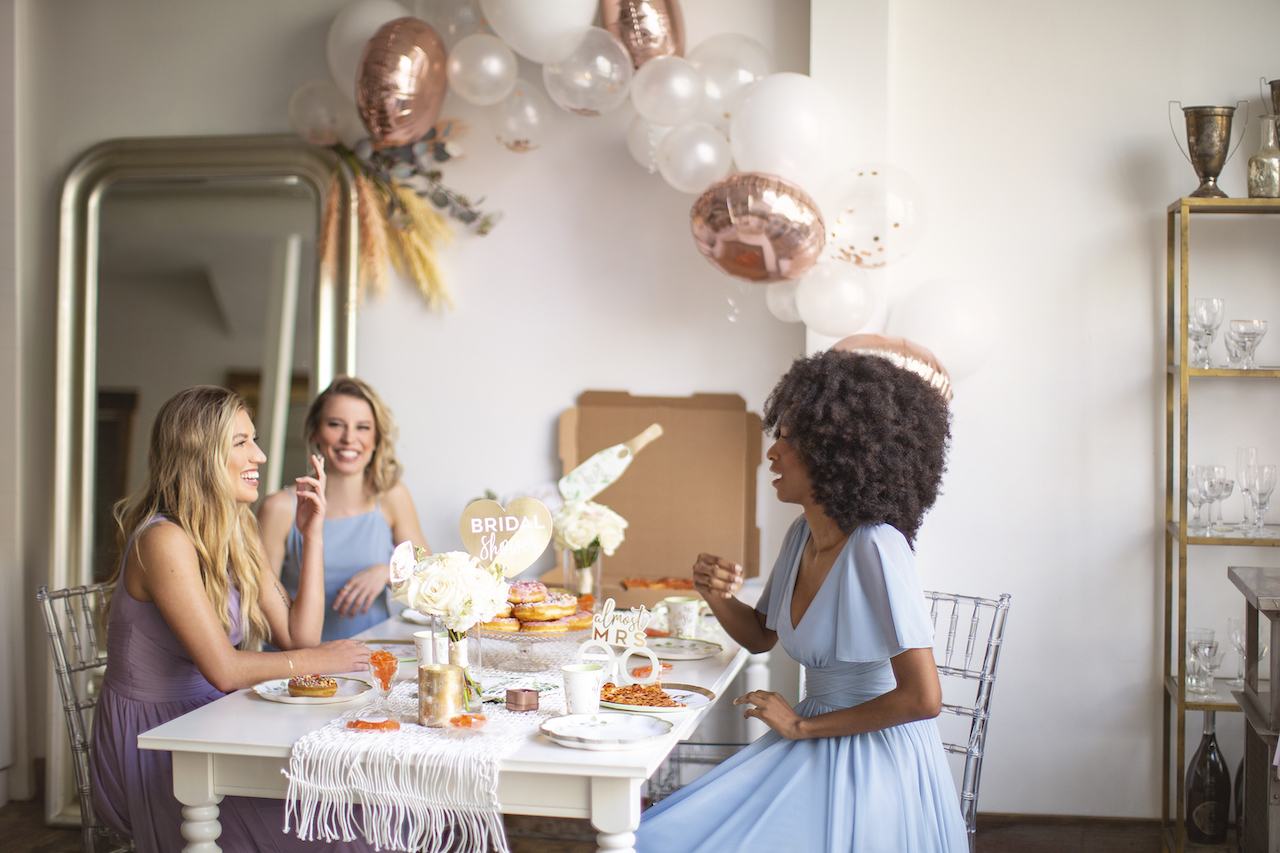 Invite your dream bridal party to your favorite brunch spot and spoil them with yummy food & refreshing drinks. Once you pop the question, you're guaranteed to receive a chorus of "yes!" Celebrate with another round of drinks and enjoy the rest of your brunch chatting weddings details or start talking about your dream destination bach party.
Send a Text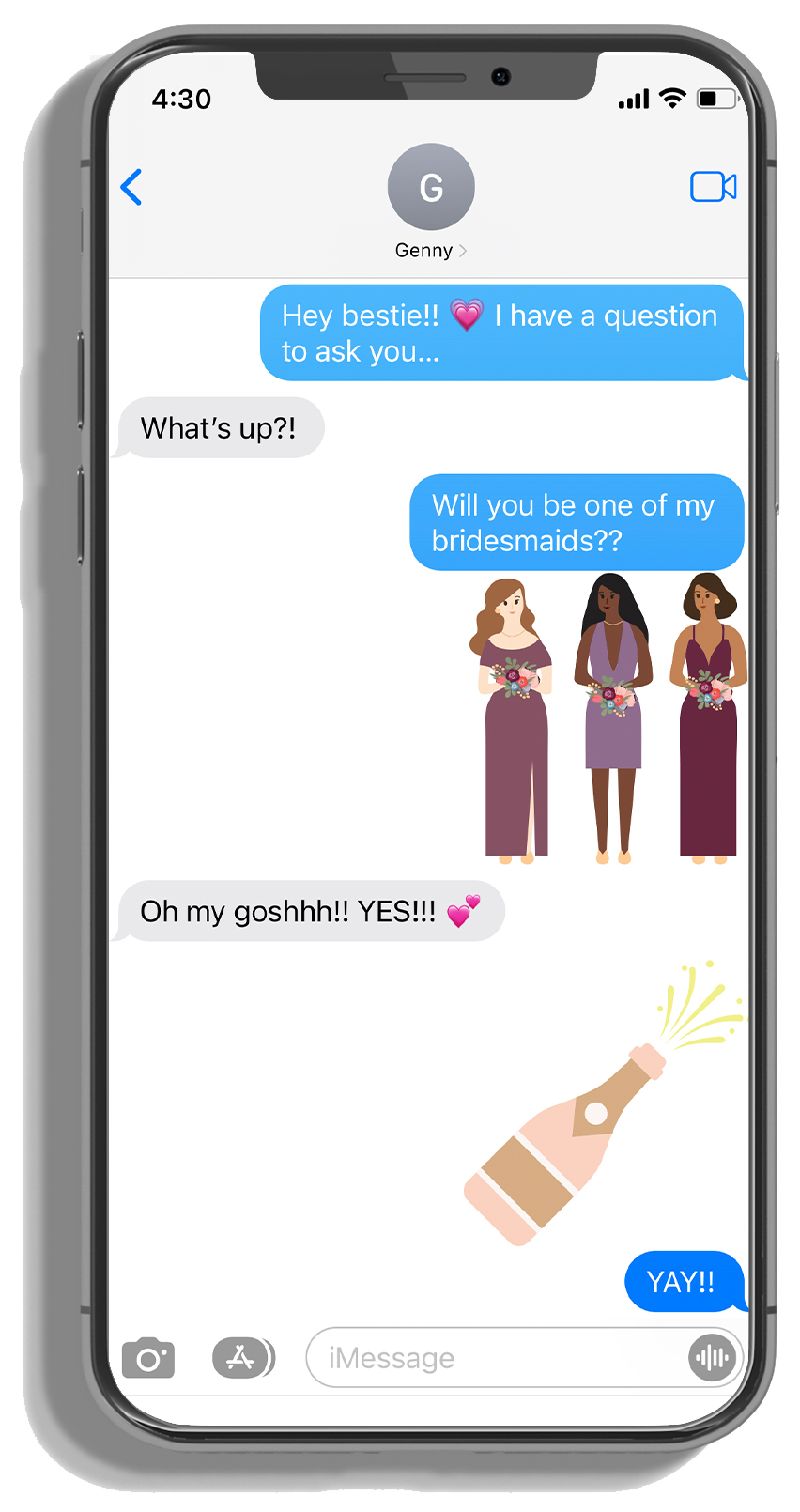 For the bride who's looking to keep things lowkey, you can't go wrong with a simple text. Send a more personal message to each member of your party or start your "I Do" crew group chat. Dress up your message with some fun BrideMojis™ and you're guaranteed to get a "yes" from all your leading ladies.
Send a Card
One of the simplest (& sweetest) ways to propose to your bridesmaids is with a handwritten card. We recommend adding a few of your favorite bestie photos to show how much you love them. Continue the theme post-wedding with a "thank you for being my bridesmaid" card to express just how much you appreciated their help through your wedding journey.
Ready to start planning your bridesmaid proposals? Check out your local store to browse gifts options or shop all styles online at davidsbridal.com.
Planning a wedding? Sign up for our Diamond Loyalty program—it's free! Follow us on Instagram, Pinterest, and Facebook for more ideas on how to propose to your bridesmaids, or click here to book an appointment.
Related Posts: