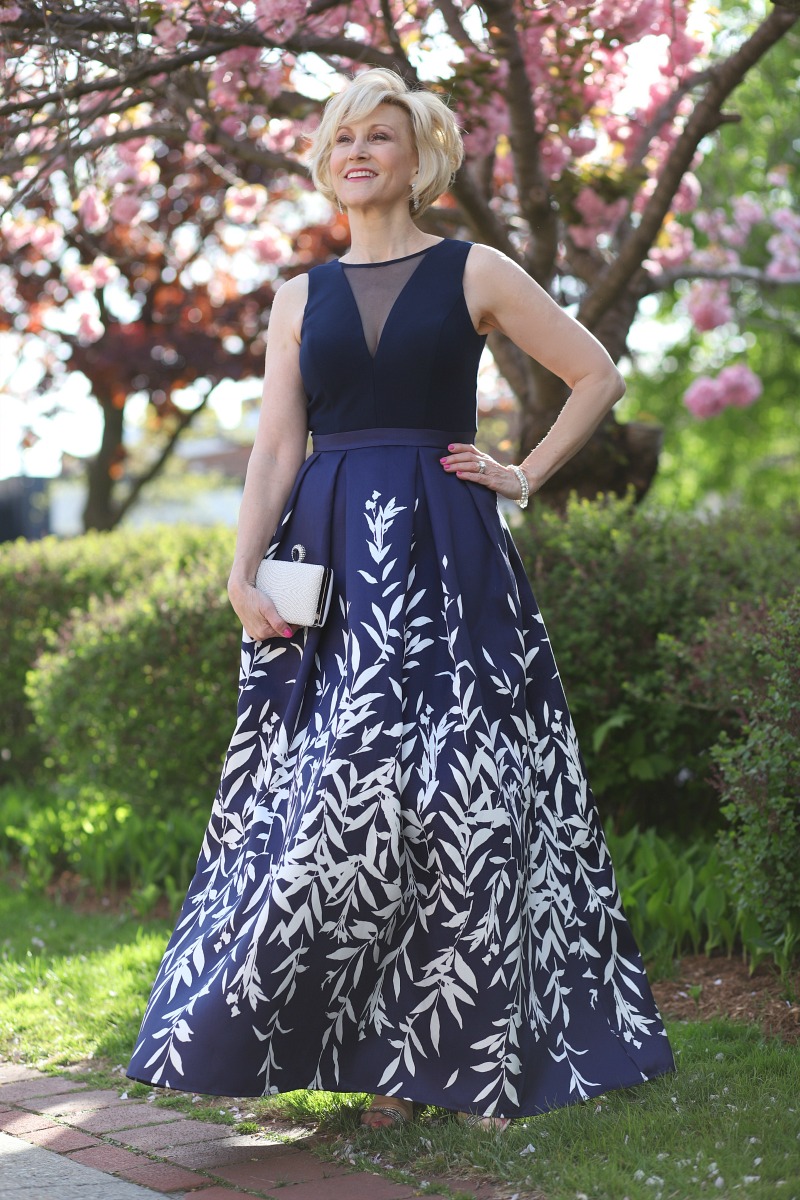 19 Jun

Mother of the Bride Dresses for Different Body Types
How to choose the best mother of the bride dress for your shape.
Next to the Bride, the Mother of the Bride (and groom)  are pretty special, so it's important to look the part. What do you wear to look chic and stylish when you are greeting guests, being ushered down the aisle, and posing for family wedding photos? A dress that suits your body type is key to looking and feeling your best on your daughter or son's wedding day. It all comes down to highlighting your best features and downplaying your less-than-favorite parts. Deborah Boland, a certified image consultant and founder of Fabulous After 40, offers some tips and a variety of mother of the bride dresses for different body types.
Love Your Legs
When your legs and are long and lean, show them off in a short sheath dress and a fabulous pair of shoes that will draw the attention to your gorgeous gams. Wearing a high-low dress can also be very chic on leggy gals.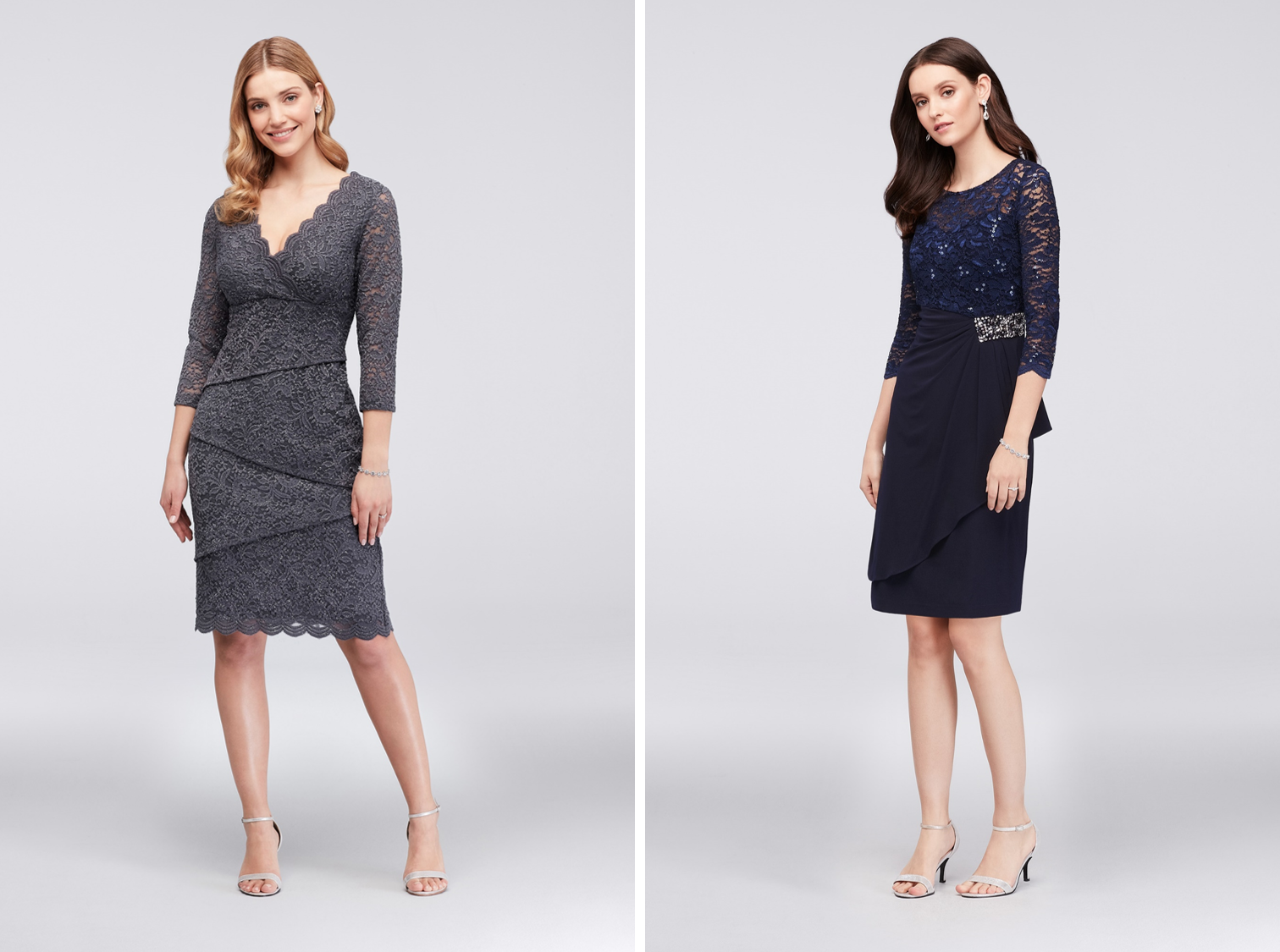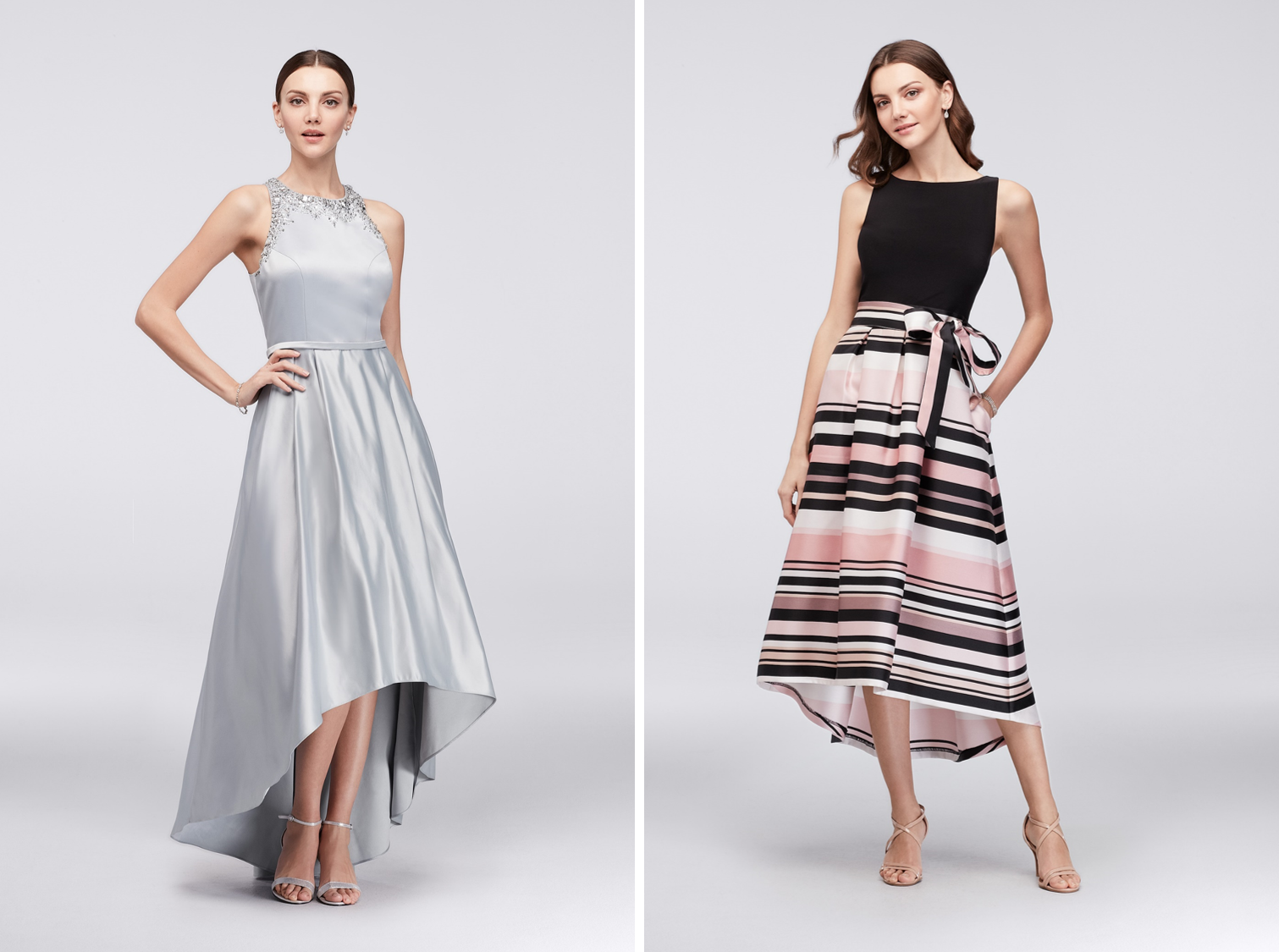 Conceal Your Arms 
If your arms are a little flabby and you're not happy, then there are easy ways to cover up without looking matronly. Try a Mother of the Bride Dress with 3/4 length sleeves, lace sleeves, or a gown with a sheer chiffon cape overlay. You'll get the coverage you need without looking dowdy.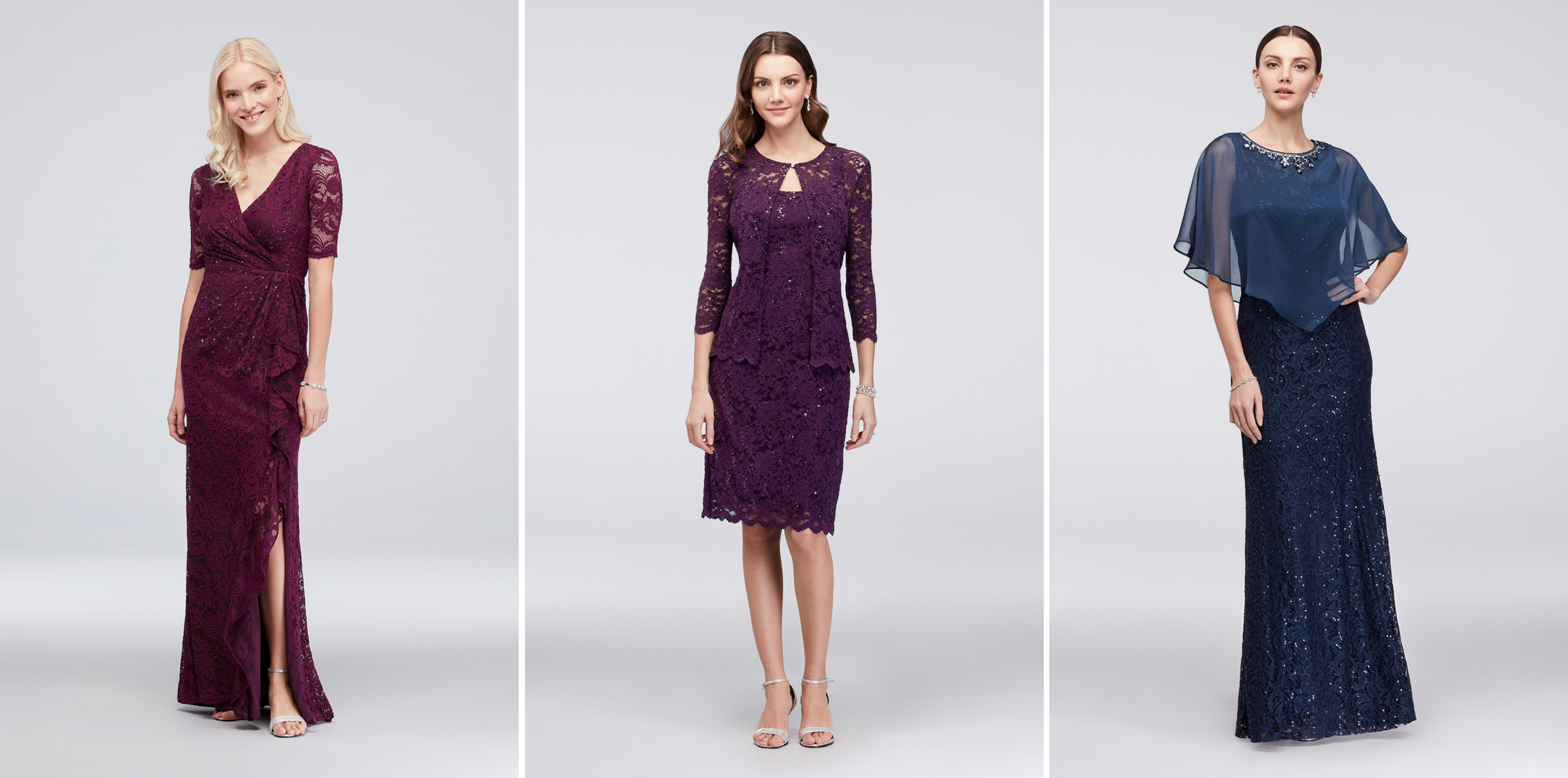 AP1E203583 & 6495598 & 3523DB
Define Your Waist
The best way to highlight a small waist or add definition at the waist is with a fit and flare dress.  Dresses that hit at the natural waist and feature a fuller skirt are flattering because they create that perfect hourglass shape. Soft diagonal ruching or pleating at the waist will also does wonders to create the illusion of curves. Here's my personal pic for a chic mother of the bride dress that defines your waist.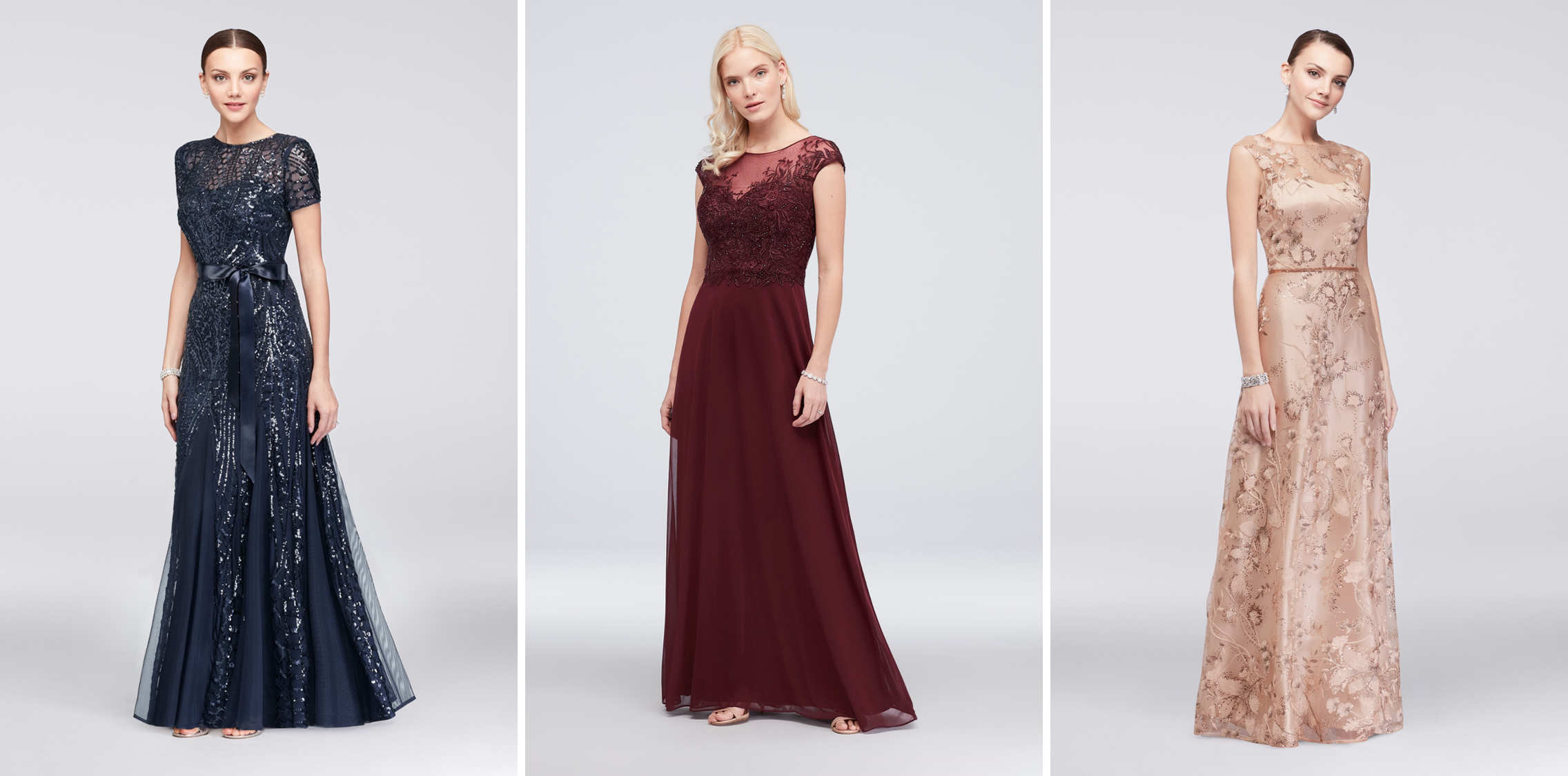 Camouflage Your  Tummy
Got a bit of a jelly belly? Dresses with soft draping or ruching also help with this problem. An empire waist dress which cuts right underneath the bust, but slightly above the waist, emphasizes décolletage and helps to camouflage the tummy.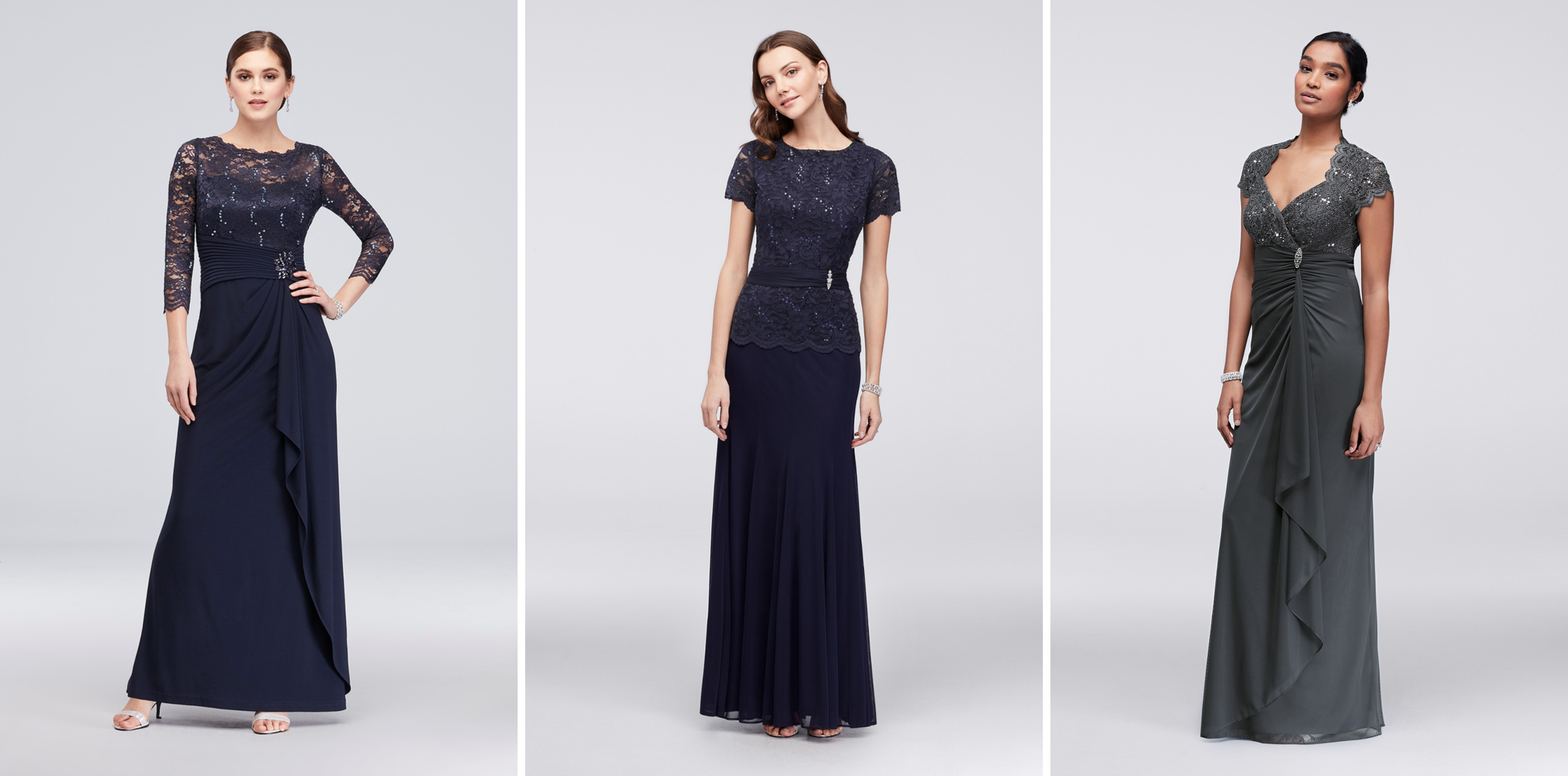 Show Off Shoulders
Beautiful shoulders are easy to show off in an elegant off the shoulder gown, a very popular style at the moment. Strapless also works but a one-shoulder cut gives full busted gals more coverage and support.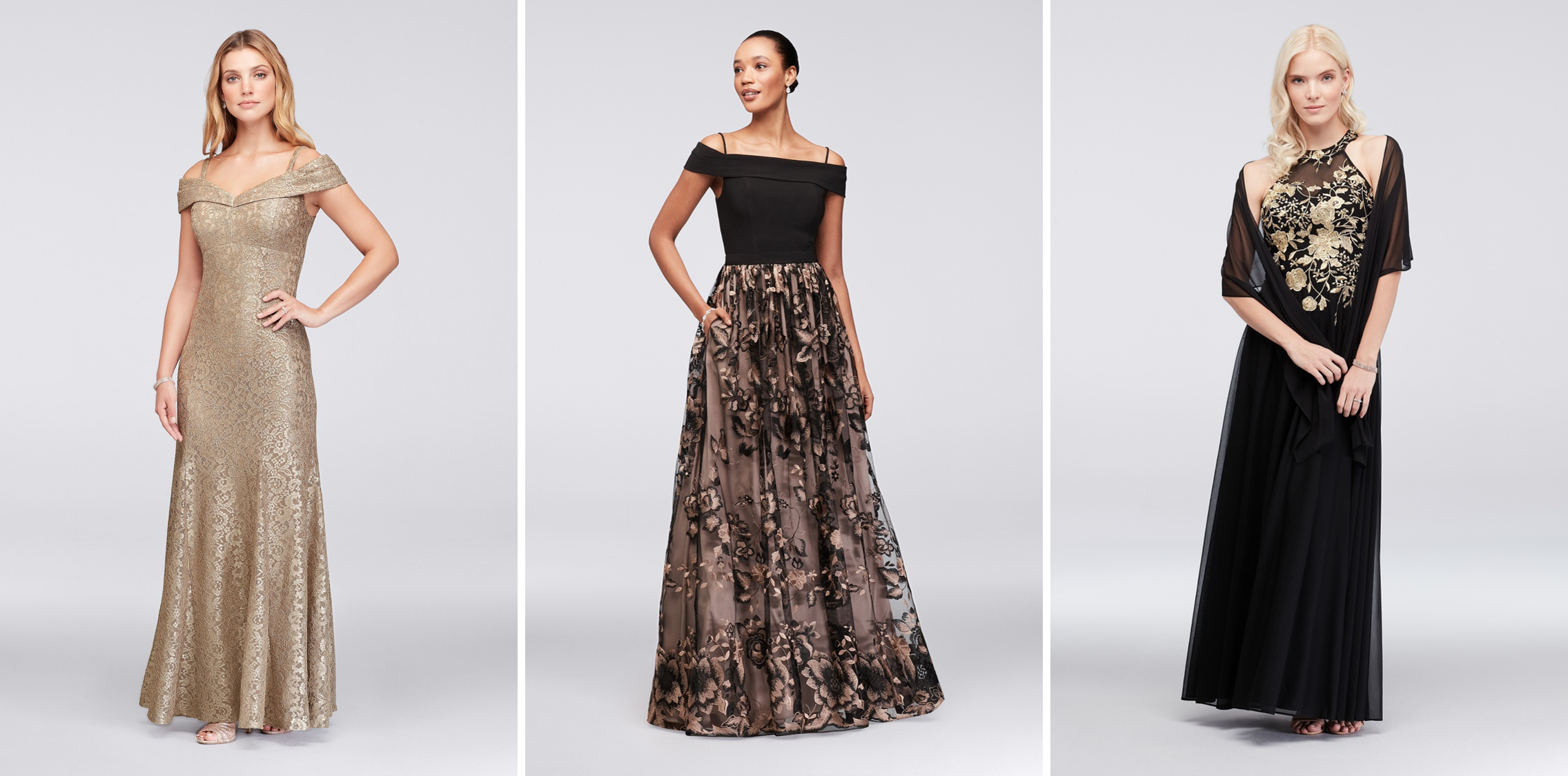 Accentuate Arms
Halter shoulder gowns are also a beautiful way to highlight toned arms. Tank style dresses are also striking when your arms are awesome.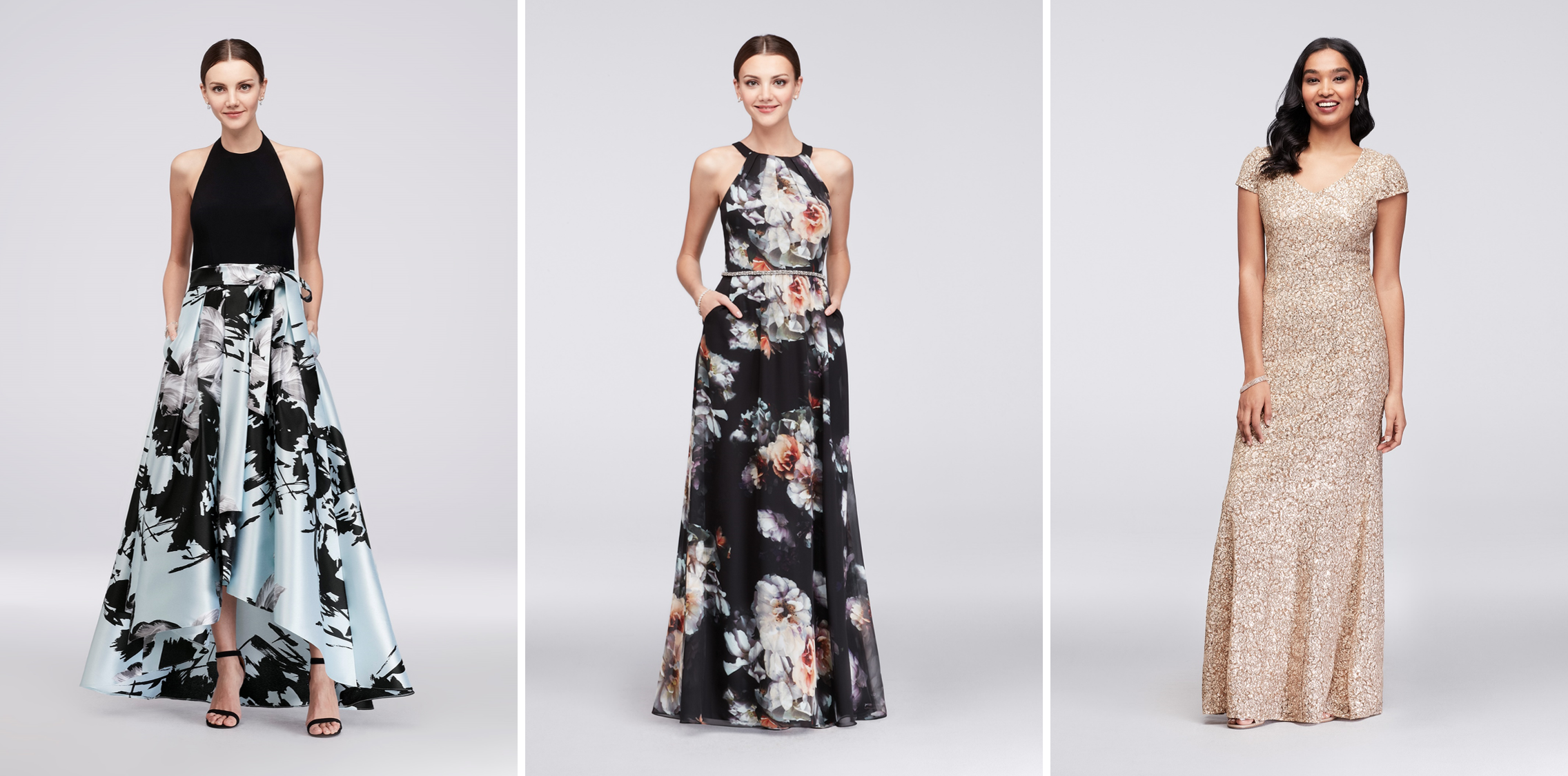 Minimize Hips
When your hips are wide look for a dress that makes your shoulders look broader to even things out.  Boat necklines off the shoulder and portrait collars work or try a dress with some embellishment up top like beading or sparkle to draw to eye up and away from your problem area.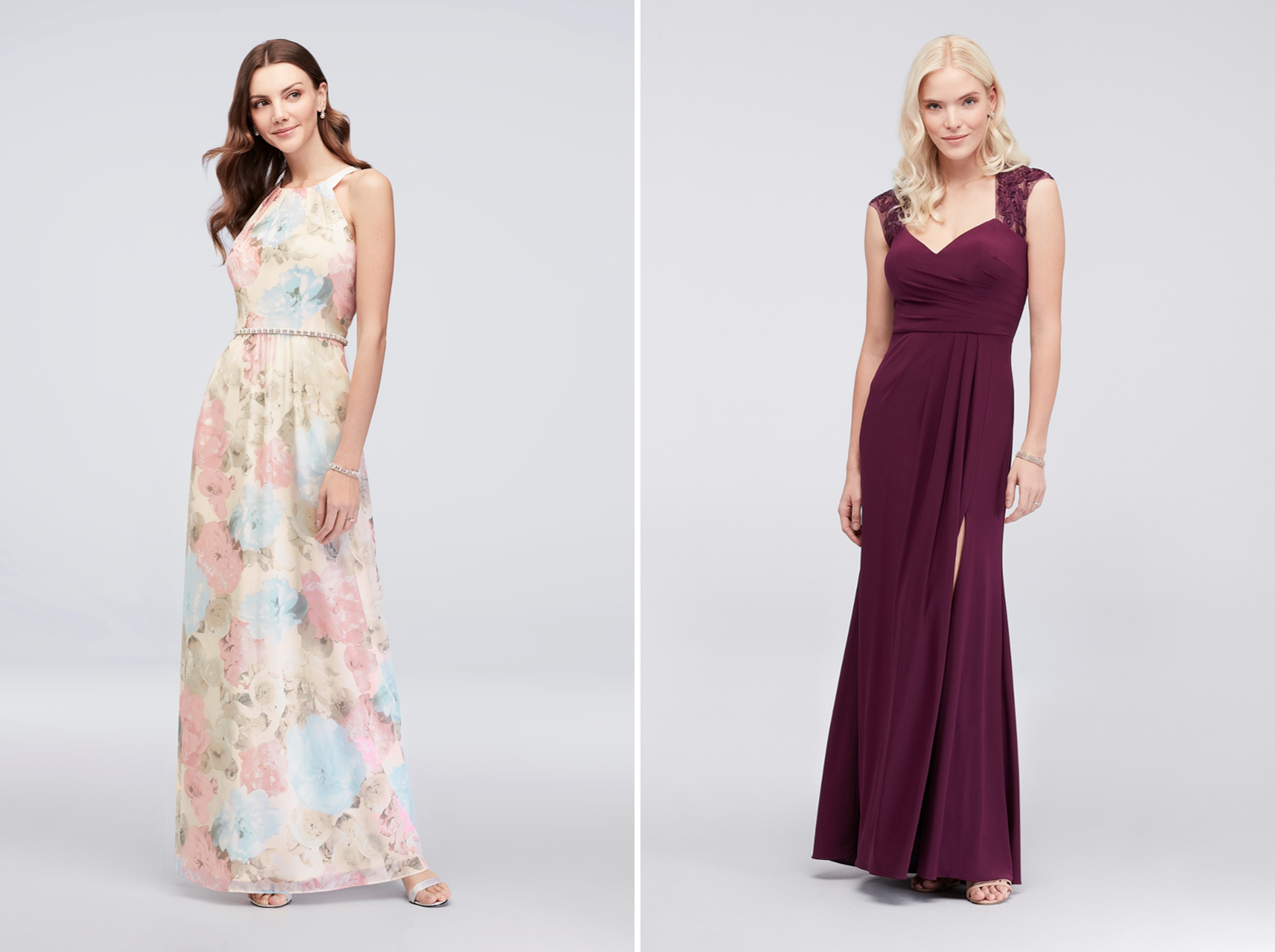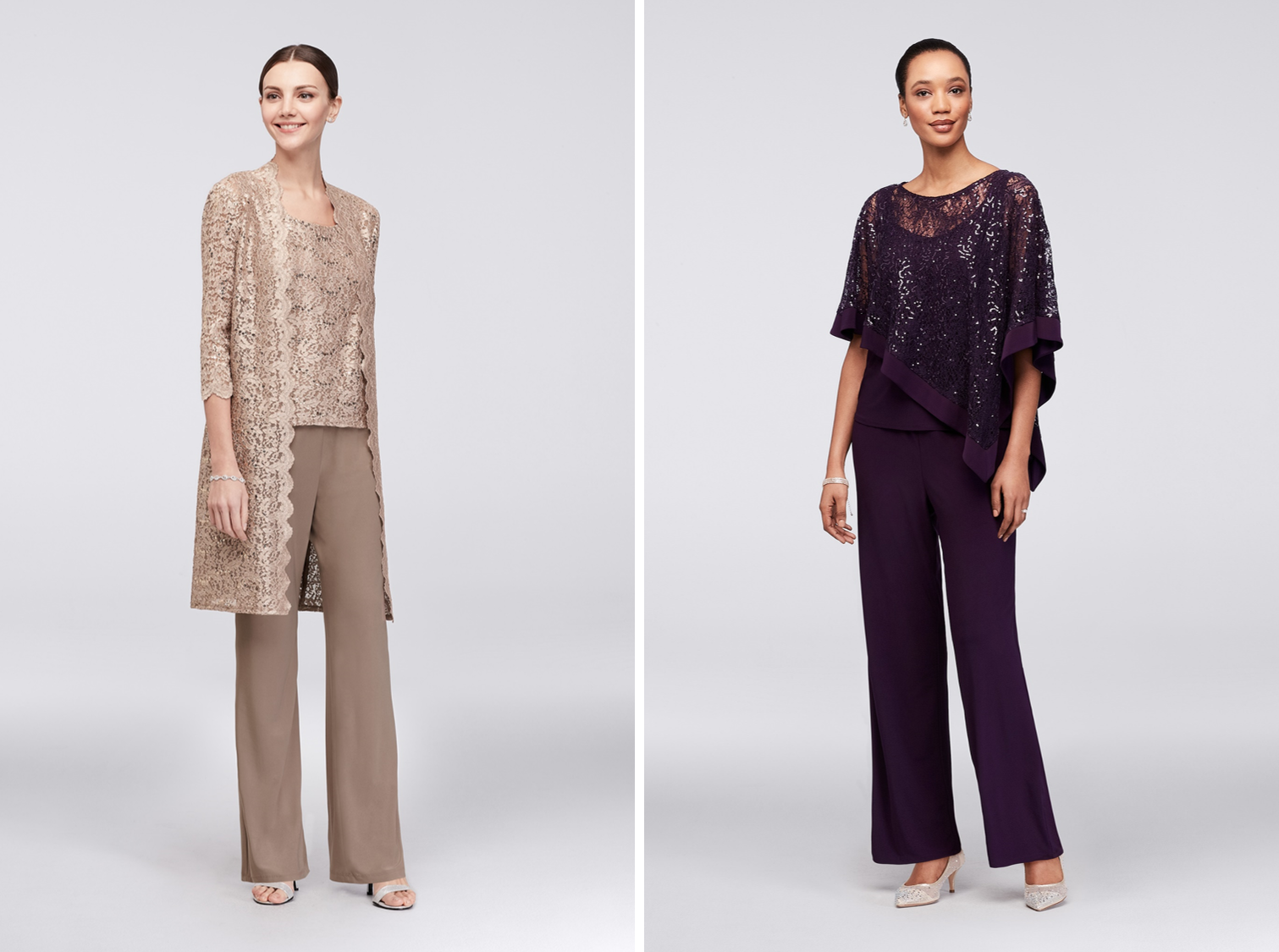 Your body is beautiful no matter what shape it is and there are so many beautiful Mother of the Bride dresses for different body types! Finding the perfect dress to flatter your figure  is easier than you think; it's simply about creating some balance. For more guidance as you shop for a mother of the bride and mother of the groom dress, check out Deborah's guest post on mother of the bride  dress etiquette and explore our Mother of the Bride and Groom inspiration and guidance.
Deborah Boland is the creator of Fabulous After 40, the go-to place for practical fashion and beauty advice to help you look Age-Amazing! Follow her @fabulousafter40. 
Related Posts: