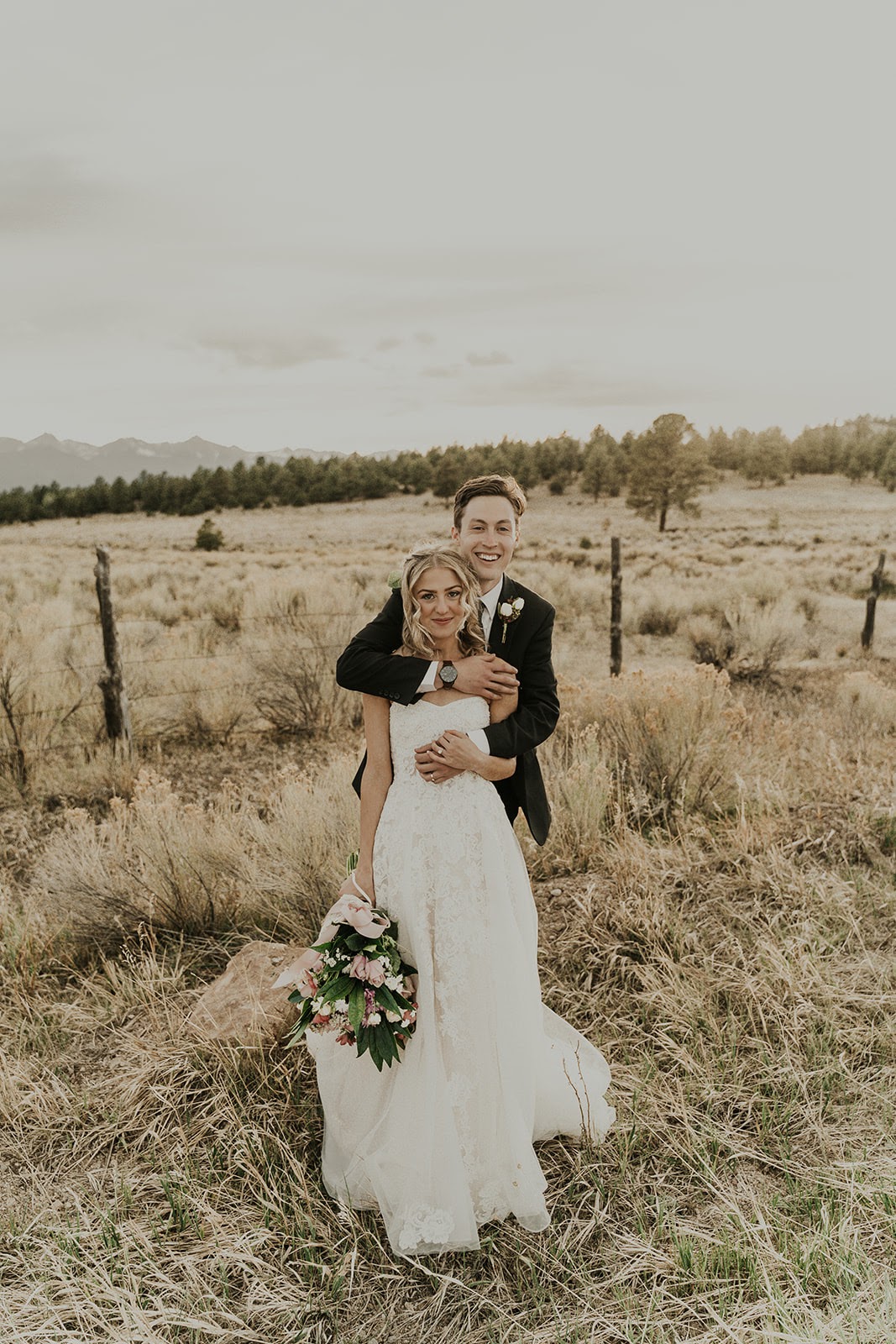 26 Jan

Real Wedding: Brooke & Jacob
A Last-Minute Mini-Wedding in Westcliff, Colorado
Real weddings are so inspiring! To get you in the mood to plan, we asked real brides to spill the details on everything from getting engaged to finding their wedding dresses to the special touches and surprising moments that made their celebrations completely one-of-a-kind. Brooke and Jacob postponed their original wedding plans but decided to tie the knot in a last-minute ceremony with friends and family. Read on for more from their A last-minute mini-wedding in Westcliff, Colorado.
How did you and your fiancé meet? And how did you know that he was the one?
We met freshman year in college through my twin brother. We started to intentionally date in January of that year. He was my first and last boyfriend. He is a man of faith and high character, he works harder than anyone I know and leads with gentleness and kindness. As I got to know him more, I found all these characteristics to hold true. I knew he was the person I wanted to spend the rest of my life with.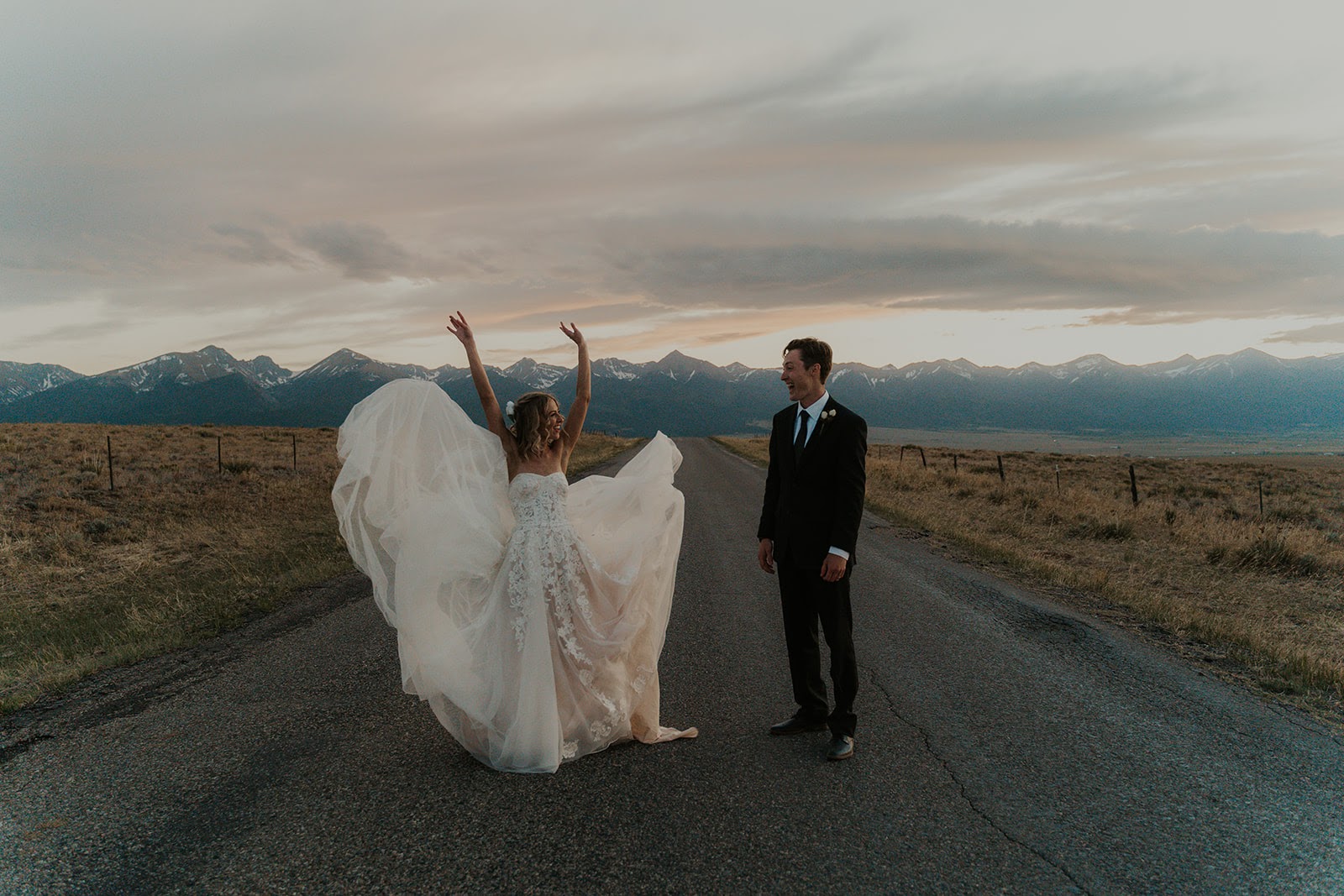 Tell us your proposal story!
Where do I begin… We both wanted it to be a surprise and that is hard when the girl is hopeful and expectant of a proposal. We knew we wanted to get married after graduating college, so, a proposal senior year was fair game. Jacob and I share a love for hiking and adventuring. Since we did not have the opportunity to camp with friends in the summer, Jacob had the idea to plan a trip with some of our close friends on a fall weekend. Before suggesting the weekend trip to me, he secretly communicated with our friends (one being a photographer) and shared his plan to propose.
When they were all on board, he told me about his idea to camp with friends, and of course, I thought it was a great plan. Then, he had me start a group message with all the friends to plan the trip. They played along (because the trip was secretly already planned). We ended up going to a cabin in Arkansas. Our photographer friend suggested we go on a sunrise hike to Whitaker point (again, this was Jacob's idea filtered through our friend).
When we got to the lookout, the photographer began to take pictures of Jacob looking out at the sunrise. He asked me to join for a cute couple picture. After a few shots, Jacob turned to me and went down on one knee. I was in shock and was overwhelmed with joy and love. Of course, I said Yes, and we had a day full of celebration to follow. It was one of the happiest days of my life!
How did you decide on your wedding day look?
I was open to any style and chose the dresses that caught my eye. My mom and some close friends helped pick out dresses. I tried on a few that we liked a lot, but, when I tried on THE dress, everyone stood up with chills all over their body. It was the tear-jerking moment that sold the dress. The dress is lightweight and accentuated my petite figure but still made me feel like a princess.
Do you have any shopping advice for future brides?
Be open-minded because even if you think you know EXACTLY what you want, you may be surprised by what you will fall in love with. Choose dresses for fun, because who knows, a dress you never expected may be the perfect one for you. Wait for the moment that you imagine yourself walking down that aisle feeling like the most beautiful bride in the world.
What was your favorite detail about your look?
I LOVED the lace and the fact that it was a ballgown that didn't overwhelm my small figure. I loved that it was lightweight but still had beautiful layers. Of course, the train made me feel like a true bride. It was perfect.
How did you feel when you knew that you #foundtheone?
I felt like a princess and a true BRIDE. My dreams met with reality at that moment. When I looked in the mirror, all I could think of was the fact that I was getting married. I felt like the dress emphasized my small waist and flowed so beautifully. The lace was delicate and not overwhelming. I liked everything about it. I couldn't say no! My mind was screaming YES!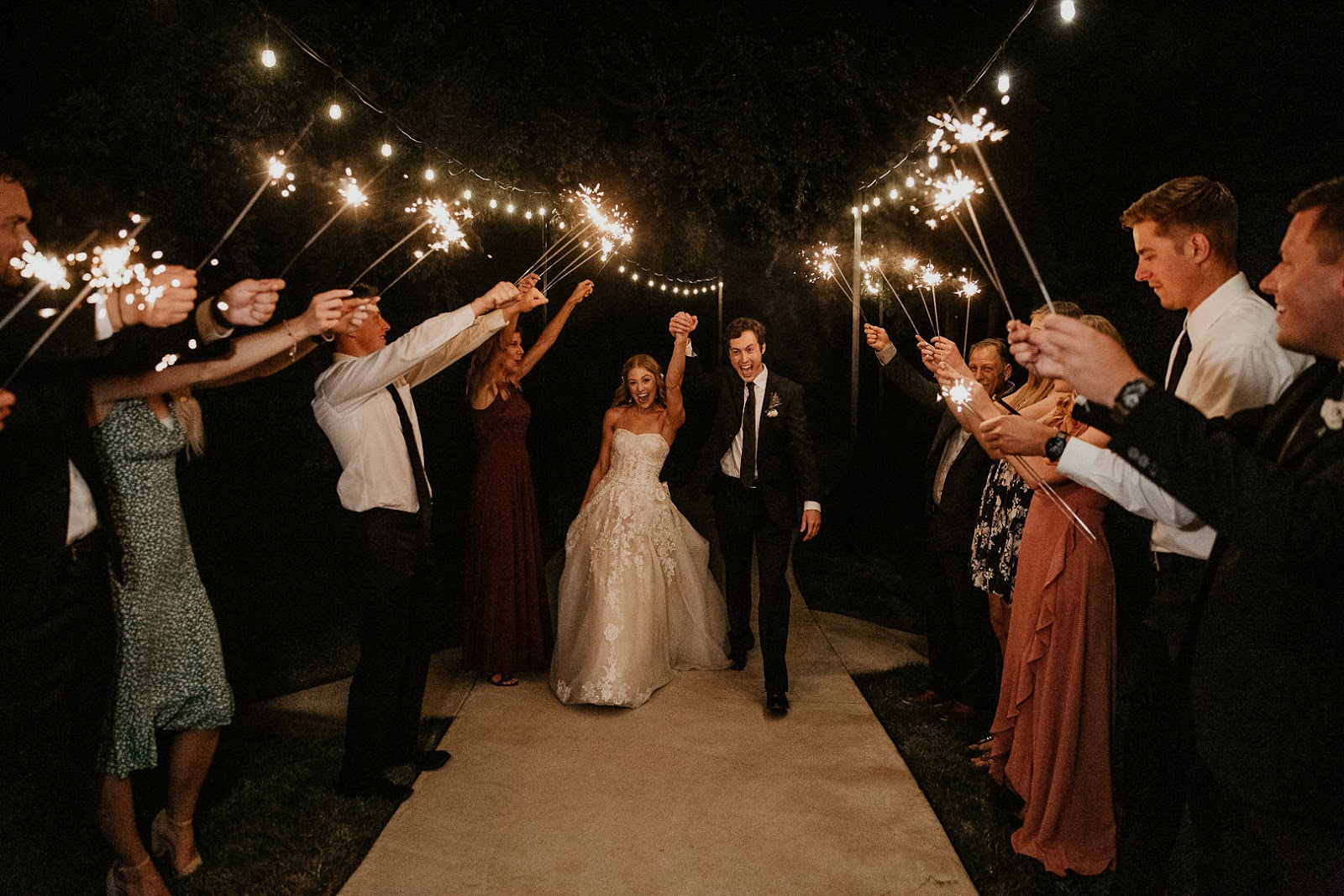 Tell us about your wedding day!
Was there a highlight or most memorable moment of the day? My highlight was when my husband turned around with a tear-filled face to see me for the first time walking down the aisle. We were both filled with emotion and shared such an intimate moment when we grabbed each other's hands. We began our ceremony worshiping God, in the middle of the woods with our family. It's hard to describe just how perfect and beautiful that moment really was.
Did anything funny or unexpected happen?
Our entire wedding was unexpected. Due to COVID, we made the decision to postpone a wedding reception with family and friends until it was safer to gather. But we still wanted to get married on the wedding date originally set. So, two weeks prior to the wedding, we decided to have a wedding in Colorado (where I am from) instead of Tulsa. We got married on my grandparent's land in Westcliffe, CO with immediate family. Although it was unexpected and heartbreaking to suddenly change everything I had planned, it was the most beautiful and perfect day.
Is there something you wish you had known before the big day/while you were planning the wedding?
I wish I had been less worried about all the details to make the day perfect. I learned that no matter what the day looked like, it would be perfect as long as I ended the day getting married to the love of my life.
What was your favorite DIY or personal touch?
Our arch for the reception. Jacob built the arch and I did the flowers. It turned out more beautiful than I could ever imagine. We both felt very proud of ourselves!
What did you do to stay stress-free on your wedding day?
I spend time with Jesus to start my morning and had one on one time with my parents. I got ready with my childhood best friends and TRUSTED that everything would come together. Also, I came to a point (after the chaos of changing our entire wedding) of not worrying about any tiny details. My only focus was marrying the love of my life that day.
What's your best wedding planning advice?
The best advice I can give is to trust your ability to plan and the people who are helping you. They will put it all together on your wedding day. It's like magic. Hire a day-of coordinator if you can, because you shouldn't be allowed to lift a finger on your wedding day. Brides that are planning weddings in the midst of this pandemic should remember that the goal of the day is to get married no matter what happens. It is not about the details; it is about the unity of you and your spouse. Don't miss out on the beautiful commitment you are making.
More Details:
Date: May 23, 2020
Location: Westcliffe, CO
Dress Style: Sheer lace and Tulle Ballgown in Ivory/Champagne
Photographers:
Noah Benda @nbproductions.co
Jake Reib @reibphotography
Love this Colorful DIY Micro-Wedding in Texas? Read more real wedding stories here!
We know how important your wedding day and special events are to you and we are doing everything in our power to serve you! You can shop with us 24/7 at davidsbridal.com or come see us at your local David's Bridal. Plus we are here for you to help guide you through your wedding planning! See tips for starting to plan your wedding at home, shopping for your wedding dress online with confidence, and more on the blog.
Related Posts: