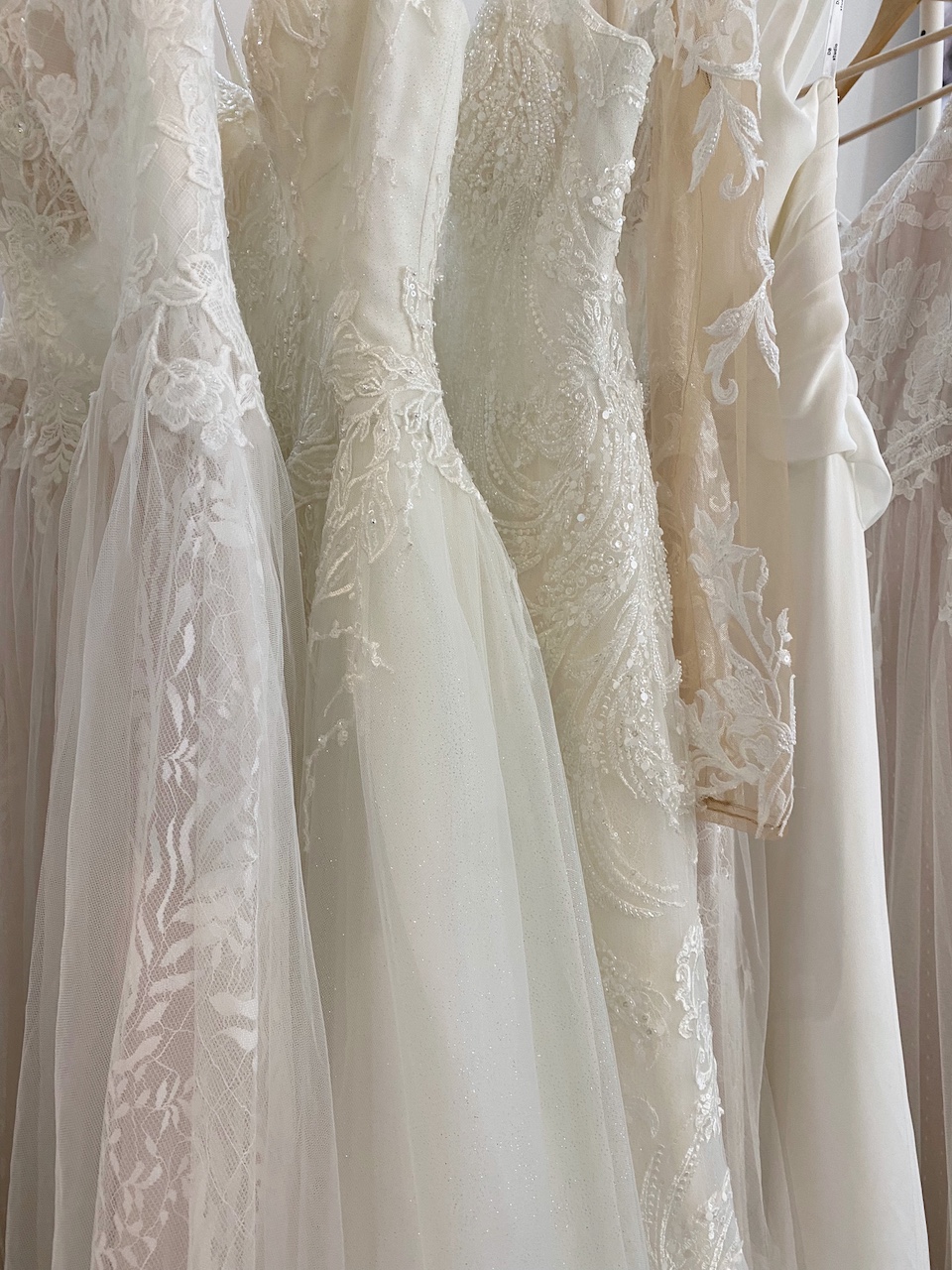 28 Apr

Fall 2022 Wedding Dress Trends and New Bridal Collections
Brand New & Beautiful
Getting married this year? You don't want to miss out on these trending bridal styles for the fall 2022 season. From dazzling details to chic coverage options, we've got all the insider details on what brides will be wearing this season. Keep reading for your must-have fall 2022 wedding dress trends, plus a sneak peek at our upcoming fall 2022 collection!
Shine Bright Like a Diamond
Style SWG938, SWG943 & SWG941 (coming soon!)
It's no surprise that brides are currently crushing on all things that sparkle & shine. No matter your preferred aesthetic or desired silhouette, our newest collection is full of styles that shine for every bride—think shimmering bodices, embellished trains, and lustrous satin fabrics that glisten in the sun. This fall 2022 season, wedding looks from our exclusive Galina Signature collection are guaranteed to shine bright & make a statement. In addition to big bling, explore styles with jaw-dropping details like low backs, plunging v-necklines, and even fun pops of feathers.
Modern Coverage
Style CWG933, MS251263 & MS251259 (coming soon!)
Bride's have asked and we're answering! This fall season, it's all about unique sleeve options for the big day. From puff sleeves to cap sleeves and every option in between, modern coverage is a must-have this fall season. Our personal favorite and most-loved sleeve style? Sheer illusion sleeves! This barely-there look offers just the right amount of coverage and adds interest to any gown. Curious which types of sleeves our brides are currently crushing on? Long sleeves are leading in the most sought-after style. Discover a new take on the long sleeve in our latest collection with fully embellished designs and lace-covered looks.
Boho Babes
Style MS251260, SDWG1086 & MS251261 (coming soon!)
The bohemian bridal style continues to gain popularity among brides and this season is no different! Stunning lace and blooming details adorn dresses to create a whimsical wedding look. A new favorite for this season is 3D floral appliques. These breathtaking designs look as if flowers are cascading right off your dress. We can't think of a better way to show off your free-spirited side on your wedding day than with a gown filled with beautiful botanic touches.
Drop It Like It's Haute
These looks are coming in haute! Make way for the hottest bridal trend to take over the scene. The drop waist! A bridal style favored by many in the previous seasons, this silhouette is gaining popularity among 2022 brides. A drop waist elongates the torso and flares out at your hips to give you an hourglass figure. Think this might be the bridal style for you? Our newest arrivals feature a range of drop-waist dresses. From bohemian details to dazzling touches, you're guaranteed to find the dress that fits your personal style.
Insider Look at Bridal Fashion Week
Want a closer look at our Fall 2022 collection? Click through to see images of our newest designs at bridal fashion week!
We can't wait to see which Fall 2022 wedding dress trends are our brides' favorites. Sign up here to be the first to see our latest styles.
Planning a wedding? Sign up for our Diamond Loyalty program—it's free!—and find local wedding vendors. Follow us on Instagram, Pinterest, TikTok, and Facebook for more fall 2022 wedding dress trends & inspiration, or click here to book an appointment.
Related Posts: