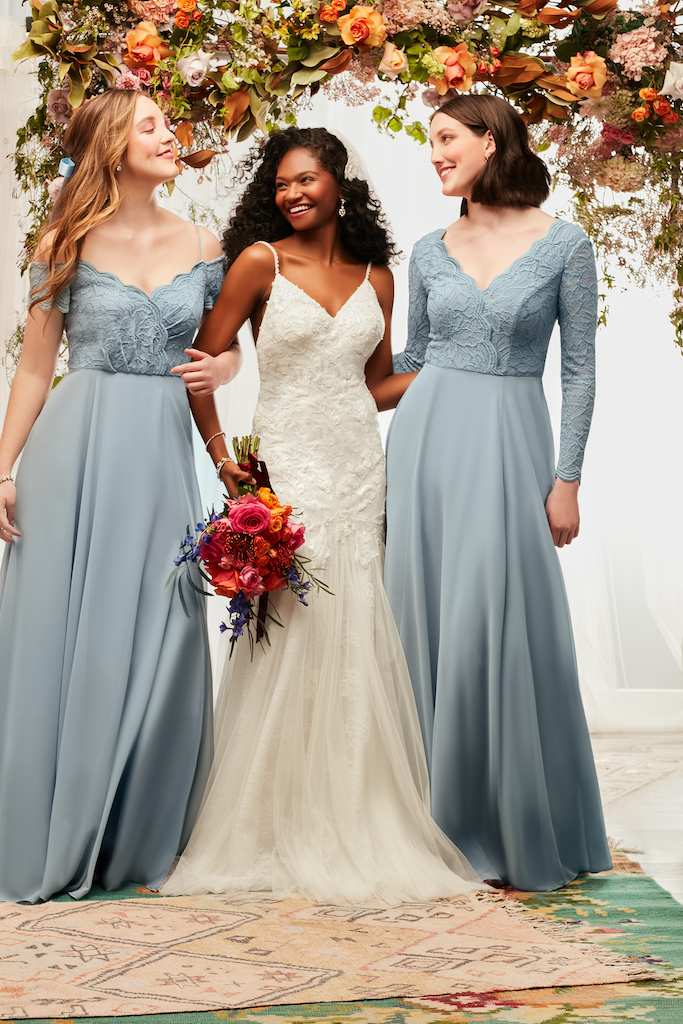 24 Jun

2021 Fall Bridesmaid Dresses
Falling For These New Bridesmaid Styles
We've walked through all the latest bridal trends for Fall 2021 and now it's time to give your supporting ladies their time to shine! The ultimate style guide is here with all the latest on 2021 Fall bridesmaid dresses and trends! Keep scrolling for an exclusive look into this collection.
A New Way To Shine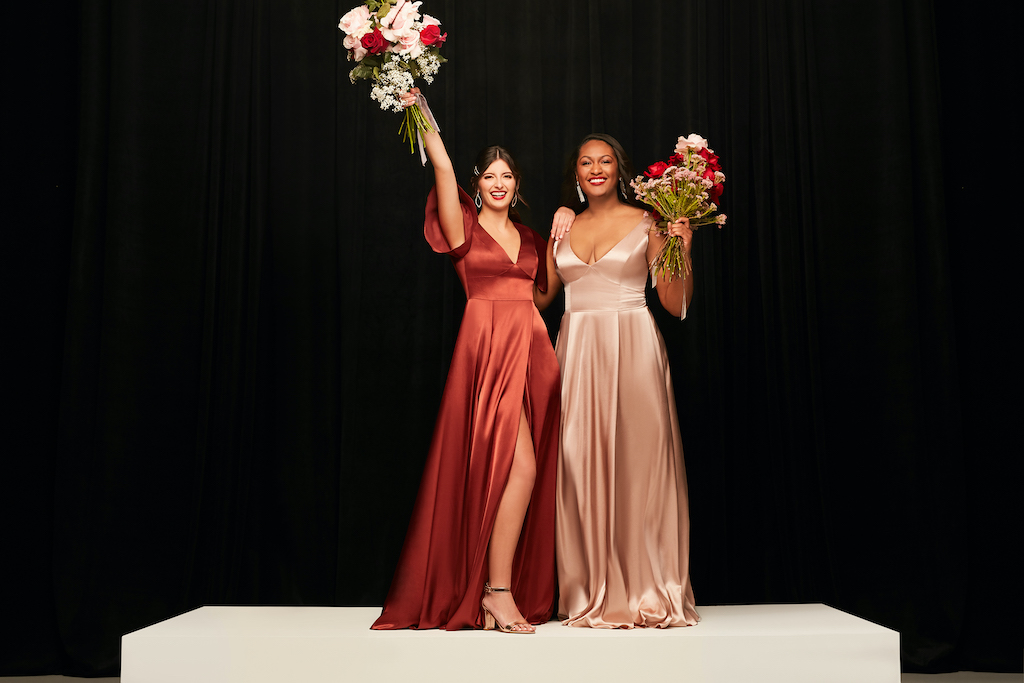 Instead of sequins or metallic lace, opt for our shine fabrics like charmeuse or satin. These lustrous fabrics are a new way for your bridesmaids to stand out. These luxe fabrics catch the light beautifully while still providing the ultimate comfort for a glam look.
Mix It Up
Styles F20439, F20378, F20358, F20359
Mix and match bridesmaid dresses are very on trend for Fall 2021 weddings. Our new styles let you pair various necklines like a cowl neck or v-neck with more delicate details like velvet or ruffles to highlight the different personal styles of your maids. You can even show off a mix of textures in one dress, like this stunning dusty blue combo of stretch lace and chiffon. No matter how you choose to mix and match, this trend is sure to make your bridesmaids look chic!
Dazzling Jewels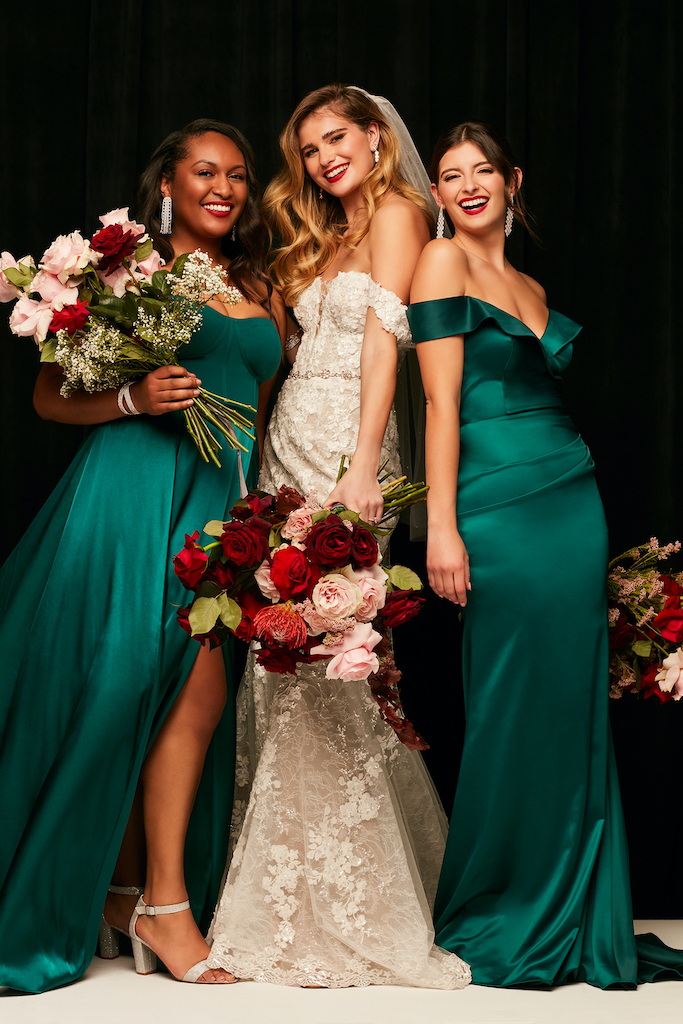 Going for a more regal look for your wedding? These Galina Signature bridesmaid dresses are the perfect match! The oh-so-sleek silhouettes, figure flattering details, and high shine fabrics give a sexy touch that will elevate a jewel tone bridal party.
Dusty Hues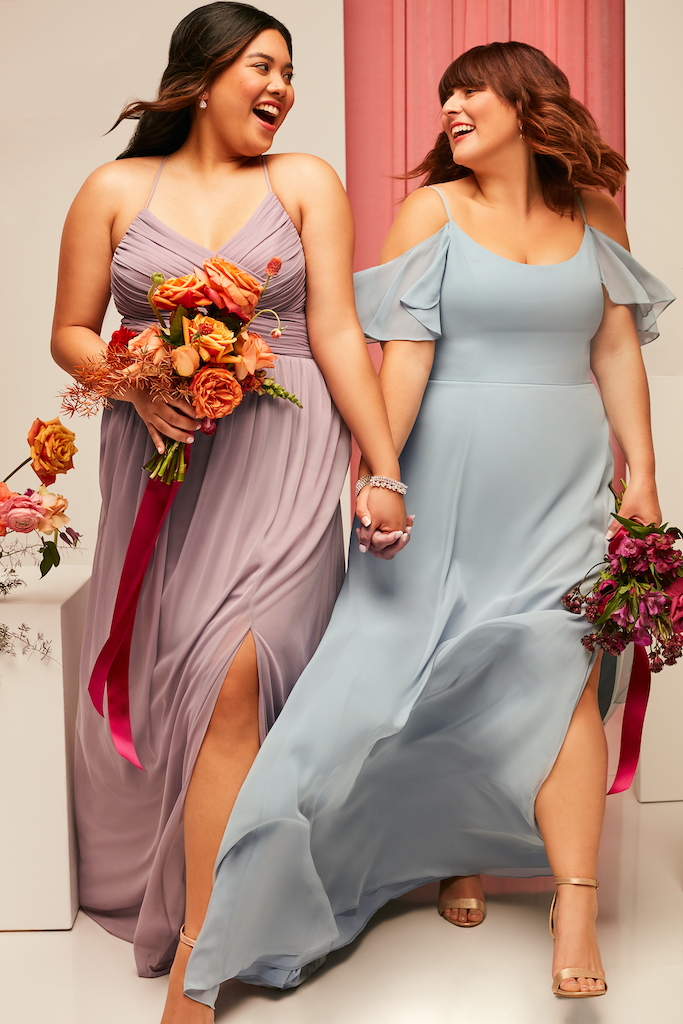 Embrace an ethereal wedding day vibe by incorporating dusty hues into your special day. These soft and flowy fabrics take romance to a whole new level. From light and airy skirts to sweet necklines, these styles capture elegance in a modern way. Plus, these comfortable and breathable fabrics will have your bridesmaids dancing all night long!
Sunset Shades
Styles GS290034, GS290020, F20356, F20360
Make a statement with sunset hues! Embrace earth tones for an on-trend color palette that pairs perfectly with any season or style. Mix and match shades of cinnamon, sedona, and sand for a dreamy, sunset-inspired bridal party. The best part? The undertones of these shades with are guaranteed to complement all of your maids!
Our new bridesmaid dresses are arriving now, and we can't wait to see 2021 bridal parties rocking these styles! Whether you are in search of your dream dress or the perfect looks for your bridesmaids, book your appointment to find the one(s)! Plus, sign up here to be the first to hear about sales and new arrivals!
Related Posts: