Home

|

Gifts & Decorations

|

All Gifts
*Ends 12/23/16. Discount in cart. Can be combined with free shipping only. Details.
Product List
Bridesmaid Gifts, Bridal Party Gifts and Groomsmen Gifts
Find the perfect gifts for your wedding party at David's Bridal. Shop our selection of bridesmaid's gifts, t-shirts, personalized gifts, tote tags, makeup bags and more! Discover adorable personalized bags, shirts and jewelry for your flower girl gifts and see great ideas for ring bearer gifts. For groomsmen gifts you'll find a large selection of personalized beer mugs, watches, money clips, flasks and lots of other great gifts for all of the special people in your wedding party! The David's Bridal Gift collection has a great gift for every member of your wedding party, with an amazing selection of bags, apparel, and glasses that can even be personalized! Shop popular gifts to see what others are raving about, and then take a look at our exclusive coordinating color products to match your other David's Bridal wedding items. Shop David's Bridal to get great ideas for your wedding gifts today!
Wedding Party Gift Ideas
It's important to give thanks to those who helped you throughout your wedding planning and will stand by your side on your big day! Show appreciation to your bridesmaids and groomsmen with gifts from David's Bridal. We have the perfect assortment of presents for your wedding party, from personalized items to coordinating accessories that tie the party together. Our collection of bridal t-shirts and apparel make for great bridal shower gifts that are sure to bring a smile to every recipient's face (they're perfect for bachelorette parties and wedding day beauty appointments)! Find personalized gifts that match any personality from personalized totes to stainless steel flasks. Browse David's Bridal's bridesmaid jewelry, groomsmen accessories, adorable gifts for the flower girl, and fun bedazzled shirts for the bride! Say thank you to your friends and family with a thoughtfully selected wedding party gift they will treasure forever.
What Our Customers are Saying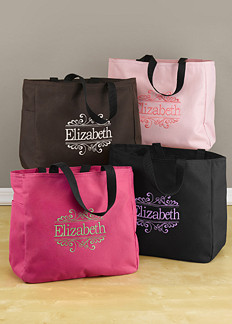 "When I got this bag it was even bigger than I thought it would be. Great value for price and I could personalize it for each of my bridesmaids!"
- ChristyMcKinley
"I bought these for my bridesmaids and they are just perfect and nicely embroidered! I would definitely recommend this to anyone"
- JewelFawcett
{ searchResult: { pageSize: 30, searchTerms: '', totalPageNumber: 22.0, totalResultCount: 631, currentPageNumber:1, attributes: "" } }