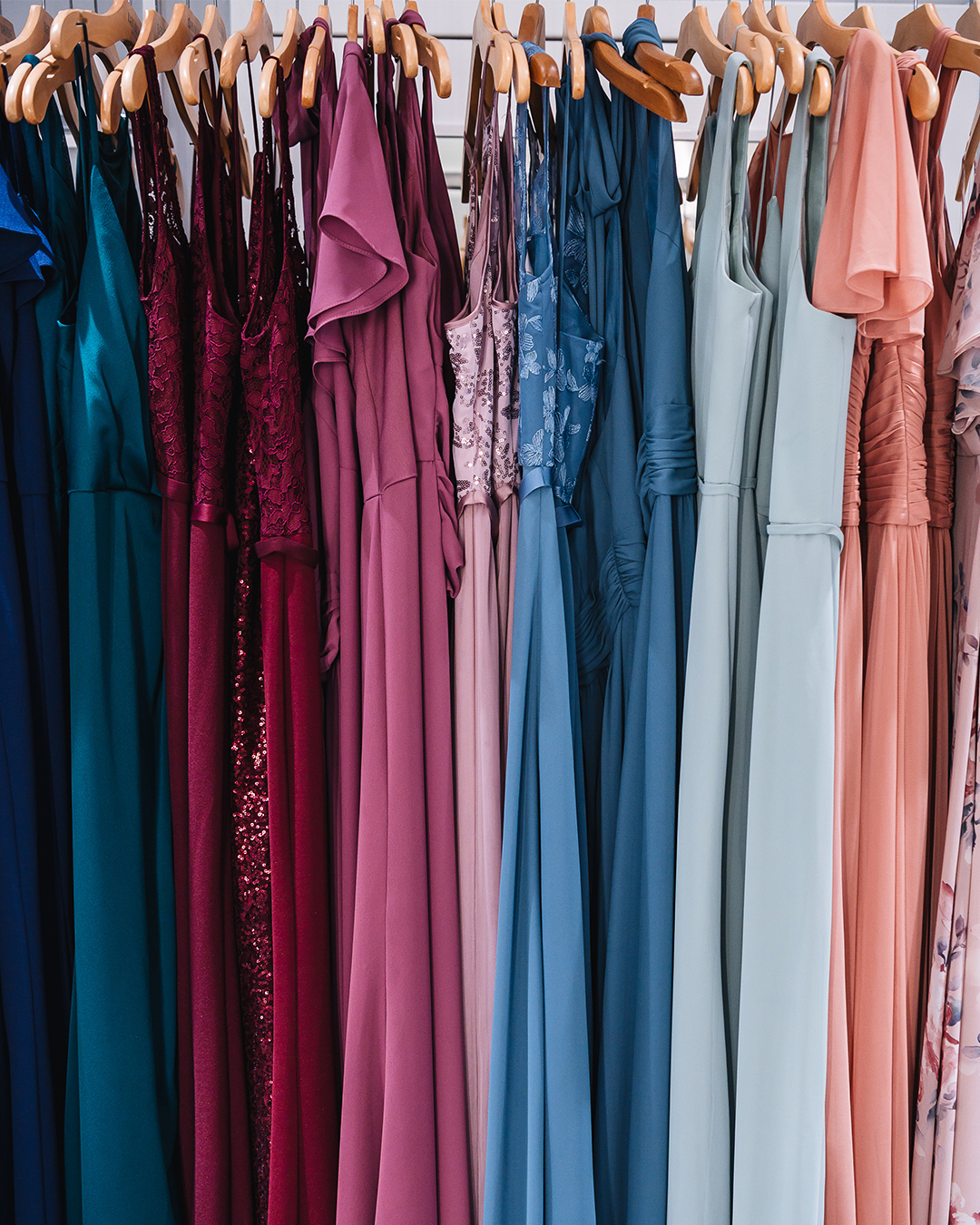 16 Apr

2019 Fall Bridesmaid Dresses
Hello, new!
Last week we covered what's new for the bride, and today we're sharing the dresses you can shop from our new bridesmaid collection! From new hues to luxe fabrics, our 2019 Fall bridesmaid dresses are full of the freshest details to make your bridal party stand out from the rest. Keep scrolling for highlights from our latest bridesmaid dresses (that are starting to arrive now!)
New Colors
Styles F19931, F19933 and F19932 in Desert Coral
Our color palette is getting even prettier because this season we are adding five new colors to our DB Maids assortment. From shades of coral to dusty pastels, you might want to reevaluate your current color selection. In tune with Pantone's color of the year, we plan to see a lot of coral weddings in the future—and we can't wait! New shades Desert Coral and Sedona are dustier and deeper versions of the vibrant coral hue. Dusty Blue and Dusty Sage offer muted, romantic takes on our brighter pastels (like Mint or Ice Blue) while Gem is a rich, jewel-toned option that flatters everyone. New colors will arrive in July
New Embellishments
Styles F19986 and F19987 in Steel Blue
Eye-catching details are having a moment for bridesmaids. This season you'll see new bridesmaid dresses with sequins, prints, and lace embellishments! We're especially loving delicate embroidery, the three dimensional lace evokes a romantic feel from head to toe. Plus, we're adding new additions to our coveted lace/mesh combo collection for even more mix & match possibilities. Finally for your MOH, we'll have new dresses fit for someone a little extra special, think shimmer and shine or a pretty floral prints.
New Fabrics
Styles F19998, F20009, F20039 and F19992 in Chianti
Our most common bridesmaid dress fabrics are mesh and chiffon, but for Fall 2019 we are introducing Crepe and Georgette textiles to the DB Maids mix! What's the difference? Georgette is a lightweight yet springy fabric that flows and drapes beautifully (creating a perfect skirt for dancing). On the other hand, Crepe is a medium weight fabric providing a more structured fit. You'll also find new styles made of Crepe-back satin which has a crepe-lined inside and satin facing out for a bit of lustrous shine.
So which of these new 2019 fall bridesmaid dresses are you most excited for? The collection is starting to arrive now (click here to shop!) with all of the dresses available in May and new colors dropping in July (sign-up to receive an email once they all arrive)!
Related Posts: