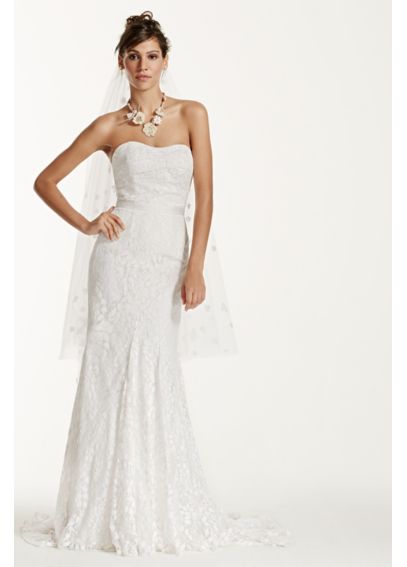 + / - Hover over image to Zoom
share this look with your friends
Style: WG3381
Be picture perfect in this ultra feminine lace gown!
Strapless sheath gown features gorgeous all over lace detail and grosgrain ribbon at the waist.
Sweep train. Sizes 0-26W.
Available in stores and online Soft White. White available online only.
Pe...
Be picture perfect in this ultra feminine lace gown!
Strapless sheath gown features gorgeous all over lace detail and grosgrain ribbon at the waist.
Sweep train. Sizes 0-26W.
Available in stores and online Soft White. White available online only.
Petite: Style 7WG3381. Sizes 0P-16P. $549 (special order only).
Extra Length: Style 4XLWG3381 Available online and special order in stores.
Coordinating Flower Girl: Style FG3381. Available in Softwhite and White. (Special Order Only). $119.00
Fully lined. Back zip. Imported polyester. Dry clean.
To preserve your wedding dreams, try our Wedding Gown Preservation Kit.
$100 Off All Wedding Dresses $800 or More
Strapless Lace Gown with Ribbon Detail Style WG3381
4.9
5
88
88
Sweet and Sexy
I bought one dress only to get back home realizing that I rushed into a decision, and I didn't like my dress. I knew what I got did not reflect my personal style, nor was it a dress that would make my fiance gasp for air on our big day. I went back to David's Bridal, who were more than willing to work with me. I had the same sales associate and she was very kind and understanding of how overwhelming the process can be. She let my ladies and I pick out as many dresses as we wanted and we blew right through them all, stopping along the way to choose contenders that I would try on again. Most everyone who knows me would say that I am a hippie, so the lacey, flowy look is very representative of my personality. I fell in love with the unique lace on this gown as soon as I put it on. My fiance is Puerto Rican and loves my curves, and this dress hugged me in all the right places. We are adding the bow pictured below as a flirty (snap on) element for the reception and I couldn't be happier! I know that my fiance will be stunned and I will feel nothing less than stunning. David's Bridal really helped me to make sure that I made the right choice!
March 28, 2014
THE Dress
My wedding is in about a year. Due to a tight budget and a usually hard time finding dresses with the right fit due to a small bust and skinny stature, I decided to go dress shopping early. I was so afraid I wouldn't find a flattering dress and I would end up looking swallowed by my dress or that I couldn't feel confident and beautiful in it. I had this dress on my list of favorites and it was the first dress I tried on...I knew at that moment I would be going home with a dress. After trying on other dresses, the choice was pretty easy. It is absolutely beautiful. It compliments my body in all of the right places and a slip isn't necessary for it to flow the way it should. The way it moves is beautiful. It is simple and elegant, which will be perfect for my small get-away wedding. The dress also looks good with a wide variety of accessories if you would so choose to add one.
March 24, 2014
Simplicity is key, and I am not a princess
My wedding is quite a ways off, and to quell my impatience, my meddling mother surprise me and booked a fitting one afternoon with none of my bridesmaids, which upset me. I was angry, I had previously thought I wanted some ruffled, ornate, organza monstrosity, despite my snarky demeanor and cavalier attitude about everything, and I just felt silly overall (I wear dresses every single day, but this was too much...). The lady picked this dress out and I immediately put it in the back to politely say, "oh, heck, no." Finally, after feeling sillier and sillier after each poofy Cinderella reject, to appease the sales lady and my mom, I tried it on. Absolute 180 in attitude and opinion. This dress just fit. It fit my style, my personality and it fit my body. I'm short and curvy with a larger bust, and everything looked great. I finally understood being a bride. The lady just handed me some random sash; I have plans to make one of my own to match our rainbow decor. We're having a destination beach wedding, and it's light enough in weight to pack. No compliment and praise can be enough for this dress. For the price, it's a steal. I look at my try-on picture everyday, and can't wait for my manly man to see me in it.
March 2, 2014
Modern & Elegant
Part of the beauty of this dress - and the reason why all of the reviews are correct in saying that photos do not do it justice - is that the way the dress MOVES is absolutely beautiful! The dress is gorgeous from top to bottom, with excellent detail and a comfortable yet structured fit, but when you walk in it, you will feel and look like an elegant queen. I cannot recommend this dress highly enough. If you're looking for something less flashy than sparkles but want to still stand out in the crowd - and have the elegant look/feel I described - this is your dress!
February 23, 2014
1
2
3
4
5
6
7
8
9
10
11
12
13
14
15
16
17
18
19
20
21
22
Shipping & Handling :
For standard shipping, you will be charged a flat shipping & handling fee of $14.95 for each bridal gown you order.

We carefully and individually package each gown to ensure it is delivered to you in pristine condition.

Express Shipping options are available for an additional charge per gown: add $15.00 for 2-Business Day or $25.00 for Overnight shipping.

Your total will be calculated in your Shopping Bag.